The 5 Best Hair Ties For Fine Hair Of 2022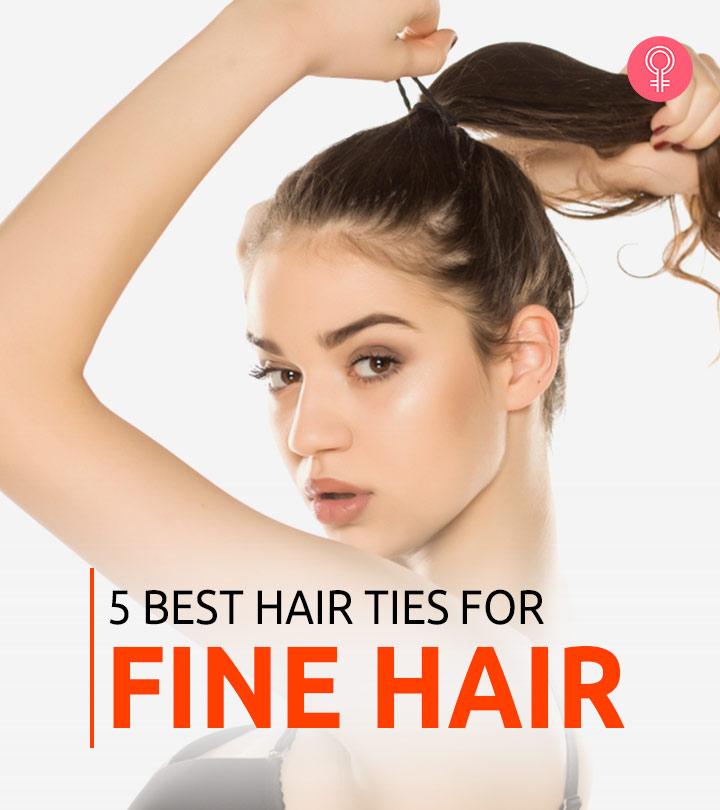 Your search for the best hair ties for fine hair stops here as we've put together a list of the 5 best hair ties you can purchase to style your fine hair. We know how difficult it is to style fine hair without causing creases and dents. Your beautiful silk fine hair deserves to be styled and flaunted with nothing but the best there is! Keep reading our article to know more about the best hair ties for fine hair!
5 Best Hair Ties For Fine Hair
The AwEx Hair Elastics come in a set of 62 pieces with a metal-free design. They feature a high elastic rubber core that stretches 40% longer and retains its shape while holding your hair. The brand's new robot production lines make sure that the rubber core is glued strongly to make the ties last longer and hold your hair securely without any pulls or tangs.
Specifications
Thickness: 3 mm
No. Of Pieces: 62
Pros
Highly stretchable
Value for money
Easy to use
Cons
The PIDOUDOU Small Velvet Scrunchies come in a pack of 10. They are covered with a velvet cloth fabric that ensures longevity, comfort, and zero hair damage. The simple yet classic design comes in assorted colors that can be used for daily wear and styling.
Specifications
Thickness: 15 mm
No. Of Pieces: 10
Pros
Durable
Highly stretchable
Value for money
Soft fabric
Cons
The Goody Ouchless Elastics can help you create funky hairstyles like ponytails, braids, or updos with your fine hair without worrying about damage, tangling, or pain. These ultra-flexible hair ties come in a set of 50 and are covered with black fabric with a non-slip grip to securely hold your hairstyle in place. These small hair elastics are suitable for all hair types, including children's hair.
Specifications
Thickness: 2 mm
No. Of Pieces: 50
Pros
Long-lasting
Ultra-stretchable
Plush fabric
Snag-free
Affordable
Comfortable
Cons
The Heliums Hair Elastics are a set of 40 hair ties for thin hair that are covered with a soft fabric, ensuring zero snagging and pulling while styling. The brand offers 14 neutral color options to blend with various hair colors. These include four colors for blond hair, three color options for brunettes, three colors for redheads, three for gray hair, and the classic black option. Despite being thin, these hair elastics offer a medium hold to secure your fine hair in ponytails and braids.
Specifications
Thickness: 2 mm
No. Of Pieces: 40
Pros
Long-lasting
Extensive color options
Sturdy
Highly stretchable
Snag-free
Cons
The Helium Cyndibands Ribbon Hair Ties are designed using golden hues, specifically keeping blonde hair in mind. The pack includes six hair ties in colors like golden blonde, medium blonde, ash blonde, platinum blonde, beige blonde, and a second medium blonde. You can use them to secure hairstyles like ponytails, braids, and buns. They also work as hand bracelets. The soft fabric is a mix of nylon and spandex that will minimize damage, snags, and pulls. They are made of a thick elastic with no-fray ends that increase longevity. Unlike your average hair ties, they are gentle and do not leave crease or dents in your hair.
Specifications
Thickness: 10 mm
No. Of Pieces: 6
Pros
Snag-free
Comfortable
Versatile
Long-lasting
Cons
Rough
Not very stretchable
There you have it – the best hair ties for fine hair. Whether it is a ponytail, a French braid, a fishtail, or a twisted pigtail, these hair ties can help you sport versatile hairstyles. Go ahead and give them a try!
Why Trust StyleCraze?
The author, Shiboli Chakraborti, is a hair care enthusiast and loves trying and reviewing hair care products and accessories. She curated this list of the best hair ties for fine hair after checking numerous online user reviews on trusted online forums and conducting in-depth research. The products included in the list are highly rated by users and are stylish.
Frequently Asked Questions
Do hair ties damage your hair?
It depends on the kind of hair ties you use. The wrong elastic can put a strain on your head and mess with your tresses, which is why it is recommended that you should use fabric-covered hair ties that do not damage your hair.
Is it better to sleep with hair tied or loose?
It is advised to keep your hair tied in a braid or a top loose bun to prevent breakage.
Are spiral hair ties better than scrunchies?
Unlike the usual scrunchies, spiral hair ties promise zero hair pulling, breakage, and hair damage as they are snag-free and keep your braid or ponytail locked in place without causing a headache.
Is it bad to wear hair in a ponytail every day?
Pulling your hair into a ponytail at the same spot on your head can cause severe tension to the hair strands and lead to constant headache, hair pulling, hair breakage, unruly hair, and frizz.
Does putting hair in a ponytail help it grow?
No. However, putting your hair in a braid can help it grow by giving your hair a more stable structure.
Why do hair ties leave marks?
This largely depends on the type of hair. Unlike curly or wavy hair, straight hair is more prone to retaining dent marks due to constantly being held up by elastic hair ties.
Is a low or high ponytail better?
While high ponytails make for a classy style statement, they can do your hair more harm than good as it can strain your tresses due to the gravity pull. Hence, low ponytails are better because they tend not to put any stress on your hair.
Recommended Articles
The following two tabs change content below.