8 Best Products For Thin African American Hair
Stimulate hair growth and keep frizz at bay with products that soften your curls.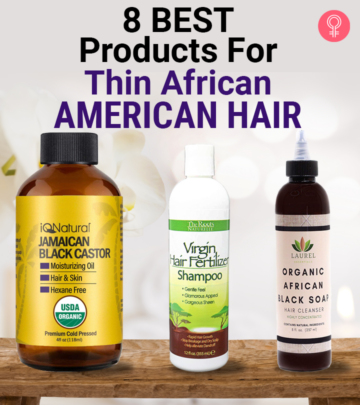 African American hair needs special care to maintain the gorgeous look of the mane. You deserve nothing less than the best products for African thin hair and it's time to say goodbye to regular dollar store shampoos and conditioners. From oils, shampoos to volumizing formulas, you will find everything in this one-stop-shop article to help you nail your hairstyles with perfection. Don't worry about hair blunders, as our list of the eight best products for thin African American hair will do the job of picture-perfect weave moments.
8 Best Products For Thin African American Hair
The iQ Jamaican Black Castor Oil is one of the finest high-quality natural organic oils. It hydrates the hair and repairs damages, revealing naturally radiant hair. The lightweight oil is powered with multivitamins that leave the scalp and hair rejuvenated and soft. It is cold-pressed and pure and works well as a leave-in conditioner for black hair. The natural ingredients of this oil nourish, strengthen, and protect the hair and aid regrowth. Click here to check out this YouTuber's unbiased review.
Key Ingredients: Organic Jamaican black castor oil 
Pros
Hexane-free
Paraben-free
USDA certified
Organic
Catalyst-free
Unrefined
Cons
Price at the time of publication: $12.95
This oil is specially formulated to temporarily cover edges and graying hair and fill balding scalp areas. It is non-greasy and does not cause flaking. Castor oil is known to nourish the scalp and promote hair growth. The coconut water present in this formula restores hair moisture and strengthens the follicles. Black castor oil promotes overall hair health and gives it a natural shine. This product also helps in fighting frizz and smoothing and detangling stubborn knots. Here's a personal review video to help you get a better understanding of the product.
Key Ingredients: Black castor oil and Coconut water 
Pros
Paraben-free
Mineral oil-free
Sulfate-free
Petrolatum-free
Cons
Price at the time of publication: $15.49
The Roots Naturelle Virgin Hair Fertilizer Oil is an anti-aging hair oil powered with a vitamin-peptide complex to reduce hair loss and breakage. It increases blood flow to the scalp and follicles and strengthens the hair. This hair rejuvenator mildly conditions the hair, reducing static and frizz. It also minimizes hair tear during wet hair combing. 
Key Ingredients: Castor oil, Jojoba oil, Peppermint oil, and Rosemary oil 
Pros
Alleviates dandruff
Smells great
Long-lasting moisturization
Cons
Price at the time of publication: $18.75
This cleansing and moisturizing shampoo is formulated with natural ingredients and suitable for African American women with thin and damaged hair. It cleanses the scalp and conditions brittle, dry hair. This shampoo strengthens over-processed locks, promotes healthy hair growth, and provides respite from dandruff and hair fall. It makes your hair manageable and silky soft. 
Key Ingredients: Jojoba seed oil, Honey extract, Aloe vera extract, and Tea tree oil 
Pros
Gentle
Paraben-free
Sulfate-free
Cons
Price at the time of publication: $12.45
This handcrafted, all-natural soap shampoo is formulated with essential oils and African black soap. It gently cleanses the hair and scalp, removes buildup, and moisturizes the hair. This product also stimulates the scalp and promotes hair growth. The essential oils help eliminate dandruff and soothe the itchy, dry, flaky scalp.
Key Ingredients: Raw black soap, Jojoba oil, Haitian black castor oil, Vitamin E, Neem oil, Rosemary oil, Lavender oil, Tea tree oil, and Peppermint oil
Pros
Contains all-natural ingredients
A little goes a long way
Sulfate-free
Paraben-free
Petrochemical-free
Vegan
Cons
None
Price at the time of publication: $17.99
The Hair Growth Formula from PLANET AYURVEDA is a blend of Ayurvedic herbs that balance your Satva, Rajas, and Tamas – the psychic energies of your mind. The three doshas, namely, Vata, Pitta, and Kapha, are also balanced by this formula. This oil stimulates proper blood circulation, facilitates healthy metabolism, and enhances hair health.
Key Ingredients: Yashtimadhu, Ashwagandha, Bhumiamla, Bhringraj, Amalaki, and Brahmi
Pros
Preservative-free
100% natural
Chemical-free
Yeast-free
Cons
Price at the time of publication: $14.99
The SarynaKEY Repair Oil is formulated with naturally sourced keratin that repairs damaged hair. It contains shea oil, which forms a protective coat on the hair, leaving it soft, smooth, and silky. This oil is rich in amino acids and vitamins that penetrate the cuticles to repair and rejuvenate each strand from root to tip. It moisturizes the hair follicles, imparts shine, and boosts volume.
Key ingredients: Shea oil 
Pros
Lightweight
Easily absorbed
Color-safe
Sulfate-free
Paraben-free
Phosphate-free
Cons
None
Price at the time of publication: $28.99
This volumizing formula has an innovative concoction of shea butter, wheat protein, natural keratin, and vitamins that nourish, strengthen, and thicken the hair. It creates a protective layer on each hair follicle to keep it safe and soft. This butter adds body and bounce to fine and fragile hair. It stimulates the hair's natural keratin and restores lost vitamins, balancing the hair's pH level. This volume lifter gives you shinier, moisturized, healthier hair.
Key ingredients: Shea butter, Wheat protein, Natural keratin, and Vitamins 
Pros
Sulfate-free
Phosphate-free
Paraben-free
Cruelty-free
Color-safe
Cons
Price at the time of publication: $38.95
African American hair is not always easy to maintain, especially if it has a thin texture. This type of hair requires a lot of TLC and some serious looking after. There are innumerable products available for this hair type. So, how do you choose what's best for you? Given below are some factors that will help you decide the best products for thin African American hair.
How To Choose The Best Products For Thin African American Hair
If you have thin natural hair, look for ingredients which not only volumize the hair but also promote growth in the long term. Keratin, amino acids, wheat proteins, and vitamins are must-have ingredients that strengthen and protect each hair follicle.Natural oils repair damaged hair and minimize split ends, while honey, neem, and aloe vera extracts have excellent antiseptics and anti-viral properties that keep infections at bay. Lavender and peppermint impart a mild natural fragrance while soothing the scalp. Choose a product that strengthens and nourishes brittle hair. Avoid sulfates, phthalates, mineral oils, SLS, SLES, and parabens in all hair care products.
Natural oils help to balance the hair's natural pH levels. They eliminate dryness and control frizz. Moisturizing properties of natural oils like Jamaican black castor oil, castor oil, jojoba oil, peppermint oil, and rosemary oil and shea butter strengthen, nourish, and rejuvenate thin hair. They give the hair a soft, manageable texture and add shine.
Choose products that are lightweight and absorbed easily by the scalp and hair roots. A heavy product will make the already thin hair look limp and dull. Alos, opt for non-greasy, non-sticky products to prevent weighing down of the strands.
To eliminate stickiness, infections, dandruff and build-up due to impurities and excess sebum. Choose a good clarifying formula. Pick a shampoo which deep cleans the scalp, removes dead skin cells and leaves the hair light. A leave-in conditioner also keeps the hair protected from external aggressors.
In case you are using a cover up product to hide the graying hair and bald spots temporarily, pick a cover up oil or cream. Choose a non-greasy product that blends well with the natural hair color and fights frizz.
That was our round-up of the 8 best products for thin African American hair. They nurture your scalp and hair and tackle hair problems.
Why Trust StyleCraze?
Shiboli Chakraborti, the author of this article, is a hair care enthusiast and takes it upon herself to help her readers purchase the right solutions for their hair-related issues. To this end, she embarked on a journey to find the best products for thin African hair by going through numerous reliable user reviews online and conducting in-depth research into their ingredients. This list consists of the most effective products to give your hair the desired volume and nourishment.
Recommended Articles