12 Best Coconut Milk Conditioners Of 2022
Nourish your strands for the hair of your dreams with ingredients that work wonders.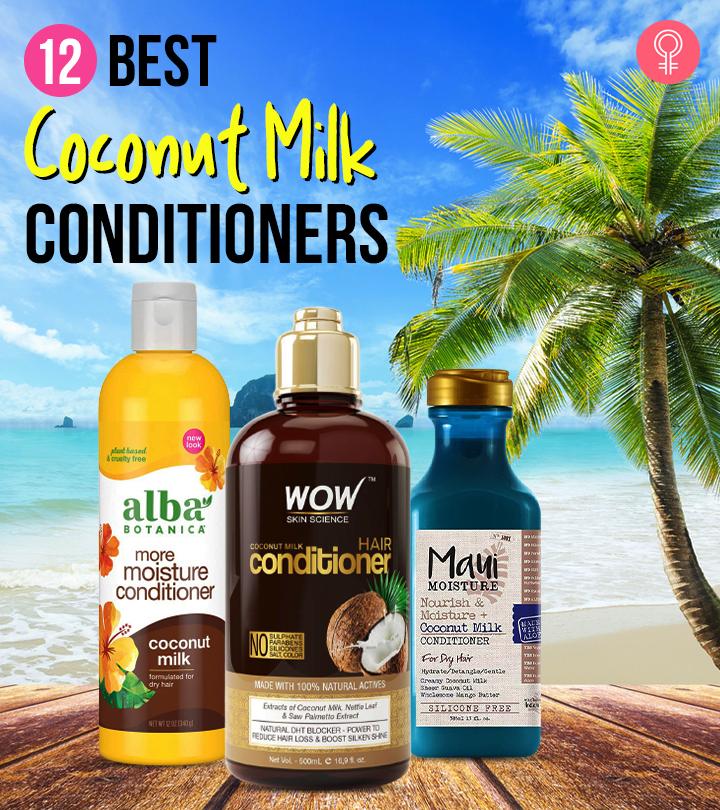 The best coconut milk conditioners are universally accepted for their profound nourishing health benefits. Being extracted from coconut flesh, it is packed with nutrients that help your hair grow thick and strong. If you have been struggling with frizzy, dry hair, this is the ingredient you need to tame your locks. Since ancient times, it has been used for inducing hair growth, and including it in your hair care routine will bring back the hair growth you have been missing out on. Here are the 12 best coconut milk conditioners that are full of goodness to help you flaunt glossy and thick hair.
12 Best Coconut Milk ConditionersFor The Hair
The refreshing Hawaiian Alba Botanica More Moisture Conditioner hydrates the hair and seals in moisture. It is infused with coconut milk, rich in protein and fatty acids, to nourish dry and damaged hair. This 100% vegetarian formula is fortified with aloe vera, calendula, and tropical oils to protect the hair from the drying effects of heat styling tools. It keeps the hair soft, strong, and smooth while combating frizz, breakage, and flyaways. Watch this video for a thorough understanding of the product.
Pros
Lightweight
pH-balanced
Plant-based
Artificial color-free
Paraben-free
Phthalate-free
Sulfate-free
Cruelty-free
Vegan
Cons
Contains sodium hydroxide
The curl-nourishing and detangling Maui Moisture Coconut Milk Conditioner has a lightweight creamy formula that combines the goodness of coconut milk with mango butter, aloe vera, and guava extracts. This gentle,color-safe conditioner detangles curls and restores damaged strands without any buildup. The rich blend helps replenish moisture and provides long-lasting hydration to the hair. This conditioner is suitable for daily use, adds shine and luster to the tresses, mends split ends, and strengthens the cuticles. Click here to check out a detailed personal review of this product.
Pros
Gentle
Color-safe
Sulfate-free
Silicone-free
Mineral oil-free
Synthetic dye-free
Paraben-free
Vegan
Cons
May feel greasy on thin hair
The tropical OGX Nourishing + Coconut Milk Conditioner contains a rich blend of coconut milk, coconut oils, and egg white protein. It adds strength, elasticity, and luster to your hair to make it look healthy. This creamy conditioner deeply hydrates and nourishes the hair to keep it soft, smooth, and shiny. It is suitable for all hair textures and has a lightweight consistency that does not weigh the strands down. This volumizing conditioner has a delicious coconut, white peach, and shea butter fragrance. Here's a review video to help you get a better understanding of the product.
Pros
Gentle
Smells good
Color-safe
Paraben-free
Sulfate-free
Cruelty-free
Cons
May leave the hair brittle
No products found.
Treat your damaged hair with the deeply moisturizing Suave Professionals Coconut Milk Deep Moisture Conditioner. It replenishes moisture to even the driest hair and leaves it healthy and touchably soft. This luxurious conditioner uses the innovative Ojon Damage Reverse Technology to restore strength to the strands, repair split ends, and tame frizz. It has a long-lasting fragrance and nourishes the hair from root to tip while adding salon-quality shine and gloss to the strands.
Pros
Gentle
Color-safe
Paraben-free
Phthalate-free
Dye-free
Cruelty-free
Cons
The revitalizing Wow Skin Science Coconut Milk Conditioner is a power-packed blend of coconut milk, nettle leaf, and saw palmetto extract. These natural ingredients provide deep nourishment to the roots while blocking DHThormones that trigger hair loss. This conditioner promotes the growth of stronger, shinier, bouncier, and healthier hair while minimizing frizz, split ends, and roughness. The hydrolyzed keratin protein in the formula strengthens and mends hair fibers, while the castor oil repairs damage caused to the strands.
Pros
Smells good
Dermatologically tested
Paraben-free
Silicone-free
Mineral oil-free
Color-free
Sulfate-free
Vegan
Cruelty-free
Cons
The Creme of Nature Coconut Milk Detangling & Conditioning Conditioner is enriched with certified natural coconut oil to provide deep moisturization to the hair and add luster. It makes the hair more manageable and tangle-free. This reconstructing conditioner softens the hair to eliminate frizz and roughness. The rich, creamy formula has a lightweight texture that does not weigh our hair down nor leave any residue buildup.
Pros
Lightweight
Leaves no residue
Smells good
Cons
The Alikay Naturals Caribbean Coconut Milk Conditioner is formulated with premium natural ingredients that deeply nourish dry and damaged hair caused due to heat styling and exposure to chemicals. It is enriched with coconut milk, coconut oil, nettle, and sage. The fatty acid-rich coconut oil in the blend penetrates the hair shaft to replenish and seal in moisture from root to tip, while coconut milk makes the hair soft and controls hair fall. The fresh fragrance of coconut enhances the mood and keeps the hair gently scented all day long.
Pros
Light fragrance
All-natural ingredients
pH-balanced
A little goes a long way
Defines curls
Cons
None
The plant-based conditioning agents in the Renpure Coconut Milk Nourishing Conditioner provide essential nutrients that bind to the hair surface. The conditioner contains coconut milk that offers high moisture retention and superior shine to dry, damaged hair. The coconut oil in the formula smooths the hair cuticles to tame frizz and flyaways and make the hair manageable, shiny, and silky smooth. This conditioner nourishes and strengthens the hair from root to tip and restores health to dry and damaged strands.
Pros
Color-safe
Smells good
Sulfate-free
Paraben-free
Dye-free
Gluten-free
Phthalate-free
Formaldehyde-free
Propylene glycol-free
Cons
The 97% plant-based live Clean Coconut Milk Moisturizing Conditioner is enriched with a luxurious blend of tropical coconut milk and apricot oil to revitalize and replenish your hair. It is infused with rice proteins and vitamins E and C to strengthen the hair and protect it from the harmful effects of heat styling tools and chemicals. Its rich, creamy formula deeply nourishes and moisturizes the hair to leave it silky smooth, soft, and manageable.
Pros
Smells amazing
Dermatologist-tested
Phthalate-free
Petrolatum-free
Paraben-free
SLS-free
Silicone-free
DFA-free
Phosphate-free
Dye-free
Cruelty-free
Cons
The pH-balanced Herbal Essences bio: renew Coconut Milk Hair Conditioner is crafted with natural ingredients that nourish your hair and make it more resistant to damage. It uses the innovative bio-renew formula, a signature blend of vital antioxidants, sea kelp, and aloe vera to purify and protect hair from impurities. It infuses strength, hydration, and vitality into dry and dull hair to make it soft and smooth. This fragrant conditioner has multi-layered scents of vanilla, white florals, and coconut.
Pros
Natural ingredients
Color-safe
Nice fragrance
pH-balanced
Cruelty-free
Paraben-free
Gluten-free
Colorant-free
Cons
None
The Apothecare Essentials Mender Conditioner is designed to form a protective layer on the hair cuticles to give them extra strength and smoothness. It contains refined coconut milk, coconut oil, distilled vitamin E, and white jasmine extracts to nourish and repair dry and damaged hair. This restorative conditioner has deep conditioning properties that keep the hair soft and silky and control frizz to improve manageability.
Pros
Clean, fresh fragrance
Lightweight
Silicone-free
Paraben-free
Dye-free
Cons
None
The Nature Skin ShopConditioner Coconut Milk Bar is a natural beauty treatment for thin, dry, and lifeless hair. The coconut milk in the formula infuses the hair with vitamins and minerals to make it stronger and healthier and prevent hair loss. This soft solid bar is packed with conditioning agents like BTMS that detangle and soften the hair and reduce static. The panthenol in the bar seals in moisture, improves the hair structure, and adds shine to the strands.
Pros
Smells good
Long-lasting
Paraben-free
Sulfate-free
Cruelty-free
Cons
None
Frequently Asked Questions
Is coconut milk conditioner good for your hair?
Yes, coconut milk conditioner is an excellent choice for maintaining strong, healthy, and lustrous hair.
Is coconut milk good for frizzy hair?
Yes, coconut milk helps moisturize dull and rough hair effectively.
Does coconut milk conditioner have sulfate?
No. Not all of them have sulfates, for example, Coconut milk conditioners like Renpure Coconut Milk Nourishing Conditioner don't have any added chemicals and are safe to use.
Is coconut milk conditioner good for color-treated hair?
Yes, coconut milk conditioner provides good nourishment to color-treated hair and doesn't let the color fade away quickly.
How many times a week should I put coconut milk conditioner on my hair?
Rinse your hair twice a week with coconut milk conditioner for the best results.
Recommended Articles