17 Best Volumizing Conditioners For Fuller & Thicker Hair – 2023
Reach your ultimate hair volume goals and channel your inner Disney princess.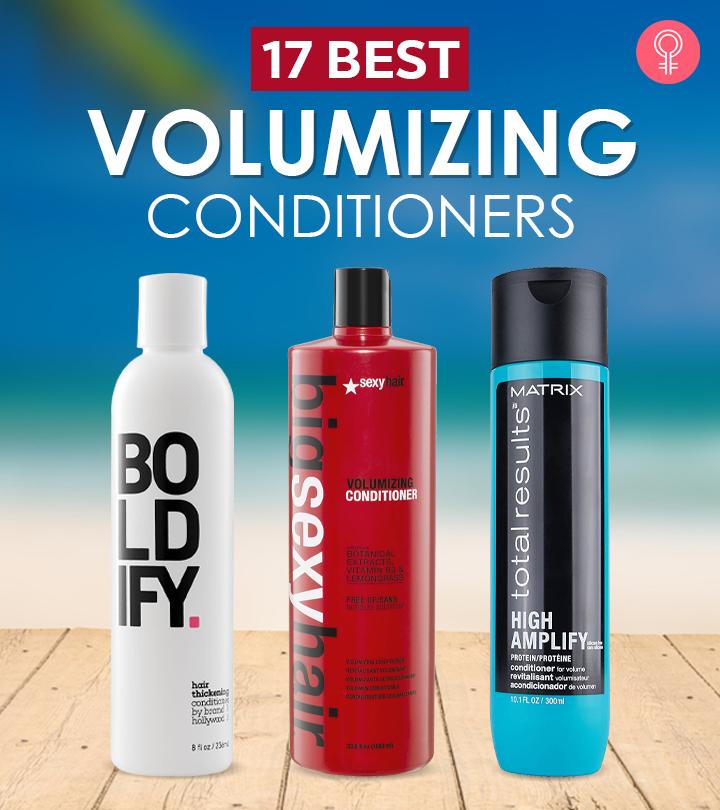 If you want bouncy, thick hair with a lot of volume, then try out the best volumizing conditioners. Such hair volume products add body to your flat and fine hair, give it lift, and plump it up for a fuller appearance. Adding a volumizing conditioner into your hair care routine is an investment especially if you're dealing with fine or thinning hair. It helps in keeping the hair healthy. To get one for yourselves, find the 17 best volumizing conditioners listed below after meticulous sifting through reviews.
17 Best Volumizing Conditioners
The re:line Biotin Thickening Conditioner is lightweight and contains therapeutic ingredients that nourish and boost your hair for natural volume and increases hair thickness. It is formulated with vitamin B-complex that prevents hair loss. This volumizing conditioner has a balanced herbal blend of biotin and castor oil that strengthens fine and thinning hair, reduces hair breakage, and stimulates blood flow in the scalp for hair growth.
The keratin, aloe vera, and coconut oil help nourish and hydrate your hair, promoting healthy hair growth. These recovering and healing ingredients provide restorative care and combat hair fall and shedding caused due to excessive use of chemicals or environmental aggressors. This cruelty-free product does not contain parabens, sulfates, phosphate, phthalates, and sodium chloride.
Key Ingredients: B-Complex, Castor oil, Rosemary oil, Coconut oil, Aloe vera, Biotin, and Keratin
Pros
Suitable for all hair types and sensitive scalp
Unisex
Pleasant scent
Formaldehyde-free
Paraben-free
Sulfate-free
Phosphate-free
Phthalate-free
SLS-free
Sodium chloride-free
All-natural
Cruelty-free
Lightweight
Color-safe
Cons
The OGX Extra Strength Biotin & Collagen Conditioner nourishes dull and dry hair. It contains vitamins and proteins that add volume to limp, flat hair without weighing it down. The biotin and collagen thicken and strengthen your hair. The bamboo fiber extract and hydrolyzed wheat protein create a protective barrier that locks your hair color to impart a long-lasting plumping effect. This video with the tester's experience will give you a better insight into this hair care product.
Key Ingredients: Biotin, Vitamin B7, Bamboo fiber extract, Hydrolyzed wheat protein, and Chamomile flower extract
Pros
Lightweight
Strengthens the hair
Adds shine
Pleasant fragrance
Sulfate-free
Value for money
Cons
Leaves residue on the scalp
Contains alcohol
The Moroccanoil Extra Volume Conditioner transforms your fine, flat, and thin hair into thick, voluminous hair. It rejuvenates dull hair and adds shine. This volumizing conditioner is lightweight and detangles the hair. It boosts vitamins and proteins into your hair to improve manageability.
This conditioner is infused with Argan oil from Morocco and body-building Linden bud extract that hydrate and nourish your hair. This gentle formula does not contain sulfates, parabens, and phosphates.
Key Ingredients: Argan oil and Linden bud extract
Pros
Lightweight
Color-safe
Detangles the hair
Adds softness and silkiness
Sulfate-free
Paraben-free
Phosphate-free
Value for money
Cons
Unpleasant strong scent
Might cause hair fall
The BOLDIFY Hair Thickening Conditioner offers you voluminous, thicker, and healthy hair. It seeps into your hair to nourish and strengthen it. This volumizing conditioner prevents hair fall and breakage and is ideal for thin, fine, and oily hair. It contains aloe vera and rosemary extract that is rich in vitamins, proteins, and minerals that add bounce to your hair. The potent rosemary extract also helps effectively eliminate dandruff from the scalp. The conditioner also contains other potent hair care ingredients such as amino acids, pro-vitamin B5, biotin, copper peptide, and hydrolysed rice protein. The conditioner nourishes your scalp for a healthy and normal hair growth cycle. It is cruelty-free, unisex, and does not contain sulfates and parabens.
Key Ingredients: Aloe vera and Rosemary extract
Pros
Reduces hair breakage
Thickens hair fiber
Cools the scalp
No harmful chemicals
Paraben-free
SLS-free
Color-safe
Cruelty-free
Cons
Not be suitable for sensitive scalp
The Bosley Professional Strength BOS Revive Volumizing Conditioner is a lightweight formula that rejuvenates dry, dull hair. It adds shine and volume to the hair, making it thicker and stronger. This conditioner contains DHT inhibitors and kelp, which help protect your hair from frequent washing or combing and damages caused by moisture loss. The LifeXtend complex, plankton extract, and saw palmetto hydrate your hair and make your scalp healthy. This product is vegan, color-safe, and not tested on animals.
Key Ingredients: Saw palmetto, Plankton Extract, and Kelp
Pros
Vegan
Helps in scalp health promotion
Lightweight
Color-safe
Unisex
Cons
The bigsexyhair Volumizing Conditioner is infused with botanical extracts, vitamin B3, and lemongrass. This potent hair care blend moisturizes your hair without weighing it down. Time to bid adieu to frizzy tresses with this moisturizing conditioner that combats dryness from the root. This volumizing conditioner adds shine and makes your hair more manageable. It is suitable for daily use and thickens flat, fine, or thin hair. This lightweight conditioner does not contain SLS and SLES, and does not undergo any animal testing procedures.
Key Ingredients: Botanical extracts, Vitamin B3, and Lemongrass
Pros
Lightweight
Controls frizz
SLS-free
SLES-free
Color-safe
Cons
Not suitable for dry scalp
Achieve salon-style voluminous hair at home with The MATRIX Total Results High Amplify Conditioner. It enhances the structure of limp and fine hair for long-lasting volume. This product contains hair conditioning proteins, which hydrate your hair and add naturally bounce. It gives your hair an instant boost of 35% more volume and thickness, making it manageable and shiny. This volumizing conditioner is lightweight, color-safe, and free of silicones. Watch this video for a thorough understanding of the product.
Key Ingredients: Rich proteins
Pros
Lightweight
Provides long-term hair thickening
Rebuilds the hair structure
Long-lasting
Pleasant fragrance
Silicone-free
Color-safe
Cons
Not suitable for oily scalp
Say goodbye to unmanageable, fine, and flat hair with the lightweight formula of Redken Volume Injection Conditioner. This root-lifting conditioner is formulated with Filloxane and Redken's Bodifying Complex, which gives instant lift and body to thin, fine hair. It adds weightless volume, thickness, and luster to your hair. This volumizing conditioner is also suitable for chemically treated and colored hair.
Key Ingredients: Filloxane and Redken's Bodifying Complex
Pros
Adds shine
pH-balanced formula
Lightweight
Long-lasting
Cons
Bid adieu to your frizzy, dry, unmanageable hair with the Rene Furterer VOLUMEA Volumizing Conditioner. It moisturizes and detangles dry and dull hair without making it appear limp or flat. It contains a secret ingredient – inulin, which is a natural conditioner extracted from chicory roots. This ingredient volumizes and invigorates limp, fine hair from root to tip. This lightweight conditioner contains carob extract that adds a long-lasting, natural bounce to the hair without weighing it down. It is clinically tested to provide lighter hair in 2 weeks, thickens fine hair, and makes it healthy. This product is free of parabens, SLS, and silicones, and does not undergo any animal testing.
Key Ingredients: Carob extract and Inulin
Pros
Lightweight
Gentle on the scalp
Reduces frizz
Long-lasting
Detangles the hair
Paraben-free
Silicone-free
SLS-free
Cons
If you want to achieve thick and naturally bouncy hair, try the Joico JOIFULL Volumizing Conditioner. It adds shine and gloss and plumps dull and lifeless hair. This conditioner makes your hair frizz- and tangle-free. It is loaded with rich proteins that strengthen your hair and prevent breakage.
This volumizing conditioner contains bamboo extract, rice protein, and lotus flower extract that revitalize your hair, making it look fuller, airy, and bouncy. The rice protein is rich in amino acids that help thicken the hair and make it healthy. The bamboo extract is fibrous and rich in silica, which helps build volume and strengthen the hair. The lotus flower contains strength-building protein, potassium, and magnesium, which help improve hair elasticity. This conditioner enables easy styling with 24-hour style retention. It is lightweight, comes with an easy-to-comb glide power, and does not weigh the hair down.
Key Ingredients: Bamboo extract, Rice protein, and Lotus flower
Pros
24-hour hairstyle retention
Long-lasting
Enhances natural shine
Detangles the hair
Treats frizzy hair
Cons
The AQUAGE SeaExtend Volumizing Conditioner seals hair color for a long time. Its revitalizing, rejuvenating, soothing, and calming properties protect your hair from thermal heat, styling tools, UV rays, and color fading. This conditioner helps restore hair elasticity, adds volume, controls frizz, and offers the ideal smoothening effect. It plumps the hair's inner cortex with mineral-rich, body-building bio-energizers, kelp extracts, and alga silk.
This conditioner makes your hair smooth and keeps hair tangle-free to enable easy combing without hair breakage or damage. The body-boosting formula thickens your hair and forms a protective barrier for thin, fine, and lifeless locks. This conditioner also hydrates and strengthens the hair
Key Ingredients: Kelp extract and Alga silk
Pros
Reduces frizz
Detangles the hair
Provides UV protection
Adds shine
Gentle formula
Mild fragrance
Cons
Give your hair some TLC with the Love Beauty And Planet Conditioner. It contains organic coconut water and mimosa flower extract that detangle your hair while boosting strength and volume. The coconut water moisturizes the hair, and mimosa flowers energize it. This natural and organic conditioner is formulated with plant-based ingredients nourishing ingredients that give you bountiful and thick hair. It is vegan, cruelty-free, and does not contain silicones, parabens, phthalates, and dyes. Click here to check out a detailed personal review of this product and the reviewer's experience.
Key Ingredients: Organic coconut water and Mimosa flower
Pros
Strengthens the hair
Adds body and bounce to the hair
Detangles the hair
Gentle formula
Cruelty-free
Silicone-free
Paraben-free
Phthalate-free
Dye-free
Vegan
Color-safe
Cons
None
The Biolage Volume Bloom Conditioner is a potent blend of natural extracts and oils that promote hair growth and rejuvenate the scalp by boosting blood circulation. It is enriched with aloe vera that hydrates the strands and makes hair more manageable and glossy. It's the perfect combination of strength and nourishment that your hair needs to feel healthy and voluminous. The conditioner is free from animal testing, helps invigorate the tresses, and aids in promoting naturally-bouncy hair. One unique feature of this product is that it comes in a recycled bottle, making it eco-friendly.
Key Ingredients: Aloe vera
Pros
Suitable for color-treated hair
Vegan
Cruelty-free
Recycled bottled
Paraben-Free
Silicone-Free
Cons
None
The Aquableu Biotin Advance Therapy Volumizing Conditioner hydrates and nourishes your hair. It contains B-complex and other luxurious ingredients that protect and strengthen fine and fragile hair.
This conditioner also contains biotin, shea butter, keratin,awapuhi, jojoba oil, coconut oil, and argan oil. These stimulating oils revitalize, replenish, and detoxify the scalp, while promoting healing. The conditioner adds shine, reduces frizz, and tames damaged and unmanageable hair from roots to the tips in a single wash.
This lightweight conditioner locks hair moisture and adds volume without weighing it down. The biotin builds proteins to give thicker hair, while keratin makes your hair shiny and soft. The awapuhi, jojoba oil, coconut oil, argan oil, and shea butter work as antioxidants to provide long-lasting nourishment to the scalp and hair. This allergen-free conditioner is hypoallergenic, vegan, and cruelty-free. It does not contain sulfates, parabens, gluten, silicones, and any harsh chemicals.
Key Ingredients: Biotin, Keratin, Awapuhi, Jojoba oil, Coconut oil, Pomegranate, Argan Oil, and Shea butter
Pros
Color-safe
Sulfate-free
Paraben-free
Gluten-free
Silicone-free
Cruelty-free
No harsh chemicals
Leaves no residue
All-natural ingredients
Hypoallergenic
Vegan
Suitable for sensitive scalp
Cons
None
The Pureology Pure Volume Conditioner repairs and nourishes hair from the roots to the tips. Its lightweight nourishment restores and provides volume to the hair. This color-safe conditioner contains plant-based ingredients such as wheat protein that volumizes and increases hair density, eucalyptus leaf extract that supports hair follicles for growth, and wild rose and cedarwood for the fresh scent and aromatherapy. This conditioner is perfect for fine, flat, and lifeless hair as it plumps and adds volume, leaving a silky smooth finish.
Key Ingredients: Wheat protein, Eucalyptus leaf extract, Wild rose, and Cedarwood
Pros
Lightweight
Color-safe
Vegan
Sulfate-Free
Cons
None
The L'Oréal Paris Elvive Volumizing Conditioner offers lightweight nourishment, making it a perfect choice for those with fine and thin hair. It is formulated to add thickness and fullness to your hair, without adding unnecessary weighing down the strands. The key ingredient in this conditioner is filloxane which penetrates and expands the hair fiber from within to double your hair's natural density. Also, it improves hair manageability, making it easier to style.
Key Ingredients: Filloxane Elixir
Pros
Lightweight
Tames frizz
Long-lasting volume
Environmental-friendly packaging
Cons
None
The Keranique Volumizing Keratin Conditioner restores body and natural bounce to thinning, damaged, and fragile hair. It also prevents premature graying and combats hair loss. It is loaded with keratin, which improves the hair texture and makes the hair soft and manageable, while strengthening it to reduce split ends and breakage. The nutrient-rich formula with clinically-tested ingredients, conditions damaged, dry, and dull hair and increases hair density. This volumizing conditioner hydrates, softens, and smoothens the hair. It adds bounce to chemical-treated, fine, thin, and straight hair. It is lightweight, non-greasy, cruelty-free, and does not contain sulfates and parabens.
Key Ingredients: Biotin, Antioxidants, Dimethicone, Panthenol, and Keratin
Pros
Controls frizz
Strengthens the hair
Smoothening formula
Enhances texture
Reduces split ends
Detangles the hair
Non-greasy
Sulfate-free
Paraben-free
Cruelty-free
Cons
Not suitable for sensitive or oily scalp
*The prices provided in this article are based on the latest available information. However, they may vary due to changes in pricing by the seller and/or promotional offers.
Volumizing conditioners help restore your hair's lost vitality. It would be hard to pick the best among so many effective conditioners, but this buying guide can help you pick the right one for your hair care routine.
What To Consider When Buying Volumizing Conditioners
Hair Type: Before buying a voluminous conditioner, check your hair type, whether it is dry, oily, dull, or damaged. Buy a conditioner specifically for your hair type for effective results. Don't use volumizing shampoo if you have curly and kinky hair since it can make them extremely difficult to manage. If you have sensitive scalp and hair, opt for dermatologist-tested and doctor-approved conditioners.
Nourishing: The conditioner should have nourishing ingredients that hydrate each strand and offer a smoother appearance. Watch out for ingredients like aloe vera, rosemary, plankton extract, kelp, lemongrass, vitamin B3, pro-vitamin B5, protein, argan oil, and ginger root that adds shine and prevents breakage further adding strength to the hair. Avoid buying a conditioner that contains any ingredients you are allergic to.
Stay away from chemicals that strip your hair off moisture and make your strands look dry and brittle. Look for words like paraben-free, silicone-free, phthalate-free, alcohol-free, and SLS-free.
Price: Opt for a conditioner that is budget-friendly. While choosing the best option, compare pricing as well as quality. However, do not get deceived into buying a cheap but poor-quality product. Look for a good quality conditioner with a favorable price tag. It's always better to pick an expensive conditioner as they are clinically and dermatologically tested.
Color-Safe: If your hair is color-treated, there can be chemicals or ingredients that would make the shades fade. Always look for color-safe, color-extending, or sulfate-free volumizing conditions. The formula should also contain SPF and color-protecting ingredients which are capable of protecting your hair color for a longer time.
Why Trust StyleCraze?
The author of this article, Shiboli Chakraborti, has a passion for all things related to hair care and styling. She has curated this list of the best volumizing conditioners after carefully reviewing multiple products, their formulations, and reliable user feedback across several online forums for her readers. These shortlisted conditioners help you get thick and bouncy hair and are safe for your precious tresses.
Frequently Asked Questions
What does a volumizing conditioner do?
Volumizing conditioners hydrate and rejuvenate flat and thin hair. They form a protective coating around the hair and reduce thinning and breakage. Volumizing conditioners are rich in minerals, proteins, and vitamins, which plump the hair and make it appear thicker and fuller.
How can I effectively use a volumizing conditioner?
Follow these simple steps to use a volumizing conditioner effectively:
• After shampoo, squeeze out excess water from the hair.
• Apply a walnut-sized amount of volumizing conditioner on the lengths of your wet hair and comb with your fingers for even application.
• Leave it on for a few minutes and rinse thoroughly with lukewarm or cold water.
Can the overuse of volumizing products make my hair limp?
Yes. Overusing volumizing products can make your hair limp and flat because multiple products weigh your hair down with their various ingredients.
How does a volumizing conditioner work?
Volumizing conditioners soften your hair texture while smoothing out frizziness. Their formulas provide more protection to the roots and follicles.
Is a volumizing conditioner good for dyed hair?
Yes, a volumizing conditioner poses no threat to dyed hair. It offers a weightless bounce to your hair while gently getting rid of dirt and impurities without affecting color-treated tresses.
Recommended Articles