7 Best Clarifying Shampoos For Dreadlocks In 2022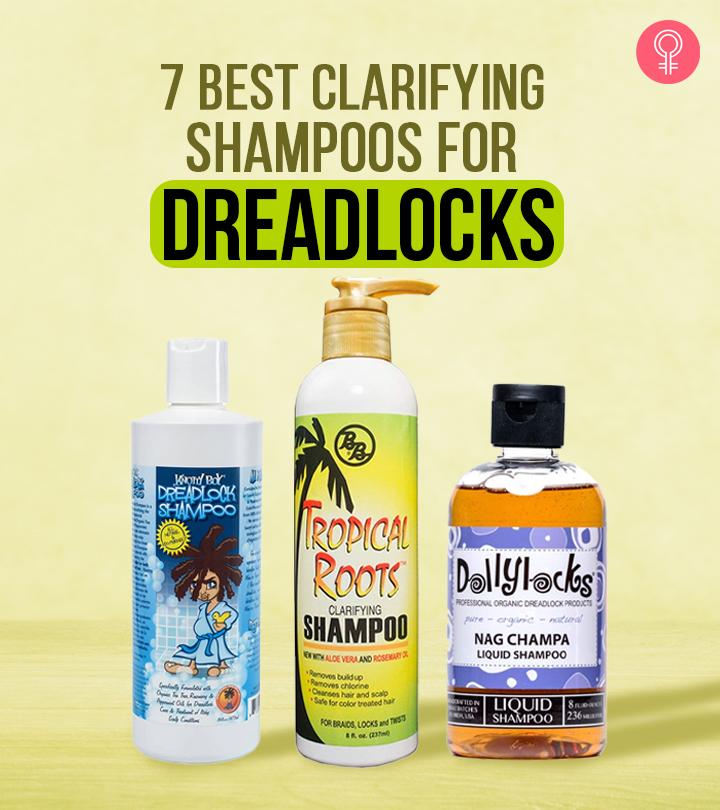 If you have been looking for a clarifying shampoo for locks, we have exactly what you need. Dreadlocks have the word 'dread' in them for a reason, and anyone who wears dreadlocks like a pro deserves acknowledgment. Many celebrities have flaunted the locs and taken care of them the right way, but they require twice as much care and maintenance than regular hair textures. As combing your hair to keep the blood circulation on is no longer an option, you need to ensure your scalp is absolutely clean to keep infections at bay. Here are 7 clarifying shampoos specially crafted to attend to locks.
What Is A Clarifying Shampoo For Locs?
Clarifying shampoos thoroughly clean and remove dirt from your hair and scalp. They help in getting rid of stubborn buildup left by conditioners, styling products, and daily environmental factors. Clarifying shampoos for locs are a good addition to your hair care routine when you have a serious buildup of sebum and dirt.
Regular shampoos contain conditioning agents along with cleansers to help in moisturizing, but these can leave residue on your hair and scalp, which is counterproductive. Clarifying shampoos contain 80-90% water with a high level of surfactants to get rid of residue and grease in the hair.
Some examples of surfactants are ammonium sodium lauryl sulfate (deeply cleanses extreme buildup on very oily hair) and cetyl fatty alcohols, chlorides, or bromides (mildly cleanse the hair and make it soft). However, nowadays, clarifying shampoos also contain plant-based cleansers and coconut surfactants that deeply cleanse your hair and scalp without being too drying.
Now that we have understood what clarifying shampoos are, let's look at the 7 best clarifying shampoos for locs on the market.
7 Best Clarifying Shampoos For Locs
Do your locs need deep yet gentle cleansing? The Dollylocks Nag Champa Shampoo Bar should be your go-to. The antioxidant-rich deep cleansing formula is extremely lightweight and residue-free. It is enriched with plant-based ingredients like organic coconut oil and African shea butter that cleanse your hair and scalp for a squeaky clean feeling. The bar also contains Hawaiian sea salt that tightens your locs. The invigorating, earthy, and floral nag champa scent lifts your spirits and refreshes your senses. Just rub the product onto your hair to create a thick lather that deeply cleanses it without leaving any residue behind.
Pros
Lightweight
Refreshing scent
Long-lasting
Residue-free
Vegan
Cruelty-free
Preservative-free
Sulfate-free
Paraben-free
Gluten-free
Handmade
Cons
None
This shampoo from Dollylocks is recommended for mature dreadlocks. Its residue-free formula cleanses and keeps your scalp refreshed and hair squeaky clean. It is formulated with pure botanical and plant-based ingredients, such as organic seed oils, that provide intense nourishment with deep cleansing. The shampoo can also be used to cleanse synthetic dreadlocks. The lightweight product has an earthy champa scent that keeps you refreshed throughout the day.
Pros
Weightless
Moisturizing
Long-lasting
Smells good
Phthalate-free fragrance
Residue-free
Vegan
Cruelty-free
Preservative-free
Sulfate-free
Paraben-free
Gluten-free
Cons
None
Your search for a truly residue-free shampoo for your locs ends here! The Knatty Dread Loc Shampoo gives you fuller, thicker dreads that instantly feel cleaner. Its special formula also dries your hair faster as the roots are cleaner. The shampoo tightens your dreadlocks and promotes new hair growth. It contains coconut surfactants, unlike other shampoos with saponified oils. The unscented shampoo makes your hair smell and feel clean and fresh. It is suitable for locs of all hair types.
Pros
Unscented
Lathers well
A little goes a long way
Vegan
Cruelty-free
Cons
The Knotty Boy Dreadlock Shampoo is excellent for use all over the body. It contains almost no conditioning agents and is made from 100 percent pure saponified vegetable oils. It is enriched with organic tea tree, rosemary, and peppermint oils that help cleanse and soothe itchy scalps. The shampoo has a minty fresh scent and gives a sparkling clean look to your locks. It is free of chemical foaming agents and softeners, making it gentle on your locks.
Pros
Lathers well
Non-drying
Unscented
Biodegradable
Vegan
Non-toxic
Cruelty-free
Cons
None
The Stylin' Dredz Spray Dreadlock Shampoo is specially formulated with foaming ingredients that create a thick lather to lift and clean all the buildup on your scalp. The residue-free formula also hydrates your hair and does not tangle it. It is enriched with tea tree oil that prevents buildup and eliminates dandruff from the scalp, leaving it soothed and itch-free The shampoo promotes healthy hair growth, adds shine, and prevents fall-out. The easy-to-use packaging allows you to spray on the product for effective cleansing.
Pros
Refreshing scent
Residue-free
Easy to use
Cons
None
The Bb Tropical Roots Clarifying Shampoo cleanses the hair with a relaxing and tingling sensation. It extracts residual buildup from the scalp and helps remove chlorine from your hair to offer deep cleansing. The formula also has rosemary and aloe vera that hydrate your locs and soothe an itchy and dry scalp. The shampoo is easy to rinse out and an ideal pick for color-treated dreads.
Pros
Residue-free
Weightless
Color-safe
Easy to rinse off
Cons
None
This sulfate-free shampoo removes excess oil, deep-seated contaminants, and residue from your scalp and locs. It helps get rid of buildup that occurs due to chlorine, environmental aggressors, and styling products. The formula adds volume and removes dullness to make your locs manageable, allowing you to enjoy a good hair day. Use at least once a month and follow it up with a hair mask to lock in the moisture.
Pros
Refreshing citrusy scent
Lightweight
Safe for color-treated hair
Mineral oil-free
Petroleum-free
Sulfate-free
Paraben-free
Phthalate-free
Colorant-free
Residue-free
Cons
None
Why Trust StyleCraze?
Shiboli Chakraborti, the author of this article, is a hair care enthusiast. Her recommendations on the best clarifying shampoos for dreadlocks are based on user feedback and product reviews on trusted platforms and brand websites. The products mentioned in this list will make your job easier while maintaining your thick locks.
Frequently Asked Questions
How often do you clean your locs using a clarifying shampoo?
The frequency between each wash depends on your hair type and lifestyle. More product or dirt buildup will result in more frequent washes. Since clarifying shampoos strip away all product buildup, it is recommended to use them once a week.
How can you avoid residue formation when conditioning your locs?
Skip the conditioner altogether. Residue is an unavoidable result of conditioning and other styling products used on your hair. Therefore, the best way to keep your locs residue-free would be to frequently wash your hair with a clarifying shampoo.
How do you tell if a shampoo is truly residue-free?
If your hair feels weighed down, flat, heavy or coated, your shampoo is definitely not residue-free. If the shampoo leaves residue, your hair will be dull and oily and will not feel or smell fresh. A strong scent post-washing also means that your shampoo leaves residue. Also, the whitish tinge of the locks disappears when they are wet and reappears once your hair becomes dry. This tinge change indicates that the shampoo is not residue-free.
Recommended Articles