11 Best Sulfate- And Silicone-Free Shampoos
These sulfate- and silicone-free shampoos are a must-have to promote hair health and shine.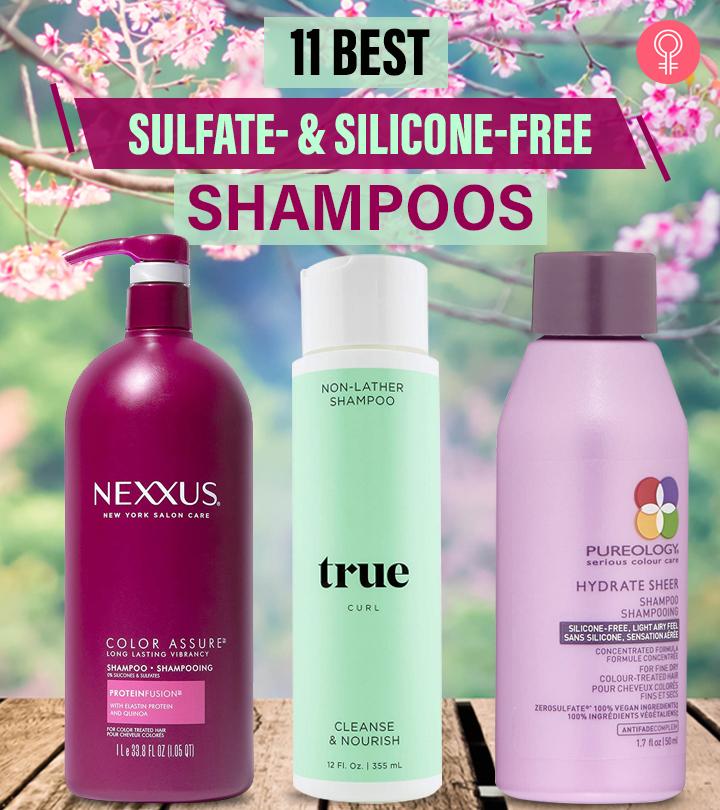 Sulfate and silicone-free shampoo is quite sought after these days by most people as both of these ingredients can have long-term effects on your hair. While sulfate is generally used as a foaming agent and silicone helps reduce frizziness, it can make your hair dull, lifeless, and dandruff-ridden in the long run. Read this article to know which are the best sulfate and silicone shampoos you can purchase.
Top Picks
11 Best Sulfate- And Silicone-Free Shampoos
Pros
Nourishes hair
Enhances hair color
Gentle action
Softens hair
Boosts hair shine
Reduces hair breakage
Fruity scent
Cons
Price at the time of publication: $25.49
The Curl Nourish Fortifying Shampoo by Garnier Fructis gives your hair 3 times more nourishment. It contains active fruit proteins like vitamin B6, vitamin B3, citrus protein, strengthening conditioners, and fruit + plant extracts. These ingredients boost hair strength and overall health.
The gentle hair cleanser works without stripping off the natural scalp oils and moisture. It creates sufficient foam for a mild yet proper cleanse. This shampoo is induced with macadamia oil, jojoba oil, and coconut oil that keep your hair conditioned and hydrated. With regular use, this nourishing shampoo will leave your curls well defined, frizz-free, and smoother. This shampoo can be used by both men and women alike and is specifically formulated for curly hair. The product is free of parabens, sulfates, and silicones.
Key Ingredients: Jojoba oil, coconut oil, macadamia oil, lemon proteins, lemon peel extract, apple fruit extract, niacinamide, camellia leaf extract, and glycerin
Pros
 Paraben-free
 Gentle action
 Reduces frizz
 Mild fragrance
 Moisturizes hair
Cons
Price at the time of publication: $22.42
Pros
Hydrating formula
Suitable for color-treated hair
Climate-friendly product
Pleasant smell
Cons
Price at the time of publication: $70
Pros
Gluten-free
Paraben-free
Synthetic dye-free
Mineral oil-free
Lightweight
Moisturizing formula
Reduces frizz
Pleasant fragrance
Boosts hair shine
Color-safe
Cons
Price at the time of publication: $6.99
Pros
Environment friendly
Clean ingredients
Vegan and cruelty-free
Suitable for all hair types
Color-safe
No build-up
Cons
Can make hair feel sticky
Price at the time of publication: $19.99
Pros
 Plant-based cleansers
 Cruelty-free
 Vegan
 Paraben-free
 Phthalate-free
 Dyes-free
 Color-safe
Cons
None
Price at the time of publication: $14.99
Pros
Vegan and cruelty-free
Environment-friendly
Low-pH formula
Sulfate-free
Paraben-free
Suitable for colored hair
Cons
Price at the time of publication: $37
Pros
Removes product buildup
Restores pH balance
Reduces sun exposure
Offers UV protection
Repairs frizz and split-ends
Suitable for color-treated hair
Vegan formula
Cruelty-free
Gluten-free
Paraben-free
Phthalate-free
Synthetic fragrance-free
Cons
None
Price at the time of publication: $21.95
Pros
Gentle foamy lather
Improves hydration
Quick-cleaning formula
Reduces tangles
Removes product buildup
Vegan formula
Paraben-free
Cons
None
Price at the time of publication: $11.98
Pros
Clean formula
Suitable for all hair types
Color-safe
No build-up or residue
Unscented
Cons
Might not lather well
Can feel greasy
Price at the time of publication: $24
If you are looking for a natural formula that will offer professional and salon-quality results, try out the Hair La Vie Shampoo. This shampoo gives you a spa-like feel in the comfort of your own home. The formula of this shampoo is enriched with 19 naturally-derived ingredients, including proteins, antioxidants, and amino acids that deeply nourish your hair.
It contains marula oil which is rich in vitamin C, vitamin E, and essential fatty acids that hydrate your hair and do not leave it greasy. The saw palmetto helps in the growth of healthy hair follicle size and silk amino acids penetrate your hair to strengthen, nourish, and rebuild damaged strands by eliminating product buildup. The coconut oil in the formula provides antibacterial protection, boosts scalp circulation, strengthens strands and maintains healthy protein building blocks while leaving your hair feeling hydrated and soft. Keratin makes your hair soft, shiny, and voluminous; peppermint oil fortifies and support the hair cuticle in moisture retention from other ingredients while stimulating circulation, relaxing muscles, and promoting a sense of calm; vitamin D3 stimulates cell growth and aid in the formation of new hair follicles; vitamin E combats free radicals and support healthy hair growth; vitamin B5, which has antibacterial and anti-inflammatory properties, soothes scalp irritation. With this shampoo, your hair becomes less prone to damage, breakage, and split-ends.
Key ingredients: Marula oil, Saw palmetto, Silk amino acids, Coconut oil, Keratin, Peppermint oil, Vitamin D3, Vitamin E, and Vitamin B5
Pros
Nourishes hair
Boosts shine
Reduces hair breakage
Paraben-free
Cons
Different hair issues require different solutions. However, every hair care enthusiast should avoid sulfates and silicones in their shampoos to keep their tresses soft and moisturized. For your guidance, we are providing a buying guide that will help you in choosing the best sulfate- and silicone-free shampoo for your precious strands.
How To Choose The Ideal Sulfate- And Silicone-Free Shampoo For Your Hair
Ingredients
Since the shampoos are already sulfate- and silicone-free, check the ingredients list for other harmful ingredients. Steer clear of shampoos containing parabens, phthalates, and sodium chloride. Opt for sulfate- and silicone-free shampoos that comprise nourishing ingredients like argan oil, neem, and jojoba oil that offer hydration and make your hair appear softer. Choose shampoos with phyto-caffeine that treat hair loss and improve your hair texture. You can also choose formulations with essential oils such as lavender oil, basil oil, and ginger oil that moisturize your scalp and treat frizzes.
Hair Type
If you have curly hair, go for organic and sulfate-free shampoos to keep your curls hydrated and defined. If you have straight hair, choose sulfate-free keratin-induced shampoos to tame frizzy and unmanaged hair. Thinning hair needs additional care, so use lightweight and gentle sulfate- and silicone-free shampoos. Extremely dry hair needs shampoos that can moisturize well, while oily hair needs shampoos specifically meant for deep cleansing to get rid of excess sebum and product buildup.
Skin Type
Choose silicone- and sulfate-free shampoos based on the skin type of your scalp. If you have an oily scalp but dry, frizzy hair, then go for a cleansing shampoo for your scalp and an effective conditioner for nourishment. If you have a dry scalp with dandruff, select the shampoos that improve hydration and offer moisture while combating flakiness and dandruff.
pH Level
The right pH level for the scalp and hair is 5.5, approximately. To prevent any pH imbalance of your scalp and hair, use a shampoo with a similar pH level. To maintain the health of your tresses, products with lesser pH balance are preferable. A high pH level product may weaken your cuticle and make your hair difficult to manage. It can also make your tresses appear dull and damaged.
Why Trust StyleCraze?
Shiboli Chakraborti is a certified skin care coach with extensive knowledge in hair care. After extensive research and examining user reviews on various websites, she has compiled a list of the best sulfate and silicone-free shampoos trending nowadays, as both of these components have been shown to cause long-term hair damage. She's also included a description of each product to assist you in selecting the ideal shampoo from various options.
Frequently Asked Questions
Is silicone-free or sulfate-free shampoo better?
Yes, silicone-free and sulfate-free shampoos are better than ordinary shampoos anyday! Apart from environmental concerns, these shampoos are quick enough to remove buildup and rejuvenate dull hair.
Can you use silicones with sulfate-free shampoo?
Yes, you can use silicones and sulfate-free shampoos together, as they remove unwanted damage and revive frizzy tresses.
Is silicone free the same as sulfate-free?
No, sulfates and silicones are not similar. The shampoos that are silicone-free might necessarily be sulfate-free. However, there are many shampoos that are both silicone and sulfate-free.
How long does it take for your hair to get used to silicone-free shampoo?
It can take up to 6 to 7 weeks for your hair to make adjustments after you switch to a silicone-free shampoo. Many hair types have also adjusted to the change in 2 to 3 weeks.
Why is my hair greasy after using sulfate-free shampoo?
Your hair might feel greasy while adjusting to a sulfate-free shampoo. While this is very common, the condition could occur due to lack of strength in your tresses.
Is it okay to use sulfate-free and silicone-free shampoo everyday?
Yes, sulfate-free shampoo and silicone-free shampoo can be used everyday on your hair. However, if you have damaged tresses, it is better to speak to a hair care professional before making a routine for yourself.
What happens to your hair when you stop using silicones?
When you finally ditch silicones, your hair will feel more moisturized. The natural oils that are produced by your scalp can finally nourish your tresses and revive their health.