The 5 Best Sulfate-Free Shampoos For Natural Hair – 2023
Retain your hair's natural moisture with the most suitable formulations for your hair type.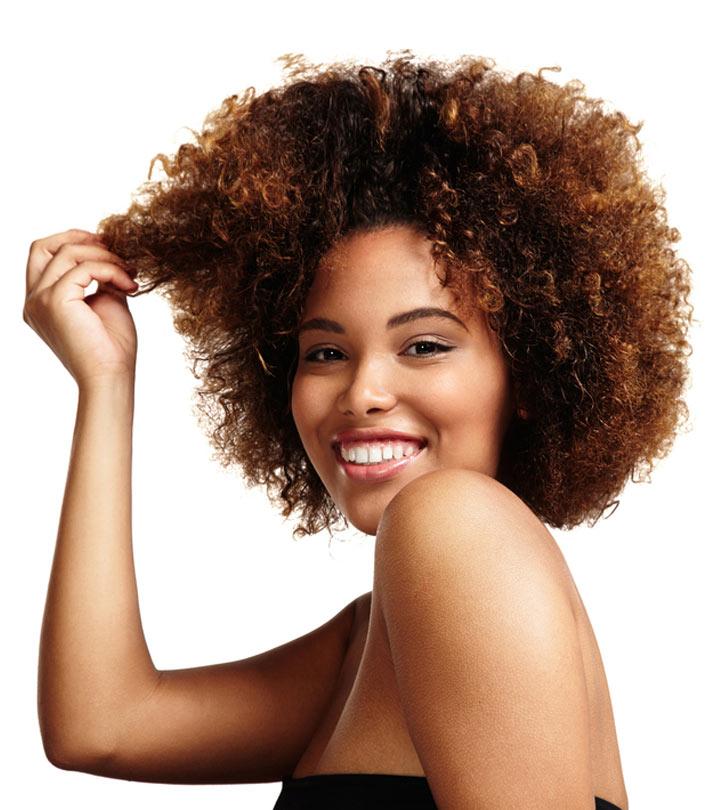 The best sulfate-free shampoo for natural hair is something that you should be looking for to maintain your gorgeous African-American hair. While most shampoos use sulfate as a cleaning and foaming agent, it tends to kill the natural oils and moisture in your hair. If you've been looking long and hard for a good sulfate-free shampoo for your hair, look no further than our list. Scroll down to know more!
5 Best Sulfate-Free Shampoos For African American Hair
The Cantu Cleansing Cream Shampoo is made of pure shea butter and freshwater that moisturizes the scalp and hair. It reduces the drying effect of a hair wash and reduces the accumulation of dry skin on the scalp. This shampoo also reduces hair fall that occurs during a regular hair wash. It can be used for daily hair cleansing as it is delicate on the scalp. The shea butter has vitamins A and E that add natural shine to your locks. Reviewers are impressed by its non-greasy formula that helps in repairing split ends and gives soft, bouncy curls. It is free of parabens, sulfates, silicones, and mineral oil.
Key Ingredient: Shea butter
Pros
Silicone-free
Paraben-free
Mineral oil-free
No animal testing
Boosts hair shine
Cons
Consistency could be too thick
Price at the time of publication: $5.38
The tgin Moisture Rich Shampoo contains pure coconut and amla extracts, pro-vitamin B5, and other fruit extracts. The essential oils help moisturize hair and scalp while its anti-inflammatory properties rectify scalp conditions and dandruff. The shampoo also prevents excessive hair loss during hair wash. The pro-vitamin B5 helps make the hair smooth and silky.
This shampoo prevents premature hair graying, hair loss, and scalp infections. Several reviewers love this balancing formula that smoothes the surface of the cuticles and cleanses the hair without washing away the natural oils. The shampoo contains natural extracts and is free of sulfates, parabens, petrolatum, lanolin, and artificial colors. It also is cruelty-free.
Key Ingredients: Coconut oil, amla oil, and pro-vitamin B5
Pros
Paraben-free
Petrolatum-free
Lanolin-free
No artificial colors
Cruelty-free
Cons
None

Price at the time of publication: $14
The Original Sprout Classic Shampoo contains calendula, rosemary, and arnica that hydrate a dry scalp, reduce dandruff, and improve scalp health. The shampoo's regenerative properties thicken hair and its antioxidants protect hair from cell-damaging elements. It prevents premature hair graying and helps clear out the blocked hair follicles.
The shampoo detangles and conditions the hair and prevents hair loss. It also protects the hair against UV damage. The gentle cleanser also protects treated hair and can be used for babies. It is free of parabens, phthalates, sulfates, and gluten. It also is vegan and hypoallergenic.
Key Ingredients: Rosemary, calendula, and arnica
Pros
Vegan
Hypoallergenic
Paraben-free
Phthalate-free
Gluten-free
No honey
No peanut
No dairy
Pediatrician tested
Not tested on animals
Cons
None
Price at the time of publication: $26.49
The Alikay Naturals Moisturizing Black Soap Shampoo helps retain the natural moisture content of your hair. The formula is made with cocoa seed powder that provides protein and antioxidants for strong, healthy hair. It cleanses hair from the roots and helps repair damaged hair follicles.
Key Ingredients: Cocoa seed powder, plantain skins, and tea tree oil
Pros
Safe for color-treated hair
Cons
Suits mostly a dry scalp only
Price at the time of publication: $12.65
The Carol's Daughter Black Vanilla Luscious Moisture Shampoo contains aloe leaf juices that help make hair soft and silky. The growth promoting formula is laden with vitamins A, C, and E to help improve scalp health. Vitamin B12 and folic acid prevent hair fall and repair hair damage caused due to sun, heat, and other natural aggressors. Several reviewers are highly impressed by this lightweight shampoo's ability to moisturize hair and protect it from dehydration and dullness. It also helps in enhancing hair manageability. It is free of parabens, sulfates, mineral oil, petroleum, and artificial colors. It is color-safe too.
Key Ingredients: Aloe leaf extract, calendula flower extract, rose extract, and sweet clover extract
Pros
Paraben-free
No artificial colors
Silicone-free
Petroleum-free
Mineral oil-free
Color-safe
Cons
Price at the time of publication: $10.99
With all the safe and conscious decisions that people are making these days in terms of lifestyle choices, its only fair that one steers away from chemicals and toxins in their hair care products too. A natural shampoo, devoid of sulfates, toxins, and other chemicals may be tough to decide on, given that there are so many brands out there. But, here are some common factors to keep in mind while you make a choice from all those options.
Things To Consider While Choosing The Best Sulfate-Free Shampoo For Natural Hair
1. Purpose And Ingredients To Look For
The composition of the shampoo should include nourishing ingredients that not only cleanse the hair but also offer health and rejuvenation.
Cleansing: The main job of a shampoo is to cleanse the hair and scalp. Ingredients like charcoal and kaolin clay have magnetic powers that pull out dirt, sebum, and dead skin from deep within the cells.
Hydration: A sulfate-free shampoo may preserve the natural moisture of the hair but it is advisable to pick a formula that offers extra hydration and conditioning. Look for ingredients like natural fruit extracts and pro-vitamin B5, which help in hydrating the scalp.
Moisturization: Nourishing ingredients like coconut, amla, essential oils, and shea butter which provides vitamin A and E, offer shine to your natural locks. They also repair damaged strands and dryness and help in detangling the locks. Make sure the formula is non-greasy and lightweight.
Strengthening: Look for a sulfate-free shampoo that is gentle on the hair but adds strength and vitality to it. Cocoa is rich in proteins and antioxidants, while vitamins A and C promote hair growth and vitamin B12 repairs damage.
2. Ingredients To Avoid
Not just sulfate-free, choose shampoos devoid of other toxins like paraben, SLS, SLES, phthalates, and TEA. Look for a formula that is also petroleum-free, silicone-free, mineral oil-free and has no artificial colors. A chemical-free shampoo prevents hair loss, minimizes graying and prevents scalp infections.
3. Additional Features
If you have colored natural hair, check the label for a color-safe shampoo. This will minimize color-fading and maintain the pigment for a long time. Also colored hair tends to become rough and dry. Rose extract, calendula, aloe, and sweet clover help to make the hair soft and luscious.
Choose a shampoo that offers restorative care and protects your natural hair from the damaging UV rays. Look for ingredients like rosemary and calendula which have antioxidant and scalp-soothing properties.
Why Trust Stylecraze
The author of this article, Shiboli Chakraborti, is a certified skin care coach with a love for all things hair care and styling. She has curated this well-researched list of the best sulfate-free shampoos for natural hair after sifting hundreds of user reviews on trusted online forums and websites. These products are from renowned brands and are formulated with ultra-nourishing ingredients.
Frequently Asked Questions
Is a sulfate-free shampoo good for natural hair?
Yes, sulfate-free shampoos help retain and maintain natural hair moisture. They also boost hair shine and softness.
How long does a sulfate-free shampoo take to work?
A sulfate-free shampoo may take up to six washes to show results. It could take longer in some cases. The results depend on your hair type.
How often should you wash your hair with a sulfate-free shampoo?
Use a sulfate-free shampoo only once in two weeks. You may co-wash in-between.
Can a sulfate-free shampoo cause scalp irritation?
It does not cause scalp irritation, unless you are allergic to some ingredient. Sulfate-free shampoos retain natural oils and moisture in the hair. Hence, they usually do not cause dryness or an itchy scalp.
Is sulfate-free shampoo good for 4C hair?
Yes, sulfate-free shampoo is good for maintaining the natural oils and moisture of 4C hair.
Does sulfate-free shampoo help hair growth?
Yes, sulfate-free shampoo helps retain hair's natural moisture and prevents hair damage due to dryness. This, in turn, supports hair growth.
What does sulfate do to natural hair?
Sulfate is very drying for natural hair as it strips the hair's natural moisture and causes dryness.
Recommended Articles