13 Best Pore-Minimizing Primers Of 2023
Fill in your open pores and make your face a smooth canvas for flawless makeup. If a layer of foundation and concealer is still unable to hide your pores, it's time you get your hands on the best pore minimizing primer out there. A pore minimizing primer, as the name suggests, fills in the open pores on your face, making your whole skin an even primed canvas for the smooth application of other
makeup products. This is like the basic foundation layer for your makeup. This makeup base is not only non-comedogenic but also helps seal and protect your skin from any possible irritants and chemicals in your makeup products. Make sure to choose the one most suitable for your skin type. To help you learn more about pore-minimizing primers and get the right one for yourself, we have shortlisted the 13 best options for you right here!
Top 13 Best Pore-Minimizing Primers of 2023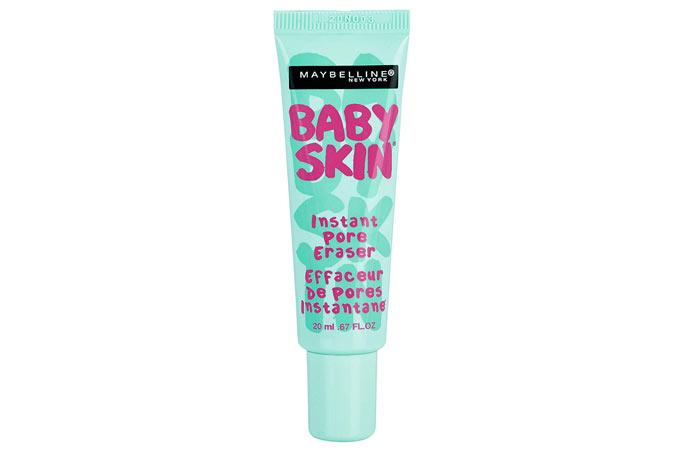 The Maybelline New York Baby Skin Instant Pore Eraser Primer is a pore-minimizing face primer which basically blurs your pores, acts like a moisturizer and helps smooth your skin so you can glide foundation on it. This is one of the best pore blurring primers and makes your skin look poreless and matte. Kristi Bergman, a makeup and beauty creator, says in her Youtube review, "It looks like a filter on my pores where I just applied it, it immediately actually blurred them. It is so smooth and silky. It does have a matte finish but not at all drying." This face primer will make your skin feel as soft as a baby's skin does all day long and even after you have removed your makeup by the end of the day. The mattifying and moisturizing effect is clearly visible and you no longer have to worry about excess oil. Check out this YouTube Video to learn best about the Maybelline Baby Skin Instant Pore Eraser.
Pros
Buildable coverage
Can be worn on a bare face for a simple smooth look, even without other makeup on.
All-day wear
Long-lasting
Cons
It may not work very well for dry skin.
Review: A user says, "I absolutely love this Maybelline's Baby Skin Instant Pore Eraser Primer! I'm someone with sensitive skin, and this clear, non-greasy formula works wonders. It visibly improves my skin's appearance, minimizes scars, and creates a smooth canvas for makeup. Although it's not completely matte, the silky texture is impressive."
Price at the time of publication: $6.98
Free of oil and talc, the NYX PROFESSIONAL MAKEUP Pore Filler Primer helps in minimizing visibility of pores, gets rid of excess shine, and prepares your complexion for a polished makeup look and application. This oil-free pore minimizing primer is a go-to primer to achieve the ultimate matte look specially for oily skin. Pores are concealed with the silky and sleek formula if you apply this primer on your face before beginning your base makeup using foundation, powders, concealers or bronzers. This pore filling primer does not change your natural complexion and is completely clear. Jenna Eve, a beauty and fashion creator on Instagram, says, "It really minimizes my large pores and the tint really gives me a flawless complexion!" This video review will help you understand more about the product.
Pros
NYX PROFESSIONAL MAKEUP is PETA certified and cruelty-free.
Infused with vitamin E for extra nourishment
Provides even complexion
The primer also reduces the appearance of fine lines.
Cons
It may result in a slightly cakey look.
Review: A user writes, "I've found my go-to primer in the NYX Pore Filler! While the consistency is odd, it's a budget-friendly gem. It helps blur imperfections and keeps my makeup fresh all day. Though tricky to apply, the results are smoother skin and longer-lasting makeup. Highly recommended!"
Price at the time of publication: $12.46
The e.l.f Poreless Face Primer is perfect for everyday use. This cruelty free pore-minimizing primer is enriched with the goodness of tea tree and vitamins A and E and makes sure the moisture in your skin does not disappear in a few hours and stays locked in until you take your makeup off. The pores in your skin along with any imperfections in complexion disappear as soon as you apply this silky primer on cleansed skin. YouTuber Lontia Kangwa, a beauty and skin care enthusiast says in her review video of this product, "It's got a very silky texture. It does create a kind of barrier for the pores to be hidden. They are less visible. It does have a slight mattifying effect." Take a small dollop of this drugstore pore-minimizing primer and blend it evenly on your neck and face before you apply any foundation or primer. If you are still unsure, check out this honest unboxing review.
Pros
100% vegan and cruelty-free
Lasts all-day long
100% parabens, nonylphenol, phthalates, ethoxylates, triclocarban, triclosan, and hydroquinone-free
Cons
The primer may have a slightly pungent smell.
Review: A reviewer says, "The e.l.f. Poreless Face Primer is a game-changer for my mild rosacea. It subtly reduces redness, providing a smooth base for flawless makeup application. Moreover, the lightweight, non-greasy texture makes it a delight to use. A definite repurchase for me!"
Price at the time of publication: $7.0
The Belleza Secreto Premium Makeup Primer with Anti Aging Benefits is made using a special gel formula that helps in creating a powerful and long lasting effect on your skin and prevents your makeup from smudging. All you need is a thin coat of this primer so that your foundation glides on smoothly. This pore minimizer primer is enriched with anti-aging formula and vitamins A and E which encourage the production of new skin cells. This pore hiding primer is safe for everyday use and doesn't clog pores or cause acne. This pore filling primer also eliminates any redness, excess oil and flakiness that does not let your makeup stay well otherwise and helps your makeup to hide pores.
Pros
The primer is waterproof and can last up to 8 to 12 hours
Lightweight and makes skin feel silky
Organic and non-greasy formula
Fragrance, paraben-free
Oil-control formula
Reduces fine lines, imperfections, large pores, wrinkles, acne, and blotchy skin.
Cons
It may not be suitable for application on sensitive skin and may show some side effects.
Review: A tester says, "When I discovered the Belleza Secreto's Primer, it truly transformed my makeup routine. It's the first primer that genuinely lasts and keeps my makeup intact for a full 8 hours. There is no need for touch-ups or worries throughout the day. However, I did experience some clumping issues, which made it difficult to use. Despite this, the initial results are impressive."
Price at the time of publication: $17.99
Benefit Cosmetics The POREfessional Pore Minimizing Face Primer is one of the best pore minimizer primers out there. YouTuber Vasilikis Beauty Tips, a professional makeup artist says, "It is very soft on the skin and makes it very smooth. It gives a very blurred effect on the areas where I have large pores. It is very lightweight, I don't feel that I have a pore-minimizing or mattifying primer on my face. It actually has a very light, natural sheen. I like that I don't need a lot of powder to set the foundation on top of this primer." This pore filling primer reduces the appearance of fine lines and pores so that you can enjoy softer and smoother skin. This lightweight primer can be applied alone if you want a simple day finish or mixed with your foundation to get a silky pearl-like finish. The primer also protects your skin throughout the day and has a lasting effect even after taking your makeup off.
Pros
Oil-free formula
Suitable for all skin tones
Helps makeup last longer
Infused with vitamin E to enrich skin
Cons
It may make your make up layer look thick if you apply too much at once.
Review: A tester reviews, "The Benefit's POREfessional Primer truly surprised me! With a matte finish and smoother skin, it camouflages imperfections. My visible pores are like a real-life filter, even in heat. While its effectiveness impressed me, I found it doesn't cover like a foundation, which isn't really a big issue."
Price at the time of publication: $28.98
Dr. Brandt Skincare Pores No More Pore Refiner Primer is a cult favorite primer that makes your skin look photo-ready and flawless. Imperfections and pores, both are minimized by this pore hiding primer, which should ideally be used in the morning right after you moisturize your face and neck. This miracle base primer helps preserve and perfect your skin, creating a canvas on which you can apply makeup which will last all-day long. This primer can also be used for touch ups through the day and has a slight tint to it.
Pros
Velvety formula of the primer blurs fine lines
Sweat, humidity-resistant
Offers a mattifying, powder-finish
Cons
This primer may make oily skin even oilier.
Review: According to a tester, "The Dr. Brandt's Pores No More Primer is a game-changer! As a 65-year-old, my pores were a concern, but this primer blurs and fills them effortlessly. It creates a youthful, smooth canvas for my makeup, and compliments keep coming. Lightweight, non-greasy, and truly effective."
Price at the time of publication: $30.0
The Too Faced Cosmetics Primed And Poreless erase imperfections and pores, evens your complexion and softens any fine lines so that your skin feels ready for makeup, powder, bronzer and anything else you wish to apply. You can even step out with just the primer which has a customized formula that makes skin look like it is glowing and airbrushed. YouTuber Brunellesp, a beauty, fashion, and lifestyle creator, says, "It definitely made a difference instantly with regards to the shine. It is so nice and my skin feels so soft, It does make a difference when it comes to blurring the pores. I will definitely find myself using this and taking it out on the days when I don't need to wear makeup. If you want a primer that you can use it as a form of skin care, then this is fantastic."  The primer which is filled with cyclodextrin with cavamax retinol and Retinyl palmitate brings moisture back to your skin, and lends suppleness as well as elasticity. The result is anti-wrinkle and enhanced skin thanks to the vitamins that act as antioxidants and fight all free radicals off of your skin.
Pros
Enriched with Camellia oil and vitamin A essence from white tea plant
Makes skin looking bright, firm and resilient, even from up close.
Includes actrostaphylos UVA URSI and mulberry extract so skin is lightened and feels fresh
Long terms benefits are visible with daily use
Cons
This primer may cause sensitive skin to break out.
Review: A user says, "This Too Faced Primed And Poreless is a game-changer for my sensitive, oily skin. It diminishes pores, hydrates, and holds makeup flawlessly for over 15 hours. It's a versatile product that's become my secret weapon for a polished, put-together look."
Price at the time of publication: $54.89
The Radiant Complex Face Primer is the best pore minimizing primer when it comes to cost per use among professional makeup primers. The specially created formula of this pore-reducing primer blurs pores as well as fine lines so your skin looks even, photo-finished, glowing, and bright. This primer is vegan and cruelty-free so you can apply your makeup knowing that no furry friends were harmed in the process of creating your primer. This primer helps your makeup last longer and makes it look like it was freshly applied, even at the end of the day.
Pros
Chemical and paraben-free
Lasts all-day long, no touch-ups required
Pore-refining formula
Easy-to-use packaging that does not break, and fits easily into your handbag
Cons
It may cause itching on sensitive skin.
Review: According to a user, "The Radiant Complex Face Primer has become my go-to! At 66, it's transformed my skin. Silky and effective, it minimizes pores, creating a smooth canvas. It keeps my makeup fresh, and I feel more confident than ever. A wonderful discovery!"
Price at the time of publication: $19.95
The Smashbox Photo Finish Minimize Pores Primer helps in improving the manageability of skin to create smooth makeup looks and responsive styling. This primer is ideal for everyday use and can be worn all day long and helps your makeup in being set without feeling the need of another touch up. This pore minimizing primer mutes skin undertones that are warm and adds depth and character. Along with minimizing pores this primer also controls shine and the amount of oil on your face and does not leave the skin feeling dry in the process. Imperfections are reduced too, making this one of the best pore minimizer primers.
Pros
Oil-free formula
Water-proof primer, can be easily worn to beaches, swimming pools and in the rain
Suitable for combination and oily skin and gives a fresh and matte look
Cons
If you mix with your foundation it may make it cakey.
Review: A tester says, "The Smashbox Photo Finish Minimize Pores Primer is a game-changer for my scarring. It smooths my skin like magic, providing an excellent base for daily makeup. Although it is slightly heavier for summer, its illusion of smooth skin is impressive. Highly recommend this one for daily wear."
Price at the time of publication: $35.04
The Hourglass Veil Mineral Primer is a state-of-the-art silky primer that elevates your foundation and gives you perfect complexion that can last all-day long. This pore concealing primer even conceals redness, wrinkles, and fine lines giving you a canvas that is even and smooth. The result is skin that allows foundation to glide on it all thanks to the airy formula of the primer. You can step out in the sun without fearing that makeup will melt as the primer holds on to it firmly and lets you look fresh. It can be used with a powder as well as cream foundation. Kristi Bergman, a beauty and skin care vlogger on YouTube says, "It does blend out far. It has a really cool texture and a very smoothing feel. It really does put like a satin, soft finish to the skin."
Pros
Vegan, cruelty-free
Includes SPF 15
Sulfates, parabens, nanoparticles, fragrance, phthalates, gluten, oil, synthetic dyes-free
Cons
It may work better in summer months as it could leave skin very dry in winter.
Review: According to a reviewer, "The Hourglass Veil Mineral Primer is a true gem! It feels expensive when you first see it, but the fact that a tiny amount goes a long way makes it a great value. It leaves a flawless foundation for makeup and keeps excess oil in check, leaving a silky, matte finish. As someone with oily skin, it's a game-changer!"
Price at the time of publication: $56
The  Lancome Paris La Base Pro Perfecting Makeup Primer Smoothing Effect Oil Free is a great option for oil-free pore minimizing primer and shows instant results. This oil-free primer helps create a base for makeup so that your skin looks radiant, silky and smooth, almost giving like a new polish to your face. This primer not only minimizes pores but also reduces the appearance of wrinkles and fine lines making it ideal for use by women of all ages. Once applied, the primer cools down and dries immediately and you can feel supple and soft skin come to life.
Pros
Lasts all-day long and helps makeup stay fresh
Free from oil, gives a matte finish
Suitable for all skin tones
Cons
It may cause sensitive skin to break out.
Review: A tester says, "This Lancôme La Base Pro Primer is my go-to choice! I've tried many others, but always return to this gem. It's the best on the market, delivering a smooth, dewy finish. Worth the cost!"
Price at the time of publication: $40.0
The Dermalogica Hydrablur Primer blurs pores and fine lines, brightens and hydrates to give flawless skin. This hydrating primer is lightweight and non-greasy and does wonders to minimize wrinkles and provide a matte finish. The special H2ORelease Complex helps provide hydration that is intense and doesn't get released. Upon application a microencapsulated tint is released which provides neutral coverage which is very light in texture. You can easily wear this primer after your moisturizer or before foundation for maximum impact.
Pros
Can be worn under makeup or without any makeup too
Blends smoothly over the entire neck and face when followed by foundation.
Enriched with Abbyssinian oil which provides locked in moisture
Cons
It may cause acne on oily skin.
Review: A user enthusiastically says, "This primer has been a game-changer for me. It offers full coverage, feels lightweight, and blurs pores quite nicely. Unlike other primers, it didn't cause me any skin issues. While it's a bit pricier, the effectiveness justifies it. I use it for special occasions and love the silky finish it provides. Overall, a fantastic primer that lives up to its claims."
Price at the time of publication: $49
The tarte Poreless Mattifying Primer is what your skin needs to be free from makeup meltdown specially on hot summer days. This mattifying primer features optical matte-blur technology that filters out lines and imperfections and creates a matte canvas which is shine-free. With this primer on your skin, the foundation stays on perfectly and the skin tone looks more even than before. This primer looks like an transparent and an invisible gel which is silky and is ideal for combination skin, erasing pores and fine lines, making uneven texture even and getting rid of acne scars and dry patches.
Pros
Waterproof primer and can be worn in rain and for a day by the beach.
Long-lasting primer helps the foundation last up to 2 hours too.
Clear primer, suitable for all skin tones.
Cons
It may make oily skin appear a little more
Review: A user writes, "I'm truly impressed with the tarte Poreless Mattifying Primer. Its silky, clear gel texture feels great on my skin. It helps my makeup last longer, controls shine, and minimizes makeup buildup in fine lines. It's been a game changer for my sensitive, oily skin, and I highly recommend it."
Price at the time of publication: $32
Let us now take a look at how to choose the right pore minimizing primer.
A Buying Guide To Find The Best Pore Minimizing Primer
Making a decision about the right pore minimizing primer is hard without trying the primer, but it is not impossible. Our buying guide below will help you decide which product is the best pore reducing primer for you!
How To Choose Minimizing Primer
When trying to choose the pore minimizing primer for yourself, keep in mind the following features and elements so you are steered towards the right primer.
Skin Type: Your skin type is the main factor that can narrow down the primer that will work best for you.
Oily Skin: If you have oily skin, you need a mattifying pore minimizing primer. Since you are already blessed with natural oil, you need a primer that is oil free and minimizes your pores but doesn't add any extra sheen to your face through the process.
Dry Skin: Dry skin needs hydrating makeup primer so that it doesn't flake your makeup within a few hours of stepping out. If you have dry skin you will know how your skin feels after a shower, and your pore minimizing primer will solve the problem of thirsty sensation that your skin exhibits.
Sensitive Skin: We are lucky to be living in a world where makeup brands have a complete range of products for sensitive skin. Paraben free pore minimizing primers should be your go to primer if you have skin that breaks out or gets irritated too easily.

Type And Length Of Event: When you are selecting a pore minimizing primer for your skin, be mindful of when you are going to be using it the most. If you wish to wear a face primer everyday to work, with day makeup, you need to get a primer that doesn't feel too heavy on your skin and isn't too thick in texture. For a night out however, you need a primer that will last through hours of dancing and bright harsh lights of clubs and restaurants.
Weather And Climate Conditions: It may feel easy to pick a primer based on your skin type and the activities you wish to wear makeup for. However everytime weather changes your skin may possibly change too. Specially if you have combination skin, you need to have a pore minimizing primer for summer and winter. If you are not careful and continue to use the same primer for every season your skin will either be in for oil spills in the summer or dry flakes in the winter.
How To Use Pore Minimizing Primer
Here is a step wise guide on how to use a pore minimizing primer to make the most from its benefits.
Step 1: Once you are done applying your moisturizer and eye cream, squeeze a pea size amount of pore minimizing primer onto a flat brush or on your fingertips.
Step 2: The layer of the face primer should be light and thin, and should be quickly absorbed into the surface of your skin so it is ready for makeup application.
Step 3: Before you start applying your foundation and face powder, be sure to blend the pore filling primer so that there is no balling of foundation that will take place.
Step 4: Let the primer dry for a minute and then fearlessly begin your makeup routine.
Why Trust StyleCraze?
Srijita De is a beauty and fashion enthusiast passionate about reviewing the latest trends and products. She takes her skincare and makeup game seriously and has dug deep to understand the critical points about what works and what does not. She extensively researched and reviewed the primers designed to minimize facial pores and thoroughly checked through the product reviews to find out the best that she's listed down here. All these products are top in their category and will help create the perfect base for your makeup.
Frequently Asked Questions
Is pore minimizer a primer?
Not all primers are pore minimizers, but most of the time a pore minimizing product will be a primer which can also help set your foundation fairly well.
Do pore minimizing primers clog pores?
All primers do not contain comedogenic ingredients that are basically pore-clogging elements. However If you have oily skin, then you must try and be aware of what primer suits you skin type, and most of the time, the primer alone is not the only reason for clogged pores.
What is the best primer for large pores and oily skin?
The following are the best primers for large pores and oily skin:
Hourglass Veil Mineral Primer.
Smashbox Pore Minimizing Photo Finish Foundation Primer.
Tarte Poreless Mattifying Primer
Lancôme La Base Pro Pore Eraser Perfecting Makeup Primer
Benefit Cosmetics The POREfessional Face Primer.
What can I use in place of a face primer?
If you are looking for a natural alternative to face primer you can try aloe vera gel or coconut oil. Other options also include BB or CC cream or lacto calamine lotion.
How much quantity of primer is needed for one application?
You need a pea or raisin size amount of primer to apply on your face during a single use. Too much of the primer can make your makeup feel heavy and let it melt easily.
Recommended Articles