10 Best Antifungal Soaps To Buy Online In 2023 – Reviews And Buying Guide
You need not worry about fungal infections anymore with these soaps by your side.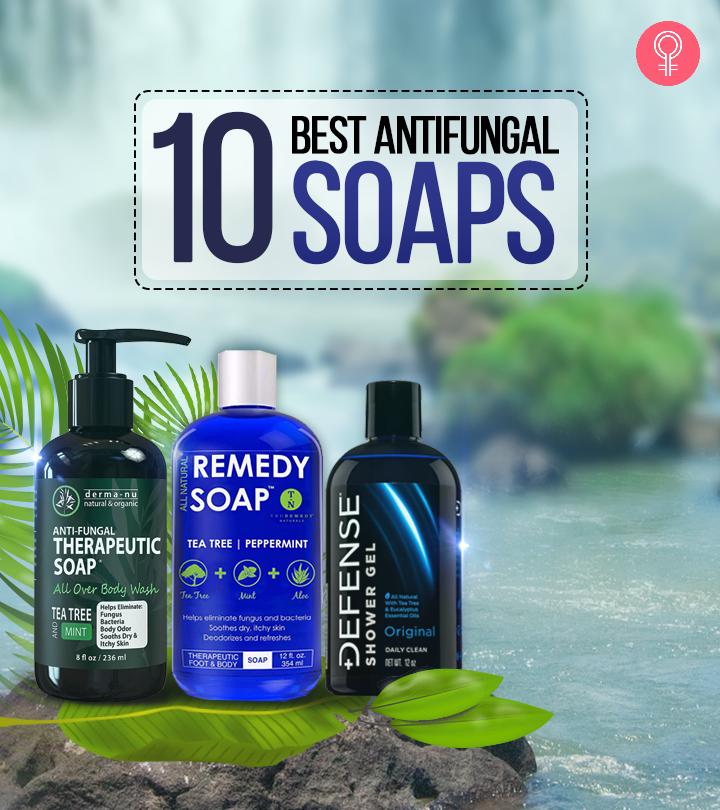 Athletes' feet, jock itch, and ringworm are common concerns when you share common bathrooms or live in untidy places. Such concerns need to be addressed soon as they spread quickly. You need the best antifungal soaps that are specially formulated to treat contiguous fungal infections. These antifungal soaps for ringworm keep your skin free from itching and redness and remove any growth of fungus. However, there are several things that you have to consider before buying an antifungal soap – ingredients, type of infection, formula, and fragrance. To make the task easy for you, I consulted Dr. Schwarzburg, MD, a cosmetic physician, and compiled a list of the 10 best antifungal soaps that treat your infections topically. Scroll down and have a look!
10 Best Antifungal Soaps

Remedy Soap Tea Tree Oil Body Wash is the best therapeutic foot and body cleanser. This unisex natural shower gel is made from premium botanical tea tree oil, eucalyptus oil, and peppermint oil that help skin irritations. This remedy gel can soothe dry, itchy, cracked, and flaky skin. This antifungal soap for fungal acne is also enriched with jojoba, coconut, and olive oil that moisturizes, refreshes, and deodorizes itchy smelly feet. This acne body wash is a foot and body odor eliminator that soothes athlete's foot, toenails, candida, ringworm, jock itch, and acne. Further, the product has not gone through animal testing. Check out the review of Remedy Soap Tea Tree Oil Body Wash to know why it is one of the best ones out there.
Pros
Helps eliminate bacteria and fungus
Soothes dry and itchy skin
Clear poor complexion
Deodorizes and refreshes
Moisturizing
Silicone-free
Sulfate-free
Cruelty-free
No chemical preservatives
No synthetic fragrances
Cons
Too strong smell
Not suitable for sensitive skin
Purely Northwest Antifungal Tea Tree Oil Body Wash is the best wash for smelly foot and body odor. This antifungal soap for scalp infections is formulated with a blend of tea tree oil and 100% pure essential oils and works great on athlete's foot, nail fungus, jock itch, yeast, ringworm, and tinea versicolor. This tea tree oil wash also addresses dry, flaky, burning, and itchy scalps. Also, it cleanses clogged pores while reducing oils and bacterial build-up that can lead to cystic acne. This natural anti-germ body wash is gentle enough for those with sensitive skin, psoriasis, and eczema.
Dr. Schwarzburg, a leading authority in the field of minimally invasive cosmetic and laser medicine in New York City, says, "Tea tree oil can be quite strong and may not be suitable for people with sensitive skin."
Pros
Antifungal formula
Helps treat athletes foot, nail fungus, and jock itch
Knock out foot and body odor
Addresses body acne
Excellent for dry, flaky, and itchy scalp
Moisturizing
No synthetic fragrances
Cons
Not suitable for all skin types
Poor quality
The Marie Originals Itch Relief Soap is a fast-acting antifungal soap that prevents your skin health from getting affected due to conditions like insect bites, chickenpox, and rosacea. This natural antifungal soap for sensitive skin is an antihistamine infused with grindelia herb that calms inflammation along with oat that soothes the skin and detoxifies it. This antifungal soap also features bentonite clay that eliminates toxins for instant relief and the powerful sassafras that acts as an antihistamine to curb the itch. According to the reviews, the healing properties of this soap are no joke, so give it a try! Further, it is not tested on animals.
Pros
Quick-acting formula
Organic formula
Reduces itchiness
Calms eczema
Controls swelling
Heals insect bites
Non-drying
SLS-free
Paraben-free
Artificial dye-free
GMO-free
Cruelty-free
Suitable for sensitive skin
Cons
None

Derma-nu Anti-fungal Therapeutic Soap and Body Wash is the best therapeutic soap for pesky germs. The powerful tea tree oil and mint blend wash away all fungal growth that cause athlete's foot, ringworm, psoriasis, jock itch, acne, toenail and nail fungus, yeast, and other body and skin Irritations. This antifungal soap for yeast infections is enriched with tea tree and peppermint oil, menthol, wintergreen, eucalyptus and spearmint that soothe and prevent itchy, scratchy, dry or inflamed skin. Dr. Schwarzburg, a leading authority in the field of minimally invasive cosmetic and laser medicine in New York City, says, "Many anti-fungal products contain sulfur, which is known for its foul smell. As such, you can expect a lot of these products to have an unpleasant odor."  For a detailed review of this antifungal soap, have a look at this YouTube video on the reviewer's experience of using it.
Pros
Moisturizing
Soothes and prevent itchy and inflamed skin
Paraben-free
Nosynthetic fragrances
Nodyes
Cruelty-free
Safe for all skin types
Cons
The New York Biology Tea Tree Body Wash is made with 100% clean and organic tea tree essential oil and offers various skin advantages. It contains moisturizing and nourishing ingredients that give you a relaxing bathing experience and healthier skin. This antifungal soap for body odor contains a potent combination of tea tree oil, essential oils, and peppermint oil, which gives quick relief from mild to severe infections, toenail fungus, athlete's foot, jock itch, odor, psoriasis, and dry and itchy skin. This body wash has been clinically-tested and certified and is suitable for all skin types. Several reviews online show that it is proven to deliver visible results.
Pros
Help soothe dry and itchy skin
Gentle formula
High-quality ingredients
Cruelty-free
SLS-free
Paraben-free
Phthalate-free
Alcohol-free
Suitable for all skin types
Value for money
Cons
None

Defense Soap Original Bar Soap is a high-quality wash with superior rinsing action. It is enriched with a clinically-proven and natural tea tree and eucalyptus oil that helps wash away the bacteria and fungus. Also, it removes all dirt, sweat, and build-up oils efficiently. This moisturizing antifungal soap restores the skin's natural barrier, controls the production of sebum and dead skin cells.
Pros
Includes clinically-proven ingredients
Provides high-quality wash
Moisturizing
Hypoallergenic
No fragrances
No dyes
No petrochemical compounds
Paraben-free
Sulfates-free
Alcohol-free
Triclosan-free
Cons
Majestic Pure Tea Tree Body Wash is a plant-based body wash formulated to combat dry, flaky skin. This cleansing and moisturizing body and foot wash soap is made from pure tea tree oil using traditional European techniques that soothe and nourish irritated and chapped skin areas. The antifungal properties of tea tree essential oil formula in this anti-itch antifungal soap relieves minor skin irritation and eliminates odor.
Pros
Soothes itchy dry skin
Wash away impurities
Conditions the skin
Defend against athlete's foot
Moisturizing
Paraben-free
No artificial colors
No chemicals
Cruelty-free
Great wash for all skin types
Cons
Defense Antifungal Medicated Bar Soap is the best bar soap for athlete's foot fungus. This antifungal soap for preventing recurring infections is made with natural essential oils and treats the most common fungal infections like ringworm, athlete's foot, and jock itch. It is scientifically-formulated with tolnaftate (1%), an antifungal agent that can act against athlete's foot and other infections. This concentrated tolnaftate formula goes right to the infected area and prevents new infections. It comes along with a snap-tight case.
Dr. Schwarzburg, a leading authority in the field of minimally invasive cosmetic and laser medicine in New York City, says, "Because of the unpleasant smell of many anti-fungal products, many of them also contain fragrances to mask this odor. Keep in mind that fragrances often contain alcohol, which should be avoided if you have dry or sensitive skin."
Pros
Infused with natural ingredients
Treats common-locker room infections
Easy to use
Scented
Paraben-free
Sulfates-free
Nodyes
Cons
The Yellow Bird Peppermint & Tea Tree Soap Bar is the best chemical-free antifungal soap bar. It is formulated with peppermint, tea tree, and cajeput essential oils that can give your skin a healthy-looking complexion. This antifungal soap can eliminate odors and keep your skin clear. It contains many organic ingredients and works great on all skin types. Also, this organic antifungal soap that is handcrafted provides antifungal relief for many types of rashes and dry itchy skin conditions. In this video, you will get to know the detailed benefits of the The Yellow Bird Peppermint & Tea Tree Soap Bar.
Pros
Gives healthy-looking complexion
Provide antifungal relief
Moisturizing
No chemicals
Sulfates-free
Paraben-free
Alcohol-free
Noartificial dyes
Nosynthetic fragrances
Cruelty-free
Cons
Signature Black Bottle Body Wash is a perfect all-in-one solution for fungus skin irritations. This antifungal body wash is formulated with tea tree oil which is designed to relieve dry or inflamed skin with a cooling sensation. This tea tree oil antifungal soap is ideal for athletes and treats conditions like jock itch, ringworm, and athlete's foot. Also, other important tolnaftate can act against an athlete's foot and other infections.
Dr. Schwarzburg, a leading authority in the field of minimally invasive cosmetic and laser medicine in New York City, says, "Depending on the severity of your fungal infection, over the counter products can often be effective in treating them. However, if you are dealing with long term symptoms, it is best to seek guidance from a medical professional or dermatologist to see if a prescription would be more effective in your case."
Pros
Treat jock itch, ringworm, and athlete's foot
Relieve dry or inflamed skin
Ideal for athletes
Scented
Suitable for all skin types
Cons
*The prices provided in this article are based on the latest available information. However, they may vary due to changes in pricing by the seller and/or promotional offers.
These are our top picks of antifungal soaps for fungal infections. The following section lists some things to consider when buying an antifungal soap.
Things To Consider When Purchasing An Antifungal Soap
Ingredients
Ingredients are the most important parameter to consider while buying an antifungal soap. If you are looking for the soap with natural active ingredients like tea tree oil and eucalyptus oil. Both of these oils have natural antifungal and antibacterial properties.
Type of fungal infection
Not every antiseptic antifungal soap can treat all types of fungal infections. It is very important to read the label of the soap while purchasing it to make sure that a particular soap is effective for the infection you have. The athlete's foot, ringworm, and jock itch are some of the common types of fungal infections.
Infection stage
When you are purchasing an antifungal soap, it is also important to consider the stage of your fungal infection. The formulation of some antifungal products may be suitable for treating mild infections while others may be of use in severe cases concerning your immune system. Generally, these are very effective when you use them to treat the fungus in its earliest stages. If your skin issue does not respond with the usage of soap, then the infection may be severe enough to be treated with an antifungal soap.
Formula
Antifungal soaps are available in bar or liquid formulas. Both ones can effectively treat fungal infections, so choosing the best one totally depends on your interest. Some users prefer liquid formula because of their fear of spreading the fungus with soap itself.
Fragrance
The fragrance is one of the important factors to consider when purchasing an antifungal soap. Generally, antifungal soaps and body washes are formulated with different active ingredients with proven efficacy in treating many fungal infections with strong fragrances. If you are concerned about this you can choose a soap with natural or dermatologically-approved ingredients with a pleasant smell.
Why Trust Stylecraze
Oyendrila Kanjilal, the author, is a certified skin care coach who has the lowdown on the best antifungal soaps you should own. She shares tips for choosing the appropriate one in her buying guide and explains how to consider ingredients and product formulation parameters for a better experience. In addition, she has carefully weighed the most popular options on the market to create this list of the best ones for her readers' benefit. These soaps will help your skin stay free of itching and redness and reduce fungal infection.
Frequently Asked Questions
Can we use antifungal soap daily?
Most antifungal soaps cause dryness of various degrees. So, do not apply it continuously for a long time. Ideally, a stretch of 2 weeks should be enough for effective relief and to treat the infection. However, it is best to consult a dermatologist and follow their instructions.
Can you get rid of a fungal infection with soap?
Yes, a mild to moderate fungal infection can be treated with the use of appropriate antifungal soaps.
What kind of soap is antifungal?
An antifungal soap is generally formulated using ingredients that can treat fungal infections. Some common antifungal ingredients are eucalyptus oil, tea tree oil, peppermint oil, tolnaftate, miconazole, etc.
Which is the best soap for fungal infection?
The Defense Antifungal Medicated Bar Soap is the best anti-fungal soap bar, while the Remedy Soap Tea Tree Oil Body Wash is the best anti-fungal liquid shower gel. These are enriched with tolnaftate and eucalyptus oil respectively to ward off infections.
What are the 4 types of fungal infections?
The four most common types of fungal infections are athlete's foot, jock itch, ring worm, and yeast infection.
Can we use normal soap in fungal infection?
No, using a normal soap may make your fungal infection worse. Soaps create a more alkaline condition for the fungus to thirve in, which is bad for you.
Recommended Articles