13 Best Heels For Wide Feet That Are Classy And Trendy – 2023
Flaunt these classy yet stylish wide feet heels made of skin-friendly materials.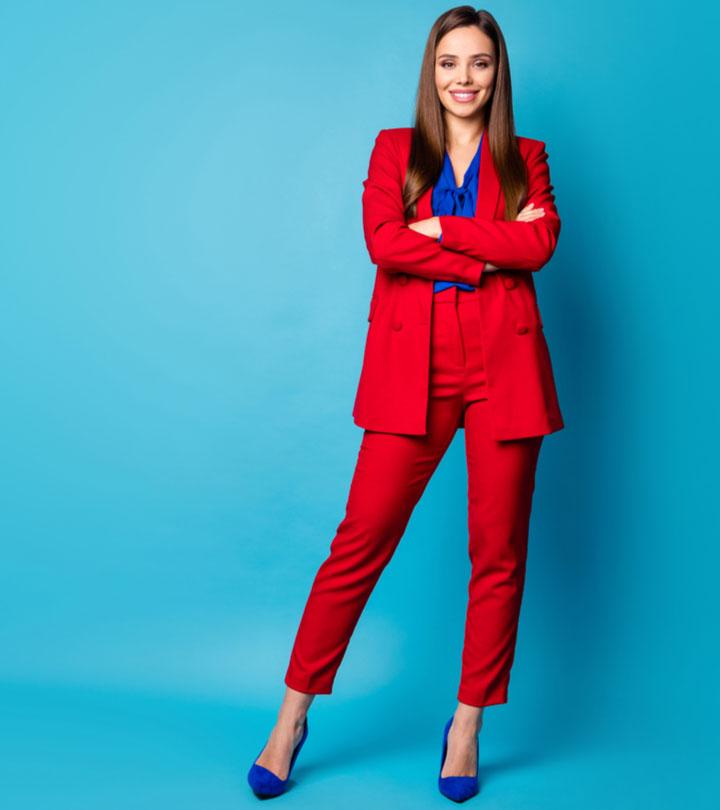 Finding the best heels for wide feet is a big struggle. So, if you're one of those who are struggling with the same, we have the most stunning and comfortable heels for wide feet waiting ahead. Yes, no need to bear the achy and blistered feet or heels that loosen up in just a few days. The time has come when you get rid of discomfort and step into sass with these wide feet heels that will take you from work to club to casual outings while you're utterly unstoppable. Such heels have enough room for your feet and allow you to move freely too. Dr. Jamila Butcher, specialist in podiatric medicine and surgery says, "Firstly, look for heels that have a wider toe box to accommodate your wider feet. Ideally a rounded or square toe box. This will help to prevent discomfort and blisters, and also give you more room to move your toes."
Since heels don't come with lace, it gets tricky to have a proper grip on heels, but you won't be struggling with this when you wear wide feet heels. So, bid goodbye to foot cramps and ankle twists because you're now about to step into the world of comfort in these heels. Ahead we have curated a list of 13 stylish heels for you that are bound to make you feel comfy, and others swoon over your heels. They are ultra-flexible, soft, and light as well. They are classy yet trendy and easy-going as well. So, don't wait up; just pick these stunning heels because they are worth it!
13 Best Heels For Wide Feet That Are Chic And Ultra-Comfy
If the sparkling rhinestones don't have your attention already, these pump heel sandals for wide feet also come with the guarantee of comfort and optimal support. Match them with your brunch outfit or prom-night look and watch the heads turn as you strut past. Along with exquisite crystal embellishment, the trendy pair has a 3-inch heel, and the straps are adjustable to make room for every foot type. A great option for summers and summer weddings, the wedding heels pair has a soft upper to prevent blisters and a faux padded insole for prolonged comfort.
Pros
 All-day comfort
 Robust traction
 True to size
 Available in 8 colors
Cons
Price at the time of publication: $29.99
Here's a closet staple for women who enjoy a little oomph in their walk. The ankle strap heels are designed to stun with simplicity. The mid-heel shoes feature an adjustable ankle closure to allow maximum traction and stability. The insole is nice and roomy for your feet and toes, while the chunky heels ensure high comfort and low pressure on the legs. Overall, these strappy heels for wide feet are excellent for all-day wear as they won't tire your feet even if you dance in them for hours! Dr. Jamila says, "In addition to fit, it's important to consider the heel height and style. Choose a heel height that you can comfortably walk in for an extended period of time, and consider styles with a thicker heel for more stability."
Pros
 Skin-friendly material
 Durable faux suede vamp
 Suitable for all ages
 Available in 13 colors
Cons
 The straps might be slightly loose for some.
Price at the time of publication: $21.99
If you are looking for heels that are breathtaking in their elegance and grace, these dress pumps for wide feet should be among your top choices. They have an ultra-soft insole that creates a soft, cushioning effect, and the 100% synthetic sole is spacious and flexible enough to deliver comfort for all-day wear. An incredibly versatile option that you can pair with your brunch, date, or work outfit, these closed-toe heels are specifically designed with easy-flexing soles that are ideal for wider feet. Dr. Jamila says, "When it comes to materials, opt for high-quality and durable materials that will stand up to regular wear. Leather is a great choice for heels as it is both stylish and durable, and can conform to the shape of your feet over time."
Pros
 Super-comfortable
 Soft and skin-friendly
 Sturdy heels
 High stability
 Available in 2 colors
Cons
 Might be slightly less breathable in the summer
Price at the time of publication: $49.95
Pedicure lovers, here's a pair that needs your attention right away. Besides giving your squeaky clean feet and freshly done nails a 4-inch-high platform to shine, the open-toe sandals come with a chunky, transparent design to up your confidence instantly. These party heels are just the trendsetting pair you need to add to your shoe closet this season, with the crystal-clear straps only adding to the elegant finish. Pair them with classic tees and denims or slay the dance floor at the party — whatever you do, the transparent sandals will keep you stable and ensure maximum traction.
Pros
 Adjustable straps
 Roomy toe box
 Pairable with any outfit
 Available in 5 colors
Cons
 The size runs slightly small.
Price at the time of publication: $45
When it comes to finding the most comfortable heels for wide feet, the ankle-strapped sandals by J. Adams are a must-have. These sandals are designed to provide both style and comfort, allowing you to flaunt your gorgeous feet without sacrificing on ease. They feature 2.5-inch block heels that are not too high or low but deliver the right kind of boost, stability, and traction. The chunky design will not strain your arches and is suitable for prolonged wear. And that's not all! These wide-open sandals with buckle closures hug your feet without feeling too snug or pinching the skin. The best part is that the pair has a soft leather upper and a lightweight but heavily cushioned sole to deliver supreme comfort without compromising on style.
Pros
 Cruelty-free construction
 Ultra-lightweight soles
 Adjustable ankle straps
 Available in 20 colors
Cons
 Some may find the toe area slightly snug during break-in.
Price at the time of publication: $37.99
Be it spring or summer, your feet deserve a break from heavy boots. What better way to replace those stodgy style statements than with these buttery-soft and lightweight Rockport wedge heels? They come highly breathable, which means no more stuffiness or sweaty feet. More importantly, these platform heels feature a ventilated upper made of genuine leather that is easy to clean, so your sandals always look good as new. What's more, the embedded sock liner has a soft woven fabric that is flexible, stylish, and ultra-comfortable. Spacious enough for your feet and toes, the casual heels pair offers a TPR outsole that ensures stability as you walk. An excellent choice for work and casual outings, its laser-cut design and pretty color options will definitely have you wanting more than a pair.
Pros
 Snug, comfy fit
 Noiseless rubber sole
 Good arch support
 Made of genuine leather
 No rubbing or pinching
 Available in 7 colors
Cons
 Might not be true to size
Price at the time of publication: $79.99
What do we love about this ultra-classy pair with a faux animal print design? Let's begin with the out-and-out chic vibe, closely followed by the wide heel coverage and ankle straps that will keep your feet in place no matter the intensity of your stride. The open-toe heels also comprise an incredibly soft material that cushions your feet and feels gentle against the skin. At 2.25 inches, the heels are neither high enough to threaten the health of your joints nor low enough to feel like flats. With a stretchy and adjustable strap to boot, you get support, stability, and safe traction all the way. Dr. Jamila says, "The adjustable strap is also a great feature, as it allows you to customise the fit of the shoe to your foot, ensuring that you get the right level of support and traction. And of course, the faux animal print design is a stylish touch that will help you stand out from the crowd."
Pros
 Lightweight and smooth
 Leather-like material
 Wide and roomy
 Easy to slip on and off
 Available in 4 color options
Cons
 The heels might click a bit when worn indoors.
Price at the time of publication: $28.4
No closet is complete without a hot pair of pointed stilettos, which is why we have these babies on the list. Made from high-quality synthetic materials, the 4-inch stiletto heels promise the kind of lift that won't stress the balls of your feet. And boy, are they wide! Unlike traditional stilettos, these stiletto heels for wide feet provide you with maximum comfort and stability by having more room in the toe area, not to mention cushioned insoles and a flexible fit that will leave you pain-free at the end of the night. The classy, timeless finish with rose-gold accents along the tips and neutral tones is guaranteed to add an elegant touch to all your OOTDs.
Pros
 Vegan materials
 Versatile design
 Blister-free insoles
 Comfortably padded
 Beautiful design
Cons
 Might not be ideal for all-day wear
Price at the time of publication: $39.99
CUSHIONAIRE Women's Alba One Band Mid Block Heel Sandal is the ideal choice for those with wide feet without compromising on style and comfort. The soft fabric and vegan leather upper, adjustable ankle strap, and memory foam insole provide support and stability to your feet. The outsole of the shoe is flexible and long-lasting for unbeatable traction. These shoes are available in wide widths to suit everyone's needs.
Pros
Fashionable
Comfortable
Vegan leather
Zero discomfort
Long-lasting
Classy looking
Goes with various outfits
Cons
None
Price at the time of publication: $39.99
With an anti-slip outsole, these ultra-classy suede sandals with heels are a great option for pool parties or for those who have feet that sweat easily. The pair has a premium cushioned insole to provide comfort, and the straps are adjustable so you have plenty of wiggle room. If durability is one of your main requirements, this long-wearing sandal is an excellent choice. It has a medium-height heel to make you look prominent in a crowd without stressing out your arches even after walking around in them all day. The fact that they are spacious enough to accommodate wide feet is just a bonus.
Pros
 Cruelty-free
 High stability
 Maximum support
 Soft and smooth material
 Available in 3 colors
Cons
 You may have to size down.
Price at the time of publication: $24.99
If you relish being in the spotlight, these fashion-forward sandals will have all eyes watching your stride. Exquisitely crafted down to every minimalistic detail, the stacked heels will transform pretty much any outfit into a statement. They provide high stability and support at the balls and feet, so you can stand in them comfortably for hours. The best part is these high heels for wide feet come with a velcro closure, which means you can get in and out of them effortlessly. Smooth and cushioned at the insoles, the pair has a soft inner lining and an anti-skid outsole for robust traction.
Pros
 Premium vegan material
 Minimalistic design
 Non-slip outsoles
 Easy to wear and remove
Cons
 Available in only 1 color
Price at the time of publication: $39.95
When it comes to simple yet seductive aesthetics, this pair of sandals by Calvin Klein has our heart. Living up to the brand's signature style and comfort, the heels feature gel pod inserts for luxurious support and enhanced stability. If you avoid open-toe footwear because your feet tend to slip out, the pair side-steps that problem with the adjustable ankle strap that ensures a secure fit. The 'something extra' in these Calvin Klein beauties comes from the elegant metal ornament, not to mention the anti-skid, weatherproof outsoles that make it ideal for all seasons.
Pros
 Flexible and durable
 Adjustable straps
 Shock absorption ability
 Available in 6 pretty colors
Cons
 The toe area might be slightly snug for some.
If you don't mind loosening your purse strings a little for a treat that will last you a while, Clarks offers these closed-toe shoes for wide feet that are a must for all-day wear. Wide feet or not, these babies will fit you like a glove, thanks to the soft and flexible textile lining. With an OrthoLite footbed to prevent muscle fatigue and the brand's trademark cushioning effect to pamper your feet all day, the formal heels pair is ideal for extended events like weddings and graduation parties. Made of premium-quality leather for a classy and superior finish, the pointed-toe design gives you a bold, feminine edge.
Pros
 High stability
 Shock absorption
 Soft and skin-friendly
 Available in 10 colors and designs
Cons
Price at the time of publication: $65.99
So, these were the 13 best heels for wide feet that have been taking wide-footed heel-wearers by surprise because of how comfy and well-fitting they are. If you need help choosing the right option, we have a few tips that will come in handy.
How To Choose The Best Heels For Wide Feet?
It's imperative to wear the right size so you can avoid the agony of blisters or injuries. Be sure to compare your foot measurement with the brand's size chart before buying. You can also check the reviews and comments to figure out if a pair is true to size or requires sizing up or down.
No matter how stunning the heels are, you will regret buying them if they are not comfortable! So, if you are looking for all-day wear and comfort, select heels that have roomy toe and sole areas. Padded or cushioned footbeds are a mighty big plus. Soft leather cushioned heels are deemed more comfortable because they break in quite easily. Also, mules, strappy sandals, and slingbacks offer optimal support and comfort to wider feet.
The height and type of your footwear determine the stability it provides to the feet. For maximum stability, block heels are ideally the best option as they provide robust traction and support.
Why Trust StyleCraze?
The author, Priyam Gupta, is passionate about fashion. She loves to experiment with fashion, which led her to browse various forums to check user reviews to provide the best heels for wide feet. She picked the products based on comfort, durability, and size. These heels provide day-long comfort and are made of soft and skin-friendly material. These sandals are also available in various colors to match your mood.
Frequently Asked Questions
How do I know if I have wide feet?
If you feel your feet are cased-in or protruding outward from the sides, you may have wide feet. You can also measure them to figure this out. If you feel comfortable in 2E or larger sizes, your feet fall on the wider side.
Should I size up if I have wide feet?
It may vary from brand to brand. People with wide feet tend to size up if they are buying wide heels. However, if the brand designs heels specifically for wide feet, the products may be true to size or run slightly large. Make sure to check the size chart and read the manufacturer's labels along with user reviews to understand which size to choose.
Are wide shoes wider in the heel?
No, they are not. Wide shoes have a wider toe and forefoot area, but the heel area is similar to regular shoes.
Can I wear normal shoes with wide feet?
Yes, you can wear normal shoes if you are comfortable in them. Ideally, you should size up for maximum comfort and inspect if they have a secure fit before buying.
Are square-toe heels good for wide feet?
Yes, absolutely! Square-toe heels are excellent choices for wide feet as they are comparatively roomier in the toe and forefoot area to provide optimal comfort.
Can people with wide feet wear heels?
Of course! In fact, block heels are considered one of the most comfortable and stylish options for those with wide feet.
What type of heels looks best on wide feet?
All heel designs look good on wide feet. However, you can achieve immense comfort and styling with wedges, straps, and block-on heels.
What heels should overweight people wear?
Block-on heels with less incline or platform heels can be considered the best choice for overweight people.
Do heels hurt more if you are overweight?
Yes, people with obesity can experience difficulties wearing heels with more inclination. So, they can opt for flat or block-on heels that maintain style and comfort effortlessly.