12 Best Nike Shoes For Women That Are Stylish And Comfortable – 2023
These incredibly fashionable pairs will help you rock all kinds of casual and formal looks.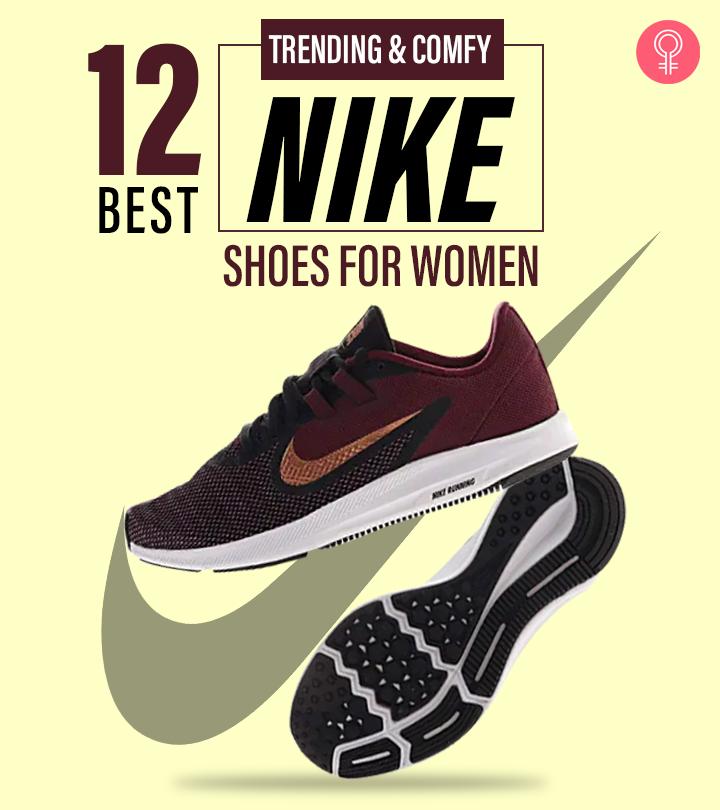 Often, we hoard on a lot of heels, flats, flip flops, and sliders but ignore buying a pair of good sports shoes. Because running and jogging are just important to keep your physical and mental health in place. And for that purpose, you don't find a better fit than a pair of the best Nike shoes for women to ensure a comfortable experience.
Nike is the first brand that strikes our mind when we talk sports. With 6 decades of renowned reputation, Nike has a wide variety of women's sports shoes that work great for beginners and seasoned runners. Their shoes offer superior comfort, extreme breathability, shock absorption, and more cushioning. To find the 12 most comfortable Nike shoes for women, scroll down.
12 Best Trending And Comfy Nike Shoes Of 2023 For Women
Pros
 Better shock absorption
 Increased breathability
 Durable soles
 Deep cushioning
Cons
Price at the time of publication: $79.99
The Nike Women's Downshifter Sneakers are known for their superb design and increased traction. They offer a massaging effect to your feet while running. The shoes are made from a mix of high-quality synthetic and textile to ensure maximum breathability. The rubber soles offer a comfortable cushion while making the shoes lightweight. They are designed well with a closed mesh through the mid-foot and heel. They offer support to your feet and ensure there is no fatigue even when you run a few extra miles.
Pros
 Lightweight rubber soles
 Maximum breathability
Cons
Price at the time of publication: $79.99
Make your morning jogs and evening runs smooth with the Nike Women's Running Shoes. The footwear comes with a full-length zoom air unit that gives your heels smooth traction once they make the transition from air to the ground. This advanced pair of shoes has an engineered mesh to increase lateral support.
These shoes are superb in design, performance, and feel. They offer additional stability to ensure you don't lose balance even while running at a high speed. In addition, the high-quality synthetic material enhances durability. You can use these shoes for years and make your running sessions pleasant.
Pros
 Air zoom technology
 Increased touchdown traction
 Engineered mesh
 Durable
 Lightweight
Cons
Price at the time of publication: $99
The Air Zoom Pegasus Shoes from Nike use the traditional cold foam technology. These are old-school shoes with a focus on comfort and traction. The outsole is made of 100% synthetic material that doesn't tire your feet despite long-running sessions. The shoes are lightweight with all-round cushioning. There is a smooth transition from heel to toe and great flexibility to reduce the chances of injury or inflammation. These shoes come with great features without being hard on your pocket.
Pros
 Ensure great flexibility
 Give cushion to sole
 Reduce fatigue
 Offer increased traction
 All-round cushion effect
Cons
Price at the time of publication: $130
The shaft from the mid-top to the arch of the Nike Women's Flex Trainer 9 Sneakers reduces shock impact on the feet. These shoes are a perfect wear for marathon running and intense workout sessions. The external heel strap ensures an ideal fit, and increases your comfort as you land your feet on the ground. The outsoles have a auxetic tri-star pattern that is designed to expand and offer maximum flexibility. The shoes have a 2-Tone mesh at the front for better breathability.
Pros
 Premium rubber soles
 Suitable for workouts
 Durable
 Smart design
Cons
 Uncomfortable shoe tongue
Price at the time of publication: $97.97
Pros
 Increased comfort
 Flat-safe landing
 Reduce chances of injury
 Suitable for gym
Cons
None
Price at the time of publication: $76.94
The Women's Fitness Shoes by Nike are incredibly lightweight and stylish. Their high-quality material ensures maximum breathability, which makes them fit for moderate workouts and morning jogs. The arch support is enough to give you a good balance even while you run faster. These shoes have a significant moisture-absorbing capability and give your feet a sense of cool while running. They come in many attractive colors for additional motivation to complete your morning fitness routine with finesse.
Pros
 Lightweight
 Stylish appearance
 Absorb sweat
 Excellent breathability
Cons
 Durability issues
 Expensive
Price at the time of publication: $59.93
The Nike Roshe Women's Running Shoes work perfectly with a great fit and look. They don't allow any sense of pain or discomfort even when you run several miles. The shoes are lightweight and exceptionally breathable. The soles provide a great cushion, and the shoes' exteriors are easy on the feet. They are very stretchable and offer a great fit even to individuals with wide feet. The shoes can be used while jogging, in the gym, and for casual outings.
Pros
 High on comfort
 Perfect fit
 Offer great cushion
 Excellent breathability
 Lightweight
 Stretchable
Cons
None
Price at the time of publication: $89.48
Pros
 Soft and comfortable midsole
 Durable outsole
 Lightweight
 Breathable
 Perfect fit
Cons
 May not absorb moisture well
Price at the time of publication: $99.99
Few shoes have gained so much popularity as the Nike Revolution Series. The Revolution 5 Women's Shoes offer extreme comfort and breathability. They have a soft foam midsole that offers a perfect cushion-like feeling throughout your feet. The shoes are lightweight. They have reinforced heels and outlays that increase comfort and durability. "Revolution 5 Women's Shoes are a fantastic option for those looking for both comfort and performance. With its lightweight design and responsive cushioning, these shoes will provide the support you need for any type of workout" – Hannah Shine, Personal Trainer.
These shoes offer a smooth transition from air to ground and readily absorb shocks. The outer sole is made of rubber that lends more traction, durability, and flexibility. The shoes' premium fabric gives comfort and fits perfectly. In addition, they absorb sweat fast and don't produce a foul smell even after long hours of use.
Pros
 Durable
 Long-lasting
 Increased cushion and traction
 Absorb sweat fast
 Great breathability
Cons
None
Price at the time of publication: $69.99
The Zoom Pegasus Turbo 2 shoes by Nike are a highly advanced sports variant with great features. They are built with high-quality foam that allows long-running and high-intensity workouts without causing any aches. The shoes have a synthetic upper layer with lofted mesh for increased breathability and sweat absorption.
The rubber-made outsole offers improved traction while reducing the impact of shocks or friction. In addition, the shoes are ultra-light yet strong enough to withstand marathon exercise and running sessions.
Pros
 Lightweight
 Durable
 Fast sweat absorption
 Increased breathability
 Extremely comfortable
Cons
Price at the time of publication: $189.96
The Nike Women's Court Lite 2 Tennis Shoes are made of 100% high-quality synthetic with a rubber-made outer sole. The shoes are durable even to withstand long hours of cross movements on a tennis court. The shafts are around the low-top from the arches to ensure tractability. The collars are padded and the tongues are perfectly placed for added comfort to the ankles. The midsoles have a good quality foam for cushion and comfort. The shoes are versatile and can be used while running, in the gym, and for other sports.
Pros
 Durable outer soles
 Soft, comfortable midsole
 Versatile use
 High breathability
Cons
Price at the time of publication: $119.95
Nike is a brand of immense reputation. It is used and recommended by the world's top sportspersons. The company makes sports shoes with outstanding quality, comfort, and durability. Our list covers detailed reviews of the 12 best Nike sports shoes for women. Pick your favorite to improve your running and workout experience.
Why Trust StyleCraze?
Aditi Naskar, who authored this post, has a diploma in health and wellness and is a fitness fiend with a knack for searching out the best products to keep you in shape and healthy. A good cardio workout depends on how comfortable your shoes are. So, she relentlessly investigated many products, finally settling on these comfortable Nike shoes to help you run and jog with ease. These shoes are not only comfortable, but they offer good cushioning and support, ventilation, and shock absorption.
Frequently Asked Questions
What makes Nike shoes unique?
Nike shoes are made using high-quality products and innovative technology that enhance your performance. The shoes are also extremely stylish and comfortable.
Are Nike shoes good for plantar fasciitis?
Yes, Nike shoes are made with extra cushioning and an appropriate heel support system that makes them good for plantar fasciitis.
Are Nike shoes washable?
Yes, Nike shoes are hand-washable using mild detergents. However, Nike does not recommend washing shoes in the machine.
Are Nike shoes non-slip?
No, Nike shoes are not non-slip but most of their shoes are slip-resistant to a large extent.
Are Nike shoes good for wide feet?
No, not all Nike shoes are made for wide feet. But, shoes like the Nike Dunks are great for wide feet.
Are Nike shoes good for standing all day?
Yes, Nike shoes offer soft cushioning and adequate support to the feet for standing all day.
Do Nike shoes have arch support?
Yes, Nike offers shoes with enough arch support to keep your feet comfortable and free from strains.
How long do Nike shoes last?
Nike shoes last for 2-3 years if maintained well.