12 Best Affordable Running Shoes For Women – Top Picks of 2022
Get your running schedule on track and push yourself to achieve new heights.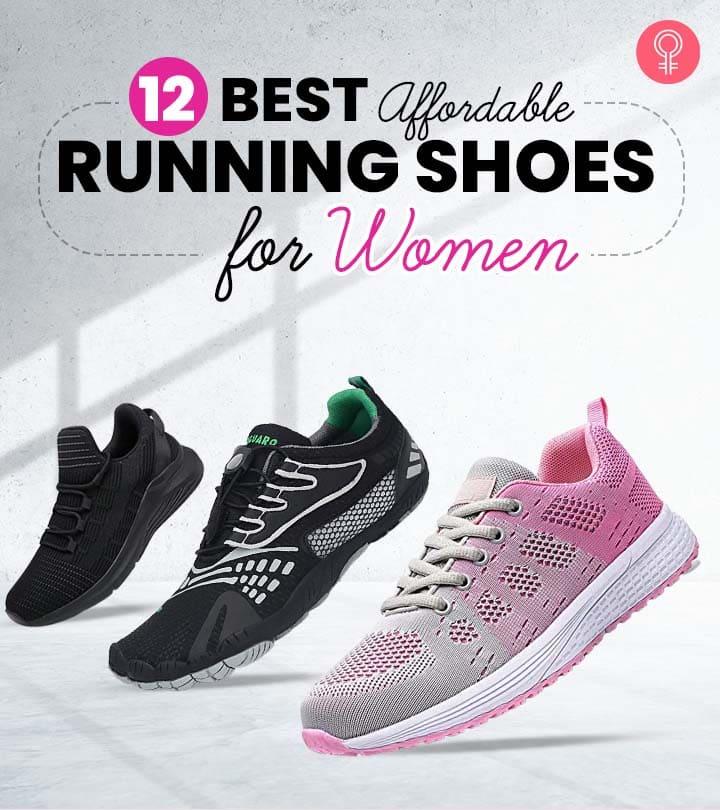 If you are looking for the best affordable running shoes, we have just what you need. Running is one of the best ways to maintain your shape. Not only does it help you lose the excess pounds, but it also keeps your organs working in their optimal health. The best part about running is it costs way lesser than other sports or forms of keeping fit. You don't need a membership or spend high amounts on gears. Just a pair of jogging tracks and an excellent running shoe is good enough to get going. However, once you start looking for running shoes, you will see that it is not as easy as it sounds. Numerous options are available online, and finding the durable, good-looking, and meets your budget is rare. That's when we come in! Here is a list of 12 shoes crafted with perfection to meet your running needs while being affordable.
12 Best Affordable Running Shoes For Women
The Gemax Running Shoes are made from a breathable mesh fabric that keeps your feet free from moisture. They feature an ultra-lightweight MD sole combined with the bottom grain design to add skid resistance. The elastic shoelaces help you wear these shoes comfortably and make them ideal for everyday use. These shoes are available in a diverse set of colors and sizes.
Features
Slip-resistant rubber sole
Mesh upper
Elastic shoelaces
Pros
Breathable
Moisture-wicking
Lightweight
Non-slippery
Versatile
Cons
None
The Saguaro Running Shoes have a flying knit fabric upper. These have good tensile strength and are wear-resistant. Their minimalist design looks attractive. Their soft detachable sole and comfort lining gives you a perfect barefoot feeling. This unique anti-slip rubber sole offers shock absorption and gives you the ultimate protection from injury. In addition to running, these shoes are also suitable for hiking, camping, walking, and training. These are perfect for all water activities such as rafting, fishing, diving, surfing, etc. You may check this video for a better understanding of this product.
Features
Non-slip sole
Breathable mesh upper
Quick-adjust buckle
Five-toe design
Pros
Lightweight
Durable
Flexible
Anti-slip
Multi-function
Cons
None
The Keezmz Running Shoes have a mesh, breathable, and lightweight upper that absorbs moisture. These shoes feature a low-top design that makes them easy to be worn or removed. The latest elastic design combined with the knitted upper keeps your feet secure and comfortable all day long. These shoes come with a memory foam insole that cushions your foot and a non-slip outsole with an irregular pattern to add traction and durability. These shoes feature a padded collar and tongue that gives you a secure, ankle-confirming fit, and keeps your feet from grinding. These are available in various color options, including neutrals like black, white, and off-white to bold shades like bright yellow, rose pink, red, purple, and blue. These shoes are true to size.
Features
MD non-slip sole
Air mesh upper
Memory foam insole
Padded collar
Pros
Easier to bend
Secure fit
Versatile
Anti-skid
Lightweight
Cons
None
The Ahico Running Shoes come with an anti-skid rubber sole with a strong ground grip and a unique pattern. They also are wear-resistant. Their comfortable fly-knitted mesh upper fabric offers a snug, sock-like fit. This stimulates good ventilation and heat dissipation, making your feet clean and dry even during long-running sessions. The shoes have a cushioned arch support and inner sole that provide shock absorption during high-impact and toe-off phases. The shoes offer your feet the best support while running. In addition, these shoes are lightweight and feel more flexible.
Features
Fly-knitted mesh upper
Air cushion insole
Anti-slip rubber outsole
Pros
Maximum shock absorption
Comfortable design
Lightweight
Breathability
Cons
None
The Xidiso Running Shoes have a fashion knitted mesh upper that enhances breathability, leaving your feet dry and cool. These have a lace-up closure that makes them easier to wear and remove. These lightweight shoes are made of a non-slip rubber sole with a unique pattern on the bottom that features flexible grooves. These strengthen the shoes' gripping ability and make them skid-resistant. They enable you to adapt to every road condition. The wavy pattern on the shoes' edges makes them appear luxurious and classic. These come with air-cushioned insoles that add life to these shoes and give you the ultimate support while carrying out intense running sessions.
Features
Knitted upper
Good ventilation
Moisture-wicking
Air cushion
Arch support insole
Rubber outsole
Wave pattern
Pros
Lightweight
Durable
Breathable
Excellent grip
Lace-up closure
Shock absorption
Cons
None
The PromArder Running Shoes are made of synthetic rubber and an air-cushioned sole. They offer enough buffer between the feet and ground. Their comfortable sole makes them suitable for standing for longer durations. Their smooth fabric and knit upper-lining make them breathable and offer a comfortable feeling all day long. They have a slip-on design with an elastic cuff, making it easy for you to wear or remove them. The product is wallet-friendly and is primarily designed to be an easy training shoe. It provides excellent traction in all conditions and is built to last long.
Features
Air cushion sole
Smooth fabric
Flexible
Pros
Lightweight
Breathable
Available in a variety of colors
Comfortable slip-on design
Cons
None
The uppers of Xianv Women Running Shoes are made from a breathable mesh fabric that keeps them moisture-wicking. These come with a comfortable inner lining that reduces friction between your feet and the shoes to add comfort. These shoes are suitable for various activities, including running, walking, cycling, boating, jogging, etc. These shoes have a thicker heel for a perfect grip during intense running sessions.
The shoes feature uniquely designed patterns that make them more attractive. Their anti-skid soles enhance the resistance between the ground and feet. They also are wear-resistant. These are available in various colors and sizes. The reflective strip on their heels makes them noticeable even at night.
Features
No slippage
Thick heels
Reflective strips on the heels
Anti-skid soles
Mesh upper
Pros
Multi-function
Stylish design
Breathable
Lightweight
Excellent arch support
Outstanding grip
Cons
None
The Feetmat Running Shoes feature an ultra-lightweight knitted upper and a breathable mesh fabric that makes your feet more comfortable. The fabric also helps prevent stuffiness and foul smell. The shoes have an anti-slip rubber outsole that prevents slippage and enhances safety. Furthermore, these shoes come with a removable sock liner and arch-support insole that offers the best support to your midsole. They are mainly designed for base training and long runs but can handle almost everything. They also have a medial posting that offers moderate stability. These shoes are available in a wide array of shades, including dark colors like blue, black, grey to pastels like yellow, pink, and light blue.
Features
Flat sole
Lace-up closure
Fabric and synthetic upper
Soft inner lining
Removable insoles
Pros
Seamless design
Breathable
Lightweight
Flexible
Moisture-wicking
Excellent traction
Slip-resistant
Highly stable
Cons
None
The Akk Running Shoes are made from breathable mesh and PU fabric. They leave your feet more comfortable all day long and ensure they don't feel smelly or stuffy. You won't feel tired while wearing these shoes even for a whole day. Their flexible MD sole significantly reduces the cushioning force and offers sufficient friction. These have a spongy insole that gives your feet a smooth feel. These shoes are highly elastic and can be bent freely when you move. These are designed to absorb shock during intense running sessions and offer abrasion-resistant and anti-slip features. The shoelaces make them adjustable for your feet. They also are easy to be worn and removed. They are available in various colors that go well with everything, right from business dress to casuals to gym attires. These are suitable for long-standing work and intense outdoor activities.
Features
MD soles
Breathable mesh and PU fabric
Lace-up closure
Pros
Non-slippery
Absorb shock
Lightweight
Excellent grip
Easily adjustable
Multipurpose
Cons
The Urdar Running Shoes are made from 100% breathable sock-like knitted mesh upper with excellent stretchability. The upper construction hugs your feet for a supportive fit. The shoes have an ethylene-vinyl acetate sole that provides the best cushioning and energy feedback to keep you comfortable while running. These are made of mesh and synthetic fabric to wick away extra moisture. They also keep your feet dry. Their quick foam technology offers a zero-gravity feel. Their latest critical foaming technology is matched with MD and RB materials to offer strong elasticity and cushioning.
Features
Stretchable cotton lining
Wear-resistant rubber
Functional fiber material
Critical foaming technology
Versatile
Cushioned sole
Pros
Lightweight
Anti-slip
Strong elasticity
High-rebound
Arch support
Cons
None
The Koppu Running Shoes are known to be fast and durable. They are meant for training and racing. These feature a lightweight mesh upper that keeps your feet dry and cool for a whole day. These are made from MD shock-absorbing sole that offers higher responsiveness and durability. These ultra-lightweight, sturdy, and durable shoes are made from EVA rubber. They also offer an anti-slip feature. The lace-up closure allows you to wear and remove these shoes easily. The stretchable fabric of these shoes allows them to bend when you move or run.
Features
Fashionable design
Breathable fabric
EVA rubber
Lace-up closure
MD sole
Pros
Slip-resistant
Perfect fit
Durable
Excellent grip
Shock-absorbing
Ultra-lightweight
Cons
None
The Vwmyq Running Shoes feature air-cushioning and rubber soles. Their low-density PU material insole offers excellent damping and anti-skid performance. They effectively absorb traction force and reduce any burden on your feet. The knitted coil and mesh structure makes these shoes breathable and easily wicks away moisture to keep your feet cool and dry throughout the day. Their soles have a high buffering, elasticity, and softness. Their buffer insoles and breathable lining optimize each touch, offer great support, and allow you to push your limits. Their midsole is a bit springy, making them ideal for gym and other intense running sessions.
Features
Low-density PU material
Knitted upper design
Rubber sole
Pros
Breathable
Long-lasting
Lightweight
Wear-resistant
Multi-purpose
Anti-skid
Cons
None
These are the top 12 affordable running shoes for women. That said, there never is a one-size-fits-all solution for all women. A wrong pair of running shoes can make you uncomfortable, and you could end up with painful ankles and heels. This expert buying guide can help you purchase the right set of running shoes for yourself.
How To Choose The Best Affordable Running Shoes For Women?
Consider the following factors before making a purchase:
Running Frequency: You must consider the frequency of your running sessions before investing in shoes. Are you an intensive and regular runner or do you just run occasionally? Your pace will guide you to find the best shoes. If you run more than three times a week, you may choose running shoes with good cushioning to ensure maximum comfort.
Running Intensity: The intensity of the running sessions is equally important to consider while purchasing running shoes. Go for the more stable footwear that keeps you supported throughout the long and intense running sessions while reducing the shock waves.
Right Fit: The running shoes are mainly designed to prevent injury during running sessions by offering proper cushioning. Therefore, you are advised to get shoes with the perfect fit. Shoes that don't fit you perfectly make your running experience painful and may lead to injury. The shoes must wrap comfortably around your foot and shouldn't pinch or feel sloppy.
Lightweight: Lightweight running shoes have a more dynamic structure and provide better performance during running or training sessions. These shoes are ideal for fast workouts and races and let you run fast without drawing your body weight downwards.
Budget: People usually think that the costliest shoes from the top brands are best. A higher price tag usually correlates with better technology and features. But this might be a misconception in some cases. You don't have to spend a fortune to buy the right pair of running shoes. You are suggested to opt for shoes that fit you perfectly and boost your performance while offering the utmost comfort. Don't blindly run behind brands. Pick shoes that suit your needs.
Why Trust StyleCraze?
Aditi Naskar is our in-house health and fitness expert. She has a diploma in health & wellness and knows that the right shoes can make all the difference when it comes to fitness training and routines. After considerable research and scouring through several health forums and user reviews, she has shortlisted the best affordable running shoes for you. Durable and budget-friendly, these shoes are crafted with high-quality flexible material to provide the right support and cushioning for your heels, knees, and joints while running.
Frequently Asked Questions
Is it okay to wear running shoes as everyday shoes?
No. Running shoes are suitable for running only. They are made of tough and durable material. They come in different eye-catching styles, which look relaxed and comfortable. However, if you wear them every day, it may reduce their grip, traction, and lifespan.
How long should you keep running shoes?
If you run every day, do not keep your shoes for more than 6-8 months. On average, you can run in those shoes for 500 miles.
Is it worth buying expensive running shoes?
Yes, expensive running shoes are worth buying. It is worth investing in them since they go through many rough and tough surfaces. Also, you should never compromise on comfort.
Should you size up in running shoes?
Yes, you should get a slight size up in running shoes. Half a size is good enough.
Are sneakers good for running?
No. We do not recommend running in sneakers. Sneakers and running shoes differ in quality, build, fabric, and comfort. Sneakers are the best for every day wear and tear, whereas running shoes are meant for running only.
Can I wear running shoes with jeans?
Yes, you can pair jeans with running shoes. They will look fantastic if you style them the right way.
What is the difference between running and walking shoes?
Running and walking shoes differ from each other on various parameters. Walking shoes offer a high level of comfort and flexibility, but they do not have enough cushioning and are not as rigorous as running shoes.
Recommended Articles