12 Best Affordable Running Shoes For Women, Fitness Expert-Approved (2023)
Get your running schedule on track and push yourself to achieve new heights.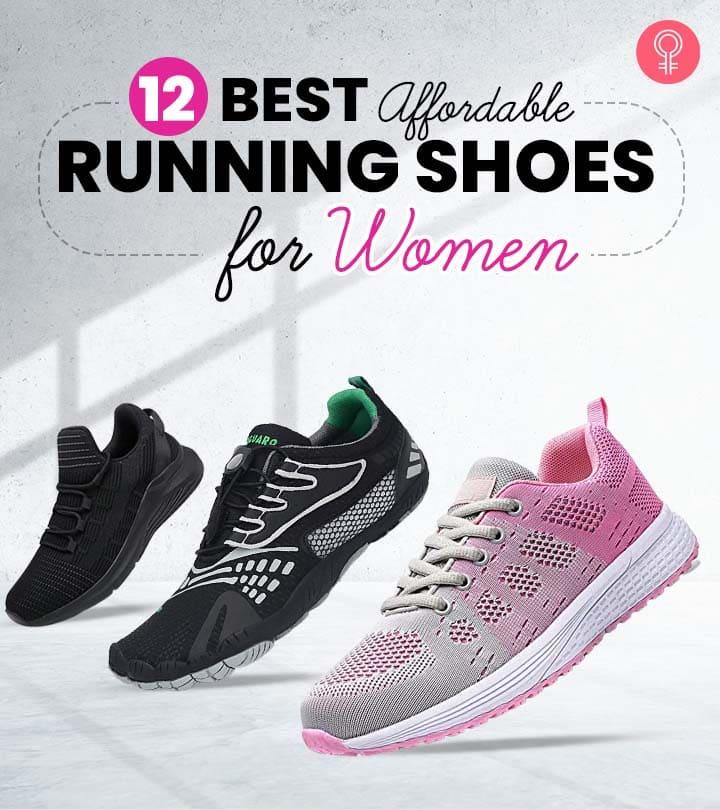 If you are looking for the best affordable running shoes, we have just what you need, ensuring real results and a positive running experience. Running is one of the best ways to maintain your shape. Not only does it help you lose the excess pounds, but it also keeps your organs working in their optimal health. Ivory Howard, a health and fitness expert with 20 years of experience, states, "Running imparts many health and fitness benefits including improved heart health, flexible muscles, and strong bones. It can also reduce the risk of chronic diseases like heart disease." The best part about running is it costs way less than other sports or forms of keeping fit. You don't need a membership or spend high amounts on gears. Just a pair of jogging shoes and an excellent running shoe is good enough to get going. However, once you start looking for running shoes, you will see that it is not as easy as it sounds. Numerous options are available online, and finding the durable, good-looking, and meets your budget is rare. That's when we come in! Here is a list of 12 shoes crafted with perfection to meet your running needs while being budget-friendly.
12 Best Affordable Running Shoes For Women, Top Picks Of 2023
The Adidas Women's Cloudfoam Pure Running Shoes are made of rubber and polyester materials. These products are recyclable, stretchable, and relatively durable. These running shoes go well with yoga pants or other pants made of polyester or nylon.
These shoes are available in varying neutral colors like black, white, and gray, catering to different style preferences, as noted in user reviews. They feature thick insoles to shield the feet from shock during intense exercises. Luckily, these shoes are elastic and offer a snug fit. The midsole has cloud foam to enhance comfort and provide maximum support. It is best for daily use.
Features
Cloud foam cushioning
Breathable mesh design
User-friendly pull tab
Adequate heel-to-toe drop
Pros
Snug fit
Lightweight
Durable
Stretchable
Suitable for regular use
Cons
The Saguaro Running Shoes have a flying knit fabric upper. These have good tensile strength and are wear-resistant. Their minimalist design looks attractive. Their soft detachable sole and comfort lining gives you a perfect barefoot feeling. This unique anti-slip rubber sole offers shock absorption and gives you the ultimate protection from injury. In addition to running, these shoes are also suitable for hiking, camping, walking, and training. These are perfect for all water activities such as rafting, fishing, diving, surfing, etc. You may check this video for a better understanding of this product and a tester's experience with it.
Features
Non-slip sole
Breathable mesh upper
Quick-adjust buckle
Five-toe design
Pros
Lightweight
Durable
Flexible
Anti-slip
Multi-function
Cons
None
The Feethit Women's Running Shoes feature thick but lightweight outsoles. The inner soles are soft to ensure your feet remain comfortable for a longer duration. These rubber shoes are desirable for activities such as playing tennis, running, and jogging. You can be rest assured that the design of these shoes is shock-absorbing and supportive.
These shoes do not over-strain the feet muscles as they are elastic. They are perfect for any woman, regardless of ankle or foot structure. The tongueless design of the shoes makes it easier to wear or remove them.
Features
Comfortable rubber sole
Tongueless design
Lace-up design
Pros
Non-slip design
Lightweight
Durable
Wear-resistant
Suitable for jogging
Cons
 They may take longer to dry after cleaning
The Brooks Women's Ghost 14 Running Shoes are well-cushioned to protect your feet against sudden falls. These shoes are perfect for running, hiking, and mountain climbing, as attested by reviewers online. The outer soles of these shoes are made from rubber which gives an excellent traction on wet and dry surfaces while their TPU toe caps protect your feet from rocky terrain while running. The shoes are lightweight, wear-resistant, and durable enough for a longer run. The upper mesh is quick-drying and breathable while the laces keep your feet secure from the front.
Features
Rubber sole
APMA-approved
Thick outer soles
Pros
Lightweight
Breathable
Durable
Sturdy
Water-resistant
Quick-drying fabric
Suitable for mountain climbing
Cons
The ASICS Women's Gel-Kayano 28 Running Shoes are made of breathable mesh, which prevents sweating. The shoes have gel-based technology at the back, which absorbs shock as you run. Additionally, they help enhance stability as one runs speedily. The shoes feature a dynamic duo max support system at the heels, offering stability and traction while running. Their inner soles are soft that warrant comfort to your feet. It offers good arch support. The outer soles are wear-resistant, making them perfect for any floor type, including tarmacked roads. In addition, these shoes safeguard your feet against any injuries.
Features
Supportive gel-based technology
Mesh upper cover
High abrasion rubber
Pros
Shock-proof design
Elastic
Lightweight
Offers stability
Prevents excessive sweating
Wear-resistant
Cons
The New Balance Women's Rubber Shoes have soft midsoles that cushion the feet. Each pair of shoes features equally thick and lightweight outsoles. These soles are highly durable and wear-resistant. The sneakers have laces to help you fit your shoes comfortably.
Each New Balance running shoe also has a pull tab for wearing purposes. The rubber outer sole in each pair of shoes is wear-resistant, making these running shoes long-lasting. These shoes have a drop of 8 mm to ensure your feet remain comfortable as you work-out. These women's running shoes have an ultra-heel design that offers optimal comfort and a snug fit.
Features
Rubber sole
Ultra-cushioned design
Anti-slip design
Memory foam midsoles
Pros
Durable
Lightweight
Breathable
Wear-resistant
Snug fit
Suitable for casual wear
Cons
None
The Saucony Women's Endorphins Speed 2 Shoes are coziest as they come with soft inner cushioning. Additionally, they have a relatively springy outer sole with a flexible nylon plate that gives you an edge for speedy workouts and races. These women's shoes have a long offset of approximately 8mm. Therefore, a wearer can walk comfortably, as there is adequate space for each foot. The shoes have "speedroll" technology which lets you propel upward and allows you to run easily without putting too much effort and consumes less energy. That is the reason most female running athletes prefer these shoes for training. The shoelaces are long enough for wearers of varying foot sizes.
Features
PB cushioning
Flexible nylon fabric
Ultra-lightweight design
Lace-up design
Recyclable upper mesh
Pros
Lightweight
Durable
Vegan
Sustainable design
Suitable for running
Cons
None
The TIOSEBON Women's Running Shoes have non-slip soles that prevent slipping while running. These stability running shoes are in red, gray, and black colors. You can use these shoes for camping, hiking, or running on rugged terrains. These lightweight shoes are made from memory foam which is relatively thick and cushions your feet against severe injury and sudden shocks while walking. The ergonomic design of these shoes ensures your feet remain comfortable as you run or walk. These shoes do not strain the feet' muscles as they are highly elastic. It is good for long-distance and cross-training activities.
Features
Pull-on hook type
Memory foam design
Non-slip soles
Pros
Lightweight
Ergonomic design
Breathable mesh
Wear-resistant
Comfortable design
Stretchable material
Snug fit
Suitable for trainers
Cons
None
The PUMA Sneakers For Women are durable and come with comfortable inner cushioning. The outer part of these sneakers feature EVA material, making the design stretchable.
The sneakers come with wear-resistant pull-up tabs at the back. The front part of these sneakers use a mesh fabric to ensure they remain breathable. It is also possible to tighten the shoelaces to ensure the right fit. It is also good for minimalist running.
Features
Breathable mesh fabric
Thick cushioning
Multi-colored designs
Pros
Durable
Lightweight
Stretchable
Breathable fabric
Excellent traction
Slip-resistant
Cons
None
The MIZUNO Wave-Rider Women's Running Shoes have thick foam that warrants versatility. The shoes are made of heavy-duty carbon rubber and remain highly abrasion-resistant. They are excellent for running, cycling, and pedaling. They have a thick midsole that offers adequate shock absorption. The shoes are bouncy, making running less energy-demanding. Unlike other shoes, you can quickly clean them using a wet cloth. You can wear these shoes for longer on a hot day as they are breathable.
Features
Lightweight upper mesh
Well-cushioned midsole
Carbon rubber heels
Pros
Lightweight
Offers adequate bounce
Water-resistant
Suitable for running
Cons
None
The ALTRA Women's Running Shoes are made of mesh and remain breathable. The size of each rubber shoe ranges from 5.5 to 9 to accommodate customers of varying foot sizes. It has a lace-up design to help ensure the running shoes fit well.
These shoes feature an inline sole made from a heavy-duty textile material. ALTRA uses EGO foam to make the midsoles. The thick heel ensures your feet are slightly raised above the ground. The soles have treads to make sure these workout shoes are wear-resistant. Hence, they are non-slip.
Features
EGO-foam design
Rubber sole
Breathable upper mesh
Pros
Lightweight
Durable
Flexible
Slip-resistant
Water-resistant
Cons
None
The Under Armor Charged Women's Shoes are lightweight due to the mesh used to make the outer part. Each rubber shoe has an offset of 10 mm for maximum comfort. These shoes feature thick rubber soles with deep treads to ensure optimum durability. The soles are thick enough to absorb any impact, particularly as you exercise. The manufacturer utilizes EVA to make the footbed, making pedaling much less strenuous for the feet. The inner section also has reasonably thick cushioning to protect the feet. The shoes have laces to ensure better fit and support especially for those involved in athletic activities.
Features
Rubber sole
Lace design
EVA fabric
Pros
Long-lasting
Lightweight
Durable
Flexible design
Elastic design
Easy to clean
Offers adequate traction
Absorbs shock
Cons
None
*The prices provided in this article are based on the latest available information. However, they may vary due to changes in pricing by the seller and/or promotional offers.
These are the top 12 affordable running shoes for women. That said, there never is a one-size-fits-all solution for all women. A wrong pair of running shoes can make you uncomfortable, and you could end up with painful ankles and heels. This expert buying guide can help you purchase the right set of running shoes for yourself.
How To Choose The Best Affordable Running Shoes For Women?
Consider the following factors before making a purchase:
Running Frequency: You must consider the frequency of your running sessions before investing in shoes. Are you an intensive and regular runner or do you just run occasionally? Your pace will guide you to find the best shoes. If you run more than three times a week, you may choose running shoes with good cushioning to ensure maximum comfort.
Running Intensity: The intensity of the running sessions is equally important to consider while purchasing running shoes. Go for the more stable footwear that keeps you supported throughout the long and intense running sessions while reducing the shock waves.
Right Fit: The running shoes are mainly designed to prevent injury during running sessions by offering proper cushioning. Therefore, you are advised to get shoes with the perfect fit. Shoes that don't fit you perfectly make your running experience painful and may lead to injury. The shoes must wrap comfortably around your foot and shouldn't pinch or feel sloppy. If you have wide feet or narrow feet choose shoes according to that.
Lightweight: Lightweight running shoes have a more dynamic structure and provide better performance during running or training sessions. These shoes are ideal for fast workouts and races and let you run fast without drawing your body weight downwards. Insights from athletic trainers also highlight the benefits of lightweight shoes during high-intensity training.
Budget: People usually think that the costliest shoes from the top brands are best. A higher price tag usually correlates with better technology and features. But this might be a misconception in some cases. You don't have to spend a fortune to buy the right pair of running shoes. You are suggested to opt for shoes that fit you perfectly and boost your performance while offering the utmost comfort. Don't blindly run behind brands. Pick shoes that suit your needs and they might even be inexpensive.
Why Trust StyleCraze?
Aditi Naskar is our in-house health and fitness expert. She has a diploma in health & wellness and knows that the right shoes can make all the difference when it comes to fitness training and routines. After considerable research and scouring through several health forums and user reviews, she has shortlisted the best affordable running shoes for you. Durable and budget-friendly, these shoes are crafted with high-quality flexible material to provide the right support and cushioning for your heels, knees, and joints while running.
Frequently Asked Questions
Is it okay to wear running shoes as everyday shoes?
No. Running shoes are suitable for running only. They are made of tough and durable material. They come in different eye-catching styles, which look relaxed and comfortable. However, if you wear them every day, it may reduce their grip, traction, and lifespan.
How long should you keep running shoes?
If you run every day, do not keep your shoes for more than 6-8 months. On average, you can run in those shoes for 500 miles.
Is it worth buying expensive running shoes?
Yes, expensive running shoes are worth buying. It is worth investing in them since they go through many rough and tough surfaces. Also, you should never compromise on comfort.
Should you size up in running shoes?
Yes, you should get a slight size up in running shoes. Half a size is good enough.
Are sneakers good for running?
No. We do not recommend running in sneakers. Sneakers and running shoes differ in quality, build, fabric, and comfort. Sneakers are the best for every day wear and tear, whereas running shoes are meant for running only.
Can I wear running shoes with jeans?
Yes, you can pair jeans with running shoes. They will look fantastic if you style them the right way.
What is the difference between running and walking shoes?
Running and walking shoes differ from each other on various parameters. Walking shoes offer a high level of comfort and flexibility, but they do not have enough cushioning and are not as rigorous as running shoes.
Recommended Articles