10 Best Kinky Hair Extensions To Retain Length & Thickness – 2023
Retain the hair volume with style by adding these unique extensions to your hair.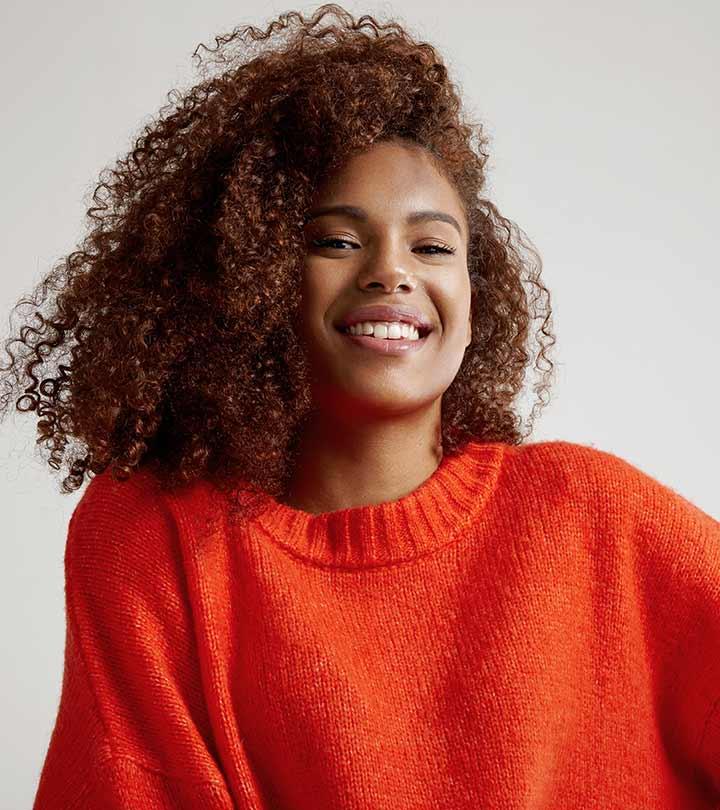 If you love color dying your hair or wanna try different hairstyles, a hair extension is ideal. It is low maintenance and prevents your hair from getting damaged. You can try the best kinky curly hair extension to style your kinky hair. These hair extensions add volume and length to your natural hair and make you appear stylish.
Using hair extension is ideal to meet the growing trends of cornrows, dreadlocks, and sporting afros. In addition, these hair extensions are heat-resistant and are free from breakage.
There are countless hair extension brands available, but choosing the right one might be cumbersome. So, in this article, we have curated a list of the 10 best kinky hair extensions brands. Check them out below!
10 Best Kinky Hair Extension Brands
Miss Gaga is a natural hair extension manufacturer based out of China. It deals with unprocessed virgin hair. It is famous for its kinky curly clip-in hair extensions that blend seamlessly with natural hair.
Pros
It can be colored, bleached, straightened, or curled for effortless style.
There is no shedding.
It is ideal for a quick transformation.
Cons
It does tangle a bit; however, can be fixed with a spritz of water.
Hair Length: 8-30 inches.
Price at the time of publication: $123.99
CHYL offers natural-looking hair extensions – for afro hair types especially. Its natural kinky hair extensions are 100% unprocessed natural virgin hair.
Pros
The hair does not get matted and enhances hair density.
It works wonders for thin, thick, and voluminous hair.
It can be straightened, ironed, and colored.
Cons
It sheds a little.
Tangles a bit.
Hair Length: 16 inches and works for 4a, 4b, and 4c hair.

Price at the time of publication: $40.91
Lacer offers unprocessed virgin naturally thick hair. It is known for its savvy virgin afro kinky hair extensions that are tangle-free and easy to wear. They are also easy to style and can help you achieve various looks ranging from soft and bouncy waves to defined curls.
Pros
These hair extensions can be straightened, permed, highlighted, curled, and bleached.
Works for 4a and 4b hair and offers comfortable wear.
It comes in ombre and balayage styles, among others.
Some packs come with a pair of eyelashes and a comb.
Cons
Hair Length: 10-22 inches.
If you're looking for kinky curly hair clip-ins that add gorgeous kinks to your hair, ISEE is the brand you need. It offers washable extensions that are easy to maintain. All of the brand's hair extensions are natural and offer a secure fit. Check out this video for a detailed review of the product.
Pros
The hair can be dyed, curled, bleached, and straightened.
It can be washed on a regular basis.
Minimal shedding and tangling.
Comes with directions for care.
Cons
When coloring these extensions, it's better to seek professional help.
The hair can get matted.
Price at the time of publication: $113
While Top Hair is primarily known for its straight and lightwave hair extensions, its 100% unprocessed virgin Brazilian kinky hair is selling like hotcakes right now. It blends perfectly with your natural hair texture.
Pros
These kinky hair extensions can be dyed, highlighted and curled.
There is a minimum to no tangling. 
Cons
Hair Length: 8-24 inches.
Price at the time of publication: $142.99
Racily Hair's Brazilian Kinky Curly Ombre hair extensions seem to be the talk of the hour. This unprocessed virgin hair bunch comes with its cuticles intact. Take a look at this video to learn more about the product.
Pros
These hair extensions can be curled, bleached, and straightened.
Cons
There is mild shedding and tangling.
The ends can get frizzy sometimes. 
Amella Hair has been in the hair business for over 20 years, providing customers with amazing kinky curly hair extensions with texture matching their natural hair. If you need to add zing to your hair, kinky curly hair from Amella Hair is what you need! Watch this YouTuber's honest review to get a better idea about the product and its features.
Pros
There is minimal to no tangling and shedding.
The extensions blend well and enhance natural hair.
They offer a seamless transition between different styles.
Come with directions for care.
The hair can be colored.
Lasts for 6-12 months.
Cons
For the hair to last longer, it should be set by a professional.
Hair length: 8-24 inches.
Price at the time of publication: $41.99
Original Queens provides natural hair extensions of premium high quality. Its kinky hair extensions are very popular and provide the ultimate styling versatility.
Pros
You can dye, bleach, curl, and straighten these hair extensions to execute different styles.
Cons
The hair sheds a bit and also gets tangled in windy weather. 
Price at the time of publication: $59.88
eCowboy is an American brand known for its Kanekalon fibers. It offers premium quality hair extensions that are perfect for protective styles and can add an instant length to your natural tresses.
Pros
These hair extensions are best for crochet, afro, and Senegalese twists. Looks amazing on all hair textures, especially the 4a, 4b, and 4c ones.
It blends well and comes in many colors.
Minimal or no shedding and tangles.
Cons
Sometimes these hair extensions can be a bit coarse.
Hair Length: 18- 24 inches.
Price at the time of publication: $19.99
Elegant Muses has become popular for its Afro Kinky Curly Crochet Hair. Known for its 100% Kanekalon high temp synthetic fibre extensions, this brand is getting more popular by the day.
Pros
Heat resistant.
There are minimal tangling and shedding.
Strong hair fiber.
Cons
Hair Length: 10- 20 inches.
*Subject to Availability
Maintenance For Kinky Curly Hair Extensions
Wash once or twice a week with a mild shampoo.
Use argan or castor oil on natural kinky curls for maintaining them.
Always check if you can use the extensions before swimming.
Run your fingers through the extensions after washing and drying or use a wide-toothed comb to keep them tangle-free.
It's easier to change a lighter hair color extension to a darker one rather than the opposite.
Cosmetologist, Lindsay Loo, adds, "When purchasing your perfect textured extensions, make sure you read the care instructions as this will help promote longevity with your addition."
Why Trust StyleCraze?
The author, Oyendrila Kanjilal, is a hair care and styling enthusiast. She enjoys going through several new hair products and reviewing them for her readers. In this article, she recommends some kinky hair extension brands after extensive research and detailed reviews of online user feedback. The shortlisted brands add volume and length to your natural hair and make you appear stylish.
Frequently Asked Questions
What is a weft?
A weft is a single line of synthetic or natural hair attached together. A double weft is when two single wefts of hair are attached together.
What is weaving?
Weaving is combining a hair extension weft with your natural hair. There are many methods of weaving such as sewing, bonding, fusion, and so on.
How many bundles of kinky hair extensions are required for my hair?
The number of hair extensions needed depends on the look you want. For example, if you are looking to simply enhance your hair volume, two-three bundles should be fine.
Can all kinky curly hair extensions be used for crochets, braids, and twists?
No, not all hair extensions can be used for crochets, braids, and twists. Check with the brand before purchasing them to make sure you get the most out of your hair extensions.
What type of hair extensions is the healthiest?
Clip-in hair extensions are the safest and healthiest to use, as they don't damage the hair strands or scalp and offer a lightweight feel. Also, they have an easy removal process.
Do hair extensions stop your hair from growing?
No, hair extensions don't stop natural hair from growing. However, they can damage the health and natural bounce of your hair if not applied properly.
Recommended Articles