10 Best Eyebrow Tattoo Pens
For the perfect arches to define and hold your makeup looks in place every time you get ready.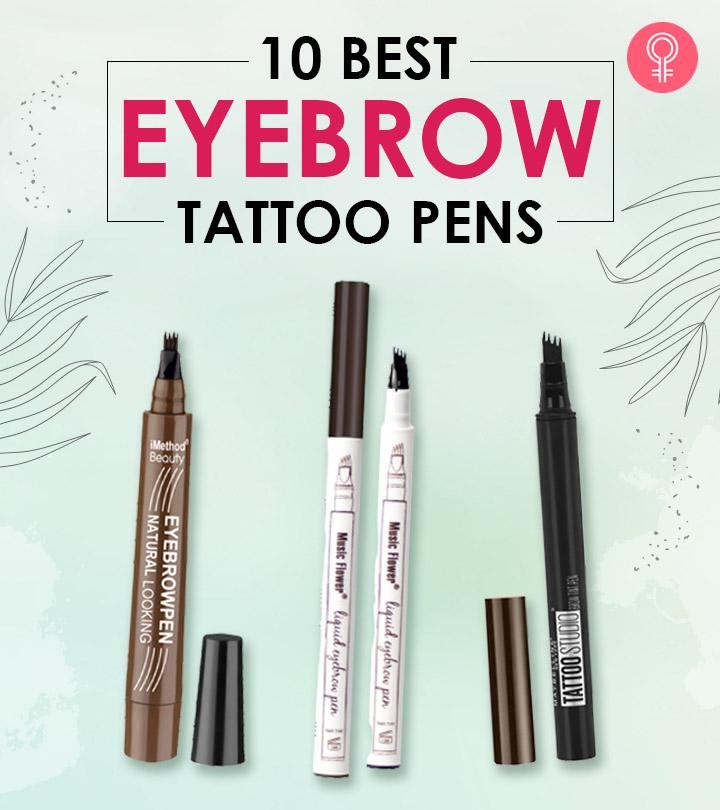 We have moved way past the trend of tweezing our eyebrows. Instead, today, lush and thick eyebrows are a thing. If you are not born with the perfect brows, let us introduce the best eyebrow tattoo pens.
Tattoo pens are a painless alternative to the common brow-making technique called microblading. Microblading gives you fine brow lines that look like natural hair that, in turn, make your brows look fuller. However, this process is not without pain.
A more affordable alternative to microblading is temporary tattoo pens which give you the same results without causing any pain. The unique tip of the pen creates hair-like pigments in a single-use. It looks natural and gives an absolute microblading effect. With so many options available out there, it can get challenging to pick the best temporary tattoo pen that replicates the results of microblading. To help you with this, we have listed the 10 best tattoo pens in this article. Have a look!
10 Best Eyebrow Tattoo Pens To Create A Microblading Effect
The Maybelline New York Tattoo Studio Brow Tint Pen creates fine hair-like strokes with ease for natural and fuller-looking brows. It is uniquely designed with a multi-prong tip for superior precision. The formula is transfer-proof, smudge-proof, and stays put for up to 24 hours without budging. It is also available in a wide range of shades to perfectly match different eyebrow colors. To find out more about this product, check this video review out.
Pros
Smudge-proof
Transfer-proof
Waterproof
Gentle
Easy to use
Dries quickly
Long-lasting
Cons
None

Price at the time of publication: $7.24
Get an instant bushy eyebrow look with this microblade effect brow pen from Billion Dollar Brows. The 3 multi-prong tip of the pen ensures easy application and imparts a precise, natural look to your sparse brows. The multi-prong tip mimics the microblade effect and fills your brows with hair-like strokes. Additionally, the brow pen has a waterproof and buildable formula. This beginner-friendly pen comes in three shades, having a perfect match for every skin tone.
Pros
Water-proof
Buildable
Easy-to-use
Long-lasting
Vegan
Paraben-free
Cons
The ink dries out quickly
Price at the time of publication: $11.99
Some eyebrow pens can dry out easily, reducing the lifecycle of the product. But that's not the case with this eyebrow pen by iMethod Beauty. It is designed with a unique anti-drying technology, which increases the durability and performance of the brow pen. It also has a capacity of 3 mL, which ensures three times more use than a regular pen. The four-pronged tip creates precise and thin lines to mimic human hair. The long-lasting formula is also sweat-proof, waterproof, and smudge-proof. The brand also offers a 100% refund in case you are not satisfied with the product. If you are an absolute beginner, this video review might be useful.
Pros
Sweat-proof
Waterproof
Smudge-proof
Durable
Long-lasting
Lightweight
Cons
None

Price at the time of publication: $13.97
This four-tip tattoo eyebrow pen by Rose Doll does not smudge or fade easily and lasts the whole day without any touch-ups. It is ergonomically designed with a mini fork head, which helps gradually sculpt your eyebrows for a thicker, fuller, yet natural look. The airtight technology keeps the ink from drying. The formula is richly pigmented and is available in brown, dark brown, and black shades. It is also waterproof, sweat-proof, and can stay put for up to 24 hours.
Pros
Smudge-proof
Sweat-proof
Waterproof
Easy to use
Dries quickly
Long-lasting
Cons
None
Price at the time of publication: $12.97
Enhance your brows by filling in the gaps with this easy-to-use eyebrow pen by Apooliy. It has a four-pronged tip that contours your eyebrows and spreads out the color evenly for a natural and vivid look. The long-lasting formula does not fade or smudge even with rain or sweat.
Pros
Smudge-proof
Fade-proof
Easy to remove
Easy to apply
Waterproof
Long-lasting
Blends perfectly
Cons
None
Price at the time of publication: $9.99
This microblading eyebrow pen by Boobeen creates a natural-looking finish with its state-of-the-art four-pronged pinhead design. It is easy to use and creates vivid looking lines with ease. It is also easy to remove and comes off with cleansing oil or make up remover without leaving any residue. The formula is long-lasting and does not smudge.
Pros
Sweat-proof
Waterproof
Smudge-proof
Lightweight
Cons
Price at the time of publication: $13.99
Create thick brows with this brow tint pen by Lusucat. It features a four-tip design that creates natural-looking strokes for a fuller look. It goes on smoothly and delivers rich pigmentation to match your brow color. The formula is sweat-proof, waterproof, smudge-proof, and does not fade for up to 24 hours. It is available in shades of auburn, black brown, and jet black.
Pros
Smudge-proof
Waterproof
Long-lasting
Fade-proof
Seamless application
Comes off easily
Cons
None
Price at the time of publication: $9.99
The Etercycle Tattoo Pen is infused with high-quality ink that resists water and sweat. It can stay put for up to 36 hours without fading. Its micro fork tip design effortlessly creates natural hair-like strokes to give your eyebrows a fuller look. This eyebrow tattoo pen is available in three natural-looking shades.
Pros
Waterproof
Smudge-proof
Long-lasting
Ergonomic design
Non-drying
Easy to use
Does not stain
Fade-proof
Cons
None
Price at the time of publication: $2.99
This all-in-one kit by The Brow Fix comes with a reusable makeup remover pad, three eyebrow stencils, and an eyebrow tattoo pen. The liquid microblade pen gives you perfectly natural-looking brows by creating thin hair-like flicks. Whether you are a beginner or professional, this eyebrow pen allows you to effortlessly fill your brows with ease. The formula is long-lasting, waterproof, and does not smudge. The 100% organic makeup remover pad helps remove the tint at the end of the day. The three stencils come in three different brow thicknesses to ensure a mess free application.
Pros
Cruelty-free
Non-toxic
Non-irritating
Long-lasting
Transfer-resistant
Waterproof
Smudge-proof
Smooth application
Comes off easily
Cons
None
Price at the time of publication: $12.99
This eyebrow tattoo pen by Focallure creates well-defined brows with natural looking hair-like strokes. The unique 4-fork tip design allows you to fill and draw in your brows easily. The formula is smudge-proof, transfer-resistant, waterproof, and stays put for up to 24 hours. The gel tint comes off evenly and easily with an oil cleanser or makeup remover. Check out this review for a detailed understanding about the product.
Pros
Smudge-free
Fade-proof
Easy to remove
Easy to apply
Waterproof
Does not bleed
Long-lasting
Cons
None
Price at the time of publication: $13.99
Here are a few things to consider when choosing an eyebrow tattoo pen for best results.
How To Choose The Best Eyebrow Tattoo Pen
The first and foremost thing to consider when buying a microblading tattoo pen is how long it lasts. If it does not last for long and smudges all around your brows, it will ruin your entire look and affect your confidence. So, always check if the products are smudge-proof, waterproof, and flake-proof.
The applicator brush is a very important aspect of the eyebrow tattoo pen. The most common ones are comb-shaped or have dimensional tips. Comb or fork-shaped applicators give you precise 3-4 fine hair-like lined pigments in a single flick, whereas felt tips allow you to draw only one line at a time.
If the pen is heavy and thick, it would be uncomfortable for you to draw a perfect line. It is also not easy to rotate or move the liner to create precise flicks. Hence, choose an ergonomically designed, lightweight tattoo pen that you can control easily.
Make sure you select a product that is superior in quality and justifies the price. If you go for a cheaper option, you might end up with a non-effective formula.
If you have blonde hair, opt for a shade that is two shades darker. For platinum, ashy blonde, or champagne hair, look for a shade that is quite similar to the hair color. If you are a brunette, opt for a shade that is warmer and one or two shades lighter than your hair color.
Having black brows does not mean that you will have to choose a dark black tint. If you do, your brows can look unnatural. Instead, choose a shade that is slightly on the dark brown or grayish side. If you have caramel or golden-colored eyebrows, choose taupe or light brown shades.
Let's find out how to use eyebrow tattoo pens to get those statement eyebrows.
How To Use An Eyebrow Tattoo Pen
Place the tattoo pen along the side of your nose to measure where your brows should start.
Find the highest point of your arch and place the pen parallel to the outside corner of your eyes.
Angle the eyebrow pen from the outside of your nose to the outer corner of your eye to find where your brows finish.
Using short strokes, try to mimic your natural hair and gently fill any sparse areas with the eyebrow pen.
Finally, brush through your eyebrows with a spoolie brush. Blend out the color while softening any harsh lines.
In case you made a mistake, remove it immediately with a good cleanser or makeup remover before it dries as some of them can leave a stain.
Why Trust StyleCraze?
Baishali Bhattacharya is certified in makeup techniques and image consultation. She has compiled this list of the best eyebrow tattoo pens that you can use to get the perfect brows. These eyebrow pens have been selected from the top brands and have positive reviews on various e-commerce websites. She has also included a buying guide to help you choose the right product.
Frequently Asked Questions
How long does an eyebrow tattoo pen last?
Eyebrow tattoo pen lasts for a year, depending upon the products you use.
Is eyebrow tattooing safe?
Yes. The eyebrow tattooing procedure is safe, and most people do not experience issues. The color lasts for about a year. After that, the tattoos will fade out over time.
Is an eyebrow tattoo worth it?
Yes. It is worth getting eyebrow tattoos as they save money in the long run. Avoid the cheapest treatments that are cost-saving. Get it done with experienced people for safety and better-looking eyebrows.
Do all eyebrow tattoos are fade-proof?
Yes. Eyebrow tattoos are smudge-proof, fade-proof, and dry quickly. However, the results may last not more than seven days. You may also require touch-ups to make it long-lasting.
Recommended Articles