11 Best Affordable Clarifying Shampoos Of 2023
Affordable shampoos that are gentle on your scalp but tough on dirt and buildup.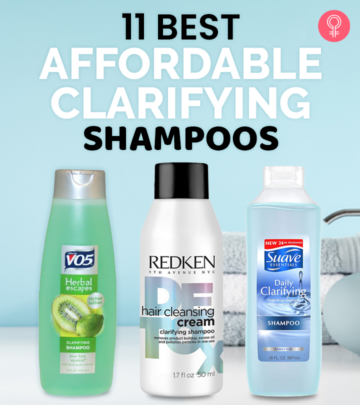 If your hair feels weighed down and greasy even after regular shampoos, then what you might just need is the best drugstore clarifying shampoo. This shampoo will deeply cleanse your hair and scalp, leaving it free from residue, product build-up, and dirt. It can be used for all hair types to leave them super-clean and fresh.
Given below are the 11 best drugstore clarifying shampoos for you to try.
11 Best Affordable Clarifying Shampoos Of 2023
The TIGI Bed Head Down N' Dirty Clarifying Detox Shampoo comes with a cleansing and clarifying formula that improves your overall hair and scalp health. The formula consists of glycerin that keeps your tresses hydrated and healthy. It also includes lotus flower extract that intensely repairs and softens your hair. This detox shampoo removes dirt, grime, and product buildup without stripping your hair of its natural oils. It is suitable for every hair type and color-treated locks.
Pros
Color-safe formula
Removes product buildup
Suitable for every hair type
Mild citrus fragrance
Cons
Price at the time of publication: $14.2
The Neutrogena Anti-Residue Clarifying Shampoo is a mild and gentle formula suitable for all hair types. It also is safe for color-treated hair. This shampoo is believed to remove over 90 percent of the build-up and residue. It also makes your hair voluminous. However, excess use of the shampoo may lead to hair dryness. Using a hair conditioner after shampooing could reduce the possibility. The product contains no colorants or artificial dyes.
Pros
Suits all hair types
Color-safe
No colorants
No artificial dyes
Non-irritating
Cons
Price at the time of publication: $1.05
The Alberto Vo5 Herbal Escapes Clarifying shampoo combines the fresh fragrance of sweet kiwis and tangy limes with rosemary and lemongrass extracts. The shampoo is suitable for all hair types, including damaged hair. It revitalizes dry, oily, and damaged hair and leaves it feeling silky, soft, and fluffy.
Pros
Silicone-free
Suits all hair types
Cons
Price at the time of publication: $6.23
The Paul Mitchell Shampoo Two deeply cleanses your tresses and removes unwanted product buildup. The color-safe product is suitable for every hair type and ideal for oily tresses. The formula, comprising jojoba seed oil, aloe extract, white ginger root extract, and wheat oil, tames unruly tresses and keeps your hair grease-free for days. The ingredients leave your strands feeling fresh, rejuvenated, and shiny. The product reduces oil and sebum production in your hair and scalp. It also offers a volumizing effect and improves the overall appearance of your hair. Check out this review on YouTube to understand the product better.
Pros
Removes buildup
Reduces sebum production
Offers volume
Ideal for oily hair
Color-safe formula
Vegan formula
Paraben-free
Cons
Price at the time of publication: $16
The Avalon Organics Clarifying Lemon Shampoo restores the natural hair shine and luster. The composition is a beautiful blend of modern science and natural plant-based botanicals and essential oils. This shampoo consists of a fine blend of lemon essential oil, aloe, quinoa protein, and vitamin E that condition and seal the hair cuticles.
This deep-cleanse shampoo revitalizes hair by removing the excess oils and build-up. The shampoo is EWG-verified. It is non-GMO and is free of preservatives, parabens, artificial colors/fragrances, phthalates, and sulfates. This shampoo is specifically suitable for dry hair. It also is vegan and cruelty-free.
For excellent results, apply this shampoo to wet hair, massage till you get a rich lather, and rinse thoroughly. You can additionally combine this shampoo with Avalon Clarifying Lemon Conditioner to multiply the results. You may check this video for a better understanding of this product.
Pros
Suitable for all hair types
Specifically suits dry hair
Vegan
Cruelty-free
Non-GMO
Paraben-free
Sulfate-free
Phthalate-free
Preservative-free
No artificial colors
No artificial fragrances
Pleasant fragrance
Cons
Price at the time of publication: $8.34
The Fairy Tales Sun & Swim Lifeguard Clarifying Shampoo is made of natural fruit extracts that boost hair health. They gently remove accumulated chlorine, sea salts, minerals, and daily build-up. This gluten-free shampoo is made with lemon, pineapple, and orange extracts. This product softens and detangles hair. It is free of parabens, sulfates, phthalates, soy, dairy, and nuts.
For best results, massage this shampoo into hair and scalp and rinse thoroughly. You can follow this routine with a Lemon-Aid Conditioner for quick hair detangling and shine.
Pros
Paraben-free
Sulfate-free
Phthalate-free
Gluten-free
Soy-free
Nut-free
Dairy-free
No synthetic colors
No synthetic fragrances
Cons
None
Price at the time of publication: $11.59
The Keratin Research Clarifying Shampoo is formulated to deep clean the hair cuticles and remove all impurities and residue from the hair shaft. This shampoo opens the cuticles for optimum receptivity of the Keratin Treatment. It leaves the hair clean, soft, and residue-free. This shampoo keeps hair silky and naturally straight and improves hair quality. It also reduces hair breakage and strengthens hair cuticles by boosting hair volume.
Pros
Cons
Price at the time of publication: $18.95
The Acure Curiously Clarifying Shampoo is formulated to gently wash out all build-up without stripping the natural hair oils. It comes with a double dose of highly beneficial oils infused with lemongrass. The freshness of lemongrass revitalizes hair, boosts hair shine, and replenishes hair moisture.
The shampoo is 100% vegan and cruelty-free. It also is free of parabens, sulfates, mineral oil, petrolatum, and formaldehyde.
Pros
Mineral oil-free
Sulfate-free
Paraben-free
Petrolatum-free
Formaldehyde-free
100% vegan
Cruelty-free
Cons
Price at the time of publication: $6.99
The Nothing But Clarifying Shampoo gently deep cleans the hair and scalp. It removes deep-seated contaminants, excess oils, build-up, and residue from the hair and hair follicles. The clarifying shampoo restores hair shine and makes hair more manageable. It suits all hair types, including color-treated, curly, African American, and biracial hair.
It can be easily used once to twice a month or whenever you feel the need. Swimmers can also use this shampoo to safely remove chlorine build-up. This shampoo is free of parabens, sulfates, mineral oil, petrolatum, phthalates, and colorants. For best results, you can use the shampoo with moisturizing Cleansing Conditioner and an Intense Healing Mask.
Pros
Safe for color-treated hair
Suitable for all hair types
Paraben-free
Sulfate-free
Petrolatum-free
Mineral oil-free
Colorant-free
Phthalate-free
Non-irritating formula
Pleasant fragrance
Cons
Price at the time of publication: $9.96
The GIOVANNI Eco Chic 50:50 Balanced Hydrating Clarifying Shampoo is curated with a blend of vitamins, proteins, and nutrients that nourish and strengthen each strand. This color-safe shampoo is suitable for daily use and particularly ideal for people with dry hair. It revitalizes over-processed and overworked hair by hydrating and moisturizing the tresses. The product also controls the pH balance in your hair and leaves the tresses shinier than ever. It is enriched with aloe vera, rosemary, and sunflower seed oil that gently cleanse and add moisture to your hair. Rosemary extract offers a luxurious appearance to your hair and smooths frizz. Aloe vera strengthens your strands and controls extra grease. The sunflower seed oil prevents breakage and improves hair growth.
Pros
Suitable for dry hair
Imparts shine
Color-safe formula
Moisturizing formula
Vegan-friendly formula
Cruelty-free
Paraben-free
Sulfate-free
Cons
None
Price at the time of publication: $8.79
The Kenra Clarifying Shampoo is a perfect solution for those with dry, dull, and unmanageable hair. The product also works well on hair exposed to hard or well water or mica. Its unique formula is made of extracts of grapefruit and witch hazel combined with amino acid chelates. This shampoo works perfectly to remove build-up and clears 99% of the dulling deposits. It is color-safe. It brightens highlighted, bleached, and gray hair. The product is free of parabens.
Pros
Paraben-free
Suits all hair types
Pleasant fragrance
Color-safe
Softens hair
Cons
Price at the time of publication: $35.99
Why Trust StyleCraze?
The author, Shiboli Chakraborti, is a certified skin care coach and a hair care enthusiast. She strongly advocates using drugstore clarifying shampoos to deeply cleanse the hair and scalp. This list of the best clarifying shampoos is based on hours of research of various products and user feedback collected from trusted online forums. These products are suitable for all hair types and work best to leave your hair super fresh and clean.
Frequently Asked Questions
What does hair clarifying mean?
Hair clarifying is the process of removing product build-up on the scalp or in the hair through the use of home remedies or clarifying shampoos.
Is a clarifying shampoo bad for your hair?
No. Using clarifying shampoos the right way has benefits. But excess usage can leave your hair dry and brittle.
How often should I use a clarifying shampoo on natural hair?
You can use a clarifying shampoo once a week or twice every two to four weeks. The usage, largely, depends on your needs.
Do clarifying shampoos strip hair color?
Clarifying shampoos are usually color-safe. But using them too often may fade your hair color.
How do clarifying shampoos work on curly hair?
Clarifying shampoos cleanse hair better than regular shampoos. They also restore the natural bounce and shine of curls when used on curly hair.
What's the difference between shampoo and clarifying shampoo?
Regular shampoos use harsh substances like sulfates to clean the scalp and hair, removing natural oils from the scalp's surface. On the other hand, clarifying shampoos have a unique formula that attracts dirt and product buildup, dissolves them, and flushes them out from the scalp.
Does baby shampoo work as a clarifying shampoo?
Yes, baby shampoos are a gentler option. They provide deep cleansing without striping the essential oils from the scalp. Also, if you have colored hair, you can look for color-safe clarifying shampoos that preserve your dye.
How do you know if you need a clarifying shampoo?
Here are a few signs that indicate your hair needs clarifying shampoos.
• Your hair is frequently oily and greasy, and dirt is not off the scalp.
• When your highlights look dull
• Your hair cannot hold styling anymore
• Frequently using dry shampoo
Recommended Articles