10 Best Face Scrubs Without Microbeads Of 2023
For exfoliated, soft skin without dirt and impurities and improved skin texture.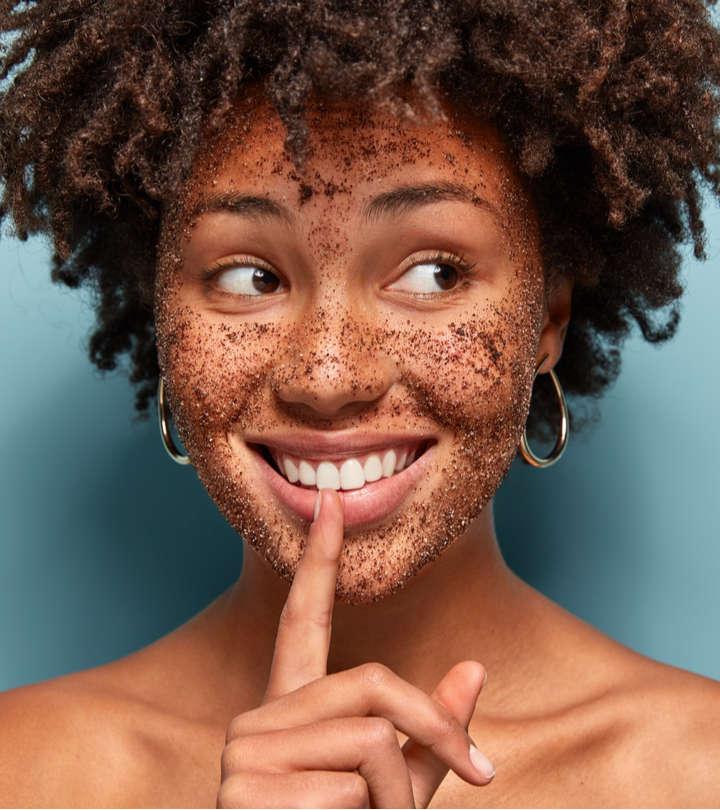 Physical exfoliators contain microbeads that are a form of plastic. So, the best face scrubs without microbeads are a safer alternative for your skin and even the environment. Microbeads are tiny pellets in your facial scrubs aimed at cleansing your pores. But, these most often scrape off the top layer of the skin quite harshly and leave micro cuts and tears. They also leave your skin very dehydrated and prone to allergies and breakouts. In addition, these abrasive plastic particles are not just harmful to your skin but also the environment, especially marine life.
Exfoliation is an important part of our skin care. It removes the dead skin cells from the surface of our skin and makes it smooth and supple. There are physical and chemical exfoliators available on the market. However, if you are looking for physical exfoliators or face scrubs, we suggest you avoid ingredients like polyethylene (PE) and polypropylene (PP), as they make up the microbeads. Did you know that most countries have banned the cosmetic usage of microbeads due to their negative impact on human and planet health? In this article, we have compiled a list of the best face scrubs without microbeads to help you make an informed choice. So, go ahead and take a look now.
Beat The Dirt With These 10 Best Face Scrubs Without Microbeads
This daily gentle exfoliator from Yes To, is packed with 95% natural ingredients formulated without petroleum and parabens. This microbead free face scrub helps slough away dead skin cells to restore your skin's natural radiance. Grapefruit extracts help even skin tone and with the presence of vitamin c, your skin will be boosted with brightness. Sunflower seed oil, coconut extracts, and natural exfoliator polylactic acid are used to enhance and improve your skin's smoothness and hydration. Above all, this anti microbead face wash is certified vegan, cruelty-free, and non-comedogenic.
Pros
 Daily use exfoliator
 Vegan
 Infused with grapefruit, sunflower seed oil, and vitamin c
 Improves skin texture
Cons
Price at the time of publication: $8.98
The next contender is a drugstore face exfoliator from Tree Hut. This non-abrasive exfoliant features a natural blend of 6 oils consisting of avocado, macadamia, sweet orange, sweet almond, evening primrose, and safflower oils. Hemp seed oil, a key ingredient in this face scrub, is known for its powerful antioxidants and soothing properties, and with it is infused lavender oil. Sugar is a commonly known natural skin exfoliator which is teamed up with natural shea butter to provide ultra moisture and soften dull skin. Freesia, sandalwood, and vanilla extracts make this product smell luxurious. The exfoliating scrub without microbeads is formulated without harsh chemicals so you can expect it to come without parabens, gluten, alcohol, sulfate, alcohol, and formaldehyde donors.
Pros
 Consists of 6 skin loving oils
 Key ingredients lead to polishing of dull and dry skin
 Leaves skin with ample hydration and moisture
 Free from harmful skin irritants
Cons
Price at the time of publication: $15.89
Multi-use products may be hissed at in the beauty department, but the Acnedote by Alba Botanica might give multipurpose products a run for its money. This exfoliator without plastic beads is for both face and body to help scrub off acne, yes including bacne! Though gentle, when applied on the face with its 2% salicylic acid and willowbark extract, it helps treat and restore your skin's texture. Salicylic acid is a known chemical exfoliant or BHAs that go deep into your skin to remove gunk and prevent acne triggers. The microbead free exfoliator draws out oil, dirt, and dead skin cells to create a barrier for breakouts ultimately resulting in clearer skin and long-lasting effects.
Pros
 Plant based
 Cruelty-free
 Duo-purpose scrub for face and body
 Visibly improves skin texture
 No artificial colors, parabens, phthalates, or sulfates
Cons
 Over exfoliation may lead to irritation as it contains walnut shells.
Price at the time of publication: $6.18
Microbeads in face wash may not be advisable but this face scrub from Thrive also avoids walnut and apricot shells that are most commonly used as microbeads substitute. The face scrub diligently removes dead skin cells, dirt, oil, or product residue. Costa Rican super-plants like juanilama and fierrillo are extracted for their antioxidant and antimicrobial properties. Juanilama is a citrus-scented antioxidant herb that fights back irritation and redness, while fierrillo on the other hand is a rainforest vine that has anti-inflammatory properties. This GMO-free product unclogs pores and deep cleans to provide you with a brighter and refreshed skin.
Pros
 Plant-based face scrub
 Rich in antioxidants and germ-fighting ingredients
 All-natural exfoliating face scrub
 Cruelty, GMO, and microbeads free
 Prevents ingrown hair and unclogs pores
Cons
 Fragrance of the product could be an issue
Price at the time of publication: $38.45
To bridge the gap between chemical and physical exfoliants, Kate Somerville introduces ExfoliKate. This face wash with beads chemically and physically eliminates clogged pores and dead skin cells with natural silica exfoliating beads, and AHA Lactic and BHA salicylic acids. Papaya, pineapple, and pumpkin enzymes are used to provide you with a glowing skin whereas rosewood and cinnamon extracts are infused to reduce the appearance of aging and fine lines. Your skin will feel ever so soft and smooth with the goodness of aloe vera, honey, and vitamin E.
Pros
 Contains natural microbeads
 Infused with chemical and physical exfoliants
 Natural ingredients help improve skin's condition
 Ideal for acne-prone skin type
 Reduces the appearance of pores and wrinkles
Cons
 Not suited for sensitive skin
Price at the time of publication: $98.0
An all-natural exfoliating face scrub that gently buffs and purges skin impurities is what Mario Badescu's almond and honey face scrub promises you. Uniquely blended with almonds, cornmeal, oatmeal, and kaolin, this face scrub without plastic microbeads reveals a radiant complexion and lifts your skin with ample nourishment. Apply this scrubbing cleanser and let it set for 10 minutes before a thorough rinse and repeat every 2-3 times a week for a smoother, satin skin.
Pros
 Contains all-natural ingredients
 Ideal for sensitive skin
 Creamy consistency
 Drugstore face exfoliator
Cons
 Some may find the texture a little too creamy.
Price at the time of publication: $15.0
One of the best drugstore exfoliating scrubs, this one's a gentle and effective everyday exfoliating cleanser. It is a non-drying formula that serves to brighten and deeply cleanse your skin with key ingredients such as argan nut shells and vitamins C and A. The nut shells act as a natural exfoliant that scoops out dirt and impurities from the skin while the acids and AHAs in this product's formulation help remove dead skin cells from the surface to refine your pores and skin tone.
Pros
 Daily use exfoliator
 Contains natural physical exfoliants
 Removes oil and makeup residue
 Gentle on skin
Cons
 May not be suitable for extremely sensitive skin
Price at the time of publication: $15.29
What if we told you that not all apricot prime exfoliators are harsh on your skin? The DHC Facial Scrub is a creamy, nourishing cleanser that comes without microbeads. Its texture leaves your skin smooth and hydrated as the finely milled apricot seed granules gently slough away dull and dead skin. Soapnut, licorice, and allantoin thoroughly cleanse, nourish, and soothe the skin making it ideal for sensitive skin. This exfoliating face wash without microbeads balances pH, refines and polishes your complexion, and prepares your skin to absorb nutrients from post cleansing session.
Pros
 Infused with natural exfoliant
 Organic ingredients help soothe and soften skin
 Balances natural pH value
 Nourishes skin with vitamin E extracts
Cons
 Not suited for combination to oily skin type
Price at the time of publication: $8.79
If you're up for a no-fuss microbead-free exfoliator, Brandless Grapefruit Facial Scrub is the one to opt for. Free from all sorts of harmful ingredients like sulfates, phthalates, dyes, and of course, microbeads, this product gently softens and cleanses your skin. It is a clean facial scrub that simply helps enrich your skin tone while removing dirt and unclogging pores. With silica as the natural exfoliant, this facial scrub without microbeads infused with fruit enzymes replaces any need for harsh substances to be used for deep cleaning your skin and pores.
Pros
 Clean and refreshing exfoliant
 Uses natural scrubbing ingredient
 Vegan
 Cruelty-free
 Does not contain sulfates, phthalates, or dyes
Cons
Price at the time of publication: $7
Our last contender is also an all-natural face scrub that is formulated without a trace of fragrance. It is formulated with extra-finely milled sugar, organic coconut oil, and shea butter among other skin-loving ingredients. Sugar is an excellent exfoliant as a radiant skin brightening agent as it removes any dull and dead skin cells to help reveal a. Sunflower seed oil used in the formulation is profusely active in vitamin E, thus providing you with the much-required hydration and prevents aging signs. Coconut oil is a holy grail ingredient that quickly seeps into your skin and locks your moisture in while shea butter strengthens and repairs your rough skin for a sealed moisturized smooth skin.
Pros
 Contains natural hydrating ingredients
 Uses sugar for exfoliation
 Does not have any artificial fragrance
 Provides a natural glow
 Fragrance free
Cons
Price at the time of publication: $9.89
How To Choose A Face Scrub Without Microbeads?
The first step is to find a product with a formulation that works best for your skin type. If you have sensitive skin, opt for one that has heavily milled exfoliators that will not irritate or be too abrasive on your skin. Dry skin can surely be impacted with the presence of creamy and hydrating elements in the ingredients list. Gel or water-based or even light texture face scrubs are best suited for those with oily skin.
 Always avoid coarse grains
Irrespective of your skin type, you should remember to steer away from facial scrubs that have big and coarse grains in them. Coarse grains mean harsh application and skin irritation upon regular use. The finer the grain, the gentler it will be on your face when you rub it in circular motions.
 Look for physical scrubs that have chemical exfoliants
A combination of a physical scrub and chemical exfoliant will help you refine your skin texture without causing much friction or redness to your skin. If you have normal to combination or oily skin, chemical exfoliants-infused face scrubs rejuvenate and restructure your skin. As for the case of sensitive skin people, chemical exfoliants should be tested in patches first in order to prevent any allergy or irritation.
The notion around face scrubs with microbeads is archaic, back when it was assumed that a harsh gritty substance and rigorous movements would somehow peel off the dirt and drab appearance of the skin. However, we have come a long way in which microbead face wash or scrubs are now frowned upon because of extensive research proving the presence of plastic particles in them. Since then, companies and even countries have vowed to create products without microbeads in cosmetics, however there are instances where some products still use these microbeads under a guise. Thus, to ensure you no longer use a face scrub that contains microbeads, we hope you find your perfect physical exfoliator in the above list containing the 10 best face scrubs without microbeads.
Why Trust StyleCraze?
Vaishnavi Kothuri, the author, is a skin care enthusiast with a passion for keeping herself updated with emerging trends. She is big on clean cosmetics and beauty products. As cleansing is an essential part of skin care, she set out to uncover the best face scrubs without microbeads. She conducted thorough research and read through multiple customer reviews on trusted online platforms. The products on this list are formulated with gentle and non-harmful ingredients that can deeply cleanse your skin without causing any damage.
Frequently Asked Questions
How can I exfoliate without microbeads?
Exfoliate with honey scrub, konjac sponge, or lactic acid peel, instead of microbeads.
Do microbeads damage the skin?
Yes. Microbeads scratch your skin and damage healthy skin cells. Their high abrasive power can accelerate the aging process.
How can you tell if a product contains microbeads?
Look for ingredients named 'polypropylene' or 'polyethylene' on the label. These elements indicate the presence of plastic microbeads in the products.
Are microbeads banned?
Yes. Many countries like South Korea, the UK, Sween, France, and New Zealand have banned plastic microbeads in their cosmetic products.
What are natural microbeads?
Some natural microbeads are jojoba beads, sugar, salt, coffee, bamboo powder, and pumice powder. They gently scrub your skin and offer cleansing and nourishing benefits.
What is a natural exfoliation?
Natural exfoliation includes using natural ingredients to exfoliate your skin. This enhances the blood circulation of your skin and improves its appearance.
Are microbeads biodegradable?
No. Microbeads are made of tiny plastic pieces that have a damaging effect on marine life and human health.
Recommended Articles
Best Exfoliators For Your Face: Scrubs, Cleansers, And Gels
Best Vegan Face Scrubs To Exfoliate Your Way To Flawless Skin!
Best Face Scrubs For Whiteheads