Boost Your Youthful Glow With 15 Best Face Exfoliators For Mature Skin!
Bid farewell to dead skin cells with these effective and must-have exfoliators.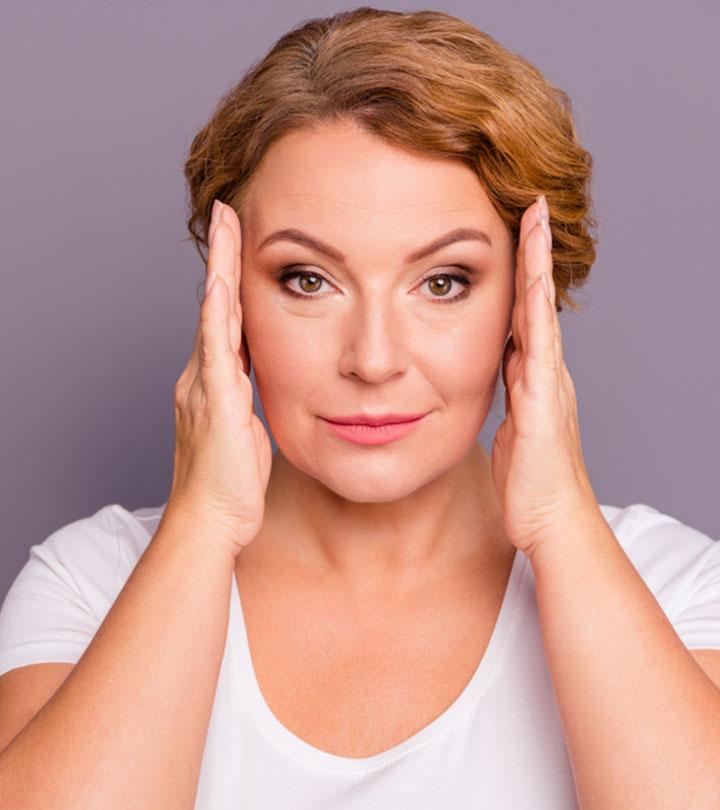 Quit spending on expensive salon treatments to restore your younger, clearer, and tighter-looking skin when all you have to do is scrub! Yep, believe it or not, exfoliation can do wonders to mature skin as it scrubs away the dead skin cells and makes way for new and fresh skin to breathe. Plus, all those wrinkles, fine lines, dark spots, and clogged pores stand no chance against exfoliation, which is why mature skin users cannot do without a facial exfoliator enriched with retinol, ceramides, rosehip oil, and niacinamide in their AM and PM skincare routines! Curious to try one, aren't you? However, finding the best face exfoliator for mature skin is indispensable to avoid irritation or redness later. And to make this task super-easy for you, we took the liberty to round up the top choices on the market! Now, who's ready to flaunt their flawless glow sans makeup?
Go on, beat the aging signs, and awaken your timeless radiance with the best! Check out our list of the 15 best face exfoliators for mature skin below.
Read on to know more!
Top 15 Best Face Exfoliators For Mature Skin You Must Try!
So gentle, you'll wonder if it's a scrub! Well, it is and it is also packed with Moroccan red clay, black jojoba beads, and rose oil to awaken your sleeping beauty. Drawing out the dirt and exfoliating gently but thoroughly, your skin has no choice but to look refreshed and radiant after every use. Also, this gentle facial exfoliator for mature skin does not stop at exfoliation, as the infused rose oil calms and nourishes the freshly-scrubbed skin too. This skin care line is also very affordable, so it offers an approachable price-point for most consumers. Try it, especially if you have sensitive skin!
Pros:
Restores softness
Rejuvenates dull skin
Vegan and cruelty-free
Free from parabens, mineral oil, sulfate, petrolatum, and formaldehyde
Cons:
Price at the time of publication: $8.39
Is it a scrub or a mask? We'd say both! Yep, enjoy the benefits of exfoliation in this manuka honey mask that also contains aloe vera, walnut, orange peel oil, and cehami extract. Besides this, it is infused with microdermabrasion particles that scrub away the dry, dead, and damaged layers on the skin without being harsh, and help you restore younger-feeling skin. Yep, calling it the best face exfoliator for dry skin would not be totally wrong. Also, are you dealing with blackheads, acne, or wrinkles? Consider them taken care of as this spa-like facial mask exfoliates first and then nourishes the skin with vitamins to reduce aging signs and restore suppleness. Still, want to miss it? You can check out the review of the Era Organics Revive+ Microdermabrasion Facial Scrub to know more about the benefits and the reviewer's experience after personally testing the product.
Pros:
Moisturizes intensely
Improves complexion
Exfoliates and shrinks pores
Plumps skin and firms wrinkle lines
Reduces scars, dark circles, and dark spots
Free from harsh chemicals, parabens, and alcohol
Suitable for dry, dull, sensitive, and acne-prone skin
Cons
Price at the time of publication: $23.99
Are you looking for the best facial cleanser for mature skin? This scrub and cleanser combo could be the one for you. Leaving a radiant and fresh glow, the infused glycolic acid and micro-pearls scrub away the dullness and dead skin cells with every use. Sarah Tucker, an esthetician with over 27 years of experience, says, "Glycolic acid is a very small molecule so it tends to penetrate quickly and deeply, especially in drier skin types – hence irritation can be expected. There's a "stingle" stinging-tingle that not every person will find comfortable." And given it is a daily face exfoliator for mature skin with cleansing benefits, it's gentle and will not harm your skin's natural barrier. Go on, brighten up your skin and confidence with this skin-refining, dermatologist-recommended scrubber. In this YouTube video, with on-spot testing and the tester's experience, you will learn more about the L'Oreal Paris Skincare Revitalift Bright Reveal Facial Cleanser.
Pros:
Repairs wrinkles
Reduces dark and age spots
Ensures soft and smooth skin
Corrects uneven skin texture and tone
Dermatologist-tested and safe to use twice a day
Cons
Not suitable for sensitive skin
Price at the time of publication: $6.63
Why spend on pricey exfoliation treatments when you can enjoy the same benefits in this face exfoliator for mature skin? Yep, and to tickle your fancy more, it exfoliates with all-natural ingredients! The brand boasts of scientifically formulated products that deliver visible results. Packed with glycolic acid (derived from sugarcane) and extracts of apple fruit, lemon fruit, and green tea leaf, you can now enjoy salon-worthy microdermabrasion treatments at home with this facial scrub. Loosening all the dirt and debris and nourishing intensely. This skin-refining scrub also targets blackheads, acne scars, blemishes, and aging signs with every use. Can you handle the glow-up? Watch this video, if you need further convincing about the DRMTLGY Microdermabrasion Facial Scrub.
Pros
Creamy texture
Dermatologist-recommended
Restores youthful glow
Exfoliates and shrinks pores
Plumps fine lines and wrinkles
Improves complexion and elasticity
Stimulates regeneration of skin cells
Gentle, non-abrasive, and cruelty-free
Free from paraben, sulfate, and other harsh chemicals
Cons
Oily skin may turn slightly greasy
Price at the time of publication: $14.95
Don't let those dark spots ruin your ageless glow! Erase them with this exfoliating serum in just 2 weeks. Powerful enough to dissolve the dead skin cells, it also targets wrinkles, dullness, and age spots with 10% glycolic acid. And unlike other serums, it promises to leave no tacky or sticky feeling post-application. Moreover, besides exfoliating, it soothes the skin intensely with the infused aloe. Yep, and given it's a nighttime serum, you can expect some stunning mornings with this anti-aging spot corrector. Try it!
Pros
Boosts skin regeneration
Corrects uneven skin tone
Dye-free and paraben-free
Lightweight and fragrance-free
Allergy-tested and dermatologist-tested
Suitable for all skin types
Cons
Not suitable for hyperpigmented spots
Price at the time of publication: $16.87
Staying true to its name, this crystal-packed exfoliator for older skin promises to boost your natural radiance. How? Infused with 120 aluminum oxide (microdermabrasion) crystals, they act like little warriors on a mission to scrub away the thick dead skin layers effectively. Besides this, the crystals also target clogged pores, blackheads, dark spots, and wrinkles. Uncovering fresher, newer, and glowing skin with every use, this thorough yet gentle exfoliator is all you need to restore your vibrant complexion. Spa-like treatment at home, anyone?
Pros:
Plumps fines lines and wrinkles
Exfoliates and nourishes intensely
Restores youthful and radiant skin
Shrinks pores and eliminates blemishes
Targets crow's feet, stretch marks, and acne spots
Suitable for normal and combination skin types
Cons:
May be too intense for sensitive skin
Price at the time of publication: $19.98
Are regular exfoliators too tough on your sensitive skin? Try this gel scrub packed with Dead Sea minerals, glycerin, and nutshell powder. Gentle and non-irritating, this gentle facial exfoliator for sensitive skin exfoliates clogged pores and eliminates dead skin cells to help your skin breathe and provide a calming effect. Also, are you dealing with discoloration or dark spots? Then you must-try this exfoliating gel ASAP as it claims to brighten your skin tone effectively. Do not skip this gem!
Pros:
Nourishes skin intensely
Balances sebum production
Combats blackheads and acne
Free from harsh chemicals
Suitable for dry and oily skin too
Cons:
Rinsing the product may be a hassle
Price at the time of publication: $13.99
One-stop for all your skin woes! This mask and scrub combo for mature skin is the solution you need to fight aging signs, exfoliate dead skin cells, clear clogged pores, and correct uneven tone. Making your skin appear fresh, glowing, and plumper, the formula contains glycolic acid, quartz crystals, turmeric, vitamin C, aloe vera, ginger, and pumpkin to exfoliate and nourish intensely. The mask is non-irritating and allergy-tested to be safe and show visible results on the skin. Also, are open pores ruining your makeup look? Worry not! This mask-scrub exfoliator for aging skin claims to shrink and refine the appearance of pores too. Give it a try!
Pros
Improves complexion
Boosts collagen production
Eliminates dryness and dullness
Soothes skin and strengthens the natural barrier
Cruelty-free and suitable for all skin types
Free from synthetic dyes and parabens
Cons:
Price at the time of publication: $13.97
The power of exfoliation, hydration, tightening, and brightening, all in one! This peeling gel is what every mature skin deserves to age gracefully and wrinkle-free. Packed with the benefits of a scrub, moisturizer, and toner, it exfoliates dead, dry, and damaged skin cells with willow bark extract and cellulose. And as far as moisturizing is concerned, the infused honey, aloe vera, allantoin, vitamin C and E ensure intense nourishment. Besides this, the gel also prevents premature aging and tightens skin with peptides and other antioxidants. Worth a try, we think!
Pros
Boosts cell turnover
Soothes and hydrates intensely
Tightens pores with stem cell extracts
Soap-free, paraben-free, and alcohol-free
Non-irritating, hypoallergenic, and non-comedogenic
Suitable for dry, sensitive, combination, and oily skin
Cons
Price at the time of publication: $25.99
Here's a combo that'll make everyone envy your young-looking and flawless glow. Paula's Choice is clinically-proven to be non-irritating and targets all your aging skin concerns with its salicylic acid and glycolic acid exfoliants. The 2% beta hydroxy acid (BHA) exfoliant scrubs away dead skin cells, uncovers new skin, tightens pores, plumps wrinkles, and clears blackheads with every use. The 8% AHA exfoliant, on the other hand, with glycolic acid, green tea, and chamomile reduces discoloration, age spots and improves skin elasticity. Give this AHA/BHA exfoliant a try!
Pros
Gentle formula
Hydrates intensely
Reduces sun damages
Non-sticky and absorbs quickly
Suitable for all skin types
Free from paraben and fragrances
Cons
Price at the time of publication: $68
If you are looking for an alcohol-free toner for mature skin, then you must try this option. Formulated with 8% glycolic acid (an excellent exfoliator), it loosens and wipes away dead skin cells like a charm. And unlike other toners, this one will not irritate or trigger redness but nourish and hydrate your skin instead (all thanks to the infused rosemary extract!). Also, are you into heavy makeup? The brand claims to eliminate excess dirt, grease, and makeup residue too! Go on, tone, and restore your youthful glow with this AHA toner!
Pros:
Eliminates dullness
Reduces fine lines and wrinkles
Restores the pH balance of the skin
Tightens pores and improves skin tone
Combats sun damage and hyperpigmentation
Cruelty-free and suitable for all skin types
Free from gluten, paraben, and sulfates
Cons:
Not suitable if you are sensitive to smell
Price at the time of publication: $22.99
Go green to glow with this organic and natural face scrub by Teami. Non-abrasive and gentle, which means you don't have to worry about breakouts, acne, or redness, this facial scrub claims to exfoliate, hydrate, and moisturize, all in one go. Packed with matcha green tea extract, sugar, and lemongrass, get ready to experience a spa-like cleansing session with every use. And the best part is, it promises to be both non-dry and non-greasy, thus making it ideal for all skin types! Try it.
Pros
Retains natural oils
Scrubs off dead skin cells
Reduces fine lines and wrinkles
Shrinks pores and combats acne
Non-irritating and non-comedogenic
Vegan, non-GMO, and free from fragrances and harsh chemicals
Cons
Price at the time of publication: $23.9
Age like fine wine (literally!) with this pumpkin wine-infused toner! A must-try for makeup lovers to eliminate all the makeup residue, dirt, and debris, this one also refines pores and shrinks them with every use. A great option to add to your AM and PM skincare routine, the formula also includes amino acids, vitamins, lactic acid, and more to hydrate and refresh your skin instantly. And that's not all; this non-irritating toner can be used as a mist for instant hydration and to set the makeup as well. Versatile toner, anyone?
Pros
Improves complexion
Corrects uneven skin tone
Ensures soft and supple skin
Cruelty-free, fragrance-free, dye-free
Suitable for all skin types
Cons
Price at the time of publication: $42
Because who doesn't like a fruity spa, right? And this overnight sleeping mask with watermelon extract promises a thirst-quenching experience for dry and aging skin. Now, whether you want to use it as an overnight mask or wash it off, it will lift off dead skin cells, hydrate, and soften skin with every use. Want more? This alpha hydroxy acid (AHA) mask also contains hyaluronic acid and pumpkin extract to boost moisture levels and fight aging signs. Fruit lovers, do not miss this bliss!
Pros
Watery gel texture
Ensures a youthful glow
Combats skin-damaging free radicals
Suitable for all skin types
Cruelty-free and vegan
Free of sulfate, paraben, mineral oil, alcohol, phthalates, and more
Cons
Price at the time of publication: $32.33
Facial scrub but with the benefits of a moisturizing cream! Get ready to enjoy scrubbing, moisturizing, and polishing with this gem. Plus, the infused micro-crystals are finely-grounded and dermatologist's quality so they won't harm or irritate your skin. Moreover, besides targeting dead skin cells, wrinkles, dullness, acne, breakouts, and more, it hydrates and soothes with aloe vera, chamomile, and green tea. A lot of reviewers claim they have seen visible results like softer skin with reduced clogged pores. Yep, just the combo you need to exfoliate and nourish your skin at the same time; give this microdermabrasion facial scrub a try.
Pros
Suitable for all skin types
Reduces hyperpigmentation
Exfoliates and minimizes pores
Corrects uneven tone and texture
Improves complexion and elasticity
Non-comedogenic and non-drying
FDA-certified, cruelty-free, and cGMP/SOP compliant
Free drying alcohols, sulfates, phthalates, parabens, and more
Cons
Maybe too gentle for some
Price at the time of publication: $18.95
Now, who's ready to flaunt their gorgeous and youthful glow this season? There you go, those were the 15 best face exfoliators for mature skin. However, if you still need assistance with buying the right face exfoliator, check out our buying guide below for tips!
Buying Guide
How To Choose The Right Face Exfoliator For Mature Skin?
Look out for the following features in the product before buying:
Skin type: It is essential to pick a product suitable for your skin type to enjoy the maximum benefits. Mature skin exfoliators are available for all skin types out there, and some also provide additional benefits to combat dryness and greasiness. In case of allergy-prone skin, opt for dermatologist-approved and scientifically formulated products.
Exfoliation type: If your skin is sensitive, a powerful exfoliator may end up harming the natural barrier and worsening the skin condition even more. Hence, inspect the infused exfoliating particles and whether they are suitable for your skin type.
Anti-aging formula: Scrutinize the ingredients and check if it has anti-aging benefits to reduce fine lines, wrinkles, age spots, pigmentation, and more.
Intense hydration: Hydrating and moisturizing the skin is as crucial as exfoliation to restore youthful radiance. And given there are products on the market that offer both moisturizing and exfoliation benefits in one, there's no reason to give them a miss.
Eliminates dead skin cells: Lastly, scrubbing away the dead, dry, and damaged skin cells is necessary to make way for new, fresh, and younger-looking skin. So, before buying the product, check if it guarantees an optimum scrubbing experience. Also, products with glycolic acid are deemed best for exfoliation.
Why Trust StyleCraze?
The author, Krati Darak, is passionate about skin care and advocates good skin care practices for women of all ages. As you age, your skin becomes vulnerable to signs of aging and dead skin cell buildup. To prevent your skin from looking saggy and aged, she suggests using the above-mentioned exfoliators. She investigated every product on the list, checked their ingredients, formulation, and user feedback on various forums. She chose these products based on their skin care benefits, exfoliating ingredients, absence of harsh elements, and skin-friendliness.
Frequently Asked Questions
Is exfoliating good for aging skin?
Absolutely! Exfoliation eliminates the dead skin cells that may make your skin look older and dull. Also, exfoliating regularly can reduce discoloration, pigmentation, wrinkles, and fine lines too.
How often should you exfoliate mature skin?
It depends on your skin type. If you have oily or dry skin, then you must exfoliate two-three times a week. However, if your skin is sensitive, then exfoliating twice a week is ideal.
Is it better to exfoliate in the morning or at night?
For the best results, it's advisable to exfoliate at night. The reason being, since your pores are open and the skin is sensitive post exfoliation, an overnight session can help with healing without interruption of makeup or sunscreen.
Why do we use an exfoliator?
Exfoliation is important to get rid of the dry flaky and dead skin cells that make your skin dull. Mild exfoliation can also improve skin texture and reduce the signs of hyperpigmentation.
How can I exfoliate mature skin?
If you are using a physical exfoliator, exfoliate your skin two or three times a week. If you use a chemical exfoliator like one with mandelic acid or azelaic acid, start by using it once a week. Follow these steps to exfoliate mature skin-
• Dampen your face with clear water.
• Apply the exfoliator to your damp face in a small circular motion. Let it sit for some time.
• Rinse your face with lukewarm water.
• Pat it dry with a soft towel.
What should I do after exfoliating my face?
• Use a hyaluronic acid serum that will help lock in the moisture from your moisturizer.
• Apply a lightweight moisturizer in a gentle circular motion to hydrate the skin thoroughly.
• Lastly, layer your skin with a good SPF to prevent the UV rays from penetrating your cleansed skin.
Recommended Articles