5 Best Water Flossers Available In India – Reviews and Buying Guide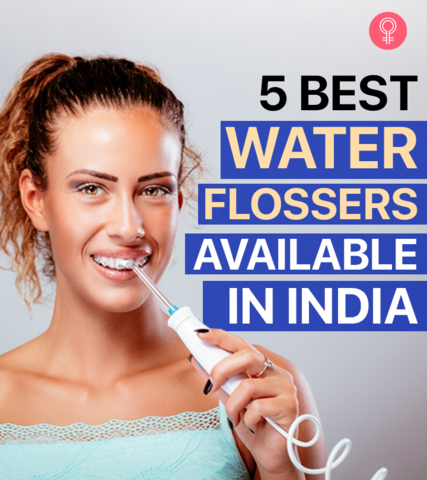 Brushing your teeth every day is important, but it is not enough for your overall oral health. Water flossing is a great addition to your daily routine for ensuring optimum hygiene, strong teeth, and a healthy smile. Water flossers use a pressurized stream of water to remove food, plaque, bacteria, and other unwanted debris from your teeth.  They also remove the food and germs stuck in the spaces of your mouth that a toothbrush cannot reach.
Water flossers also clean crowns, braces, and implants with great precision while improving gum health. Finding the best water flosser can be a tedious task. We are here to make it easy for you by curating a list of the 5 best water flossers in India. Scroll down to enhance your oral healthcare routine!
5 Best Water Flossers In India
Get clean teeth and a confident smile with the Caresmith Professional Cordless Oral Flosser. This machine offers three modes – normal, soft, and pulse. You can adjust the mode as per your teeth and gum sensitivity. It also has a 360-degree rotating jet tip that ensures better cleaning and plaque removal and prevents gum bleeding. Its 300 ml tank capacity allows uninterrupted flossing sessions without requiring frequent refills.
This flosser is efficiently designed for a convenient grip. It does not make much noise during your flossing sessions. It has a pressure generation capacity of 1700 pluses per minute. It improves blood circulation and reduces gingivitis. This machine comes with useful features like a 2-minute timer and a waterproof and anti-leak design. It is portable enough for on-the-go flossing.
Pros
99% plaque removal ability
Pulse modulation technology
Extra large water tank
Anti-leak design
Lightweight
Portable
1-year warranty
Cons
The easy-to-use and effective Oracura Smart Water Flosser is the right choice for you. It has 5x plaque and tartar removal ability compared to traditional flossing techniques. This flosser has a high-speed water jet that reaches the hidden areas of your mouth and removes unwanted remnants. It improves oral hygiene, gum health, and blood circulation. It is portable and has a powerful battery that can run for 15 days with 2 hours of daily use once it is charged fully.
It has three low noise operational modes for differing uses. The soft mode suits first-time users, while the normal mode ensures advanced cleaning, removes plaque, and releases food. Its pulse mode improves gum health, while the 360-degree rotary nozzle ensures all-round cleaning. This machine has a great design and excellent features to give your teeth a new lease of life.
Pros
3 operational modes
Antibacterial protection
360-degree rotary nozzle
Portable
Rechargeable
Long-lasting battery
Cons
The 10 adjustable pressure modes and 8 multifunctional jet tips of the Caresmith Table Top Flosser offer dental cleaning like no other machine. It can generate 1700 pluses per minute and removes the most hardened plaque, debris, tartar. This flosser's grip is perfectly designed for the comfortable cleaning of teeth and gums. This flosser comes with an extra-large 600 ml tank to last for multiple sessions without refill. Its other important features include a 2-minute timer and 4 anti-slip suction cups. It offers a high-level flossing experience for strong teeth.
Pros
10 adjustable modes
8 multifunctional jet tips
Ergonomic design
Extra large tank capacity
2-minute timer
Easy to operate
Anti-leak design
Cons
None
The dentist-recommended and universally trusted Oracura Tabletop Plus Water Flosser is an effective dental cleaning machine. It has 10 adjustable water pressure settings in 'clean' and 'massage' mode. There are 6 interchangeable nozzles with separate tips and a 360-rotary ability for your complete dental care. It is designed to clean hard-to-reach inter-dental places with precision. Its long water pipe and 600 ml tank make this flosser perfect for uninterrupted cleaning. It is a complete family flossing machine suited for perfect cleaning around braces, brackets, and dental implants. Use it to bid adieu to plaque, debris, bad breath, and other dental issues.
Pros
Large tank capacity
10 pressure settings
6 nozzles pieces
Long water pipe
Cons
Waterpik Family Oral Cleaning Flosser is great in design and functionality. It offers efficient and long-lasting cleaning of the hard-to-reach places in your mouth. This flosser comes with two jet tips – one for debris removal and another to strengthen gums.  It generates water pressure of 5 to 80 PSI. Its 7 water pressure settings and 2 tips make it one of the best deep cleaning flossers in India. This machine has a large 1000 ml water tank, which reduces the need to refill it even after multiple uses. This product comes with one-year warranty from the company.
Pros
Spacious water tank
2 standard jet tips
Multiple pressure settings
Smooth functionality
Cons
Water flossers do more than just clean your teeth. Listed below are the most important advantages of using water flossers. Scroll down to learn more.
Benefits Of Using A Water Flosser
Water flossers ensure deep cleaning, restore gum health, improve blood circulation around the gum line, and reduce bad breath.
Water flossers reach the difficult-to-reach inter-dental and tightly packed places in your mouth.
Water flossers are less abrasive than brushes and great to use on sensitive areas such as braces, brackets, and dental implants.
Regular use of water flossers minimizes your visits to the dentist and reduces the chances of undergoing invasive dental procedures.
Water flossers are suitable for people who have restricted mobility issues, arthritis, and other age-related degenerative issues.
Using a water flosser correctly helps in cleaning your teeth by removing leftover food, plaque, and debris. Here is a step-wise guide on how you can use water flossers
How To Use A Water Flosser
Fill the tank of your water flosser.
Place the nozzle in your mouth, staring with your molars. Hold the irrigator away from your teeth and gums.
Adjust the water pressure, starting from low and proceeding to high.
Close your lips to prevent the water from splashing out.
Let the water glide from tooth by tooth and then on to your gum line.
Direct the water into the inter-dental spaces and around your gums.
Repeat the process tooth by tooth until your whole mouth is clean.
Clean your tongue with the nozzle tip to get rid of bad breath.
Once done, remove the nozzle and empty the water tank.
Clean your water flosser tank after every use to keep it hygienic.
Water flossers come with varying features, and selecting the right one according to your needs and budget is very important. Here is a comprehensive buying guide that will help you select the best one.
How To Select The Best Water Flosser
These are some factors you need to consider when buying a water flosser:
Your Needs
Water flossers are of many types, and each type has its benefits and limitations. If you travel a lot, go for a cordless flosser. If you need a flosser with more capacity, select a countertop variant. People who prefer flossing while showering can get a waterproof flosser, and the ones who don't like to refill reservoirs often can buy a faucet water flosser.
Selecting a water flosser with a bigger tank capacity can serve the needs of your whole family. But, this may not be an ideal pick if you travel often and need a portable machine.
Always go for a water flosser that makes less noise to ensure a pleasant flossing experience.  Countertop water flossers are generally noisier compared to other ones.
Portable water flossers need rechargeable batteries to function while you are traveling. Good-quality flossers will have a battery backup of 2 weeks if used daily. Go for a model whose battery won't die easily.
This is an important criterion in selecting your water flosser. If you want to keep it at home and fulfil the needs of your whole family, then a large size is not an issue. However, if you are looking for a flosser to travel with, go for a smaller size and a sleek design.
For proper cleaning of plague, debris, tartar and leftover food in your mouth, a high-intensity water flosser is ideal. Go for one that offers 1500 or more pulses per minute. This will clean the difficult-to-reach places of your mouth effectively. High-quality flossers do so without damaging your gums or causing discomfort.
This includes some useful accessories like multiple nozzle tips, a timer, a rotating nozzle, adjustable settings, etc. Go for the water flossers that come with useful accessories and are easy to use.
Flossing and brushing is a great combination for healthy and strong teeth. We have given you detailed reviews of the best water flossers in terms or quality, features, and cost. Pick one the with most suitable features for your needs, follow a daily oral cleaning routine, and let your charming smile win the world!
Frequently Asked Questions
Is a water flosser rechargeable?
Yes, most water flossers are rechargeable. You can charge the battery, and it will last for around 2 weeks while being used daily.
How should you clean water flossers?
Water flossers can be easily cleaned after each use. The process is very simple. You must clean its exterior body, reservoir tank, internal parts, and the flosser tip separately using lukewarm water, dishwasher, and white vinegar.
Are water flossers travel-friendly?
Yes, most water flossers are portable and travel-friendly. They come with useful accessories like rechargeable batteries and a carry bag and have a sleek design. So, you can carry them along easily on vacations and office trips.
Should you use distilled water in water flossers?
You can use either tap water or distilled water for cleaning your teeth, tongue, and gums. Water flossers don't come with any such directions – the only thing you must do is use clean water.
How many pressure settings are usually there in water flossers?
Most good-quality water flossers have 3 or more pressure settings. Some of the best ones have around 10 pressure settings.
Do dentists recommend water flossers?
Yes, dentists recommend using water flossers for cleaning your teeth. These machines can minimize your dental appointments and keep your teeth healthy. However, care must be taken to buy good-quality water flossers.
What is the difference between a water pik and a water flosser?
Water piks direct water into your mouth and gums to remove plaque and debris, but the process is not very efficient. Water flossers work with advanced techniques of scraping the teeth by using pressure. This helps in better cleaning of even hardened leftovers in the mouth.
Are there any disadvantages of using water flossers?
There are no obvious disadvantages of water flossers. The only thing is they should be handled properly to ensure durability.
Recommended Articles
The following two tabs change content below.