The 15 Best Orange Lipsticks For All Skin Tones – 2023
Transform your look for a late-night party with a lip color that compliments your outfit.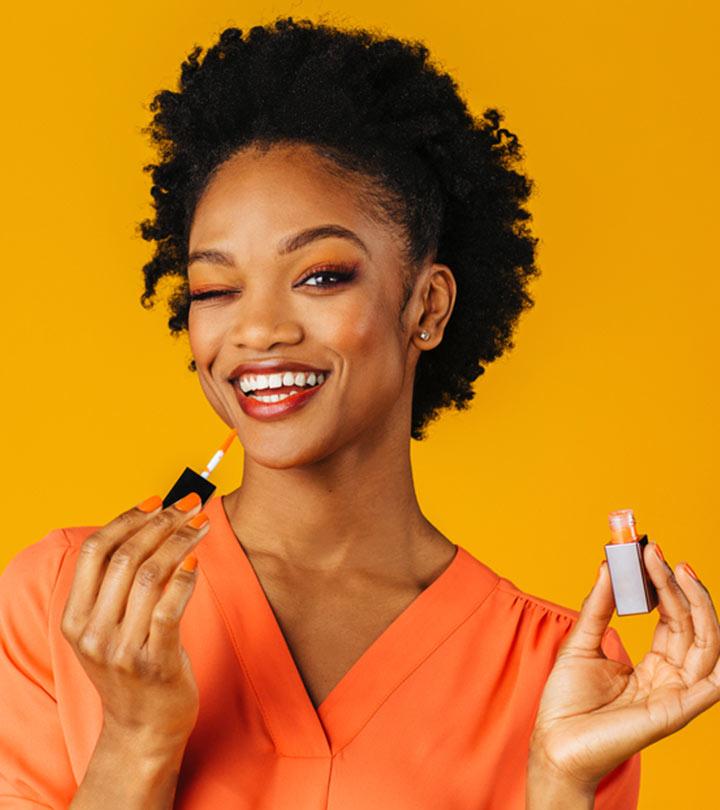 If you're a lipstick hoarder, there's no way you can claim that your collection is complete without adding the best orange lipstick to it. And why not? Orange lipsticks are one of the most versatile shades in the world of lippies as they go flawlessly well with every skin tone, under-tone and are also well-suited for various occasions. Whether it is an early-morning meeting at your office or a late-night party with your gals, you can totally count on your favorite orange-hued lip color to compliment your look.
A black suit or a green crop top with your leather mini skirt, orange lipsticks are made to accentuate just about any outfit to transform your look into a glam one. And since the market is replete with choices, we are here to help you make the right decision with our list of the most stunning orange lipsticks out there. Read on and find your pick to rock your day in style!
15 Best Orange Lipsticks Of 2023 – Our Reviews
Enjoy the plush matte texture of this smooth lipstick that glides on easily and stays in place. In a shade of red-orange pigment, this is great for people with darker or wheatish skin tones. The ingredients range from beeswax and carnauba wax to candelilla wax and microcrystalline wax, explaining why this lipstick is smooth and rich. They glide on easily and their long-wearing formula lets it sit pretty on your lips. Plus this brand is certified cruelty-free by PETA, which makes this a great choice for the conscience too. So, try on this shade of orange and watch your pout go prettier!
Pros
Highly pigmented
Matte appearance
Glides on smoothly
Cruelty-free
Long-wearing
Cons
Might get smudged easily for some
Price at the time of publication: $4.64
This is an orange lipstick with high pigmentation and an adhesive formula that allow a smooth application and an even stain on the lips. The brand uses elastomer in the product that helps in filling up the finer lines and crevices on and right around the lips easily, making it appear rich and fuller but with a velvety and airy look. Additionally, silk powder helps the lipstick glide on your lips like a dream. Best part? This lipstick can also double as a cheek tint! We recommend this shade of orange for paler skin tones.
Pros
Airy, matte texture
Glides smoothly
Can fill up fine lines on the lips
Doubles as cheek tint
Cons
Has a yellow undertone that might not be suitable for some
Price at the time of publication: $9.9
A liquid, matte lipstick, Mynena brings you a non-drying formula in a non-transferable avatar. This is a highly pigmented orange that does not dry into a flat, opaque color but leaves a velvety finish on the lips due to its mineral ingredients. Waterproof and kiss-proof, this one's a dream liquid matte lipstick that stays put pretty on the lips as you go about your day. It uses vitamin E to keep your lips moisturized. Its paraben-free, vegan, and cruelty-free formulation are also a big bonus. This is also GMP-certified for safe use on all skin types.
Pros
Vegan
Cruelty-free
Paraben-free
Non-transferable
Kiss-proof
Waterproof
Moisturizing
Bleed-proof
Long-lasting
Cons
Might be difficult to take off for some
Price at the time of publication: $12.99
Pros
Mousse-like texture
Smooth application
Double pigmented
Dries in a rich color
Cons
Might not be very moisturizing
Price at the time of publication: $6.88
If you're looking for beauty and skincare, then this is your answer! The classic Revlon orange comes in a creamy, moisturizing avatar and a velvety formula that is easy to apply. It is boosted with a dose of SPF 6 to protect your puckers from the harsh effects of the sun. The lipstick does not only beautify but also makes your lips feel soft. This shade has a slightly glossy appearance and is perfect for those looking for some sheen in their orange.
Pros
Moisturizes
Contains SPF 6
Creamy texture
Makes lips feel soft
Cons
Might be a little pricey for some
Price at the time of publication: $19.99
Pros
Made of botanical extracts
Uses plant-derived active ingredients
Cruelty-free
Vegan
Clean
Moisturizes, rejuvenates, and nourishes
Smooth application
Cons
The lipstick might melt if not stored properly
Price at the time of publication: $22
Pros
Cruelty-free
Paraben-free
Nourishing ingredients
Moisturizing
Cons
The fragrance might be too strong for some
Price at the time of publication: $7.99
Pros
Semi-matte
Hydrates
Stays on for up to 10 hours
Provides full coverage
Cons
The color might be too pale for some
Price at the time of publication: $13.5
Pros
Dual-application with choice of matte or glossy finish
Can last up to 12 hours
Cruelty-free
Contains film-forming polymers to spread evenly
Cons
The gloss might be too sticky for some.
Price at the time of publication: $28.14
With a light texture that does not need a lot of product, this gets you the red-orange hue like that of grapefruit in a giffy that goes with most skin tones. The lipstick has an optimal finish that makes the lips look moisturized and radiant. It also has less flare and does not expose wrinkles and creases when applied to the lips. It is formulated to enhance the softness of the lips. However, the airy light texture does not mean that the lipstick does not stay put. In fact, it is built to look vivid even after hours.
Pros
Airy texture
Moisturizes
Has less color flare
Long-lasting
Cons
Might smudge when you have oily food
Price at the time of publication: $5.99
Just like the name suggests, this shade of orange is indeed magic as it changes to a different shade depending on the pH-level of the skin of the wearer, therefore making this suitable for all skin tones. Blessed with the goodness of aloe vera and castor oil, this is a lipstick that promises hydration too. But it's a double win as the lipstick is also smudge-proof and your pandemic mask-proof. It is waterproof and is designed to stay put for longer even as you sip your drink. So, go ahead and enjoy without having to worry about retouches.
Pros
Shade changing
Suitable for all skin tones
Moisturizes
Smudge-proof
Mask-proof
Waterproof
Cons
Might not glide smoothly on dry lips
Price at the time of publication: $16.99
Pros
Natural
Vegan
Cruelty-free
Gluten-free
Non-toxic
Fruit-pigmented
Cons
Price at the time of publication: $28
In a shade called sunset red, this lipstick comes in a creamy texture and a color that suits all. Infused with the rejuvenating formula of vitamin E, this lipstick nourishes and hydrates the lips. Made of antioxidants and skin-conditioners, this lipstick helps in safeguarding the quality of the skin on the lips too. The texture enables the lipstick to glide on easily, and it stays put for long. Pick this if you love your lipsticks for their smooth application and rich color.
Pros
Creamy texture
Hydrates with vitamin E
Rejuvenates with antioxidants
Nourishes with skin conditioners
Cons
The smell might not be liked by all
Price at the time of publication: $12.49
Pros
Lightweight texture
Velvety finish
Vegan
Cruelty-free
Gluten-free
Contains vitamin E
Cons
Not advisable to have oily food with this product on
Price at the time of publication: $17
Pros
Paraben-free
Dermatologically-tested
Highly pigmented for a rich color
Lightweight on the skin
Cons
MIght be too glossy for some
Price at the time of publication: $24
And now that we have looked at our top 15 orange lipsticks, doll up pretty with the right one with the help of our buying guide for the same.
Tips For Picking The Best Orange Lipstick
Go for lighter shades such as peaches and corals if you have a fair complexion and a red-orange or a deeper hue for medium skin tones. Burnt orange and tangerine work wonders for people with olive skin tones. Most bright oranges go with darker skin tones but we would highly recommend a good bright coral, blood orange, or deep pumpkin. But do make sure to stay away from very light shades of orange.
For warm undertones, go with colors that have a warm yellow base and for the ones with cooler undertones, pick out colors that give you a blue undertone. Matte shades also tend to work better on those with cooler undertones and glossier ones for those with warmer undertones.
There are so many kinds to choose from, so be sure to pick according to what you need. Most mattes stay on for longer than their glossy counterparts. However, they tend to dry out the lips faster, so look for matte options with moisturizing properties. While glossy or semi-matte ones might need retouching more frequently, they are generally more moisturizing. However, make sure to check out the ingredients and properties of any product before buying any.
Now that we have looked at how to pick the right orange lipstick for you, here's how to apply it correctly to get the maximum wear out of it.
How To Apply Orange Lipstick
Step 1: Line your lips properly with a nude liner that will act as a base for your lipstick and will also help make the lipstick stay put longer without needing to retouch.
Step 2: Start filling out your lips with lipstick from the middle and move outwards. It's best to do the upper lip first and then the lower lip. You can use a brush for proper application.
Step 3: Use an appropriate lipstick remover to clear up any mistakes or smudges that happen while applying the lipstick.
Does orange lipstick suit dark skin?
Most brighter shades of orange like bright coral, burnt pumpkin, and reddish-orange suit darker skin tones as the contrast in colors help in achieving a well-defined look for the lips.
Does orange lipstick cover dark circles?
While a shade specific to your skin tone and undertone and in the correct,creamy consistency can have the ability to conceal dark circles, it is advisable to not use lipstick to conceal dark circles and to use a concealer instead.
Can I use orange lipstick as a corrector?
A creamy orange lipstick that goes with your skin tone and has the right undertone are used by many as correctors but it is advisable to use a corrector or concealer instead as they are specifically formulated for that purpose.
What color eyeshadow will be suitable with orange lipstick?
A violet eyeshadow goes perfectly well with a pair of hot orange lips. Bright yellow and deep pinks also look good with orange lips.
What orange shade lipstick would go with a fair to wheatish complexion?
Melon tones, pop orange hues, and muted orange shades look good on a wheatish complexion, while corals look good on fair skin.
Does orange lipstick look good on everyone?
Yes, orange lipsticks look good on everyone, irrespective of your complexion. However, choose the right shade according to your skin tone.