9 Best Makeup Artist-Approved Green Lipsticks For An Edgy Style – 2023
Whether it is Halloween or a normal day, paint your lips green and make a bold statement.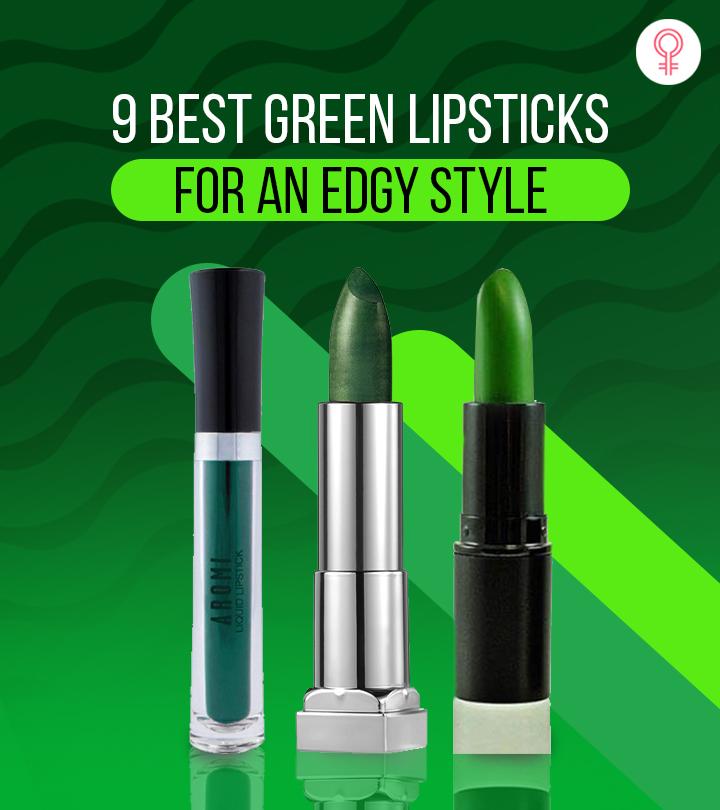 Only the most adventurous souls seek and deserve the best green lipstick! Not everyone is bold enough to wear green on their lips, but if you are one of the wild and free ones, you are at the right place. Whether you want to wear it for Halloween, St. Patrick's Day, a fun party, or your regular day, here are the top 9 green lipsticks that are going to make your peers green with envy!
9 Best Green Lipsticks For An Edgy Style
This green lipstick from Mynena is a long-lasting liquid formula that offers a velvety matte finish to the lips. The bold color dries to an opaque finish and does not dry the lips. It offers full coverage in a single swipe and glides smoothly on the lips to provide exceptional results and a perfect look. The dark green color does not bleed or smudge and requires minimal touch-ups. This is formulated with high-quality mineral ingredients that keep the lips hydrated and soft. It has a sweet vanilla scent and is safe for all skin types. Whether you need a green lipstick for cool or warm skin undertones, this product is perfect for you. You can check out this YouTuber's review of the product if you require more convincing.
Pros
Mineral-based ingredients
Vegan
Cruelty-free
Paraben-free
Smudge-proof
Waterproof
Transfer-proof
Cons
The Forbidden Forest Liquid Lipstick from Kuckian lasts up to 12 hours. It applies as a cream and settles with a smooth and silky matte finish. The matte lipstick shade is enriched with vitamin E, which is a powerful antioxidant, and organic jojoba oil, which keeps the lips moisturized and soft. It comes with two precision applicators for mess-free, perfect application. Whether you are looking for a greenish lipstick color for fair skin or for brown tones, this one is perfect for all. Ethically conscious makeup enthusiasts are obsessed with this clean lipstick, as it completely avoids animal testing.
Pros
Smudge-proof
Long-lasting
Vegan
Cruelty-free
Two precision applicators
Cons
Looking for a lipstick that's not just another boring shade of red or pink? Look no further than 3INA's Essential Lipstick. It has a satin finish and is enriched with nourishing essential oils that keep your lips hydrated and luscious. The classic, creamy formula contains high-quality vegetable waxes that offer long-wearing color and perfect coverage. So, get ready for kissable lips every time with this must-have forest green lipstick for dark skin.
Pros
Comfortable on the lips
Non-drying
Highly pigmented
Cruelty-free
Vegan
Paraben-free
Cons
None
The Aromi green lipstick has a liquid formula that is waterproof, long-lasting, and feels comfortable on the lips, causing no cracks. It is lightweight and dries quickly to leave the lips with a velvety, matte finish. It is 100% vegan lipstick. Whether you need green lipstick for warm skin or cool skin, this one is a must-try! This product has garnered a long list of positive reviews that praise its long-lasting and crack-proof spread.
Pros 
Paraben-free
Phthalate-free
Gluten-free
Vegan
Triclosan-free
Mineral-oil-free
SLS-free
Cons
This lime green lipstick from the renowned celebrity-endorsed brand NYX is part of their pastel lippies range. Perfect for self-expression and showing off your bold personality, this lipstick is highly pigmented and offers an intense color payoff with a satin-matte finish. The long-lasting formula is lightweight and gives a non-drying matte finish to your lips. The product is entirely vegan and cruelty-free.
Pros
Highly pigmented
Lightweight
Long-lasting
Does not crack or flake
Cruelty-free
Vegan
Cons
Are you ready to take your Halloween look to the next level? The Moon Terror's Zombie Green is here to save the day! The creamy, pigmented formula is the perfect shade and accessory to any Halloween look. The vibrant green shade will help you create a unique and spooky makeup statement while being easy to remove with a regular makeup removal wipe. So, whether you are going out trick or treating with friends or need to do editorial makeup for photo shoots or costume makeup for parties, this amazing lipstick has got you covered
Pros
Unique shade
Easy to remove
Full coverage
Lightweight
Long-lasting
Cons
None
The Graftobian Professional Lipstick is a highly pigmented and full-coverage formula that glides onto the lips easily for smooth application. It offers a delicate petal-soft finish. This greenish lipstick color gives an HD effect to the lips, making them look luscious and sexy. This product is quite a favorite option amongst ethically conscious reviewers to add it to their lipstick collection, as it is not tested on animals and works wonders in adding a classic hue to the lips!
Pros
Full coverage
Goes on smooth
Highly pigmented
Cons
Looking for deviation from traditional lipstick colors that will make you stand out in a crowd? Look no further than Bloody Mary's green lipstick! This creamy, long-lasting lipstick is all you need to create unique and beautiful celebrity-inspired looks. It adds a unique touch to your style and takes your look to a whole new level. It is made with high-quality ingredients chosen by renowned professional makeup artist Bobbie Weiner in the USA.
Pros
Highly pigmented
Moisturizing
Long-lasting
Transfer-free
Makeup-artist approved
Cons
None
The Moon Glow green lipstick is a neon shade that glows under UV or black lights. This statement-making shade is ideal for themed events, clubbing, festivals, parties, cosplay, and stage performances. The wax-based long-wear formula is easy to apply, provides a matte finish, and is perfect for your fashion experiments.
Pros
Non-toxic
Transfer-free
Long-lasting
Cruelty-free
Cons
May need reapplication to achieve the true shade.
*The prices provided in this article are based on the latest available information. However, they may vary due to changes in pricing by the seller and/or promotional offers.
Choosing the right green lipstick is not just about finding the color or the perfect shade. There are multiple features that you have to consider when deciding on one product. Here is a buying guide with some of the crucial features to keep in mind when choosing the best green lipsticks.
How To Select The Best Green Lipsticks
Don't focus solely on the best green lipstick brands! Before purchasing lipstick, it is crucial to read the ingredients because some of them may be harmful and cause long-term damage to your skin or cause allergies. Avoid purchasing lipsticks that include parabens, retinyl palmitate, and tocopheryl acetate, cadmium, chromium, aluminum, or mineral oils.
Look for nourishing natural ingredients like jojoba oil, vitamin E, and honey for soft, supple lips.
It is essential to think about what kind of lipstick you want to use, creamy or matte finishes, lipsticks with glossy, metallic, or shimmer finishes. If you have dry, chapped lips, choose creamy formulas that offer a smooth application that keep your lips hydrated. For a long-lasting pout, choose matte finish lipsticks. Frost lipsticks, on the other hand, reflect light, making your lips shine, glisten, and appear plump. Opt for metallic green lipstick for special occasions and celebrity-inspired looks.
Although transfer-resistant lipsticks are best for all-day and everyday wear, avoid non-transferable lipsticks to prevent chapping and drying of the lips as most of these may contain drying ingredients. If you want to use non-transferable lipstick then also check its moisturizing ingredients to prevent your lips from drying out. Look for a highly pigmented and expertly crafted formula that is smudge-free and easy to apply in one of two swipes.
Always check the manufacture and expiration dates of lipstick to see how long it will last. Typically, lipsticks have a three-year shelf life. You will get a comparably shorter shelf life if you choose old products. In order to enjoy a product for the longest possible time, it is a good idea to choose fresh products made in the same year.
Why Trust Stylecraze?
The author who wrote this article, Shiboli Chakraborti, is a makeup enthusiast who loves discovering and sharing new trends like the green lipstick craze. In this article, she lists out the most fabulous green color lipsticks to try out. After spending time researching each of these products pouring over their reviews on various forums, she curated this list. Each of these products offers benefits such as intense color pigmentation, high-quality, skin-enhancing ingredients, absence of harsh elements, and more.
Frequently Asked Questions
Is green lipstick good?
Yes. Green lipstick adds a bright splash of color to your face and makes you look bold.
Can you wear red lipstick with green?
Yes. Red and green are complementary colors. So, pair your green dress with red lips and attract all the eyes.
Are liquid lipsticks better?
Yes. Liquid lipstick helps you to achieve precise and defined lips. Also, they are smudge-proof and last longer.
Is it okay to wear lipstick every day?
Yes. Wear lipsticks daily, but remove them at the end of the day to prevent depositing the pigments on the lip skin. If you have sensitive skin, conduct a patch test before application.
Is liquid lipstick flammable?
No. Liquid lipsticks do not contain combustible ingredients and are inflammable. However, lipsticks made up of petroleum products may catch fire.
Recommended Articles