15 Best Makeup Remover Cloths of 2023 (With Buying Guide!)
Remove your makeup without being too harsh on the skin with these reusable, soft cloths.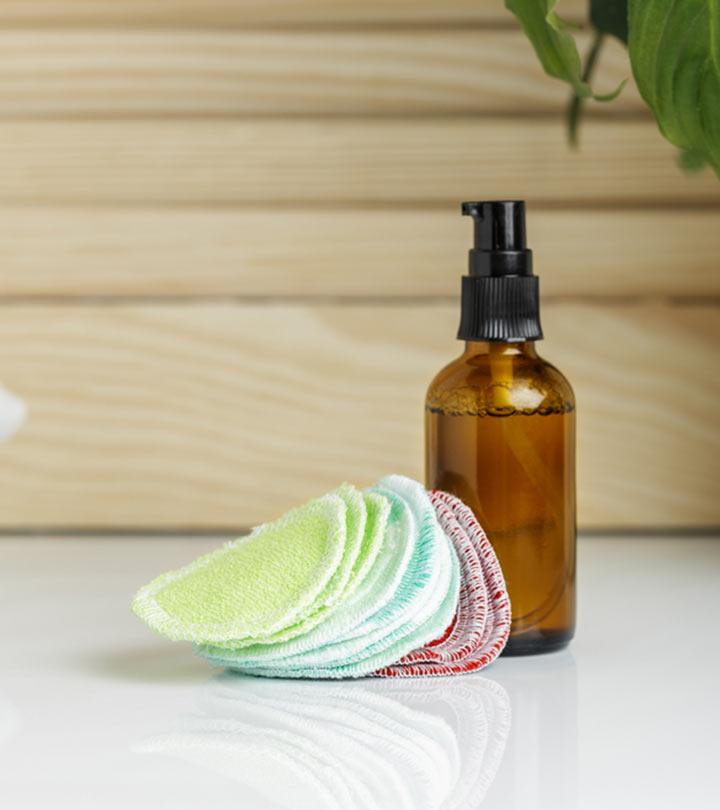 Skin is a very delicate organ, and it needs to be treated with care. We go to spas and take treatments to achieve a stunning glow, but then again, we use harsh makeup that damages the skin. This is why, at the end of the day, you need the best makeup remover cloths to gently wipe away all the makeup from your face. These single-use wipes are soft to the touch and are ideal for thorough cleansing. They buff away dead cells making your skin softer and smoother. Moreover, some of these packs of makeup remover cloths are reusable and washable too. You can simply dip them in warm water and rinse.
In this article, we have curated a list of the 15 best makeup remover cloths. Check them out below!
15 Best Makeup Remover Cloths of 2023
Unlike makeup removers or makeup wipes that can be harsh on the skin, The Original Makeup Eraser is designed to lift off makeup just with water! Made of tiny hair-like fibers, it is super soft, gentle, and dermatologist-tested for sensitive skin. And other than erasing the makeup effortlessly, it has a long-fiber side too for exfoliation. Thus, giving you the best of both (erase and exfoliation) in one makeup remover cloth! You may check more about a tester's experience with the product in this video.
Pros
Premium quality and patented polyester material
Reusable, machine-washable, and long-lasting
Hypoallergenic and suitable for all skin types
Cruelty-free and vegan product
It removes all kinds of makeup (even waterproof) with water.
Cons
The power of a cleanser, toner, scrub, makeup remover, and mask, now in one hydrating cleansing cloth! Sounds unbelievable? It delivers remarkable results too! Infused with glycerin and grapeseed extracts, all you have to do is wipe your skin with these water-activated dry clothes to get rid of the most stubborn makeup or sweat. Reviewers love this portable and compact cloth, Its no-rinse formula is safe to use on normal skin and a must-try option for workaholics or frequent travelers.
Pros
Unique-textured soap-free wipes
Gentle, hydrating, and moisturizing
Guarantees intense cleaning
Dermatologist-tested
Ideal for removing makeup, mascara, sweat, and impurities
Cons
Not non-comedogenic
Not recommended for acne-prone skin
Are disposable wipes burning a hole in your pocket? Try Always Off Makeup Remover Cloths! Without compromising on quality (made of premium microfibers), these makeup remover cloths are reusable, durable, and reliable too. No matter how rigid your makeup is, this cloth cleanser will amaze you with its absorbing power. Lifting off makeup, oil, or sweat in a wipe, the dual-sided cloths guarantee clean, clear, and rash-free skin instantly! Check out this video to learn more about a reviewer's experience with using this cloth.
Pros
Ultra-soft and non-irritating material
Fragrance-free and easy-to-use
Suitable for all skin types
Machine wash-friendly
Portable and travel-friendly
It works with makeup remover, facial cleanser, and water.
Cons
It may not work on waterproof mascara.
With this makeup remover cloth in your collection, you wouldn't need a makeup remover or cleansing oil at all. Just dip Erase Your Face cloth in warm water, and its polyester-blend microfibers will erase all the makeup, sweat, or oil without causing any redness or rashes.  Plus, it is ultra-soft and ultra-gentle, making it ideal for sensitive skin type users too. So, if you are looking for a substitute for those harsh makeup removers, Danielle Erase Your Face could be the option for you. Also, the remover cloth has never been tested on animals. Watch this video for more information about the product.
Pros
Water-activated and highly-functional
Suitable for all skin types
Travel-friendly makeup remover cloth
Machine wash-friendly
Cruelty-free product
Reusable, durable, and reliable for all cleansing needs
Cons
It may not remove waterproof mascara.
Cleaning makeup can't get any more hassle-free than this! These dermatologist-tested makeup remover cloths promise remarkable results by using water only. Claiming to remove 100% makeup, eyeliner, lipstick, and gloss, you no longer have to depend on chemical makeup removers again! Use it post-workout or to double cleanse your face daily. Its feather-soft microfibers ensure no breakouts, but only clean and glowing skin forever.
Pros
Premium-quality and gentle
Prevents rashes and redness
Convenient loop for hanging
Hand wash and machine wash-friendly
Multi-purpose with an exfoliate side
Suitable for Rosacea, acne-prone, oily, dry, and sensitive skin
Cons
Waterproof mascara may need more effort while cleansing.
Give your skin the gentlest touch with these gentle cleansing muslin cloths. Whether you have delicate skin or not, there's no reason why you should expose your skin to rigorous rubbing, abrasive wipes, or regular hand towels. These cotton makeup removers by Karlling, despite being soft as a feather, deliver high-functionality by lifting all the makeup, oil, dirt, and sweat instantly. Ideal for those who are looking for a non-fancy, simple, and effective solution, these cleansing muslin cloths will not disappoint.
Pros
Ultra-soft and cotton material
Machine-wash friendly
Doubles up as an exfoliator
Reusable, durable, and long-lasting
Ensures clean and refreshed skin
Suitable for all dry, oily, and combination skin.
Cons
Thin material
It may not be suitable for sensitive skin.
Other than being velvety-soft, these microfiber makeup remover cloths by Nugilla stand out because of their pretty colors. Ideal for those who like to keep things fancy in their makeup kit, these hydrating cleansing cloths are also gentle around the eyes, thus ensuring an easy-wipe and sting-free experience. Want more? They are highly multi-purpose too! You can use them with warm water, preferred facial cleansers, or makeup removers. Lucy Dare, a professional makeup artist, says, "It's very gentle on sensitive skin. You can run it under very warm water before application to help open the pores for a deeper cleanse." A gentle and colorful touch for your gorgeous skin, get these cute pore cleansing cleaners today! This one is favorite among reviewers who absolutely love its soft feel.
Pros
Made of premium microfiber material
Chemical-free cleaning cloth
Removes all kinds of makeup
Skin-friendly and saves time
Portable and travel-friendly
Reusable, durable, and machine wash-friendly.
Cons
Not recommended for sensitive skin.
Organic squad where y'all at? Here is an all-natural option for you! Made of 80% organic bamboo and 20% cotton, these premium-quality washcloths guarantee nature's softest touch on your skin. Made using cutting-edge technology, they are hypoallergenic and convenient for use in your daily routine. What about makeup? Consider it absorbed, for Brooklyn Bamboo Washcloths ensure to wipe all the dirt, oil, and impurities gently yet thoroughly.
Pros
Lightweight, ultra-soft, and reusable
Suitable for sensitive skin
Ensure a spa-like experience
Odor-free and mildew-resistant
Chemical-free, dye-free, and non-toxic
Hand wash and machine wash-friendly
Cons
Expensive
Since it's delicate, it may not last long.
Softer than traditional cotton but tougher on makeup, Eurow Beauty Makeup Removal Cloths is making people give up on disposable wipes successfully! The brand claims to not only remove makeup diligently just with water but ensure there's no tugging or rubbing required. And did we mention how soft it is? You'll barely feel it against the skin, but the same cannot be said about the makeup for these cleansing cloths lift off everything from concealer, mascara to liner effortlessly!
Pros
Made of premium quality microfiber material
Ensure hassle-free and non-irritating experience
Suitable for all skin types
Will not trigger breakouts
Reusable, durable, and long-lasting cloth
Gentle and ideal to use around the eyes
Cons
Small size
It may not remove waterproof mascara with water.
Not just any other makeup removal cloth, this one exfoliates, massages, and leaves a flawless glow too. And all this, without using any makeup remover or cleansing oil! Interesting, isn't it? There is more. Made of premium-quality material that is feather-soft and skin-friendly, it guarantees to leave no makeup trace behind, be it foundation, sunscreen, waterproof makeup, or glitter! Yep, all it needs is warm water that activates the microfibers to get rid of the daily stress, sweat, and tiredness effortlessly. Ethically conscious consumers are obsessed with this product, as it does not undergo any animal testing.
Pros
Made of ultra-soft and durable microfibers
Removes dead skin cells and improves blood circulation
Eco-friendly, cruelty-free, and vegan product
Easy-to-use, handy, and travel-friendly
Space-efficient and machine wash-friendly
No harsh chemicals
Free from additives, and fragrances
Cons
It may not be suitable for dry skin.
So soft, you'll regret not having them earlier! Vivote Makeup Remover Cloths do not lie when it speaks about its ultra-soft, ultra-gentle, and feather-touch feel on the skin. After all, it is made of 100% high-quality polyester that provides even the most sensitive skin type user a soft and smooth experience. Being just what your skin needs after a long and tiring day, these makeup removal cloths are also delicate around the sensitive eye area. Another takeaway — the color! You don't have to worry about stains anymore.
Pros
Plush microfiber material
Suitable for dry and sensitive skin
Convenient for daily use
Chemical-free and non-irritating
Travel-friendly and machine-washable
Removes stubborn eye makeup, foundation, lipstick, and more
It works with warm water, facial cleanser, and makeup remover.
Cons
From improving blood circulation to exfoliating dead skin, these makeup cleansers can do it all. Considering muslin cloths are known for their exceptional ability to clean without causing any irritation, Eve Lom Muslin Cloths are no different. While removing all the makeup, dirt, oil, and sweat effortlessly, it also softens and smoothens the skin. Made of 100% cotton, they are super-easy to use and convenient to use daily as well.
Pros
Ideal for intense cleansing
Drains out toxins effectively
Suitable for skin types
Machine and hand wash-friendly
Lightweight, reusable, and travel-friendly
Cons
Are makeup removers or wipes giving your skin a hard time? Switch to a makeup remover washcloth instead that promises to care while cleansing. Like these cute and squared options by Kodomo are so gentle that they feel like feathers brushing against your skin (not kidding!). Do you have sensitive skin or eye area? Then you are in luck for these super-soft makeup removers guarantee to deliver a non-irritating and comfortable experience with every use! Bonus — A laundry bag included to prevent stain transfer.
Pros
Durable and skin-friendly microfibers
Tapered edges to prevent abrasion
Chemical-free and hypoallergenic
Eco-friendly, convenient, and handy
Reusable and machine-washable
It removes all kinds of makeup, oil, sweat, and dirt.
Cons
Pamper your skin not only after removing makeup but while cleaning it too. Natwag Makeup Remover Cloth without excessive rubbing or tugging lifts off makeup with its gentle touch. Without leaving any stings, redness, or rashes, it ensures a healthy and clean glow because of the high-quality microfibers that turn into soft protectors. And since they are machine-washable, you are inadvertently contributing to protecting the planet too! Reviews on online forums assert that the product works wonders in effortless removal of makeup and lends a clean texture to the skin.
Pros
Ultra-fine, eco-friendly, and resilient material
Non-irritating and non-toxic
Alleviates skin stress and dullness
Provides a quick refreshing effect
Reusable, durable, and portable
Has a convenient loop for hanging
They are hand-washable too.
Cons
Small size
Fiber may shed
Lastly, this "erase and exfoliate" combo in a makeup removing towel that your skin will thank you for! Use the luxurious-soft side to wipe off makeup or gently exfoliate with the scrub side for intense cleansing and instant glow-up. And unlike ordinary scrubbers, this Japanese-based towel is infused with activated binchotan charcoal that ensures quick absorption of impurities from pores. Ideal to use after a heavy dose of makeup or hot workouts, Morihata Face Scrub Towel is a must-try for exceptional results and to stay flawless with or without makeup!
Pros
Ideal for oily skin users
Counters tired or dull skin
Leaves the skin soft and smooth
Travel-friendly and easy-to-use
Machine wash-friendly
Convenient loop for hanging
It works with or without a facial cleanser.
Cons
*The prices provided in this article are based on the latest available information. However, they may vary due to changes in pricing by the seller and/or promotional offers.
There you go, those are the 15 best makeup remover cloths to bless your skin with (instead of disposable wipes!). If you are still unsure which one to pick, read our buying guide below!
Buying Guide For Best Makeup Remover Cloth
How To Choose The Best Makeup Remover Cloth?
Look out for the following features:
Material: The material should be gentle on the skin and preferably made of ultra-fine soft fibers to deliver a soft and spa-like experience every time you use. Also, there are reusable and eco-friendly options available too.
Shape & Size: The bigger the size, the more you can clean in one go. So, pick a cloth that suits your need for cleansing. For example, to remove eye makeup, you wouldn't need a medium or large size cloth, a small size would suffice.
Portability: A handy and portable towel is always the best option. So, in case you have to travel, it wouldn't take up much space in your makeup or skincare kit.
Versatility: Since a daily skin care routine consisting of heavy products can leave your skin dull or clogged, these makeup remover cloths are available with exfoliation benefits too. Designed with dual-tones, you can enjoy the softer side for erasing and use the exfoliation side to scrub or for intense cleaning.
Machine washable: Most of the facial cloths are machine-washable unless they are disposable. However, we'd advise you to opt for reusable makeup remover cloth to protect the planet, your skin, and your money!
Why Trust StyleCraze?
Srijita De, the author, enjoys makeup and has the lowdown on the best makeup remover clothes you should own. She shares tips for choosing the best ones by considering the material, machine washability, and length. She compiled this list of the top products after conducting extensive research and reviewing numerous online reviews. Makeup remover cloths are soft, reusable, and affordable alternatives to wipe away makeup.
Frequently Asked Questions
Which makeup remover cloths are better — reusable or disposable?
Reusable makeup remover cloths are ideally a better and eco-friendly option than disposable makeup remover wipes. They are ultra-soft, machine-washable, and they last longer and save money.
I have acne-prone skin. What should I know about using makeup remover cloths?
Makeup remover cloths will erase all the makeup be it heavy or light thoroughly without creating any friction on your skin layer or triggering breakouts. So, if you have acne-prone skin, a makeup cloth will ensure intense cleaning without causing any abrasion with its acne-friendly ingredients.
Can I remove waterproof or long-wearing mascara with a makeup remover cloth?
Yes, you can. There are makeup remover cloths with ultra-fine, ultra-soft yet resilient textures that can be tough on waterproof mascara and heavy makeup.
I try to only use green and non-toxic beauty products. Which makeup remover option should I use?
Makeup remover cloths are a great substitute for disposable wipes if you are looking for an eco-friendly option. They are reusable, machine-washable, and durable too.
I have acne-prone skin. What kind of wipes should I use?
Makeup remover cloths are a safer option than disposable ones that may trigger breakouts, rashes, or redness.
Are makeup remover cloths good for your skin?
Yes, makeup remover cloths are soft and gently remove makeup from the skin.
Some brands offer premium-quality, dermatologist-tested products that are suitable for sensitive skin.
Recommended Articles