11 Best Face Washcloths – Reviews And Benefits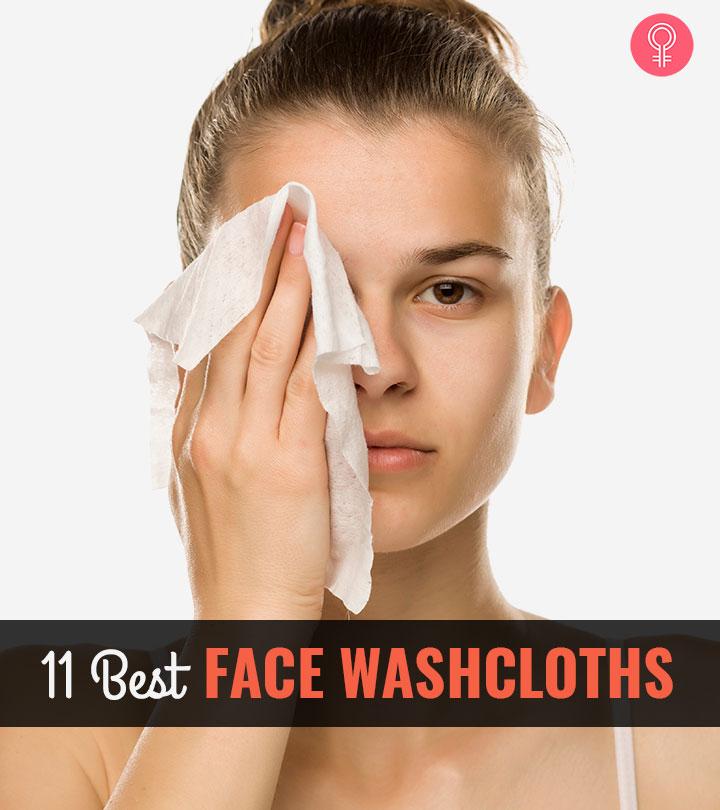 A large part of skincare involves keeping your face clean and washing it thoroughly at regular intervals to prevent dust particles from clogging the pores. Facial skin is among the most delicate parts of your body, and you need to be extra careful when dealing with that. This is where face washcloths come into the picture. These are way softer than those you use to exfoliate the rest of your body.
Here, we have listed the 11 best face washcloths that are going to keep your skin feeling soft and beautiful. Take a look!
Top 11 Face Washcloths
This awesome water-activated face towels by Danielle Enterprises make cleaning your face an effortless experience. They come four in a pack. These are designed to remove oil, heavy makeup, and dirt with the help of warm water or a mild cleanser. They work great on all types of skin. They are made of fine-knitted soft plush material that has polyester microfibers, which are ideal for sensitive skins. They are super-convenient to travel with as they fit easily into any cosmetic bag. These cloths can be machine-washed. They are available in cute colors.
Pros
Environment-friendly alternative to wipes
Colors do not wear off
Suitable for sensitive skin
Cons
Wear out and go rough with extended use
This cute set of face towels is what you need if you put on heavy makeup or have oily skin. The face cloths are lint-free and are designed to work for women with acne-prone and sensitive skin. You need some lukewarm water and a mild soap or facewash – this towel will deep clean your skin, cleansing your pores from any kind of dust and residue. The cloths are made of microfiber knit, which helps them dry quickly and also keeps them stain-free. Their handy size makes them travel-friendly.
Pros 
Dry quickly
Lint-free
Stain-free
Reinforced edges prevent unraveling
Cons
May attract dirt while drying
Color may spill while washing
These six colored towels from Cleanbear are highly absorbent. They are ideal for deep cleaning your face using a face wash and warm water. These towels have reinforced edges that keep them from unraveling. They also are travel-friendly. You can also use them to wipe sweat or dirt from your face as they absorb moisture quickly. Also, a set of six towels means you always have one handy, even if you need to put the one in use for a wash.
Pros
Machine-washable
Stay soft even with prolonged use
Value for money
Highly absorbent
Dry quickly
Ideal for sensitive skin
Reinforced edges prevent unraveling
Cons
Attract lint
Very thin material
This set of soft and cozy cotton washcloths from Cleander comes as a pack of six towels. The towels come in convenient square-cut pieces measuring 13 by 13 inches. They are made of woven Sirospun cotton, which is softer than regular cotton material. They are wear-resistant and do not have runny threads or a lint problem. They are very soft and ideal for those with sensitive skin. Their small size makes them travel-friendly.
Pros
Wear-resistant
No lint
No runny threads
Cons
Turn rough with constant use
Quality issues
This beautiful face wash towel by Nano is designed especially for cleansing your skin of makeup, soap residue, chemicals, sunscreen, and other cosmetic products. It has nanolon fiber technology, which makes it stand out from all generic face towels. While it removes the dirt and grease from your skin surface, it also seals your skin's natural oils. This keeps your skin supple and clear. The Nano washcloth is a hypoallergenic and reusable facial towel. People with rosacea and sensitive, dry, or oily skin can also use this towel.
Pros
Perfect for removing all kinds of makeup
No lint
Hypoallergenic
Soft even with regular washing
Cons
These face washcloths by Tia & Fey are made of pure bamboo fiber. They are super soft on your skin and feel awesomely fresh. They are super-absorbent and ensure you stay fresh and dry after each wipe. The washcloths are travel-friendly.
Pros
Durable even after machine-wash
Can be used as a makeup remover, baby washcloth, or face towel
Have a lifetime warranty
Super-absorbent
Cons
The SUNLAND Microfiber Face Cloths have a microfiber surface that removes makeup and residues easily with the help of warm water and a mild facewash. These washcloths are so absorbent that they can hold up to eight times their weight in water. The cloths are of premium quality. They can easily remove excess oil from your face, keeping it acne-free. You can also use these cloths as hand towels, makeup remover cloths, face towels, feed towels, handkerchieves, or napkins. They come as a pack of six.
Pros
No lint
Super-absorbent
Versatile
Microfiber surface removes makeup with ease
Cons
The Megan Graham Beauty Makeup Remover Cloths come in an elegant black shade. These pure cotton towels are bleach-resistant. Their color and softness remain intact even after regular washing. They are larger and thicker than other face washcloths and offer you more absorbency. They come in a set of four face towels.
Pros
Black color does not fade
Bleach-resistant
Can be washed with other colored clothes
Cons
The Syhood Face Makeup Remover Cloths come as a set of twelve towels in six different colors. They have high water absorbency and give you a luxurious washing experience. You can use them as bath towels, wash towels, handkerchieves, face towels, feed towels, napkins, etc. You can use them to wipe your makeup and sunscreen with the help of warm water and facewash. Their microfiber material exfoliates your skin gently without scraping the surface.
Pros
Dry quickly
Lightweight
Soft material
High water absorbency
Gently exfoliate skin
Cons
Not suitable for sensitive skin
The HOPESHINE facial cloths are made of microfibers. They are perfect for removing makeup, dead skin, and extra oil and grease from the skin surface. They exfoliate your skin gently and leave it with a smooth, healthy glow. They come with a loop that allows you to hook them up for drying. Their durable material is perfect for a machine wash. They dry quickly and do not allow any bacterial growth. They are long-lasting.
Pros
Lint-free
Machine-washable
Designed to help you hook them to dry
Quick-drying
Prevent bacterial growth
Cons
Not suitable for sensitive skin
The Luxe Beauty Essentials Microfiber Face Washcloths come in a set of five. You can cleanse your face with them, along with some warm water and a mild facewash. Their soft material ensures your skin does not get scratched. You can also use them to wipe off excess oil and grease from your skin.
Pros
Exfoliate skin gently
Ideal for sensitive skin
Cons
These are the top face washcloths online. In the following section, we have discussed how you can use a washcloth the right way to clean your face.
How To Properly Clean Your Face With A Washcloth?
When cleansing your face, massage the cleanser of your choice onto your skin. Run your washcloth under warm water and wring it a little – ensure it is semi-wet. Lay the washcloth over your face and let it sit for a while. The steam will open up your pores and allow the cleanser to deep clean your skin. Wash the cleanser off with warm water, and splash cold water over your face. This will close the pores. Finish off by using a moisturizer.
What Are The Benefits Of Using A Face Washcloth?
These are the benefits of using facial cleansing cloths:
They gently exfoliate the skin.
They easily and quickly deep cleanse the skin.
They are a great way to cleanse sensitive skin.
They help you remove makeup and cosmetic residue more thoroughly.
They work with any kind of cleanser.
Face washcloths are an inexpensive and easy way to care for your skin. All you need to do is make a one-time investment in a good washcloth. Make skincare a regular habit and watch your skin transform. If you have sensitive skin, use a washcloth two to three times a week. Choose your favorite set of washcloths from this list and pamper your skin!
Recommended Articles
The following two tabs change content below.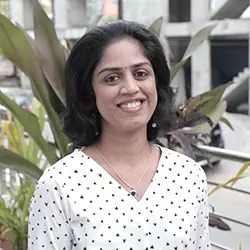 As Chief Editor, Harini sets the tone and editorial direction for StyleCraze to deliver engaging, interesting, and authentic content revolving around women's health, wellness, and beauty. She has over 14 years of experience in content writing and editing for online media. She specializes in the areas of Beauty, Lifestyle, and Health & Wellness and is proficient in Medical Sciences (Biology, Human Anatomy and Physiology, and Biochemistry). Her background in Biomedical Engineering helps her decode and interpret the finer nuances of scientific research for her team. Harini is a certified bibliophile and a closet poet. She also loves dancing and traveling to offbeat destinations.