11 Best Waterline Eyeliners That Actually Stay Put – 2023
Get that ultra-defined look you always wanted with the right eye-makeup essentials.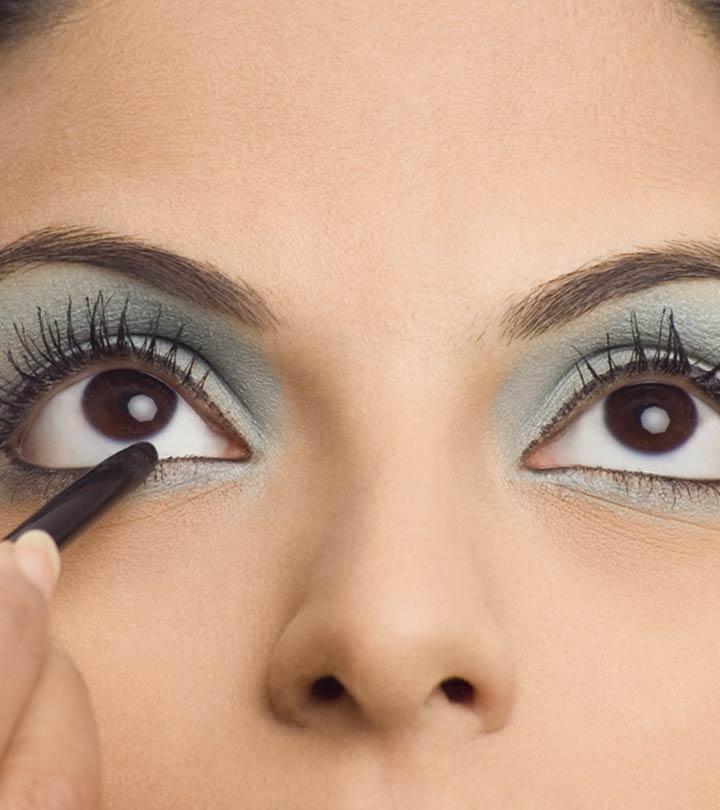 Indian and Middle Eastern women have been lining their waterlines with a clean stroke of kohl, eye pencils, or eyeliners for centuries now. Though this beauty practice has been around for a long time, the trend has picked up recently due to many models, beauty magazines, and other influencers slowly endorsing the use of the best eye pencils for waterline. If you love lining both your upper and lower lines, you are basically 'tightlining' for that ultra-defined eye look. Take note of these 11 best eyeliners that are perfect for lining your waterline. Scroll down!
11 Best Eye Pencils (Eyeliners) For Your Waterline That Won't Make You Tear Up
Your search for the best waterline eyeliner could very well end here with this miracle product! Add drama and definition to your eyes with this eyeliner pencil specially designed for tightlining. Safe to apply on both your upper and lower waterline, it can give your eyes an instant lift by making it look bigger. It can also make your lashes look dense and fuller. It offers a smooth finish that lasts all day and comes with a creamy formula that glides like a dream. Even if you have the most sensitive eyes, you need not think twice before using this eyeliner pencil as it is both dermatologist and ophthalmologist-tested. To add to that, it's also vegan, cruelty-free, and does not contain any parabens.
Pros
Safe for sensitive eyes
Safe for contact lens wearers
Long-lasting wear
Cruelty-free
Gluten-free
No parabens
Cons
Price at the time of publication: $19.0
When it comes to offering makeup products that go the extra mile, Urban Decay doesn't disappoint. This eyeliner pencil with a rich formula for waterline glides on smoothly and stays put for the entire day. Its velvety and creamy texture makes it easy to apply and stays soft for at least 30 seconds if you wish to give it a little blending. Not only is it free of parabens, sulfates, and phthalates, it is also formulated with a host of moisturizing ingredients and coated with a waterproof formula. This dramatic eyeliner pencil offers a multi-colored, iridescent finish. So, whether it's a subdued day look or a sultry night-time look you want to achieve, this best eyeliner pencil for waterline won't let you down. This video will give you a better insight into the product.
Pros
Creamy texture that can be blended easily
No parabens, sulfates, and phthalates
Rainbow finish
Waterproof formula
Long-lasting
Cons
Slightly expensive
Does not self-sharpen
Price at the time of publication: $23.0
Designed to make your lashes look thicker and to intensify your eye makeup, this eyeliner pencil kills two birds with one stone. It glides smoothly on the waterline and can also be used on the eyelids to help you create a smoldering smokey-eye in a matter of minutes! It is not only long-lasting, but it is water-resistant as well. Have you come across an eyeliner that provides ultimate hydration and delays the signs of aging? If you haven't, you should get your hands on this one as it is formulated with essential oils such as sunflower seed oil, which also works towards cell stimulation. It is also suitable for contact lens wearers and people with sensitive eyes.
Pros
Made with essential oils and organic ingredients
Waterproof
Delays the signs of aging
Safe for sensitive eyes
Provides hydration
Can be used to create a smokey-eye
Cons
Should be sharpened with the Artisan Lúxe Eye Pencil Sharpener as other sharpening tools might easily break it
Price at the time of publication: $19.99
Created by celebrity makeup artist Jillian Dempsey, this kohl pencil is arguably one of the best waterline eyeliners. Infused with the natural goodness of ingredients like organic jojoba oil, organic shea butter, sunflower seed oil, and avocado oil, this eyeliner pencil makes tightlining look like a walk in the park. Not only does it deliver a clean yet edgy finish, but the built-in smudger helps you blend out your eyeliner to create a smokey-eye as well. Made without parabens, sulfates, petrochemicals, and synthetic fragrances or dyes, this waterline eye pencil is cruelty-free too.
Pros
Made with oils like jojoba, sunflower seed, and avocado oils
Easy application
Can be used for smokey-eye
Comes with a built-in smudger
Phthalate and GMO-free
Cruelty-free
Cons
Price at the time of publication: $20.0
Do you struggle to apply eyeliner to your waterline? Are you tired of going through the same process over and over again, rubbing it out, and applying it again to get the eyeliner to stay just right? If yes, this top-selling eyeliner pencil might just become your new best friend. It's dense, rich, and extremely easy to use (you'll have to use it once to believe us). Not only can it be used on the waterline, but it can also be applied on the eyelids, and you won't have to ever worry about it tugging or pulling. If you want a faded-out soft look, you can use your finger to smudge it out to work like an eyeshadow. Moreover, the lionfish shade looks very chic with its metallic copper brown color. It is also available in fourteen other beautiful shades. Watch this video for a thorough understanding of the product.
Pros
Contains vitamin E
Waterproof
Available in multiple colors
Long-lasting
Easy to apply
Cons
It may not be suitable for sensitive eyes
Price at the time of publication: $22.0
Do you need to cry your heart out but also have a meeting to attend right after it and are worried that your eyeliner won't hold? With this waterline eyeliner, you can cry whenever and wherever you want to without restraint, and yet it will still stay on like a pro. It helps in accentuating your waterline, making your eyes look bigger and brighter. Another way to make your eyes shine is by using this eyeliner to create a smokey-eye. Apart from these styles, you can also trust this pencil to give you the perfect cat-eye, one that won't smudge for anything in the world. This best eyeliner for waterline comes with a special eyeliner pencil sharpener, so you never have to worry about dull lines ever again. Click here to check out a detailed personal review of this product.
Pros
Affordable
Smudge-proof
Waterproof
Paraben and fragrance-free
Cruelty-free
Sharpener included
Cons
Some may find the intensity of the black color not up to mark
Price at the time of publication: $9.97
The e.l.f. Cosmetics No Budge Retractable Eyeliner is a long-lasting, waterproof liner pencil with a thick, creamy consistency that glides smoothly on your skin without tugging it. Use this flexible liner pencil on your lower lash line, waterline, or all across the lid to get dramatic eyes that stay sharp all day long! The felt tip pen allows you to draw precise, sleek, or bold lines to customize your look for every occasion and with every outfit.. This fast-drying, ultra-pigmented formula gives the lash line a rich, long-lasting, non-smearing color.
Pros
Affordable
Smudge-proof
Waterproof
Vegan
Cruelty-free
Paraben-free
Long-lasting
Cons
None
As the eyeliner is soft, it may break off easily when not sharpened with Milani sharpeners
Price at the time of publication: $4
Take your eye makeup up a notch with the YOUNG VISION Liquid Eyeliner Pens that come in a set of 5 colors – black, white, brown, reddish brown, and blue. This liquid eyeliner is a smudge-proof formula that gives you a fine and precise application.
The smooth and super flexible nib allows you to draw thick and thin lines with maximum pigmentation. The one-stroke color payoff can be used on the waterline as well as on eyelids. The formula stays as fresh as new all day long without fading away.
Pros
Easy to use
Waterproof formula
Smudge-proof formula
Precise application
Versatile use
Lasts all day long
Fade-proof formula
High color payoff
Set of 5 colors
Easy to remove
Cons
The nib dries off quickly
May sometimes leak
Price at the time of publication: $4.99
For those who are looking for a way to subtly define the shape of their eyes without a black eyeliner making it look too intensified, this little gem can come in super handy. The hazel-brown shade of this eyeliner pencil will help you tightline with ease while giving your eyes a naturally radiant look. Its smooth and creamy formula glides across in a single stroke and offers you a non-messy application. As it is made with no harsh chemicals such as parabens, it is suitable for sensitive eyes and contact wearers as well. It is also dermatologist and ophthalmologist-tested. This cruelty-free product is considered to be the best eyeliner for lower lash line.
Pros
Long-lasting formula
Available in 5 colors
Suitable for sensitive eyes
No parabens
Cruelty-free
Gluten-free
Cons
As it is a non-retractable eyeliner pencil, it should not be over-twisted
Price at the time of publication: $19.0
One of the best waterproof eyeliners for the waterline; this one by MAC, doesn't fall short when it comes to impressing beauty gurus all over the world. Sleek and chic, this eyeliner pencil comes with a precision tip to help you achieve any look and also to tightline your waterline like a pro. It not only offers a smudge-free finish, it also blends easily and dries quickly as well. As it is a mechanical pencil, one can achieve best results when holding the pencil at a 90° angle for a precise line.
Pros
Precision tip
Smudge-free
Easy to blend
Dries quickly
Transfer-resistant
Cons
Price at the time of publication: $18.3
This eyeliner crayon from Anabelle is specially formulated for the waterline. It has been allergy-tested to be used on the sensitive waterline. The creamy gel eyeliner glides smoothly and lasts long without smudging or flaking. The product claims to last 4 hours on your waterline and 12 hours on your eye line. Best of all, it enhances your eye look by giving you the appearance of fuller lashes.
Pros
Waterproof
Smooth application
Flake-free
Fragrance-free
Hypoallergenic
Cons
Price at the time of publication: $8.95
How To Choose The Best Waterline Eyeliner – A Buying Guide
What Is Waterlining?
Waterlining or tightlining is using an eyeliner pencil to line the upper and lower waterline. You can use an eyeliner of any color to tightline, but black is the most preferred color. Apply the eyeliner directly on the waterline, right above and below the lashes. This will make your lashes look thicker from the roots and also give the illusion of bigger eyes.
How To Choose An Eyeliner For Waterline
Before you buy an eyeliner for your waterline, ensure that it is of a creamy texture. It should be blendable and smudge-proof as well. Look for something that does not contain any parabens, sulfate, or phthalates and is suitable for sensitive eyes as well.
How Do You Use A Waterline Eye Pencil?
Step 1: Start with a clean slate. Make sure that your eyes are clean and remove any makeup residues from the night before.
Step 2: Apply the eyeliner directly on the upper lash line, right underneath the lashes.
Step 3: In the same manner, apply the eyeliner on the lower waterline, right above the lashes.
Step 4: Wait for it to dry.
Step 5: Wipe off the excess (if any) from the corners of the eye.
How Do You Get Eyeliner To Stay On Your Waterline?
After you have finished tightlining, take a wide flat makeup brush. Dip it into some black eyeshadow and gently press it over the waterline eyeliner. Don't apply too much eyeshadow on the first go. Build it up slowly and steadily, without making it look like you have too much on. Wipe away any excess build-up from the eyes and cheeks with a thicker brush.
How Do I Keep My Eyeliner From Smudging On My Waterline?
It may sound complicated, but it is easy as pie. The first step to ensuring that your eyeliner stays in place is to find the correct eyeliner; one that is specifically designed for the waterlines. If you have any eyeliner or eye-makeup left over from the night before, wipe it off properly. After you are done applying eyeliner to your waterline, apply concealer on the corner of the eyes, and underneath the eyes as well.
Why Trust StyleCraze?
The author, Chaitra Krishnan, is a makeup enthusiast. She helps users make an informed choice when choosing different products. For this article, she has reviewed tens of eyeliners for waterline besides scrolling through several web pages to analyze reviews. This list of the best eyeliners has been created keeping in mind safety and their ability to give a smoother finish that lasts all day.
Frequently Asked Questions
What should I use on my waterline?
Look specifically for an eyeliner that is creamy, easy to blend, and is safe to be used for the waterline. Look for products that are free of parabens, sulfate, fragrance, phthalates, and other harmful chemicals.
Does eyeliner on the waterline make your eyes look smaller?
When applied correctly, eyeliner on the waterline can make your eyes look bigger.
Can I use liquid liner on the waterline?
As a liquid eyeliner may not stay on the waterline and also irritate your eyes, it is not recommended.
Can I use black color on the waterline?
Yes, it is the most commonly used eyeliner shade for tightlining. However, if you don't like black, you can also try brown or a shade of blue in the inner and outer corners for a more dramatic effect.
Can I line my waterline if I have watery eyes?
There are waterline eyeliners available for sensitive eyes. However, tightlining watery eyes may lead to more irritations, and it is best to avoid it.
Is it bad to put eyeliner in your waterline?
Using an eyeliner that is not designed to be used in the waterline may cause an infection. Hence, if you are going to tightline, make sure the eyeliner is waterproof and safe for its intended purpose.
Recommended Articles