10 Best Knee High Wide Calf Boots To Sparkle And Shine This Winter
Spice your fashion game with a perfect pair of boots to style with all your outfits.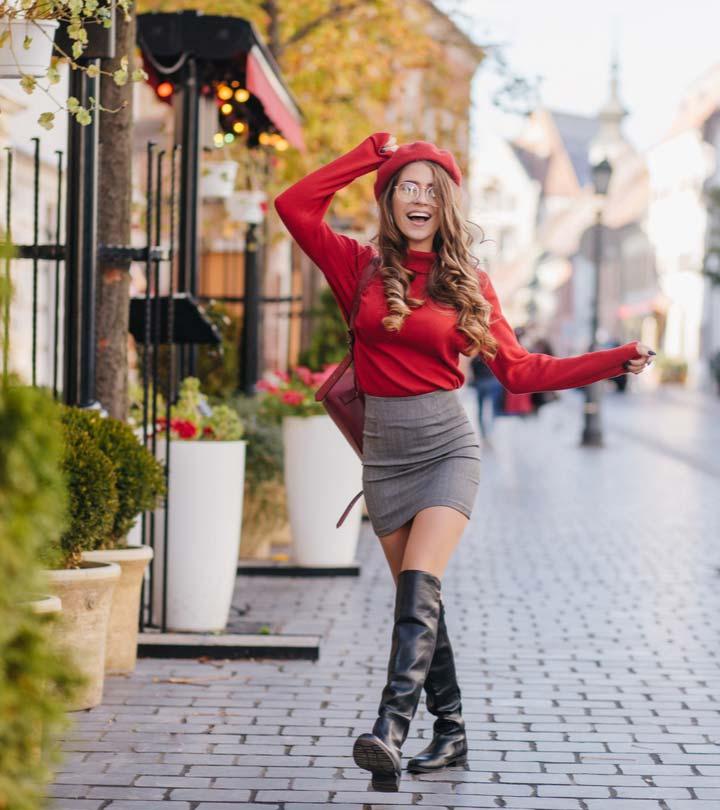 Winter comes with its own charm, and the world seems to light up during this season. But while most of us have our winter boots ready, the ones with wider calves struggle to get the perfect pair. The best knee-high wide calf boots are not easy to find – but they are very high in demand.
Winter fashion is extremely elegant and chic. While we bring out our coats, caps, and scarves to enjoy winter, we cannot avoid the right pair of shoes. Knee-high boots are extremely stylish and versatile. They even keep your feet warm and cozy so that you stay comfortable while you step outside into the cold. If you are thinking of investing in a pair of boots but worry that your wide calf may leave you with just a handful of options, don't be disheartened. Here, we have listed the best knee-high wide calf boots to set your winter fashion right. Go ahead and take a look at your options right now!
10 Best Knee High Wide Calf Boots – Reviews And Buying Guide
Everyone wants the perfect pair of knee high boots and why not? They look great and are super comfortable too. But those with wider calves often find it hard to find one that fits them without feeling too tight. Not anymore! You can trust this pair to do the trick for you! These classic wide calf knee high boots for women are designed with a lightly padded faux fur lining and a cushioned insole for superior comfort. The shaft is 15.5 inches tall starting from the arch and it comes with an in-step for ease of wearing and removal. You'll also be happy to note that the boot has a 17.2-inch circumference at the opening.
Pros
 Adjustable calf sizes
 Thermoplastic elastomers sole
 Faux fur lining
 Adjustable buckle straps
 Durable TPR outsole
 Extra cushioning
Cons
 The faux leather may start cracking with extended use.
Price at the time of publication: $53.99
Strut in style every winter and make heads turn with these wide calf knee boots that will instantly make you feel and look like a diva. 100% synthetic and carefully crafted with a manmade sole, the shafts of these boots are a whopping 18 inches from the arch and the heels are 3 inches tall. The boots feature a full inner zipper on the side, an attractive almond round toe, and also a hidden pocket to stash essentials like your keys and credit cards. The cushioned insole of these stylish wide calf boots provide superior comfort while the anti-slip outsole makes the boot an ideal choice.
Pros
 Available in many colors
 Manmade sole
Extra wide shaft
 3-inch block heel
 Hidden pocket inside boot
 100% vegan material
Cons
Price at the time of publication: $73.75
A knee high boot that's warm, looks like a million bucks, and keeps you clean? Yes, this one can do all these things for you and more! Crafted with faux leather and synthetic sole, this one is made for those who haven't yet mastered the art of walking in heels. The 14-inch shaft of this wide width shoes comes with a full-length zipper on the inner side and the footbed is padded for comfort like never before. Also available in other attractive colors, these trendy boots offer a good fit for those with wide calves.
Pros
 14-inch shaft
 Round toe
 Inside zipper
 Padded footbed
 Extra wide-calf fit
Cons
Price at the time of publication: $59.99
There's something about suede that makes it look so classy and elegant, isn't it? Pair these boots with your favorite outfits for a casual or formal occasion and watch blend with and seamlessly elevate any outfit you pair it with. Designed with heel rest technology, these 100% suede shoes come with a memory foam which means that it will mimic the contours for your feet for unparalleled comfort. Made with an extended calf that's stiff yet comfortable, you can rest assured that the boots won't slip down.
Pros
 100% suede
 Block heel
 Memory foam footbed
 Extended calf sizes
 Available in other colors
Cons
Price at the time of publication: $100.41
While some are often annoyed when they have to settle for boots that constantly seem to be drooping, some can't get enough of the slouchy look. If you fall in the later category, these boots will bring you immense joy. Made of 100% suede and a rubber sole, these classic slouchy boots are designed with a low, flat, and barely-there heel, ideal for pairing with skinny jeans and knee-length skirts. The anti-skid rubber outsole and an opening circumference that's more than 15 inches make these boots a stellar choice.
Pros
 Slouchy design
 100% suede
 Flat heel
 Anti-skid rubber outsole
 Elastic pull-up tab at back
Cons
 Some may find the toe area slightly narrow
Price at the time of publication: $49.99
If only looks could kill! Perhaps, these boots could actually help you do that! If one look at this sleek and elegant pair doesn't make you want it, perhaps a little convincing will. This riding boot comes with a shaft that's knee high from the arch, which also helps in giving your legs the illusion of appearing slimmer and longer. The synthetic sole makes it easy to walk on any terrain, yes even slippery ones, and the boot opening is wider than 15 inches. With a manmade upper, side zip closure, and a classy buckle around the ankles, what's not to love about these heeled boots?
Pros
 Knee-high shaft
 15.75-inch opening circumference
 2.75-inch heel
 Manmade upper
 Side zip closure
Cons
Price at the time of publication: $78.42
Unleash the west or the little punk inside of you and get into these boots to show all the personalities you've been hiding! These versatile boots come with 3 adjustable buckle straps that also add to the charm of the boots. Made of 100% PU and thermoplastic elastomers sole, the pair boasts a shaft that's 16 inches tall. If your profession requires you to be on your feet for several hours a day, you can trust the 0.25-inch heel to keep you comfortable throughout the day.
Pros
 16-inch shaft
 Low heel
 3 buckles
 Side zipper
 Almond toe
Cons
 Made emit a pungent smell initially
Price at the time of publication: $73.99
Designed especially for those with wider calves, this knee high boot is made with PU material, making it a great choice for everyday wear. The durable and sturdy pair features a 17-20-inch leg opening circumference and the round toe makes it easier for your toes to breathe. Designed with a flat heel and adjustable buckle around the calf, these classic boots also feature a side zipper from the arch to the top and the high-quality outsole keeps the boots shiny and new.
Pros
 Extra wide opening
 Designed for a wide calf
 Made of PU material
 Flat heel
 Adjustable buckle
Cons
 May not be available in other colors
Price at the time of publication: $56.99
Want to dress up like the little, red riding hood throughout the winter or show off a cool pair of kicks wherever you go? Why don't you pick this pair? It's shaft measures at 14.5 inches from the arch and the top opening in 14.5 inches, making it a great pair for those with wide calves. Made with faux leather and an anti-slip rubber outsole, the boot is warm on the inside. With a side zipper closure and a criss-cross buckle pattern at the ankle, the pair can be paired with both formal and casual outfits.
Pros
 Faux fur inner lining
 Anti-slip rubber outsole
 Made from vegetarian synthetic materials
 Lightweight
 Adjustable buckles
Cons
 Made emit an off-putting smell initially
Price at the time of publication: $53.99
If you're a fan of clean lines and no frills, these boots will satisfy the inner minimalist in you. These boots are a good fit for casual occasions, cocktail events, horseback riding, or even hunting as they are sturdy and durable. Made with a synthetic sole, it provides a strong grip even on slippery surfaces. The shaft is knee high in length and the boots are protected by a hydro-shield waterproof technology. It is also equipped with a steel shank.
Pros
 Synthetic sole
 Knee high shaft
 Waterproof
 Steel shank
 Available in brown
Cons
Price at the time of publication: $249.95
Ready to add some elegance, sophistication, and especially some warm love to your legs and feet into your winter outfit? We hope you enjoyed our list of the 11 best knee highs boots for wide calves. Not ready to pick one up yet? This buying guide might help you out.
Things To Remember When Buying Knee High Wide Calf Boots
If you're especially purchasing boots to create the illusion of longer legs, the best way to go about it is to invest in some knee high boots. It makes your legs look slimmer, thereby creating the illusion of being taller. The ideal height for the shaft in knee high boots should be around 15 inches and anything less than 12 inches may perhaps not qualify as knee high boots.
 Circumference of the leg opening
The leg opening and the circumference is an important factor to consider while purchasing knee high boots for wide calves. While the average calf circumference is 13 inches, those with wide calves should look for a boot that has an opening circumference that's wider than 15 inches. Of course, it also depends on how loose or tight you like to wear your boots. If your calves are 15 inches, look for boots with a 16-inch opening. This should offer you a snug fit. If you like it loose, choose one with a 2-inch extra gap. However, keep in mind that by doing so, the boots may slip downwards or slouch.
Those with wider calves typically also have a wider ankle circumference. While most boots come with full-length zippers and adjustable buckles in the ankle area, it's a good idea to measure the circumference if it doesn't come with those features. As a rule of thumb, it's good to note that there should be at least half an inch of room between your ankle and your calves or your boot's shaft.
The weather and climate is also an important factor when choosing a pair of boots. If you live in a place that's constantly dreary and sees quite a bit of rainfall, natural rubber, PVC, or vinyl are good materials. For those living in cold climates, boots made of suede leather, leather, faux leather, fur, faux fur are good choices. It also helps if the insides are lined with fleece or microfleece and the exterior is protected with a waterproof membrane.
Why Trust StyleCraze?
Priyam Gupta is a fashion and makeup expert. She has thoroughly researched thousands of feedback and user reviews online to bring together this list of the best knee high wide calf boots for you. This list of Priyam's favorites has great winter footwear options that will keep you warm and cozy and add to your style quotient.
Frequently Asked Questions
Are boots for wide calves easily available?
While finding boots for wide calves may be a hard task, it's not impossible. If you want to save yourself some time, simply check out our list.
How do knee high boots fit big calves?
All knee high boots may not offer a good fit for big calves. However, all the boots featured in this post do as they feature a wide leg opening circumference.
Are knee-high wide-calf boots in fashion?
Yes, knee-high wide-calf boots are stylish and versatile. Winter fashion is incomplete without them. You may pair your knee-high boots with your favorite coats, scarves, and caps for a chic and elegant vibe.
How should wide calf boots fit?
Wide calf boots must fit snugly around your calves without being too loose. If the boots fit too snugly, your calf may bulge sidewards. If they are slack, your legs may rub and chafe. So, check your boot fitting well to ensure foot comfort and health.
What is the difference between knee-high wide-calf boots and regular boots?
Wide calf boots come with a calf circumference of more than 15 inches. On the other hand, regular calf boots feature a smaller circumference of 14 inches.