10 Best Women's Beanies With Ponytail Holes 2023 – Reviews
Sport a laid-back, chic look without messing up your cute ponytailed hair.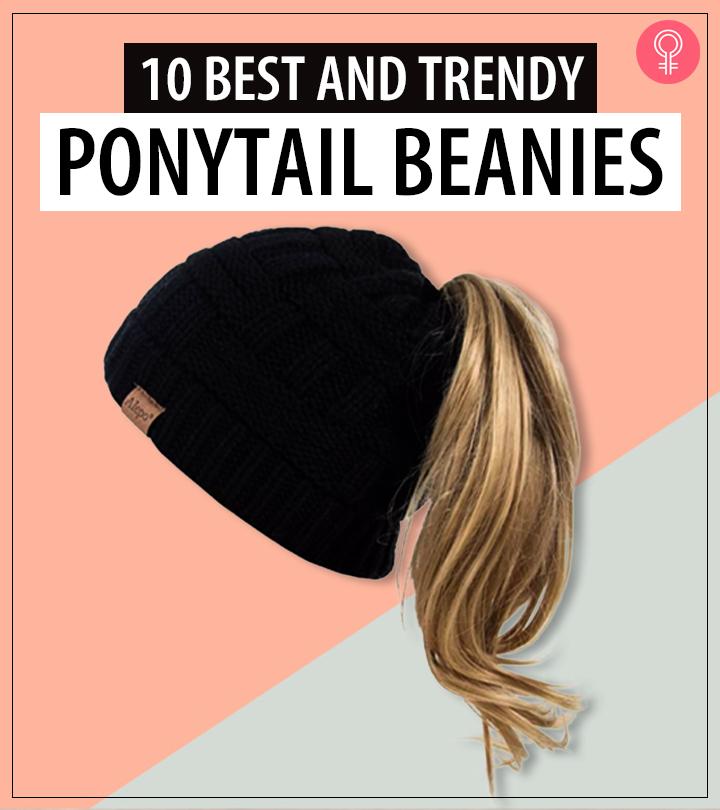 The best beanies with ponytail holes can help you protect your hair against cold without ruining your hairstyle. Doesn't that sound like a dream come true? These beanies allow you to keep your hairstyle intact without worrying about flattening or messing it up. And if you love tying your hair up in ponytail, these caps are ideal for you.
Beanies with ponytail holes offer proper coverage and keep you warm and cozy for long hours. They do not cause any static and help you show off a cute yet elegant look. These stylish and functional beanie caps are a must-have for every woman. Also, they are available in a wide array of colors and sizes. Swipe up to find your favorite style.
10 Best Beanies With A Ponytail Hole
Whether it is a messy ponytail or an unruly bun, curly thick hair, or deadlock braids – this beanie hat has you covered. It is made of 100% acrylic fiber and has a flexible elastic band that makes it comfortable to wear and keeps your head warm during winter. It is suitable for any occasion – be it outdoor sports or a meet-up with friends. The stretchy material lets you wrap it around the ears for more warmth if required. This ponytail beanie comes in one free size to fit most women.
Pros
Soft material
Durable
No skin irritation
Available in different colors
Well-fitting
Cons
No fleece lining
Runs small
Price at the time of publication: $11.99
The C.C BeanieTail Hat is designed for chilly winters and can be worn while venturing into the snow. The hole at the top lets out the ponytail without flattening it. The width of the hole can be adjusted, making it suitable for thick and thin hair. It is made of 100% acrylic, is stretchable, and adapts to all head sizes. The lightweight, soft fabric makes it feel snug and comfortable over the head. This beanie with a ponytail hole can be used for high and low ponytails.
Pros
Stretchable
Convenient design
Comfortable
Available in various colors
Attractive cable knit
Soft fabric
Adjustable rubber band
Cons
Price at the time of publication: $14.99
The Funky Junque Ponytail BeanieTail Cap is suitable for both thick and thin hair. It is woven with 100 % acrylic fabric, which is soft and stretchy and suitable for heads of all sizes. This beanie hat keeps the head warm in cold weather and gives you a smart, look. It is the perfect hat to wear for a workout routine. When you head out for sport or leisure, pair it with one of your casual outfits, and you are sorted for the day.
Pros
Elastic closure
Machine washable
Great fit
Durable
Versatile
Available in various colors
Cons
Price at the time of publication: $14.99
The premium, soft, knitted fabric with 100% stretchy acrylic material makes the HHNLB Women's Beanie Ponytail Hat a popular pick. It does not cause any irritation to the skin and has a criss-cross design at the back, which makes it suitable for exceptionally thick hair. This beanie with a ponytail hole offers comfort and protection to the head and ears in a cold environment, making it ideal for outdoor activities.
Pros
100% stretchable
Thick knitting design
Durable
Does not itch
Versatile
Warm fabric
Comfortable
Available in multiple colors
Cons
Price at the time of publication: $6.99
The Furtalk Runner's Women Beanie Hat is made with eco-friendly, non-toxic material, making it suitable for children too. The thick knitted fabric keeps your head warm while you stay out in the cold. Its elegant twist pattern helps maintain your style quotient. The inbuilt gap at the top lets you thread your hair out without messing up your hairstyle.
Pros
Eco-friendly fabric
Thick knitting design
Unique knit twist pattern design
AZO colorant-free
Cons
Price at the time of publication: $13.99
The Dukars BeanieTail Visor Cap is made of superior quality fiber and is soft, durable, and stretchable. It is designed like a baseball cap, consisting of a shade that shields your face while you are headed for leisure or sports. It comes in a universal size, and the slit at the top lets the ponytail slip out. This stunning beanie makes you look great and feel confident while being comfortable and convenient.
Pros
Snug fit
Soft acrylic material
Versatile
Universal size
Cons
Hair might tangle in woven design
Price at the time of publication: $11.99
The Trailheads Women's Ponytail Hat has a reflectivity feature makes it your perfect running partner during cold winter days when sunlight is minimal. It has a double layer of protection around the ears, ensuring extra warmth. The luxurious and high-quality fleece keeps you comfortable during your workout. It is suitable for a low ponytail that can be taken out through the pre-cut opening at the back.
Pros
Superior fabric
Fleece lining
Multiple color choices
Reflectivity feature
Double layer protection
Cons
Price at the time of publication: $30
You should not have to compromise on fashion for the sake of comfort, and this is exactly what the Rosoz Ponytail Beanie validates. It is made of 100% soft acrylic and keeps you cozy and protected from the winter cold. The inbuilt hole at the crown allows the ponytail to pass through without messing it up. The elastic band makes the ponytail opening adjustable, accommodating all types of hair. The cable knit design makes it stretchable and accommodate different head sizes.
Pros
Durable
Stretchable
Soft fabric
Available in different colors
Machine washable
Cons
Price at the time of publication: $17.95
Lately, masks have become an essential part of our lives. The Women's Ponytail Beanie Hat comes with buttons on the sides that allow looping the strings of a mask. It is knitted with 100% acrylic and is soft and comfortable to wear. The opening at the crown lets you pull out the ponytail or bun and keeps your head warm. The adjustable elastic at the opening makes it suitable for curly, straight, thick, or thin hair. It is lightweight and well-ventilated and can be used in autumn and winter.
Pros
Multiple color options
Durable
Stretchable
Comes with buttons for wearing a mask
Lightweight
Cons
Price at the time of publication: $11.99
Have you ever wanted to play a sport in winter but were let down by the weather? Worry no more – the Forbusite Women's BeanieTail Warm Knit Hat will handle the chill for you. It is sewn with 100% acrylic soft material that keeps you warm and cozy when you step out in the cold. The shade in the front offers protection to the face and adds a sporty twist to your style. The built-in hole at the top makes it ponytail-friendly, and due to its stretchability, it fits all sizes. The cable knit pattern makes it thicker, providing more warmth. Hence, you can wear this beanie while playing snow sports.
Pros
Soft material
Multiple color options
Stretchable
Machine washable
Protects face
Cons
Price at the time of publication: $14.99
Beanies are made with different materials, and some come in various designs with several features. If you do not know which type of beanie will suit you the most, consider the following factors to narrow down your search.
What To Look For In A Beanie With A Ponytail Hole
Material: Most beanies are made of 100% soft acrylic material. This will cause no itchiness or irritation to the skin and is an appropriate choice if you have sensitive skin. Good quality fiber will support machine washing as well. Go for a beanie made of stretchy material that covers the head and the ears.
Adjustable Ponytail Hole: It is important to check the flexibility of the elastic band lining the opening that threads out the ponytail. An adjustable ponytail would accommodate all kinds of hair types and hairdos. The placement of this slit should also be examined – it should accommodate both high and low ponytails.
Size: Since many beanies come in a free size that fits all, it is necessary to check out how well it fits your head. A tight, sturdy one is good for sports, while a slouchy, loose one is suitable for casual events.
Color And Design: Choose from the array of colors and designs and pick the ones that match your outfits.
Protection: Since a beanie is primarily a winter accessory, it is essential to ensure that it provides enough warmth. A fleece lining or thick material will keep the chill away. For autumn and mild winters, choose a lightweight and well-ventilated beanie that will allow the skin to breathe and let out moisture.
Winter hats can be a nuisance for the hair as they press it down, displaying a bump over the head. Beanies with ponytail holes are a boon for those with long hair since they allow the ponytail to slide through the inbuilt opening, keeping the hairdo intact.
Here are the various ways of wearing them, depending on the hairstyle you choose.
How To Wear A Beanie With A Ponytail Hole
High Ponytail: Cover your head with the beanie, loop out the ponytail through the opening provided at the top, and voila! You are ready to head out for a sports game while staying fashionable.
Messy Bun: Bundle your hair into a messy bun and leave it out of the hole at the crown and get that chic yet unruly look. This hairdo works for men as well.
Deadlock Braids: There's no point in having deadlock braids if you can't flaunt them. Thread in your braids through the slit and keep that hairdo undamaged.
Low Ponytail: Stay casual and elegant with a slouchy low ponytail. Slip it through the opening at the back, and you are good for a shopping trip or a movie date.
Why Trust StyleCraze?
Baishali Bhattacharya, our certified image consultant, and fashion enthusiast, brings you a list of the best beanies with a ponytail hole suitable for high and low ponies. These beanies come in various colors and are comfortable, long-lasting, and versatile styles. Baishali has combed through several product reviews on different platforms to compile this list for you. She has shared each product's description with its pros and cons to help you make your pick.
Frequently Asked Questions
Can you wear a beanie with a ponytail?
Yes, you can wear a beanie with a ponytail. Beanies with ponytail holes offer proper coverage and keep you warm and cozy for long hours.
Why do guys wear beanies above their ears?
Guys wear beanies above their ears to keep their bodies warm and avoid overheating.
Do beanies look better with long hair?
Yes. Beanies look great with any hairstyle, whether it is long or short.
Does wearing a beanie affect hair growth?
No. Wearing a beanie does not affect hair growth.
Is wearing a beanie good for your hair?
No. Wearing a beanie frequently is not good, as it may result in hair fall.
Recommended Articles