15 Best Nail Polish Removers That Won't Damage Your Nails – 2023
Remove your nail art neatly with these gentle, easy-to-use, moisturizing removers.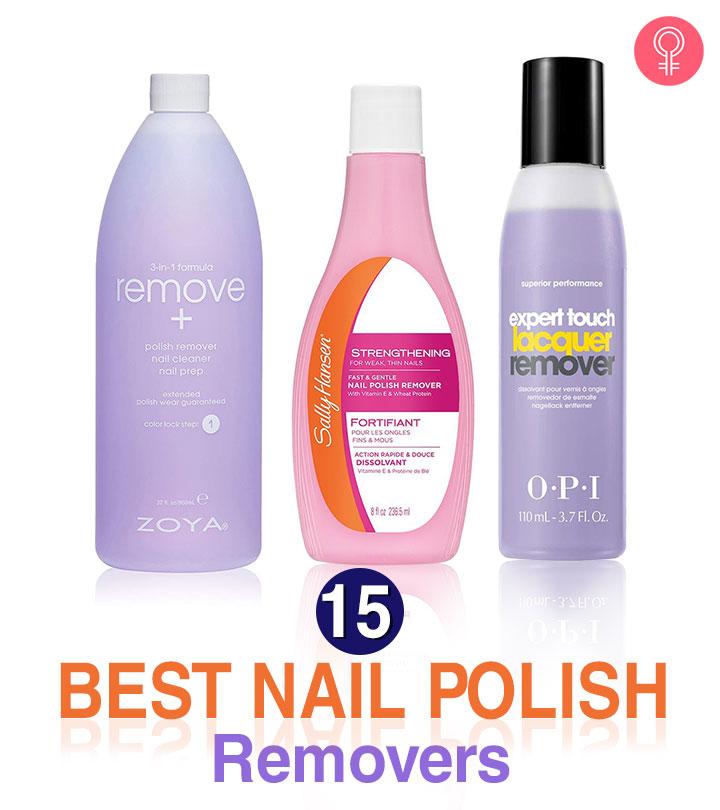 Removing nail polish is anything but exciting, and if you don't have the best nail polish removers to use, it can be time-consuming as well! Besides, the quality of your nail polish remover can affect the appearance and health of your nails. It is essential to use a formula that suits your nail type, whether weak, tough, brittle, or sensitive. We have compiled a list of our top picks of nail polish removers that won't damage your nails and will get rid of the nail paint in a jiffy! Check them out below.
Types Of Nail Polish Removers And Which One To Choose?
Ladies, there are two kinds of nail polish removers – acetone and non-acetone. While the former is the most common one (and it works wonderfully at removing the most stubborn polish), acetone is also pretty harsh on your nails and the skin surrounding them. Why? Because it simply removes the natural oils from your skin.
Non-acetone removers, on the other hand, use less aggressive solvents like propylene carbonate and ethyl acetate. So, if you see your nail polish remover labeled as 'natural' or 'organic,' remember that these formulas also use a solvent, just not acetone. These also have moisturizing agents added to them (like glycerin) to minimize that horrid drying effect.
Here's our list of the best nail polish removers that you can purchase to maintain your healthy, gorgeous nails and hydrated cuticles.
15 Best Nail Polish Removers
Protect your nails while removing every trace of nail color in one swipe with the Cutex Strength Shield Nail Polish Remover. It is enriched with a blend of hydrolyzed silk, vitamin E, and vitamin B5, nourishing the nails and preventing drying. This formula also protects the nail to keep them looking healthy for longer. The lavender fragrance makes it even more irresistible.
Pros
Removes nail color quickly
Non-drying
Doesn't leave stain
Pleasant fragrance
Value for money
Cons
None
Price at the time of publication: ₹7.31
Forget the troubles of scraping and sanding your nail paint, and get your hands on the Aliver Nail Polish Gel Remover for hassle-free nail paint removal. It can be used to remove the base coat, top coat, soak off gel, and matte top coat. This gel remover breaks down the nail polish's surface and gives you a salon-like finish without spending the big bucks.
Pros
Hydrating
Non-drying
Easy to use
Cons
Takes efforts to remove nail polish completely
Price at the time of publication: ₹19.99
Pros
Flip-cap dispenser
Easy to use
Travel-friendly
Pleasant smell
Cons
Review
This nail polish remover from Zoya is an award-winning, gentle, and highly effective formula that also preps and conditions your nails. Its brilliant packaging is a major plus as you don't have to worry about spilling or wasting the product. This formula removes even the most stubborn glitter nail polish with ease and never leaves your hands feeling dry or dehydrated. Do give this a try if you're looking for high quality and handy nail lacquer remover. Go through this video review for a detailed understanding of the product.
Price at the time of publication: ₹12
Pros
Removes gel and glitter nail polish effectively
Does not sting or irritate your skin
Infused with cooling and nourishing ingredients
Easy to use
Cons
The packaging is prone to leakage and spillage
Review
Want super quick and easy nail polish removal? This formula from O.P.I is a breeze to use, and you only need about two to three drops to get rid of every last bit of nail polish. Isn't that impressive? You will not have trouble removing shades like black or blue, and it won't leave your nails stained. It also leaves your nails and the skin surrounding them feeling cool and moisturized. If you prefer using acetone formulas that are gentle, you will love this one. Check out this video for a detailed review of the product.
Price at the time of publication: ₹6.19
Pros
Easy and convenient to use
Moisturizes your nails
Acetone-free
Pleasant scent
Cons
Can get messy with darker colors and glitter polishes
Review
The L.A Colors Nail Polish Remover Pads come in six different scents. These are pre-moistened pads that are a great option for when you are on the move or traveling. If you want to refrain from using acetone-based polish, these are an excellent choice. However, using them can be a tad bit tedious and time-consuming, especially when it comes to darker shades of nail polish. Lighter shades can be easily removed with just a couple of swipes.
Price at the time of publication: ₹4.99
Pros
Free of acetone, acetate, and ethyl lactate
Odor-free
Safer than conventional formulas
Good packaging
Cons
Does not work on gel polish or acrylics
Review
Fancy the phrase "organic and 100% natural"? This nail polish remover is your certified organic alternative to traditional acetone-based nail polish removers. Its non-toxic oil base is derived from plants, and its formula contains botanical extracts to nourish and strengthen your nails. It does not emit a chemical smell, and it won't dry out your nails or cuticles. It does take a little more time to do the job, but then, you win some, you lose some.
Purchase Link
www.amazon.com
No products found.
Pros
Removes any type of nail polish
Suitable for artificial and natural nails
Contains vitamin E and grape seed oil
Affordable
Cons
Review
If you're looking to buy a professional nail polish remover that is used in nail salons, this one by Onyx is a good deal. Unlike other nail polish removers on the market, this one can remove every type of nail polish, be it gel, shellac, glitter, acrylics, or nail glue. Although this formula is an acetone-based one, it also contains nourishing ingredients like vitamin E and grape seed oil that condition your nails. This is the one nail polish remover that does it all!
Pros
Safe and non-toxic formula
Heals and moisturizes nails and skin
Provides the benefits of aromatherapy
Biodegradable
Cons
Takes a tad bit more product to remove dark shades or glitter polish
Review
This nail polish remover from Aromatherapy is a safe and natural alternative to acetone-based removers. You don't need to worry about splitting or brittle nails or dry cuticles as this formula is extremely mild and gentle. It also offers the benefits of aromatherapy as it contains therapeutic grade essentials oils of orange, eucalyptus, spearmint, and ginger. Say goodbye to inhaling harmful fumes from acetone nail polish removers and give this baby a shot!
Fun Fact: Aromatherapy was started by four moms with a mission to provide chemical-free and healthy alternatives to the toxic cosmetics we find and use in abundance.
Price at the time of publication: ₹10.99
Pros
Oil-based and non-toxic
Comes in a travel-friendly container
Contains lavender oil and soybean oil
Has a pleasant smell
Cons
Won't work on gel nail polish or acrylics
Review
Karma Naturals Organic Nail Polish Remover Wipes are 100% acetone-free and perfect for sensitive skin and brittle nails. These wipes have an oily consistency owing to ingredients like vitamin E, soybean oil, and lavender oil. If your nails need conditioning, these wholesome ingredients will take care of that. It removes your regular nail polish, regardless of the brand, with ease. If you're conscious about choosing only vegan and cruelty-free products, this is made for you.
Price at the time of publication: ₹11.99
Pros
Acetone-free
Travel-friendly
Cruelty-free
Vegan
Paraben-free
Artificial fragrance-free
Sulfate-free
Hyppoallergenic
Cons
Review
This acetone-free formula from Mineral Fusion is gentle on your nails and easily removes even the darkest of shades. It cleans and preps the nail well to prolong the life of your next nail color. It is made with natural ingredients that improve the nails' complexion, nourish the skin, and prevent overdrying of the nails. This nail polish remover is also effective at removing shellac nail polish.
Pros
Pleasant lavender scent
Contains aloe vera to prevent dryness
Glitter nail polish comes off easily
Travel-friendly
Cons
Review
Want a quick and hassle-free way to get rid of that worn-out nail polish? These finger mitts by Deborah Lippmann work well to remove regular and glitter nail polish effortlessly. They are infused with aloe vera and lavender to help condition and nourish your nails and cuticles. One mitt cleans all ten fingernails, and you get six mitts wrapped individually in a single box.
Price at the time of publication: ₹12
Pros
Removes gel nail polish and acrylic nails
Prevents drying of skin that surrounds the nails
Contains conditioning agents
Easy to use
Cons
Can be harsh on natural nails
Review
If you want to get rid of your gel manicure or acrylic nails right at home, all you need is a bottle of Gelish Soak-Off Artificial Nail Remover. It removes gel nail polish efficiently within 10-12 minutes and acrylics within 20 minutes. Simply saturate a cotton pad with this formula, place it on your nail, and cover it with aluminum foil for about 15 minutes. Then, remove the foil and lightly buff your nail.
Price at the time of publication: ₹27.99
Pros
100% vegan
Acetone-free
Cruelty-free
Vitamin-enriched formula
Cons
Does not work on gel polish
Review
Looking for a nail enamel remover that is 100% non-toxic? This one from Ella+Mila is your best bet. It's a soy-based formula that also contains lavender essential oil, which means you will never have to deal with dehydrated nails or cuticles. The packaging is utterly cute, and it also has a mild fragrance to it. It is also suitable for pregnant women and children.
Pros
Pleasant smell
Easy to use
Contains botanical oils
Suitable for sensitive skin and nails
Cons
Difficult to remove glitter nail polish
Review
These gentle, oil-based pads are a blessing for removing traditional nail polish. They are very handy and can be used on-the-go. One pad is enough to remove polish from all ten nails. It contains perilla seed oil, flaxseed oil, and apricot kernel oil that help strengthen and nourish your nails while quickly removing old polish. They are also priced very reasonably.
Pros
Made with natural, safe ingredients
Safe for pregnant women, kids, and cancer patients
No toxic fumes
Removes regular, gel, and glitter polish
Cons
Review
This nail polish remover from Pure Vitality Beauty is the safest one you can find. You don't have to worry about using this on a regular basis as it is extremely mild. It is free of petroleum chemicals, acetate, ethyl lactate, and acetone. This remover also moisturizes your nails and makes them stronger. If you're big on using environmentally-friendly products, you should know that this formula is 100% biodegradable and eco-friendly.
Price at the time of publication: ₹13.87
Ladies, follow these safety precautions when using a nail polish remover of any kind. Here's what you need to consider.
Tips And Precautions To Take When Using A Nail Polish Remover
Make sure you are in a well-ventilated room when removing your nail polish because acetone is highly flammable. Eliminate any sources of flame or spark to prevent a fire. (Yes, it seems ridiculous, but there have been incidents where acetone fumes caused a fire.)
It is not a good idea to inhale the fumes as it is terrible for your health.
Repeated exposure to harsh nail polish removers can lead to your skin becoming overly irritated and sensitive. Always choose a gentle, non-acetone formula if you're a manicure junkie.
Rub some olive on the skin around your nails before removing your nail polish with an acetone-based remover.
Once you remove your nail polish, rinse your hands with water. Wait an hour before polishing your nails again so that the water has time to evaporate fully.
Once you finish your manicure, moisturize your skin and nails with a nourishing nail and cuticle oil.
You can also make your own DIY acetone remover with ten parts acetone, one part water, two to ten drops of olive oil and two to five drops of vitamin E.
Why Trust StyleCraze?
The author of this article, Esha Saxena, loves experimenting with different makeup products and reviewing them for her readers. She tried several nail polish removers and conducted in-depth research into them to curate this list of the top nail polish removers on the market. The shortlisted products remove nail polish quickly, keep your nail strong, and do not irritate your skin, all at an affordable price.
Frequently Asked Questions
What is the active ingredient in most nail polish removers?
Isopropyl acetone is an active ingredient in most acetone-based nail polish removers. Non-acetone-based nail polish removers usually have ethyl acetate as the most active ingredient.
Can I use a nail polish remover during pregnancy?
Yes. While many beauty enthusiasts suggest that some key ingredients in nail polish removers including isopropyl acetone, methyl ethyl ketone, and n-methyl-pyrrolidone are harmful during pregnancy, there is no evidence supporting the notion.
How often can you use a nail polish remover?
It is safe to use a toxin-free nail polish remover as frequently as every four to five days if you love changing your nail art often.
How long does a nail polish remover last?
Nail polish removers do not have expiration dates. However, they turn yellowish and become less effective after two to three years.
How long does it take for nail polish removers to work?
Nail polish removers work almost instantly. The polish usually washes away within ten minutes of using the remover.
Recommended Articles