15 Best Anti-Humidity Products For Frizzy Hair – 2023's Top Picks
The right ingredients can keep your locks shielded against excess humidity and frizz.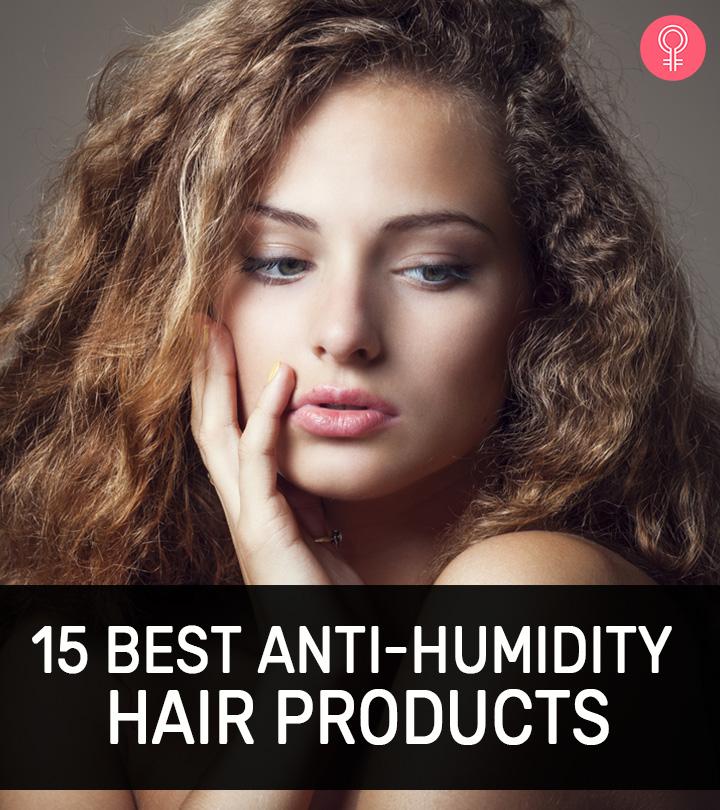 Humidity can be cruel to the hair. It makes your hair frizzy and limp and ruins even the most carefully styled hairdos. We feel you, so we have created a list of the 15 best anti-humidity hair products for frizz control and weather protection that are available on the market right now. With these humidity-resistant hair products for all-day protection in your arsenal, you can rest assured that frizzes and flyaways will be kept at bay, even in the most drizzly weather.
15 Best Anti-Humidity Hair Products
COLOR WOW Dream Coat Supernatural Spray is perfect for color-treated hair. It is designed with heat-activated polymer technology that encapsulates every hair strand and imparts a smooth and silky look to your hair. The humidity-proofing formula of this spray is heat activated and lasts up to 72 hours. This hair spray does not weigh down your hair or make it greasy.
Pros
l Prevents frizz
l Works as a heat protectant
l Lightweight
l Hydrophobic
l Imparts shine to your hair
Cons
Not suitable for fine hair
Price at the time of publication: $28.0
Moroccanoil Luminous Hairspray is a flexible and lightweight hairspray. It is ideal for extending blowouts and maintaining your everyday style. It is the best frizz control product that offers long-lasting and flexible hold, fights frizz, and boosts the shine of your hair. This argan oil spray leaves a touchable finish, brushes out easily, and does not leave behind a flaky or sticky residue. It is blended with exotic spicy amber and sweet floral notes for a great fragrance.
Pros
Lightweight
Protects everyday hairstyles and blowouts
Non-sticky and brushable formula
No flaky residue
Imparts shine
Repels humidity
Fights frizz
Suitable for all hair types
Cons
Price at the time of publication: $26.0
Crack Original Styling Creme is one of the best anti-frizz multi-tasking creams for smooth and sleek hairstyles. It is a lightweight and nourishing styling cream and moisturizing leave-in treatment that instantly transforms keratin-depleted, stressed, curly, and frizzy hair into shiny and healthy tresses. This cream for frizz prevention is infused with micro-proteins and peptides that go deep into the hair cuticle and follicle to create a keratinous bond and smoothen your hair. It also provides thermal protection when blowdrying, straightening, or curling your hair. It is specially created to form a barrier against humidity and eliminate up to 95% of your frizz. This cream also protects your hair from UVA/UVB rays and chlorine.
Pros
l Provides thermal protection against heat and dryness
l Vegan
l Reducesbreakage and split ends
l Imparts shine
l Cruelty-free
l Sulfate-free
l Paraben-free
l Suitable for all hair types
Cons
Price at the time of publication: $12.49
The Amika the Shield Anti-Humidity Spray comes with a lightweight and non-greasy formula, and is a must-have product for all hair types. The ingredients, sea buckthorn berry protects your tresses while hydrolyzed keratin smoothes the cuticle and provides UV protection. This anti-humidity spray is perfect for those with curly, wavy, or straight hair, and helps you achieve salon-perfect results every time.
Pros
Lightweight formula
Restores moisture
Increases hair elasticity
Imparts shine
Fights frizz
Offers heat protection
Protects UV rays
Suitable for color-treated hair
Cons
May not have pleasant smell
Price at the time of publication: $19.19
Oribe Impermeable Anti-Humidity Spray is a great hair spray that shields your hair from frizz. This anti-humidity light-hold hairspray protects sleek blowouts and perfect curls. It is a Miami-tested hairspray that enhances the longevity of hairstyles in any climate. Ingredients like tocopheryl acetate and retinyl palmitate provide protection from free-radical damage while the vitamins in it nourish, condition, and volumize your hair.
Pros
Provides UV protection
Paraben-free
Sodium chloride-free
Suitable for color- and keratin-treated hair
Cons
Not suitable for fine hair
Defective nozzle
Price at the time of publication: $42.0
Ouidad Advanced Climate Control Heat & Humidity Gel is perfectly suited for curly hair. It is designed with anti-frizz nanotechnology for advanced frizz protection. This hair gel is one of the best anti-humidity gels to define curls and does not leave your hair feeling crunchy and sticky. It locks in moisture and locks out humidity. It is formulated with a protein derived from silk and seals the hair cuticle to lock in the essential moisture. The UV filters in it prevent environmental damage.
Pros
l Reduces frizz
l Defines curls with flexible hold
l UV protection
l Sulfate-free
l Paraben-free
Cons
Not suitable for thin curls
Price at the time of publication: $26.0
If you are looking for a hairspray with 24-hour humidity protection, this is a good choice. Garnier Fructis Style Flexible Control Anti-Humidity Hairspray provides strong and flexible hold and natural-looking hair. It is infused with bamboo extractsthat keep you in control of your hairstyle all day long. This anti-humidity hairspray also comes with an anti-frizz formula that ensures a bounce-back hold that lasts 24 hours.
Pros
Flexible hold
Volume control
Reduces frizz
Fruity fragrance
Cons
Price at the time of publication: $3.71
SexyHair Big Root Pump Plus is the best volumizing hairspray. It helps increase volume by lifting your hair up at the root. It is suitable for medium to thick hair. It is one of the best anti-frizz products that provides a strong hold with its anti-humidity formula. This hairspray also helps protect your hair from heat damage and adds instant volume to your hair. Just spray it on before blow drying your hair to create voluminous styles. It offers thermal protection and is suitable for both men and women.
Pros
Volumizing formula
Offers thermal protection
Strong hold
Activates textural volume
Suitable for thick and coarse hair types
Cons
Imparts crunchy texture
Defective nozzle
Price at the time of publication: $19.95
If you want to create the perfect straight-haired look, Davines Relaxing Moisturizing Fluid is your best option. This moisturizing fluid eliminates frizz, adds shine and smoothness, and moisturizes your hair. It is formulated with anti-humidity and anti-frizz ingredients and also protects your hair from heat damage. It provides straight, smooth, and silky hair instantly.
Pros
Light balsam fragrance
Reducesfrizz
Provide heat protection
Suitable for thick, wavy, and coarse hair
Cons
None

Price at the time of publication: $28.0
Living Proof Humidity Shield Finishing Hairspray is a weightless protective finishing hairspray. This innovative color-safe formula is designed with a humidity-resistant polymer, a high-refractive emollient, and conditioning agents. This lightweight spray prevents frizz by providing 6x more humidity protection. It provides UV protection and is safe for color-treated hair.
Pros
Reduces frizz
Provides heat protection
Prevents static
Lightweight hairspray
No silicones, phthalates, and parabens
Cruelty-free
Suitable for use on ultra-dry hair any time
Cons
Price at the time of publication: $25.0
Bumble And Bumble Bb.Curl Anti-Humidity Gel-Oil is the best frizz-fighting gel. It combines the hold of a gel with the hydration of an oil. It is suitable for chemically treated and dry, damaged hair. It is infused with HydraSculpt blend, a cross-linking polymer that blends styling benefits with moisturization. A mix of ingredients like cupuacu butter, babassu oil, and pracaxi natural oil provide rich moisture to your hair. 
Pros
Reduces frizz
Moisturizesthe hair
Imparts shine and gloss
Suitable for curly hair
Cons
Price at the time of publication: $49.06
KMS Hairstay Anti-Humidity Seal Spray is a dermatologist-tested formula that protects your hair from humidity and frizz for up to 72 hours. It is designed with flexible sealing compounds that offer a non-greasy and shiny look. This hair spray contains trisiloxane and dimethicone that acts as an umbrella for the hair and is one of the best anti-humidity hair sprays for long-lasting hold.
Pros
Dermatologist-tested
Offers UV protection
Paraben-free
Mineral oil-free
Lightweight
Vegan
Suitable for all hair types
Cons
Price at the time of publication: $24.5
The Kenra Anti-Humidity Spray is innovative and provides 72-hour frizz protection, ensuring that your hair stays smooth and styled, even in humid conditions. The lightweight formula won't weigh your hair down, and it won't leave any sticky or greasy residue behind. The thermal protection makes it ideal for use before styling with hot tools such as flat irons and curling wands.
Pros
Lightweight
Offers thermal protection
Controls static
Increases manageability
Reduces flakes
Cons
May leave hair feel sticky
Price at the time of publication: $15.99
Thermafuse Straight Balm Smoothing Creme is perfect for heat-styled hair. This smoothening balm decreases your hair styling time by half. Its specialized relaxing formula makes your hair respond to heat effectively. The non-greasy formula is formulated to give you smooth hair and is suitable for all hair types. The anti-humidity ingredients in this balm helps prevent flyaways and lock in essential moisture to keep your hair smooth.
Pros
Smoothens your hair
Provides natural hold
Reduces frizz
UV protection
Non-greasy formula
Blackberry and vanilla musk fragrance
Cons
Leaves behind a white residue
Rahua Hydration Detangler + UV Barrier is perfect for creating instantly brushable hair. This leave-in detangler glides through your hair with ease. Its moisturizing formula prevents hair breakage and damage, reduces frizz, and softens your hair. The morete oil in it creates a UV defense barrier. It also provides color-treated hair with photoprotection and blocks humidity.
Pros
Makes your hair more manageable
Moisturizing formula
Prevents hair breakage and damage
UV protection
Suitable for color-treated hair
Pleasant fragrance
Cons
None
Price at the time of publication: $34.0
Frizziness is a very common issue for many people out there. There are numerous hair care products available on the market that treat frizz, so if you're looking to purchase one that's a bit more effective than the rest, we have got some tips and info to share with you below.
What To Consider When Buying Anti-Humidity Products For Frizzy Hair
Nourishing:  Look for an anti-humidity product that repairs damage and nourishes your hair. Opt for botanical ingredients like avocado oil, coconut, and argan oil that nourish dry hair and impart shine while ingredients like silk protein, micro protein, and peptides smoothen hair making them lustrous and offering a shiny look while avoiding frizz.
Multiple Benefits: Go for a multipurpose product, which should protect your hair from UV rays, and offer sufficient thermal protection against heat damage while straightening, blow-drying, or curling your hair. If you have chemically treated hair, it should be safe for your colored hair and keratin treatment.
Hair Type:Not all products are made for all hair types. Some may be better for fine hair, while others work for smoothing out frizz in curly hair. No matter your hair type, it is a good idea to do some research beforehand and find out which products will suit your hair type. The lightweight product works best on fine hair. You can opt for heavier humidity-resistant hair pomades for curly hair.
Long Lasting: You should make sure that your hair looks great throughout the day while preventing staticity. Most of the anti-humidity products for frizziness work for up to 72 hours. The anti-humidity sprays form a coating and seal the cuticle of your hair while preventing moisture loss and eliminating frizz. Anti-humidity styling creams and gels smoothen your hair texture and offer a flexible hold. So choose the one that suits you the best.
Chemical-Free: Anti-humidity sprays and gels loaded with chemicals are a big no! They cast white residue on your hair and make your hair prone to damage. Check the label and avoid ingredients like paraben, sulfate, alcohol, mineral oil, and silicone.
Additional Benefits: Always do research before purchasing an anti-humidity product. It should be lightweight, brushable, and non-sticky. Also, the product should not create any buildup. Opt for a non-greasy formula that prevents hair breakage and damage.
The Bottom Line
Why Trust StyleCraze?
The author, Oyendrila Kanjilal, is a certified skin care coach who loves trying out different hair care products. She vouches for anti-humidity hair products for people tired of frizzy hair due to humidity in the air. She has done thorough research on these products to bring her readers a list of the best ones. Not only do these products protect your hair from humidity, but you can also count on them to tame your tresses when you have to head out in a slight drizzle!
Frequently Asked Questions
What can I put in my hair to stop humidity?
Use anti-humidity spray and gel on your hair to tame the frizz. In addition, opt for frizz-combating, anti-humidity dry shampoo and conditioner to protect your hair from the harsh effects of humidity.
Does anti-humidity spray work?
Yes. Anti-humidity spray creates a protective coat on the hair and seals the cuticles. Thus, the spray eliminates frizz and prevents excess moisture from entering the hair shaft.
How do you wear your hair when it's humid?
Wear your hair in ponytails, braids, or top buns when it is humid.
Will hairspray protect hair from humidity?
Yes. Hairsprays prevent environmental moisture from seeping into the hair and weighing it down. They seal the cuticles and set the hairstyle for many hours.
Why is my hair getting frizzy as I get older?
The scalp produces less oil with growing age. Thus, when you grow old, your hair secretes less oil which results in low nourishment and moisturization. Therefore, your hair gets frizzy.
What causes frizzy hair in humidity?
When the level of water in your hair is less than the level of water in the atmosphere, the water from the outside seeps into your strands, rearranges their bonds, and dries them. This causes more hair flyaways and frizzy strands.
Recommended Articles