10 Best Micellar Waters For Oily Skin That Remove Makeup Quickly
Remove makeup residue, dead skin cells, and excess oil without hurting your skin.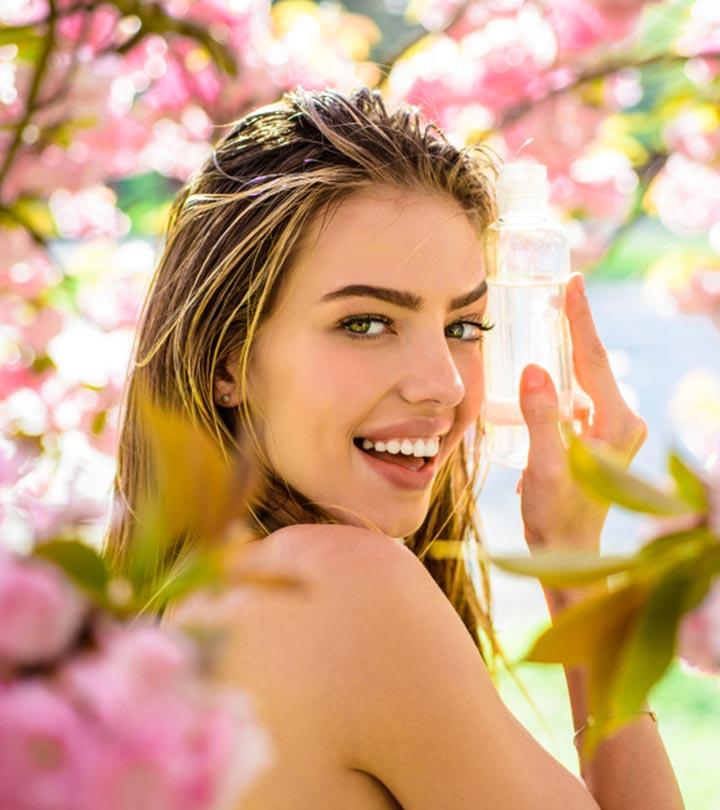 Cleansing oily skin can be tough. It is because oily skin produces excess sebum, which often traps dirt and debris. That is why you need the right cleansing solution for this skin type. Adding the best micellar water for oily skin in your skin care routine is a great choice. Even many dermatologists suggest using micellar water for cleansing oily skin. This multipurpose and easy-to-use cleansing formulation contains purified water, surfactants, and glycerin. Compared to regular facial cleansers and makeup removers, micellar water works differently. During the cleansing process, the micelles (spherical structures) join the surfactants to help remove dead skin cells, makeup residue, excess oil, dirt, and all other impurities from the skin.
This no-rinse cleanser is usually alcohol-free and offers hydration, fights against skin inflammation to make your skin look smooth, soft, and supple. In addition, micellar water can keep your complexion clear and remove your makeup effectively. However, with tons of options available in the market, you may get confused while selecting the one among them. To help you out, we have narrowed down the options and come up with a list. Scroll down to check out the 10 best micellar waters for oily skin.
10 Best Micellar Waters For Oily Skin Of 2023
Are you tired of all those bottles in your bathroom cabinet that take up so much space that you're very often too lazy to use? Well, there's good news for you! Welcome Garnier's SkinActive All-In-1 Micellar Cleansing Water for oily skin that removes makeup without harsh rubbing, cleanses without having to rinse, and refreshes your face without leaving behind a residue. It's surprisingly powerful yet gentle on the skin, and it attracts and removes dirt, oil, and makeup like a magnet while removing dead skin cells with its micellar technology. It contains aqua, glycerin, and other cleansing agents, and is suitable for all skin types, including sensitive skin. So, don't wait— try this product and say hello to a glowing and radiant you.
Pros
No alcohol
No parabens
No sulphates
Non-comedogenic
No mineral oil
No greasy residue
Dermatologist-tested
Ophthalmologist-tested
Cons
May not be able to remove waterproof mascara
Price at the time of publication: $3.98
This is considered one of the best micellar waters for oily skin as it gently cleanses and removes makeup without drying out the skin. It maintains the pH balance of your skin and helps to purify— thanks to ingredients such as zinc, copper, and ginkgo biloba, which contribute to mattifying your skin by removing excess oil. So, you no longer have to worry about greasy skin or pimples, acne, or breakouts as this cleanser makes a promise to take care of such skin woes. We recommend you use a cotton pad with Sébium H₂O to cleanse and remove makeup from your face and use it in the morning and evening, every day of the week to reveal a natural glow that's ready to take over the world!
Pros
Dermatologically-tested
Alcohol-free
Suitable for combination and oily skin
Contains natural ingredients
Cons
May not be suitable for very sensitive skin
Price at the time of publication: $16.99
The 4-in-1 action of this micellar water for oily, sensitive skin removes makeup (even waterproof makeup), cleanses, tones, and hydrates your skin. It's a combination of aqua, glycerin, and other cleansing ingredients which make it suitable for even sensitive skin. It has an advanced formula with an innovative texture to ensure a superlative sensory experience for your skin. Everyone deserves healthy skin and this product believes that your skin is their passion, and they work closely with healthcare professionals to provide you with expert solutions that embody this passion which allows you to enjoy the happiest, healthiest skin.
Pros
Alcohol-free
Paraben-free
Soap-free
No fragrance
Hypoallergenic
Dermatologist recommended
Ophthalmologist approved
pH balanced
Suitable for sensitive skin
Cons
Some may find the texture sticky.
Price at the time of publication: $35
This micellar water for oily, sensitive skin can do wonders for your skin. It captures residual makeup, oil, and impurities in its micelles, leaving the skin perfectly cleansed, hydrated, and refreshed without harsh rubbing. It also contains poloxamer, a mild cleanser so gentle that it is considered safe for the eyes and is used in contact lens solutions. This La Roche-Posay has thermal spring water which is rich in antioxidants and soothes irritated skin, while the glycerin in it hydrates the skin. Purifying zinc removes excess oil and leaves the skin feeling fresh. The icing on the cake is that it also removes minute pollution particles. Just pour a few drops of it into a cotton pad and gently wipe your face, eyes, and lips. Requiring no-rinse, you'll be ready to step into the world with clean and radiant skin with this micellar water.
Pros
Paraben-free
Alcohol-free
Soap-free
Oil-free
Non-comedogenic
Dermatologist-recommended
Ophthalmologist-approved
Suitable for sensitive skin
Cons
Its texture may not suit all.
Price at the time of publication: $17.99
This micellar water for oily, acne prone skin is made with natural charcoal known for its ability to draw out and trap impurities that gives your skin that extra cleanse that it needs. It cleans the pores, refreshes the skin, and removes makeup, and there is no need to rinse it off because it's oil-free. This micellar water has a high concentration of micellar cleansing agents which dissolve away dirt, oil, and stubborn makeup very gently while protecting your delicate skin! We all know how important it is to keep one's face clean but we also know how much work it might take. This micellar water gives you an easy way out with its 3 pronged approaches. So, carry it wherever you go and face the world with a confident smile.
Pros
Vegan
Oil-free
Hypoallergenic
Cruelty-free
Non-comedogenic
Dermatologist-tested
Ophthalmologist-tested
Cons
May leave a slight residue on the skin
Price at the time of publication: $17.99
This micellar water for oily skin has witch hazel and aloe vera extracts that remove makeup, excess sebum, and cleanse and purify the skin. Witch hazel and aloe vera are also known for their astringent and soothing properties that can do wonders for oily skin. This micellar water acts like a magnet as micelles capture and easily lift away makeup and impurities without any need for excessive rubbing. You can apply this gentle product to your face, eyes, and lips twice a day as a cleanser and/or makeup remover. There is no need to even rinse as it does not leave behind a greasy residue. When you use this, your skin will be left feeling exceptionally clean, fresh, and purified.
Pros
Oil-free
Alcohol-free
No fragrance
Hypoallergenic
Dermatologist-tested
Ophthalmologist-approved
Recognized by Canadian Dermatology Association
Cons
Might not be suitable for extremely dry skin
Price at the time of publication: $17
This high-quality micellar water cleanses the skin, removes makeup, traces of pollution, and metal irritants like nickel, chromium, and cobalt from the surface of the skin, leaving your skin feeling fresh and rejuvenated. Made from 91.2% natural ingredients, it is suitable for even the most sensitive skin type. This facial cleanser is formulated with micelles that capture even the minutest impurities without requiring vigorous rubbing. It has been proven to be safe for even those with dry, extra dry, eczema, dermatitis, and psoriasis prone skin. If you're on the lookout for mild and effective micellar water, this is one of the best products you can lay your hands on.
Pros
Hypoallergenic
Vegan
Cruelty-free
Paraben-free
No fragrance
No EDTA
No silicon
No mineral oil
Cons
May take a little more effort to remove heavy makeup
Price at the time of publication: $18
This 3-in-1 gentle micellar cleansing water for oily skin removes waterproof makeup and effectively cleanses and purifies the skin by targeting even the minutest impurities for soft, healthy-looking skin. This one-step gentle facial cleanser is designed to revitalize the skin as it removes trapped dirt and excess oil. It is formulated with triple micellar technology, which is a special blend of 3 gentle cleansers that target all toxins and help preserve your skin's moisture. It penetrates the pores to decongest them while preserving the skin's moisture. The result? A healthy complexion and skin that's extremely soft.
Pros
Fragrance-free
Alcohol-free
Non-comedogenic
Dermatologist recommended
Ophthalmologist tested
Suitable for all skin types
Cons
Price at the time of publication: $9.05
This is an all-in-1 cleanser that removes makeup, gets rid of dirt and oil, and mattifies the skin. Very often the case with oily skin, over cleaning and exfoliating to remove excess sebum can strip the skin of its essential oils, but this micellar water works very gently, leaving the skin squeaky clean. The L'Oreal Micellar Cleansing Water is powered by micelle molecules that magnetically capture and remove pollutants, lifting away the dirt to make your face feel fresh. As a plus, you don't have to wash or rinse your face when you use this micellar water. Do try out this product because after all, why should models have all the glamor?
Pros
Oil-free
Soap-free
Alcohol-free
Dermatologist-tested
Ophthalmologist-approved
Suitable for sensitive skin
Cons
Price at the time of publication: $9.77
This mineral infused micellar water contains salicylic acid which has a mild exfoliating effect resulting in a softer and smoother skin, as well as lactic acid which is very efficient in removing dead cells from the surface of the skin. It also cleanses the face, removes makeup, and can clean your skin without drying it out. This micellar water is a quick and effective no-rinse cleanser created especially for those with combination to oily skin. It is made with mineral-rich volcanic water from the French volcanoes and is rich in 15 minerals to help hydrate and strengthen the skin barrier against skin-aging factors like air pollution and stress. Today, Vichy is considered to be the #1 anti-aging brand in European pharmacies, which makes it worth a try.
Pros
Hypoallergenic
Soap-free
Paraben-free
Fragrance-free
Non-sticky and non-drying
Sensitive skin-tested
Dermatologist-tested
Ophthalmologist-approved
Cons
May not be suitable for removing waterproof mascara
Price at the time of publication: $15
Now that we have looked at the 10 best micellar waters for oily skin, here are a few things you need to keep in mind when buying micellar water so that you make the right choice for yourself.
How Do I Choose Micellar Water?
Always pick all skincare products according to your skin type. Not all micellar waters are made the same as some are gentle and hydrating, some are stronger, made for waterproof makeup and mascaras, and some have stronger ingredients than others. Those with dry and sensitive skin should look for gentle and hydrating micellar water without harsh ingredients. For dry skin and sensitive skin, it is best to choose one with minimal ingredients to minimize risks of irritation and damage.
For oily skin, on the contrary, certain gentle micellar waters can feel like they are not cleansing enough. In this case, do make it a point to check the label and ensure that it is formulated for oily skin type.
When you are choosing your micellar water, make sure that it removes the makeup that you wear daily, especially your eye and lip makeup. Perhaps there is a micellar water that your skin loves but it doesn't do the job of removing the eyeliner or liquid lipsticks you use. Therefore, determine the type of makeup you use and check if the micellar water helps remove it.
This is more of a concern for sensitive or inflamed skin, especially if fragrance is listed among the top ingredients. The damage it causes to your skin may not be noticeable, but it can still be silently occurring every day, causing both minor and major problems for your skin in the long term.
A lot of micellar waters these days do not contain alcohol, however, there are some that do contain alcohol denat. Make sure you check that out first. Alcohol can strip the moisture off your skin and leave your skin tight and taut not in the most pleasant way.
Everyone reacts differently to essential oils like argan oil, olive oil, lavender oil, and so on. Please check if you are sensitive to them. Also, they could clog your pores, so it's best to avoid micellar water with essential oils.
A micellar water is one of the skin care products that you will be using several times everyday. So it's a good idea not to go overboard as far as the price of the product goes.
Yes, some micellar waters may sting your eyes and it's always a good idea to avoid them, especially if you use eye makeup.
Why Trust StyleCraze?
The author of this post, Kirtana Divakar, has a keen interest in makeup and loves to explore products used in skin care. The list of best micellar waters for oily skin was curated after extensive research and reading many online consumer reviews and feedback. These micellar waters are a perfect fit to cleanse oily skin, and they keep excessive sebum, dirt, and debris at bay.
Frequently Asked Questions
Is micellar water good for oily skin and acne?
Micellar water can help keep your skin clear, especially for those with acne, blocked pores, or stubborn blemishes. Conditions like acne are often caused by clogged pores. Micellar water when used on oily skins cleans and unclogs your pores, thus preventing acne.
Does micellar water get rid of blackheads?
Although research on this aspect is limited, several studies have found that using micellar water for oily skin can help improve acne and reduce blackheads.
Can we use micellar water every day?
Micellar water for oily skin can be used up to twice a day, but it's a good idea to follow it up with a moisturizer, or it may cause dryness over a period of time.
Can I use micellar water to remove sunscreen?
Micellar water feels light like water, but like an oil-based cleanser, it effectively removes sunscreen, oil, and grime. It cleans skin using micelles, which are tiny spheres of oil suspended in soft water that can effectively bust through layers of sunscreen.
How do you use micellar water for oily skin?
Micellar water can be used as a cleanser for oily skin. Soak a cotton pad in the formula and gently swipe away the dirt, makeup, and sebum.
Does micellar water remove pimples?
Micellar water helps remove dirt and sebum to clear clogged pores. This usually clears acne and pimples in a few days.
Do I need to wash my face after using micellar water?
Yes, rinse your face with water after using micellar water to get rid of the micelles. This clears out the skin for better product absorption in the later steps of your skincare routine.
Is micellar water better than makeup remover?
No, micellar water cannot get rid of waterproof or oil-soluble makeup products. For this, you need a makeup remover. But, micellar water is the gentlest way of getting rid of water-soluble makeup.
Does micellar water make your face oily?
Some brands of micellar water may make your face oily. But more commonly, not rinsing your face after cleansing with micellar water may cause congestion in the facial skin and lead to oiliness.