8 Best Tattoo Needles Of 2023 – Reviews And Buying Guide
For the perfect, well-defined tattoos that will accompany you all your life.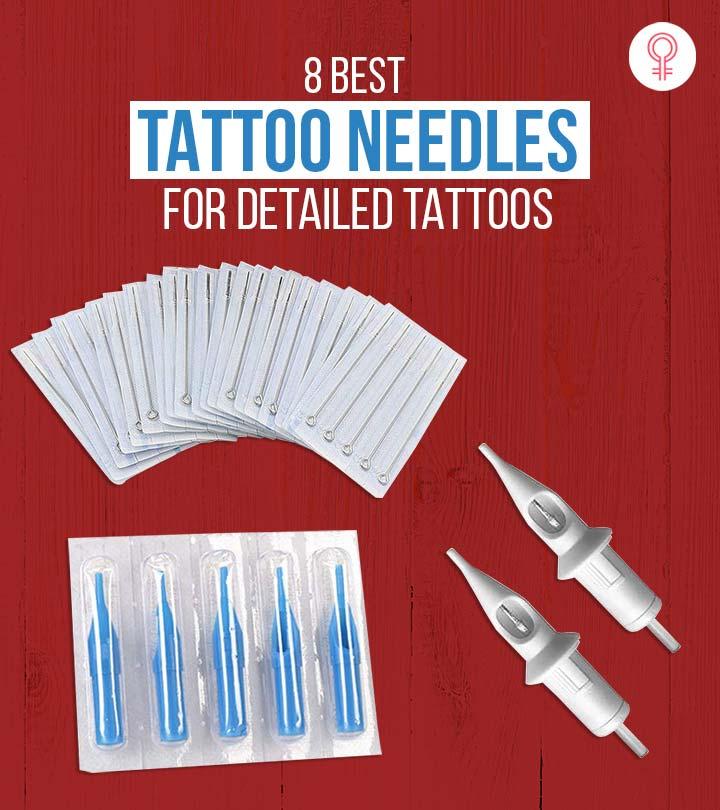 If you are new to tattooing, it must be hard for you to find the supplies you like. First, you need to know which ink is the best and which is good for needles and tattoo guns. This is because a good tattoo requires a consistent design, patterns that include both thick and thin lines, non-fading ink, and solid colors. Then, to nail the design perfectly and showcase your versatility, you need to use the best tattoo needles from reputed tattoo needle brands. Picking high-quality needles might be overwhelming based on diameters, tapers, and counts. To make your job easy, we have listed the best tattoo needles with the most positive reviews online that will help you get a precise design. Keep scrolling through!
8 Best Tattoo Needles
From professional tattoo artists to newbies, everybody loves the medical-grade stainless steel sterile tattoo needles from Pirate Face Tattoo. These professional-grade tattoo needles are packed individually  in a sterilized blister pack with an expiration date stamped on the back. In this premium pack, you get ten pieces of magnum shader, round shader, and round liner, each in a different needle configuration.
Pros
Professional grade
Precise
Controlled ink flow
Individually packed in sterile blister pack
Made from medical-grade stainless steel
Cons
Price at the time of publication: $11.48
You will experience stability and a fast rebound rate with these Extreme Cartridges from Dragonhawk. These sharp tattoo needles come with smooth edges that reduce the chances of skin trauma and infection. They also have a membrane mechanism that prevents ink spit-back or ink spillage, making your tattoos cleaner and more precise. The needles go through ethylene oxide gas sterilization, making them safe for use. In this pack, you get twenty pieces of Standard 5 Round Liner needles attached to plunger overmolds. These tattoo needle cartridges by Dragonhawk are compatible with pen-style tattoo machines and coiled tattoo machines.
Pros
No spit back
Unmatched ink flow
Comes with disposable 5rl tattoo needles
Better ink flow
Gas sterilized
Precise control
Burr-free
High toughness
Prevents skin damage
Budget-friendly
Beginner-friendly
Can be used for microneedling
Cons
Does not hold the ink properly
Price at the time of publication: $13.99
The CNC Tattoo Needles Cartridge comes with needles designed to fit most rotary tattoo machines and tattoo needle grips. Each needle is sterilized by E.O gas and individually packaged for single-use only, to ensure safety and convenience. The needles are also fitted with a secure membrane that prevents ink or blood from leaking into the grip. The stabilizer feature helps prevent wobbling and creates accurate work.
Pros
Durable
Ensures clean design
Stabilizer feature
Individually wrapped
Safe to use
Cons
None
Price at the time of publication: $17.95
The Autdor tattoo needles are made of 316-grade stainless steel that is safe for tattooing. The needles have clean soldering and provide great control. The set contains 50 pieces of tattoo needles of three types – round shader, round liner, and magnum shader. Each type of needle set has five pieces that come individually packed in blister packs. The needles undergo tattoo needle sterilization with 100% EO gas for instant use. In addition, the tips are incredibly sharp, thus reducing tattoo needle pain. These are compatible with most tattoo machines and provide a premium tattooing experience. The reviewers online loved the quality of this product.
Pros
Clean soldering
Optimal control
Pre-sterilized
Can be used for microneedling
Good for coloring and shading
Individually stamped with the expiry date
Standard-length
Cons
None
Price at the time of publication: $8.99
Professional tattoo artists trust these affordable tattoo needles by Atomus due to its quality. This set contain needles in different configurations. They are packed in a pre-sterilized blister pack to maintain hygiene. The Atomus needles are made of 304L stainless steel, which is safe for use. They are most preferred by tattoo artists and estheticians for permanent eyebrow tattoo.
Pros
Made of high-grade stainless steel
Value for money
Pre-sterilized
Sturdy needles
Beginner-friendly
Great for practice
Optimal control
Cons
None
Price at the time of publication: $8.59
The Wormhole Tattoo Cartridge Needles feature rubber band loading and plastic membranes to prevent backflow of tattoo ink into the tubes. These durable tattoo needles are made of high-quality PVC and stainless steel, making them durable and safe to work with. Each cartridge is individually packed and sealed for safety and convenience. The needles are compatible with most tattoo guns and feature specially designed edges to catch more ink and provide better needle visibility.
Pros
Versatile
Durable
Prevents any backflow
Designed for better needle visibility
Cons
Price at the time of publication: $23.99
The Bigwasp Assorted Disposable Tattoo Needle Cartridges are a versatile and convenient option for professional tattoo artists. These professional-grade needles are compatible with all rotary and coiled tattoo needle machines, as well as Hawk tattoo machines, allowing for flexibility in usage. The cartridges are designed with rubber bands that load easily and feature a plastic membrane to prevent tattoo ink from flowing back to the tubes and ensure a hygienic and safe tattooing process. Each needle is individually packed and sealed for further protection and convenience, preventing infection. It gives greater control and precision.
Pros
Versatile
Comes in various sizes
High Quality
Safe to use
Cons
Price at the time of publication: $19.99
The STIGMA Aquamarine Knight Disposable tattoo needle cartridges are designed by tattoo artists for tattoo lovers. They come in a sterilized package with a transparent light blue color, which symbolizes healing. The needle tips are designed with a slope for round needles and an arc for flat needles that makes them suitable for detailed artworks. The cartridges are rubber band-loaded and have a plastic membrane to prevent ink from flowing back to the tubes. These comfortable tattoo needles are compatible with standard cartridge tattoo machines and grips, and are designed to be convenient to use.You can ace detailed designed tattoos with these needles.
Pros
Surgical stainless steel
Medical-grade plastic
Controlled ink flow
Convenient to use
Cons
Price at the time of publication: $23.36
It can be quite confusing to choose the ideal tattoo needle for your use when so many top-selling brands are available in the market today. The correct configuration for you will be based on your overall preference and style. But, before making a choice, you have to understand all the different tattoo needle types and what they can perform. Therefore, to ensure that you buy the best tattoo needles for your distinctive style, we have listed some features to keep in mind.
How To Select The Best Tattoo Needles
The diameter or gauge of your tattoo needle is the measurement of the needle's thickest point.This is denoted by a numerical value on your tattoo needle box. The diameter of a tattoo needle will affect its ink flow, which means that the narrower the needle diameter, the more controlled the ink stream will flow out of it. Additionally, narrower tattoo needles will have finer ink flow, allowing you to perform any line-based work. Alternatively, tattoo needles having larger diameters will have more ink flow, which means they are great for coloring or shading.
The needle count refers to the number of needles or sharps present together in a group. The higher your needle count, the larger will be your grouping. Additionally, the needle count will also dictate how much space you are covering per tattoo session.This too is denoted by a numerical value on your tattoo needle box.
Denoted by two alphabet letters on your tattoo needle box, the configuration or type of a needle is defined by the overall arrangement of needles present in the needle bar. For instance, if your needle box says 'RL', it means that the needles have a 'Round Liner' configuration. Round liner needles are great for doing fine craft work, intricate designs, dot work, and geometry work.Thus, different needle configurations will provide different effects on your skin. So, choose the type wisely when opting to ink a particular style of tattoo.
Taper refers to the length of the point at the end of each needle. For instance, if the box is mentioned 'ST', then it means that the needles are 'Short Taper'. A short taper needle will have a shorter point at its end (1.5 mm) while a long taper will have a longer point (2.0 mm).
To create a masterpiece on the skin you will need the right needles in the right configuration. In the section below, we talk about needles, their configurations, and much more.
What Needles Do Tattoo Artists Use?
The size of the needle depends on the size, shape, and details in the tattoo. Mostly, needle selection depends on three things - the tapper or the pointed end of the needle, its diameter, and configuration.
Tapper: The tapper of a needle determines the quality of ink flow into the skin. Lower the taper; better is the ink flow into the skin and vice versa. Therefore, choosing the right taper size is crucial. Taper sizes range between 1.5 millimeters to 7 millimeters. You will need all kinds of tapper. The higher taper will help you work with black and gray colors. The low tapers are for other colors.
Diameter: Diameter is measured when all needles in counting are aligned together along the central bar. At present, there are 4 diameters available in the market. Those are size 6 (.2 mm), size 8 (.25mm), size 10 (.30mm) and size 12 (.35mm). You can use the higher diameter for area fill. Smaller diameter needles are good for faster shading and drawing tight lines. Commonly tattoo artists use size 10 (.30mm) needles.
Configuration: It determines the number of needles grouped together for creating the desired patterns. The most common configuration of needles is– round, flat, and magnum.
Now, the experience of selecting the best tattoo needles will come with time and exposure in the industry. As you become a seasonal tattoo artist, you will understand the needles better.
What's The Best Needle For Shading?
Shaders: Generally, these needles are a cluster of several loosely or tightly grouped needles. The configurations of shaders come in various sets, including 3, 5, 7, 9, and 30 needles per set.
Magnum Shader: Magnum shader is for filling bigger areas with a single color. It distributes the color evenly. Popular abbreviations used for this shader are Mag, M1, M2, and M1C.
Round Shader: The round shader has loose needles and is mainly used for circle forming.
Flats: A flat needle helps in distributing color and performs beautifully with single tone color. In flats, needles are arranged side-by-side in a row.
Liners: Liner needles are tightly grouped to make sharp details and crisp lines. Its popular abbreviations are RLXP, RLXT, and RL.
Why Trust StyleCraze?
Baishali Bhattacharya is a certified Style and Image Consultant. Her purpose of researching and analyzing thousands of products each day is to give her readers a holistic and seamless shopping experience that helps them find what they need. In this article, she highlights the best tattoo needles that will make your job as a tattoo artist a whole lot easier. She picked the products after going through multiple online reviews that highlight the efficiency and safety of the needles.
Frequently Asked Questions
Do tattoo needles expire?
Yes. The expiry date of a tattoo needle is the date after which the sterilization for that specific needle no longer holds.
Are tattoo needles reusable?
No. Tattoo needles are not reusable, as reusing the needles may spread illness or cause infection.
Can tattoo needles cause nerve damage?
No. Even though the tattoo needle comes in touch with nerve terminals, nerve injury during tattooing is infrequent.
What are 1rl tattoo needles used for?
1rl tattoo needles are used for lines, precise shading, and fill-ins.
Does boiling tattoo needles sterilize them?
No, boiling tattoo needles does not sterilize them.
Recommended Articles