15 Best Natural Eyeliners (Non-Toxic) For Any Occasion – 2022
Style the perfect winged eyes with the goodness of natural ingredients and safe formulas.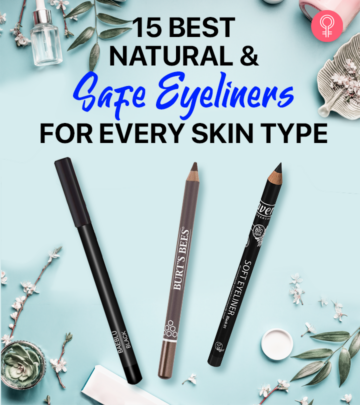 If you want to flaunt a cat eye, subtle wing, or a smokey eye, all you need to do is invest in the best natural eyeliner that's available on the market. Although sometimes these eyeliners are ignored under the presumption that these eyeliners do not give impactful results and are not pigmented and durable, many brands are offering an extensive array of non-toxic eyeliners that work wonders! Like your regular eyeliners, these natural options help you accentuate your eyes and define them by allowing you to create the look of your choice. To this end, in this article, we have reviewed and listed some really amazing natural eyeliners that you must consider. So, scroll down and find out!
15 Best Natural and Safe Eyeliners
This natural eyeliner from Burt's Bees is the ideal choice for sensitive eyelids and people who wear lenses. The formula consists of rich oils like mango seed oil, jojoba oil, and meadowfoam seed oil, which nourish your skin. It is super buttery, glides across your eyelids, and defines your eyes with an instant pop of color that stays intact for long hours. This smudge-free eyeliner is available in three different shades – Midnight Gray, Soft Black, and Warm Brown. If you want to know more about the results, take a look at this review on YouTube.
Pros
Long-lasting
Easy to apply
Smudge-free
Suitable for contact lens wearers
Value for money
Ophthalmologist-tested
Petroleum-free
Synthetic fragrance-free
Paraben-free
Phthalate-free
SLS-free
Cruelty-free
Cons
Want to nail that winged eyeliner look? Try it with the Zuzu Luxe Liquid Eyeliner. The applicator is designed with a super fine calligraphy tip for precise and fine strokes. The formula is infused with jojoba oil and aloe vera juice, which allow smooth application and keep your skin hydrated and soothed. The richly pigmented formula dries quickly into a matte finish. This water-resistant liner comes in eight gorgeous shades – Nile, Amethyst, Azure, Raven, Black pearl, Storm, Luxor, and Tuareg. You can check this YouTube video for more information about the product.
Pros
Quick-drying
Water-resistant
Easy to apply
Paraben-free
Vegan
Gluten-free
Cruelty-free
Non-GMO
Cons
The Pacifica Natural Eye Pencil is enriched with rich mineral pigments. The smooth formula glides across your eyelids for a seamless finish. It is infused with shea butter, vitamin C, and jojoba oil, which moisturize and rejuvenate the skin around your eyes. This natural eyeliner comes in three different shades – Black, Brown, and Gray.
Pros
Waterproof
Smudge-proof
Glides on smoothly
Gluten-free
Phthalate-free
Paraben-free
Sulfate-free
Mineral oil-free
Cruelty-free
Vegan
Cons
Do your eyes constantly tear up while applying eyeliner? This natural eyeliner pencil by Fifth & Skin can help prevent that. The non-irritating formula is made with quality botanical ingredients that are perfect for sensitive eyes. It has a super soft texture and glides on smoothly without pulling or tugging at your fragile eyelids.
This natural eyeliner is infused with castor oil and jojoba oil that moisturize your eyelids and helps your eyelashes grow. The highly pigmented formula is super long-lasting and does not smudge or fade. This liner comes along with a handy sharpener.
Pros
Smooth application
Hypoallergenic
Water-resistant
Long-lasting
Easy to remove
Petroleum-free
Lead-free
Synthetic fragrance-free
Gluten-free
Cruelty-free
Paraben-free
Value for money
Cons
Create a bold, dramatic, and well-defined look with this Lavera Soft Eyeliner pencil. The formula glides seamlessly on your eyelids and dries into a beautiful matte finish. It is gentle and does not cause any irritation to your eyes. The eyeliner contains organic ingredients like shea butter, jojoba oil, sunflower oil, vitamin E, and vitamin C that moisturize, tone, and nourish your skin. It is available in four shades – Black, Brown, Golden Brown, and Blue.
Pros
Non-irritating
Non-greasy
Dermatologically tested
Ophthalmologist-tested
Easy application
Cruelty-free
Vegan
Cons
This natural eyeliner pencil from Shimarz accentuates your eyes and nourishes the delicate under-eye skin. The ultra-smooth formula glides seamlessly like butter on your eyelids. This hypoallergenic, smudge-free eyeliner does not irritate the skin and lasts for several hours. The brand also offers a 30-day money-back guarantee in case you are not satisfied with the product.
Pros
Hypoallergenic
Smudge-proof
Non-irritating
Easy to use
Sulfate-free
Paraben-free
Artificial dye-free
Phthalate-free
Petrochemical-free
Value for money
Cons
Flaunt your gorgeous eyes all day long with this eyeliner pencil by Baeblu. It is formulated with certified organic ingredients like castor oil and jojoba oil, which moisturize your skin. It also stimulates lash growth and reduces wrinkle formation on your lids. The richly pigmented color is great for creating different looks, such as smokey eyes, smudged look, or the classic fine lines. The natural oils in this eye pencil repel any sweat and water with ease. This eyeliner is available in three shades – Black, Brown, and Smoke.
Pros
Hypoallergenic
Easy to use
Smudge-proof
Sweat-resistant
Water-resistant
Easy to remove
Non-irritating
Waterproof
Fragrance-free
Gluten-free
Paraben-free
Petroleum-free
Cruelty-free
Vegan
Cons
This gorgeous eyeliner pencil by Avril Le Crayon Yeux has a long-lasting formula and helps you create dramatic or bold looks, depending on the occasion. The hypoallergenic, all-natural formula does not irritate the gentle skin of the eyelids. It has a creamy texture that glides easily on the lids without pulling or tugging. This natural eyeliner is available in 13 beautiful shades, ranging from metallic browns to dreamy blues.
Pros
Smooth application
Hypoallergenic
Non-irritating
Easy to remove
Paraben-free
Cruelty-free
Value for money
Cons
Smudges easily
Not sweat-resistant
This liquid liner from 100% Pure is a unique formula infused with black tea powder. Other ingredients like aloe vera and glycerin soothe, moisturize, and nourish your skin. The richly pigmented formula adds depth and drama to your eyes. The built-in super fine brush tip helps you draw precise and seamless lines with ease. This long-wearing, smudge-free eyeliner is water-resistant and gentle on sensitive eyes. It is available in two shades – Black Tea and Blackberry.
Pros
Long-lasting
Water-resistant
Smudge-proof
Water-resistant
Non-irritating
Gluten-free
Cruelty-free
Vegan
Value for money
Cons
If you are an amateur when it comes to drawing precise lines, this liquid eyeliner by Petra Organics is simply perfect for you. The sharp felt tip helps you draw thin, precise yet bold lines with ease. The quick-drying formula glides on smoothly without pulling at your skin. The smudge-free eyeliner contains castor oil that stimulates eyelash growth and hydrates your skin, and ginseng extract that strengthens and nurtures your hair follicles.
Pros
Long-lasting
Smudge-proof
Waterproof
Dries quickly
Easy to use
Flake-proof
 Smooth application
Non-irritating
Cons
Applicator brush frays quickly.
This organic eyeliner pencil by Au Naturale is a must-have in your vanity! The buttery formula and rich pigmentation help you create bold strokes in a single swipe. The castor seed oil in this eyeliner acts as a natural preservative and hydrates your skin, while the candelilla wax gives a smooth texture to the formula and helps retain moisture. The smudge-free eyeliner is easy to apply and is available in 10 shades.
Pros
Smooth application
Highly pigmented
Smudge-proof
Easy to apply and remove
Paraben-free
Synthetic preservative-free
Nanoparticle-free
Gluten-free
Vegan
Cruelty-free
Cons
Add depth and definition to your eyes with the Benecos Natural Kajal. The smooth formula glides smoothly onto your eyelids and dries into a matte finish. It contains vitamin E and jojoba oil to nourish the delicate eye area. The product is talc-free, long-lasting, and gives glamorous definition to the eyes. The easy-to-apply formula is safe for sensitive eyes.
Pros
Non-irritating
Safe for sensitive skin
Easy to apply and remove
Easy to sharpen
Durable
Gluten-free
Cruelty-free
Vegan
Cons
Be it seductive a smokey eye or classic bold strokes, this W3LL People Natural Hypnotist Eyeliner is your go-to for all kinds of eyeliner looks. The formula goes on smoothly and dries to a semi-matte finish. The rich botanical oils in the eyeliner moisturize your eyelids and prevent wrinkle formation. The gentle formula is devoid of any artificial chemicals and is safe for sensitive skin.
Pros
Smooth application
Gentle formula
Safe for sensitive skin
Artificial chemical-free
Petrochemical-free
Cruelty-free
Gluten-free
Vegan
Cons
Smudges easily
Fades quickly
The Radiant Professional Makeup Softline Eye Pencil has a regular sharpenable tip at one end and a smudger at the other end. This versatile liner is fade-proof, waterproof, and lasts all day. It glides smoothly onto your eyelids and delivers a richly pigmented color. This eye pencil is available in a wide variety of shades – from classic dark browns and blacks to bold blues and purples.
Pros
Long-lasting
Waterproof
Fade-proof
Easy to use
Double-ended design
Ophthalmologist-tested
Cons
The BaeBlue Organic Gel Eyeliner Pot has a super creamy formula and delivers maximum color with ease. The natural oils in the formula repel sweat and water effectively. This blendable and smudge-free eyeliner is non-irritating and gives an intense look to the eyes. It is richly pigmented and helps you nail various eye makeup looks with ease.
Pros
Non-irritating
Waterproof
Sweat-resistant
Smudge-free
Hypoallergenic
Synthetic fragrance-free
Gluten-free
Preservative-free
Vegan
Cruelty-free
Cons
These eyeliners can help you achieve perfectly defined eyes. But before you get one, read the section below to find out what to look for.
Things To Consider Before Buying A Natural Or Organic Eyeliner
The first and most important thing that you want to decide is the shade of your eyeliner. You can choose a good old black liner for everyday use. If you want your eyes to really stand out on special occasions, you can go for shades like green, gray, blue, etc.
You also need to consider the thickness of your eyeliner. If you want a bolder look, choose an eyeliner with a thick tip. For a thinner application or winged looks, go for liners with sharper tips.
If you use eyeliner regularly, drawing a precise and straight line is probably something you have managed to master by now. But if you are a beginner, the best way to start with is using a pencil liner or a felt tip liner, as they give more precision and stability. If you have a steady hand or better experience, a liquid liner works wonders.
The duration for which your eyeliner lasts depends on the formula. Make sure it is waterproof, smudge-proof, and flake-free.
Choose a formula with ingredients like jojoba oil, coconut oil, or vitamin E to moisturize and fortify your skin along the process. Also, look out for ingredients that you are allergic to.
Why Trust StyleCraze?
The author Baishali Bhattacharya is a skin care enthusiast certified in makeup artistry. She keeps an updated check on many makeup products and always hand-picks the best for the readers. The curated list of best natural eyeliners was compiled after extensive research and reading through many consumer reviews on trusted platforms. These natural eyeliners complete your look, and the best part is that they are non-toxic!
Frequently Asked Questions
Is it bad to sleep with one's eyeliner on?
Yes, it is! No matter what kind of makeup you are wearing, it is important to wash it off before you go to sleep. Sleeping with your eyeliner can cause allergies and irritation, and there are high chances that the eyeliner particles may accidentally enter your eyes.
Is it okay to apply eyeliner every day?
Yes, it is okay to apply good-quality eyeliner every day. However, wash it off with a makeup remover at the end of the day.
Is an eyeliner pencil or liquid better?
Both of them are great on their unique terms. Eye pencils are easy to use and great for regular usage. On the other hand, liquid eyeliners glide easily and offer great precision.
How long does natural eyeliner last?
A natural eyeliner can last eight to ten hours. They may last longer, depending on your lifestyle.
What is natural eyeliner made of?
The key ingredients in a natural eyeliner include lanolin, castor oil, and mineral pigments. Some eyeliners also include waxes and activated charcoal or cocoa powder.
What ingredients to avoid in natural eyeliner?
Avoid parabens, aluminum powder, retinyl acetate, and titanium dioxide in natural eyeliners. Also, try to avoid products with formaldehyde since it irritates the skin.
How to apply natural eyeliner ?
Create a line closer to your upper lashes and build on it for a fuller look. You may gently make a wing if you prefer. Use short strokes to cover the areas with your eyeliner that you may have missed on the first go.
How to remove natural eyeliner?
Remove nail eyeliner with a cotton swab and coconut or olive oils. Dissolve the liner and wipe it while rubbing the oil on your delicate skin. Keep repeating the process until the entire liner is removed.
Recommended Articles