13 Best Japanese Eyeliners With Reviews & Buying Guide
Nourish your eyes and wing your eye makeup with these smudge-proof eyeliners.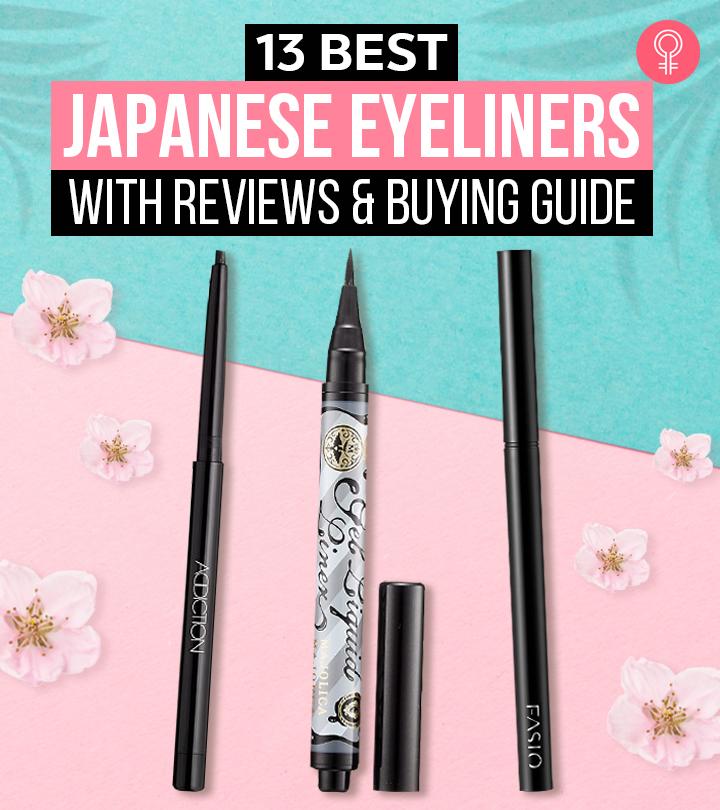 Owning the best Japanese eyeliner can help you achieve the dream of wearing flawless eye makeup. Beauty trends keep shifting, and now the times have to shift from K-beauty to J-beauty. What we love best about these eyeliners is, they not only make the finishing absolutely flawless, but they also contain nourishing ingredients that aid in making your eye feel healthy. The intense pigments make sure your eyes stay in focus always. Here is a list of the 13 most popular eyeliners taking the industry by storm.
Best Japanese Eyeliners To Buy In 2022
The KISSME HEROINE MAKE is a smooth liquid eyeliner of luxury quality. It helps you perfect a winged eyeliner to create a dramatic cat-eye look. The ultra-fine brush allows smooth strokes and fine lash lines. The eyeliner is easy to use and can be removed with lukewarm water. This video review will help you understand more about the product.
Pros
Ultra-fine brush
Easy to use
Smudge-proof
Affordable
Waterproof
Sweat- and tear-resistant
Cons
Price at the time of publication: $13.58
The CANMAKE Creamy Touch Liner is a super-soft, super-smooth liquid eyeliner. The ultra-smooth tip glides on your eyelids effortlessly. The low drag 1.5 mm hyper-slim tip feels soft on the eyelids and makes drawing eyeliner wings or ultra-fine lines or filling gaps on your lash line a breeze. This eyeliner is highly pigmented and gives you bold and richly pigmented lines with a single application. It lasts all day and does not budge despite rubbing. The waterproof formula lasts through sweat, sebum, and tears.
Pros
Twist-up design
Ultra-soft
Glides smoothly
Highly pigmented
Lasts all day
Waterproof formula
Smudge-free
Cons
Price at the time of publication: $10.0
The DUP Super Fit Gel Eyeliner has a smooth and soft texture for easy application. The superfine 2mm tip helps you create precise thick and thin lines easily. It is quick- drying and lasts all day without smudging or wearing off. This eyeliner has a special polymer blend that prevents rubbing and bleeding. It is resistant to water, sweat, tears, and sebum and lasts for almost 24 hours. It can be easily removed with a makeup remover and does not leave any stains or residue. You can also wash it off with a face wash.
Pros
Quick-drying
Long-lasting
Waterproof
Sweat-resistant
Smudge-proof
Does not leave a color stain after cleaning
Cons
None
The Fasio Powerful Stay Gel Liner is a sleek gel eyeliner stick. The soft and smooth formula helps you fill in the waterline and the lash line and the gaps around the edges with precision. It dries and settles quickly and does not smudge even when rubbed, which makes it ideal for oily skin. This waterproof eyeliner lasts long and has a quick and easy twist-up design with a sharp tip for thin and precise application.
Pros
Easy twist-up design
Waterproof
Smudge-proof
Cons
Leaves stains after cleaning
Melts in extreme heat
Price at the time of publication: $29.6
The Integrated Snipe Gel Liner by Shiseido has an ultra-fine tip that helps you create thick and bold lines. This gel liner stays on throughout the day without fading or smudging. It is highly pigmented and helps you create a variety of eye makeup looks effortlessly. The fine tip also helps you fill the gaps around the lash line and draw effortlessly along your waterline.
Pros
Long-lasting
Does not fade
Smudge-proof
Highly pigmented
Cons
Price at the time of publication: $31.59
This Real Lasting Eyeliner claims to last for 24-hours and is sweat-proof, water-proof, and sebum-proof. The formula has water-resistant polymers that adhere to your skin for a long-lasting effect. It comes with a fine tip to offer an easy application for a natural-looking inner line. This eyeliner is available in dark brown, black, super black, and natural brown shades. It has an adjustable dispense system ensuring an easy control over the required flow of the liquid.
Pros
Quick-drying
Long-lasting
Easy to use
Fine tip
Cons
Price at the time of publication: $18.98
If you want a dramatic look, go for the Kate Smooth Eyeliner Pencil. This Japanese eyeliner is sure to make your eyes pop with its buildable formula and precise application. It lasts long and does not smudge or melt easily. The easy-to-remove formula comes off instantly with a cleanser or makeup remover and does not leave any stains behind. The pointy tip ensures that you can fill in the gap between your lash lines easily and seamlessly. Take a look at this video to know more about the product.
Pros
Highly pigmented
Hassle-free removal
Buildable formula
Long-lasting
Does not smudge or melt
Cons
Price at the time of publication: $18.99
This liquid Heroine Make Eyeliner features a fine tip of 0.1mm for precise application and makes your eyes appear impressive. Its super-keep polymers make it smudge-proof, resistant to water and sweat, and ideal for oily skin. It glides smoothly to create a sharp cat-eye or a winged look to make your eyes dramatic for every occasion. This eyeliner is available in the shades of jet black, bitter brown, and brown-black. Moreover, it also has collagen, rosehip extract, and hyaluronic acid for a nourishing effect.
Pros
Waterproof
Does not fade
Easy to use
Convenient ultra-fine tip
Easy to remove
Contains nourishing ingredients
Cons
None
Price at the time of publication: $13.58
The D-UP Silky Liquid Eyeliner is specially formulated with polymers to provide instant coating. It is resistant to tears, water, and sebum. It comes with a 0.1 mm brush offering the flexibility to apply thick or thin lines. Additionally, the eyeliner comes with pigments that won't stain or leave a residue. This eyeliner is available in deepest black, bitter chocolate black, warm mocha brown, and peach brown. It offers a mess-free application with a fast-drying feature.
Pros
Ultra-fine tip
Quick-drying
Easy application
Smudge-proof
Easy to control
Easy to remove
Cons
Price at the time of publication: $22
The Kanebo KATE Rare Fit Gel Pencil contains anti-melting rare gels that help it last all day. It offers vivid pigmentation even with light strokes. The 1.5 mm micro-tip helps you draw smooth and precise lines. This ultra-soft eyeliner glides easily, lasts long, and does not crack or melt. It is resistant to sweat, water, sebum, and tears. It dries quickly after application and does not move or smear throughout the day.
Pros
Long-lasting
Waterproof formula
Smudge-proof
Highly pigmented
Easy to apply
Easy to remove
Resistant to sweat, sebum, scuff, and tears
Cons
Price at the time of publication: $19.0
The Shu Uemura Calligraphink liquid eyeliner helps create thick lines around the eyelids to give them a perfect shape. Its Asian calligraphy-inspired brush makes the application smooth and effortless. It creates very emphasized eyes and enhances the look. The color of the eyeliner is deep black and offers an intense color payoff.
Pros
Dermatologist tested
Waterproof
Easy to use
Cons
None
The MSH Loveliner liquid eyeliner is a new formula that stays fresh even after several hours of application. It is easy to draw thin lines and achieve perfect definition for the eyes with it. The eyeliner does not fade or bleed with sweat or tears. In addition, it can be easily removed.
Pros
Long-lasting
Waterproof
Easy to remove
Smudge-proof
Cons
The highly pigmented Flowfushi UZU Eye Opening Liner gives your eyes a bold and precise shape. The dye-free formula leaves no residue nor stains your skin. It comes with a fine tip smooth brush that glides smoothly without creating clumps for an even and defined line. It provides good coverage and is waterproof. Moreover, this eyeliner comes in an octagonal shape for a precise grip.
Pros
Hypoallergenic
Vegan
Cruelty-free
Gluten-free
Sulfate-free
Phthalate-free
Cons
Product dries out quickly in the bottle
Price at the time of publication: $18.58
If you are planning to buy a Japanese eyeliner, you should consider four major factors to ensure it is a worthy investment.
How To Choose The Best Japanese Eyeliner – Buying Guide
1. Finish
While we all love experimenting with various formulas – from liquid liners to gel liners – always ensure you pick one that gives you a natural finish. You do not want the liner to be bumpy or offer an uneven finish. Check if the liner glides smoothly and offers soft and even application without the need to redraw over the line again and again. You must be able to fill in all the lash line gaps in one stroke. Make sure the texture is not sticky or ultra-creamy so that it does not wear off and end up giving you panda eyes.
2. Color Options
You don't have to settle for the regular black shade. Having options in various colors gives you the space to explore and experiment with various makeup looks. Black or brown are considered the most common colors, as they tend to make your eyes look sharper, bold, and add a natural softness. Try other gorgeous eyeliner colors like pink, blue, purple, or green that will surely add a pop of color to your personality and let your eyes do the talking.
3. Long-lasting And Smudge-free
Unlike lipstick or powder, you do not wish to constantly touch-up your eyeliner. If you sweat easily or have to work under heat or find the need to splash some water on your face often, go for an eyeliner that can last through all of this. The formula should be waterproof, smudge-proof, and not melt away with tears or sebum.
4. Easy Removal
As the eyes or eyelids have extremely delicate skin, you cannot have a liner that needs vigorous rubbing for removal. Find an eyeliner that washes off easily with a cleanser, a makeup remover, or oils. Also, make sure it does not leave color residue or stains after removal.
The above-mentioned best Japanese eyeliners are all you need in your makeup vanity. They are waterproof, smudge-proof, and have raving reviews all over the internet. Pick one that fits all your requirements and helps you explore various makeup looks. Happy shopping!
Why Trust StyleCraze?
Baishali Bhattacharya, who authored this article, is certified in makeup techniques. To assist her readers in buying the best Japanese eyeliners, she tried some herself and read various product reviews. The insights she gained helped her compile a list of the most impactful and best-rated Japanese eyeliners. These products are highly pigmented, and they will give you a flawless finish.
Frequently Asked Questions
How many types of eyeliner are there?
There are four major types of eyeliners:
•  Gel eyeliner
•  Pencil eyeliner
•  Liquid eyeliner
•  Pen eyeliner/Felt tip eyeliner
What happens if I get eyeliner in my eye?
It causes redness and irritation and may sting or itch. For some sensitive eyes, it may lead to infections.
Can I wear eyeliner on the bottom lid?
Yes, you can wear eyeliner on the bottom lid but applying heavy lines or dark colors on the bottom lid makes your eyes look smaller.
Is it safe to put makeup on your waterline?
Applying eyeliner on the waterline or tightlining is not recommended as it may block the glands responsible for keeping your eyes lubricated and cause irritation and dry eyes.
How do you take off eyeliner?
Opt for a makeup remover suitable for your eyeliner formulation. For example, use an oil-based makeup remover for waterproof eyeliner. Soak a cotton pad with makeup remover and gently press against the liner to wipe it off. You may also use micellar water, coconut oil, or olive oil.
Recommended Articles