8 Best Heated Pants Of 2023 Worth Checking Out
Comfortable and breathable clothing to help you keep warm during the winter season.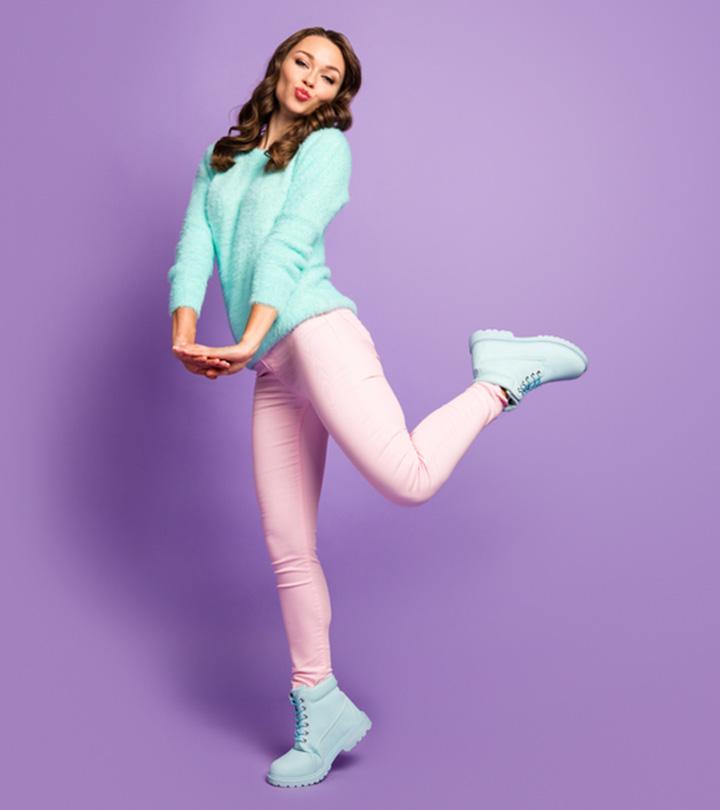 Chilly winds can be unforgiving on the legs, especially if you are into winter sports and hobbies. And no, those oversized down jackets, thermal leggings, or baseliners may sometimes not be enough. Which is why this season, you must try electric heated pants. Wear them over your regular denim, sweatpants, or alone, with the electric heated pants on you, you'll never have to worry about freezing legs! Now, if you never tried one before, here's a quick brief on why you totally need to have one in your wardrobe this winter!
What Are Heated Pants And How Do They Help?
Heated pants are heated apparel to keep legs cozy and toasty warm, and they also offer the liberty to choose between multiple temperatures for optimal comfort and convenience. With heating elements insulated in the fabric, they are a fantastic choice to block out the frigid winds that may interrupt and hinder your fun-filled outdoor winter activities. Be it snowboarding, motorcycling, hiking, skiing, and other daunting sports, with the best heat pants on, you don't have to slow down to warm up!
And to let you in on a secret, some of them are so comfortable and warm you'd want to lounge in them all day. So wait no more! Check out our list of the 8 best heated pants of 2023 to stay warm and cozy this winter.
8 Best Heated Pants For Winter Hobbies And Sports
Let's keep the chilly winds out, shall we? These 5V heated pants with 3 adjustable settings will keep your legs toasty warm during all outdoor snow activities. The fabric is a soft cotton-spandex blend insulated with 8 enhanced heating pads. These pads are high-quality carbon fiber and TPU heating sheets, which are USB-powered. Besides keeping your body warm when the temperature drops, they stimulate blood circulation and reduce muscle stiffness, making them great for all age groups. And despite the heating pads, FERNIDA heated pants are incredibly lightweight and have a drawstring closure for a customized snug fit. Check out this video review to get a clearer idea.
Pros
Optimal heating
Ergonomic design
Maximum coverage
Machine washable
2 side pockets for convenience
Cons
Slightly bulky
Power bank not included
Price at the time of publication: $79.99
The Venustas Heater Thermal Underwear Pants offer an added layer of advanced insulation to keep the legs warm. These activewear pants are equipped with a graphene heating system that offers instant heat. The four graphene heating panels cover the abdomen, back waist, and left and right knee. Graphene is a thin and flexible material, which provides a snug fit without bulky areas. The three heating levels (low, medium, and high), ensure the temperature can be adjusted to personal requirements. These are portable and come with a 5V 10,000mAh safety-certified lithium battery pack, which provides 11 hours of warmth on low heat and four hours on high heating settings. They are made of knitted cotton and polyester lining with moisture-wicking properties and come with adjustable heating levels to keep the skin dry and comfortable.
Pros
Machine washable
Pull over closure
Snug fit
Adjustable heating
Skin-friendly fabric
Durable
1-year warranty on battery
Cons
Price at the time of publication: $99.99
The therapeutic benefits of these pants will make your winter warm and cozy. With 3 heating pads to improve blood circulation and reduce muscle stiffness, they're great for early and late winter. Wear them underneath your sweatpants or on their own; they have 3 adjustable levels of heat control and a temperature range from 38-50 degrees to meet all your warming needs. The pants are made of soft polyester, cotton, and elastane material insulated with physiotherapy-grade micro-carbon fiber. Safe, skin-friendly, and great for reducing joint aches, mild lumbago, backache, and more, add this outdoor gear to your winter collection this season.
Pros
Snug fit
Breathable
Lightweight
Maximum comfort
Heating for up to 6 hours
Cons
No heating pads on the backside
May not be suitable for harsh winter or snow activities
Price at the time of publication: $61.99
Thrill-seekers, trust these battery powered heated pants to keep you warm on all your snow adventures. Whether snowboarding or motorcycling in harsh winter, this warming pair has tri-zone heating pads in the rear and knee areas for optimal heating up to 4.5 hours (on low setting). A slim-fit design that you can wear as a base layer without feeling stuffed, the polyester-fabric material is lightweight and flexible. This cold weather gear also comes with a 6000 mAh battery and 5V power bank. Plus, the pants utilize ActionWave heat reflective technology and advanced infrared heating to regulate the temperature and keep you warm.
Pros
Ultra-comfy
Heats up to 130F
Touch-friendly button
3 adjustable heat settings
USB charging kit included
Cons
Battery life may not be ideal for hiking or long trips.
Price at the time of publication: $119.99
Are you avoiding the outdoors due to the frigid air? You don't have to with these heated pants for motorcycle and outdoor activities! Powered by a 12V electric system, the pants are designed for riders and adventurers to survive the chilly winds on the road. Made of nylon shell and taffeta lining, it uses advanced microwire technology wherein micro steel fibers are intertwined in waterproof fabric to balance warmth and comfort. And unlike other pants, it has an interconnected heat system, which means you can connect these pants with your gloves or jacket for an optimal heating experience.
Pros
Windproof
Waterproof
Lightweight
4 heating pads (hips and knees)
Available in plus sizes
Compatible with vehicle heating system
Cons
Price at the time of publication: $199.99
Going for a run or lounging in winter will hit different if you have these thermal pants under your regular activewear or sweatpants. With stretchable carbon fiber heating elements in ultra-soft fleece fabric, the brand ensures no bulky feeling whatsoever. And more importantly, it guarantees heating for up to 6 hours! The temperature-controlled pants also have an elastic closure for a snug fit, a utility zipper pocket, 3 adjustable heat settings, and an easy-access temperature button to balance comfort, convenience, and warmth in one.
Pros
UL-certified
TSA-approved
Heat-resistant
Machine-washable
Optimal heating system
Power kit with charger included
Cons
Not suitable for harsh winters
Price at the time of publication: $159
With heating up to 8 hours, hiking or adventures in these pants will be incredibly ultra-cozy and warm! Yep, no more panicking when the power runs out; these pants made of soft and high-elastic cashmere will keep you comfortable, just like your winter blanket. Powered by a 10000mAh battery and featuring 3 adjustable temperature settings, the heating ranges from 38-50 degrees. What is more? It has 3 heating pads strategically placed in the abdomen and knee areas for optimal heating.
Pros
Lightweight
Moisture-wicking
Machine washable
Internal power supply interface
Available in plus sizes
Cons
Price at the time of publication: $59.99
When it comes to functionality and performance, these battery operated heated pants will not disappoint. A pair you can trust for comfort and warmth, you can wear them while traveling, on adventures, business trips, and even daunting sports activities. These heated trousers have 3 adjustable heat settings for optimal heating and can deliver up to 45 degrees heating with the insulated carbon fiber heating elements. Regarding the fabric, this piece of winter sports clothing is abrasion-resistant and made of a polyester-cotton-elastane blend for a comfortable and non-stuffy experience. And besides comfort, it'll also reduce muscle stiffness, improve blood circulation, relieve joint pain, and more.
Pros
Lightweight
Breathable
Fast-heating
Moisture-wicking
3 heating pads
Cons
Battery not included
Not machine washable
Price at the time of publication: $39.99
Welcome winter in the warmest way this 2023! There you go, those were the 8 best heated pants to keep your legs warm and comfortable in winter. If you still need assistance choosing the best women's heated pants, you must check out our buying guide below for exclusive shopping tips!
How To Choose The Best Heated Pants?
Buying thermal wear online can be tricky because you never know whether it will turn out too snug or bulky. So, to be sure, check the sizing chart if you are trying out a new brand. You can also check the comments to figure if you need to size up or down or if they are true-to-size pants.
Breathable thermal clothes deliver the best experience because they offer high mobility and keep the body relaxed and comfortable. Ideally, warm pants made of cotton are more comfortable compared to polyester, which is comparatively more breathable.
Know what is heating your pants! Most heated pants on the market have a carbon fiber heating element insulated in the fabric to offer optimal heating. Besides this, check if the material is wind and water-resistant for the best experience on an adventure.
Heated pants are available with 2 types of power sources. One of them is a rechargeable USB cable power source, which is more common and travel-friendly. The other is built-in connectivity for an electrical source such as the power system on your motorbike or vehicle. So, check before you buy to avoid ending up with the wrong power source.
Lastly, maintenance for these heated pants needs attention too. Not all electric pants are machine washable, and some may require extra care during hand washing. So, to avoid damages, check the washing instructions and whether it is feasible for you before buying.
Why Trust StyleCraze?
The author of this article, Shreya Vishwanathan, is an enthusiast of all things health and wellness. She widely researched various heated pants available on the market, keeping in mind safety, design, efficiency, and comfort as the key parameters. She also extensively checked user reviews to understand the user experience with the products. The products on this list are excellently designed and offer the liberty to choose between multiple temperatures for optimal comfort and convenience.
Frequently Asked Questions
Is heated clothing bad for you?
No, they are not. They are safe for you as they will keep the body warm and also aid in improving blood circulation, reducing muscle stiffness, joint pain, and more.
How to wash heated pants?
Most heated pants come with washing instructions. If machine-washable, disconnect and remove the batteries, put them in a mesh bag, and wash on a gentle and cold cycle. Do not wring or twist the pants and let them air dry to prevent damage.
How long will my heated pants last?
It depends on how well you care and maintain the pants. For the best experience, avoid frequent washing. Some pants or their heating elements may get damaged if folded or washed frequently. You should also avoid wringing your pants after washing.
What are the benefits of wearing heated pants?
Heated pads warm up your legs and fend off the cold winds. They also improve the blood circulation of your muscles and strengthen the joints.
What temperature levels do heated ski pants offer?
Usually heated ski pants come in three heating levels.
• Low: 40-45℃
• Medium: 45-50℃
• High: 50-55℃
Where are the batteries placed, and what batteries are used?
The batteries are located inside the pockets of heated pants. Rechargeable lithium-ion batteries are used.
Which part of the pants is heated?
The pants' knee area, waist, abdomen, thighs, and lower back sections get heated up.
What material is used in the heated ski pants?
Heated ski pants are made of fleece lining, cotton, or spandex materials, as they absorb heat easily.
How do heated pants work?
Heated pants have thin wires built inside the fabric. As soon as a low electric charge passes through them, your legs feel warm.