8 Best Hair Dryer Bags In 2023
Travel the world all while flaunting stunning hairstyles with your styling tools.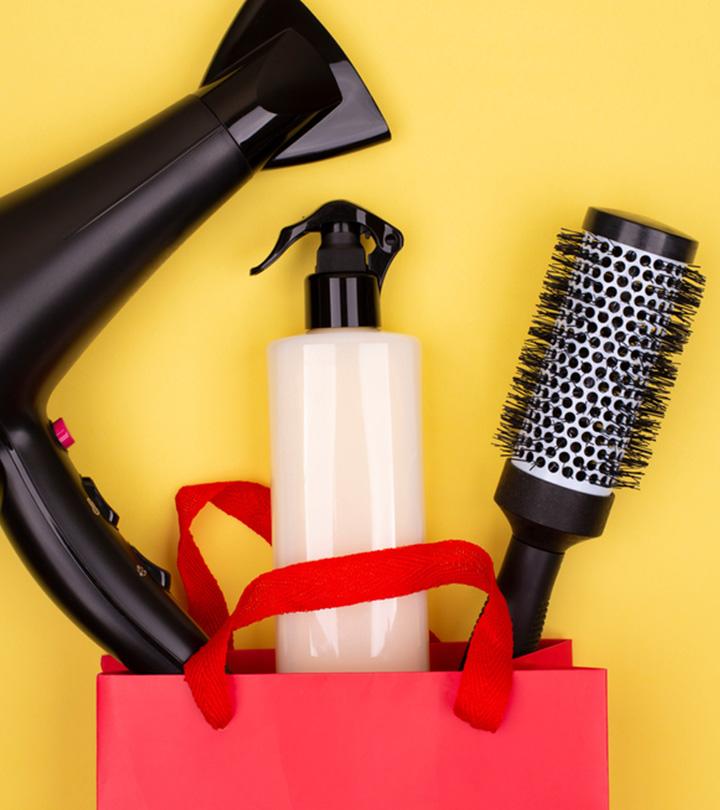 A hairdryer bag is a great accessory to your greenroom that allows you to carry your hairdryer smoothly without damaging the equipment or anything in the surrounding area. In reality, folding your hairdryer, wrapping the cable around it, and stuffing it in your bag is a messy business. But if you have the best hair dryer bag, it will keep everything organized, protect the cable of your hairdryer, and prevent scratches. You can also use this hair dryer bag to store the hairdryer safely at your home, especially if you have kids around. You can also use this bag as a hair tool organizer as well.
In this article, you can check out the 8 best hair dryer bags that will keep your desktop neat and your hairdryer safe. They are durable and perfectly travel-friendly. Scroll down and check them out!
Why You Need A Hair Dryer Bag
Saves space: Keeping a hair dryer in the bag will save plenty of space as it will avoid tangled or unwrapped cord situations. While traveling, your belongings may shift from its place and get tangled to the dryer's cord or your neatly organized dressing table may get messed up with one sweep of the cord. To prevent such incidents, you can store your hair dryer in a hair dryer bag.
Scratch protection: When you put your dryer in your luggage with other items, there are high chances of scratches due to friction between the appliance and the other belongings. A hair dryer bag protects your dryer and stores it safely without a single scratch.
Shock protection: The hair dryer bag offers protection against shock and makes your traveling safe and secure. Whether the dryer is shuffling too much in the suitcase or pressing firmly on another device, this bag will provide shock protection in any situation.
Now that you know why you need a hair dryer bag, it's time to check out our list of 8 best hair dryer bags and get one for yourself.
Top 8 Best Hair Dryer Bags For Holding Hair Dryer
Looking for a classic travel bag for your hair dryer? Then get this hair dryer bag that has a storage space of 12 x 12 inches, which helps keep your styling iron or blow dryer in one place. This beige eco-friendly bag is made of premium quality natural cotton boasting a Twill Weaving feature that makes it heavy-duty. You can machine-wash this hair dryer bag without worrying about wear and tear or lint transfer to your other clothes. Also, your styling accessories will be safe and secure inside this bag, thanks to its strong drawstrings that also gives you easy and quick access to your hair dryer.
Pros
Durable
Affordable
Supports reasonable weight
Great drying power after wash
Cons
May take time to get rid of the unpleasant smell initially
Price at the time of publication: $9.9
Get this hair dryer bag that is a perfect storage organizer featuring an internal compartment for your styling accessories such as blow dryer, styling iron, hair brush, etc. This bag looks elegant and amps up your dresser at home and is also ideal for use while traveling. You can now easily find your dryer without worrying about detangling the cords and separating other items wrapped around it. It will keep your drawers and dressing table space mess-free since your dryer will be stored in this black bag and secured with the no-fraying drawstrings. Also, it protects your styling tools from lint, dust, or other damage.
Pros
Durable
Strong-built
Multifunctional
Machine-washable
Made of 100% cotton
Cons
The drawstrings might slightly loosen up sometimes.
Price at the time of publication: $9.99
Worried about tangled cords messing up your clothes in the suitcase during travel? Go for this hair dryer bag that will keep your dryer secure inside it with its drawstrings and will not let the cord come in contact with your clothes or any other item in your luggage. With ample storage space, this bag can hold a blow dryer, styling iron, or a straightener along with a hair brush, styling hairpins, and bands. You can carry this stylish hair dryer carry-on bag inside your suitcase, in your small handbag, or hold it separately. This gray travel bag will also look perfect on your dressing table at home or hotel rooms. 
Pros
High-quality
Easily washable
Value for money
Provides shock protection
Cons
The drawstrings might not be durable.
Price at the time of publication: $48.95
Want to keep your Dyson hair dryer in your luggage safely? Well, then this hair dryer bag is perfect for you! This high-quality bag keeps your styling tool safe and secures it neatly with its magnetic flip design. With a PU leather exterior and flannel interior, this silver bag is highly durable. With a super sealability feature, this hair dryer bag does not let moisture in, even in a humid climate. This way, your appliances are protected from environmental damages. With a useful internal compartment, this dryer bag can easily hold one hair dryer and two nozzles along with a small hair brush and styling pins.
Pros
Anti-drop feature
Lightweight
Shockproof
Scratch-resistant
Bumper absorption
Cons
Price at the time of publication: $11.99
Get this simple-looking travel-friendly hair dryer bag that will protect your dryer from scratches or shock when kept in your luggage. Also, keeping your hair styling tools in a secure bag lends you extra space while packing your suitcase. Using this hair dryer bag will prevent cord from getting tangled. While it is perfect for traveling, you can also use it at home or in guest rooms as it will offer your dressing counter a tidy and elegant look. It is made of 70% cotton and 30% linen, making it easily washable if stained. This bag is quite spacious to store other small styling accessories as well.
Pros
Durable
Affordable
Reusable
Great drying power
Comes with drawstring opening
Cons
May have an odd smell initially
Price at the time of publication: $8.99
Opt for this elegant-looking velvet hair dryer bag that will help you carry your dryer and other styling appliances with you hassle-free. It provides scratch and shock protection, while also giving you enough space in your travel baggage to store other items. You can use it to keep your blow dryer, flat iron, curling iron, or straightener. This multi-use bag will keep the appliance secure locked with the help of drawstrings. Though it is made of velvet material, you can wash it easily if it gets dirty. This hair dryer bag is a good travel bag; however, it will also look perfect on your dresser at home.
Pros
High-quality
Long-lasting
Lightweight
Value for money
Suitable for everyday use
Cons
May not be dry fast after wash
Price at the time of publication: $9.99
Too many hair appliances to carry on travel? Then this set of 3 hair dryer bags are perfect for you! These thick, soft velvet bags can protect your styling iron, blow dryer, and curlers. Using the drawstrings, you can fasten the bags so you don't have to worry about the appliances falling out. Also, the material makes these bags super soft and protects the hair styling tools from scratches or moisture. These black pouches look stylish and have multiple uses such as to store cameras, beach clothes, hair brushes, and other cosmetic items. Plus, you can machine-wash and reuse them.
Pros
Budget-friendly
Odorless material
Collision-resistant
Great drying power
Cons
Price at the time of publication: $21.99
Prevent your hair dryer and other styling tools from falling out from your luggage with this hair dryer bag that will secure them well with its sturdy and long drawstrings. With a stylish checkered design, this bag is soft yet durable, thanks to its linen-cotton material. Also, the material makes the hair dryer bag easily washable and has excellent drying power. You can now safely carry your blow dryer, styling iron, and even hair brushes without stressing about dust, scratches, or lint transfer. Keeping your hair appliance in this bag will also offer plenty of space for you to store your other items and will not make your packing messy due to tangled cords.
Pros
Reusable
Affordable
Shock-proof
Multi-purpose
Ideal for everyday use
Cons
May not be tear and wear-resistant
Price at the time of publication: $10.4
To make the right decision, you might want to look at our buying guide to choose the right hair dryer bag.
How To Choose Hair Dryer Bags
Lock system: Make sure that your hair dryer bag has a lock or closure system. It could be a drawstring, zipper, or button lock. The right hair dryer bag must have a fastener so that your dryer or any appliance and products do not fall off from the bag.
Durable: Pick a hair dryer bag made of durable material. You do not want the bag to tear when you are traveling.
Washable: Most of these hair dryer bags are created from cloth and can be washable. It will be convenient for you if you choose a hair dryer bag that is machine-washable, as they can be reused and last for long.
Storage space: Opt for bags that have enough storage space to keep your dryer along with other hair appliances and hair brushes. This way, all the hair-related items will be in one bag, making it mess-free and easy to find.
Why Trust Stylecraze?
The author of this article, Kirtana Divakar, is a hair care enthusiast who loves reviewing different products for her readers. She carefully read online reviews of the best hair dryer bags and researched them in detail before curating this list. The products help protect the cable of your hairdryer and prevent scratches. Not only are these hair dryer bags budget-friendly and durable, but they are also easily washable and strong-built with enough space for all your hair drying essentials.
Frequently Asked Questions
Can we take the hair dryer in the check-in and carry-on bag?
Yes, you can take your hair dryer in the check-in baggage.
How do you make a hair dryer bag?
Cut the fabric into rectangular pieces according to the size of your hair-drying appliance. Make sure that there is an extra 2-inches all around the fabric. Sew the side seams of the fabric and leave one side open. Next, sew a zipper on the open side to make a fixed enclosure. Viola, your DIY hair dryer bag is done.
What are the materials used in hair dryer storage bags?
Use a durable fabric, preferably heavy-duty cotton, and a zipper, velcro, or drawstring. You can also go for designs and patterns that would add some personality to the bag.
Do you carry a hair dryer in your purse?
Yes, if your hair dryer is of small size, you can carry it inside your purse. However, using a hair dryer bag is preferred to keep the appliance safe.
How do you wall mount a hair dryer bag?
Hang the hair dryer bag safely on a wall. You can also use wall-mounted storage racks to store the hair dryer bag.
Recommended Articles