13 Best Bathrobes For College Students To Stay Snug In – 2023
Come out of the shower in these super comfy robes and enjoy its warm embrace.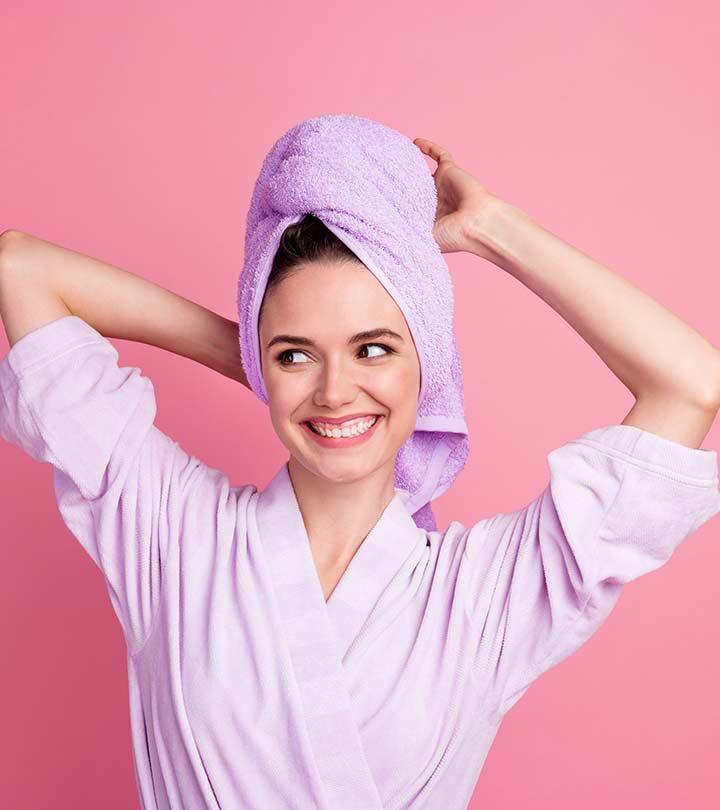 Let's get one thing clear – bathrobes are no longer just after-shower apparel. So, for students who change between pajamas and bathrobes, have you checked out the best bathrobes for college students? These are so snug and cozy that you will want to live in them forever for the comfort they offer. These robes are absolutely great clothing items to wear in the comfort of your privacy at home or give your dorm life a luxurious vibe.
Although primarily meant for post-shower drying, bathrobes double up as good loungewear too! They are available in various comfortable materials like cotton, silk, and fleece for all seasons. They are soft, and some even have pockets to place your hands for comfort. So, students, if you are thinking of ditching those pants and tops at home and have a lazy, comfortable day, check out the list of the bestselling bathrobes for college students available in the market right now. Go ahead and grab one for yourself!
13 Best Bathrobes For College Students To Use In 2023
The Vera Bradley Fleece robe is made of 100% polyester. This flannel robe features an adjustable belt that you can tie up to match your comfort level. This fleece cozy robe is suitable for lazy relaxing days and weekend mornings. Reviewers love that the robe contains two pockets where you can keep your essentials safe or can simply slide in your hands for a warm feeling. This robe is available in 6 trendy attractive prints and a size range of small to 3X-Large.
Pros
Machine washable
Comfortable
Belted
Soft
Affordable
Ideal for gifting
Many size options
Cons
None

Lounge around your house with this plush robe, the Alexander Del Rossa Women's Bathrobe. This thick and furry bathrobe keeps you warm from head to heels as it comes with a hood. Made from velveteen fleece, comfort is guaranteed with the use of this visually pleasing purple and green striped, long college bathrobe. It comes with adjustable tie closures on the inside and outside for a super-secure wrapping and perfect fit. With 2 kindle-sized pockets that are large enough to hold a phone and other items, this plush microfiber bathrobe is machine wash friendly and makes for a great gift too!
Pros
Inner and outer tie closure
Easy care
Warm and plush
Machine washable
2 large pockets
Comes with a hood
Cons
Make comfort your bae with the U2SKIIN Women's Bathrobe. Made from natural breathable materials, this skin-friendly robe makes for a comfortable all-day wear on a lazy day. The 3D stereo cutting of this kimono robe provides an optimal fit that makes you look elegant. It comes with an adjustable tie closure and 2 pockets that can fit small items of necessity. This lightweight black cotton robe for college is suitable to be washed in the machine.
Pros
Adjustable tie closure
Made from black cotton
2 pockets
Lightweight
Machine washable
Cons
The robe might shrink after washing.
Turn on your relaxation mode with the campus style MAXMODA Women's Kimono Bathrobe. With ¾th sleeves, this mid-calf length kimono bathrobe is ideal for all day wear. It comes with tie closures inside and outside to ensure that the robe is secured properly. The provision of 2 pockets allows the user to carry around small items like phone, keys, earphones, etc. This long knit, lightweight robe is machine washable and makes for a good bathrobe for college students as well as an ideal gifting option.
Pros
Inside-outside tie closure
Soft and comfy
2 pockets
Lightweight
Machine washable
Cons
The robe becomes static and clings to clothing upon washing.
Exchange your bath towel for this Sherpa Shaggy bathrobe for women from Pavilia which is fluffy, plush, and ultra-soft. The warm fleece robe is constructed with a waist strap for tie-up closure. It is long and ideal for cold days. This robe is designed with two side pockets to keep your essentials safe. Made with 100% microfiber polyester, this robe is lightweight and breathable. It has a shawl collar design that helps to keep your neck warm and protected. This elegant piece makes a great gift.
Pros
Breathable
Ideal for gifting
Tie-up closure
Lightweight
Anti-pilling
Available in 15 colors
Cons
The color may fade easily
This Kimono robe for women from Hotouch keeps you warm after a bath, so is ideal for lounging. Made with 95% rayon and 5% spandex, this robe is soft and slightly stretchy for optimal comfort. It is designed with a waist-front tie closure that offers it a relaxing yet elegant look. The lightweight robe features 3/4 sleeves and cozy side pockets that keep you warm. This sexy bathrobe is ideal for daily wear.
Pros
Ideal for gifting
Travel-friendly
Adjustable tie closure
Contains pockets
Comfortable
Cons
Sport this lightweight bathrobe from Turquaz Linen to stay relaxed all day at home. Made from a mix of polyester and organic cotton, this is an ideal choice of bathrobe for college dorms, homes, and spa. It has a waffle weave on the inside as well as outside and has 2 patch pockets on the front side. With a tailored collar, self-tie belt, and double stitching all-over, durability is guaranteed with this kimono robe. Moreover, it is easy to clean as it can be washed in the machine and tumble dried.
Pros
Waffle design
Long-lasting
Durable double stitching
Adjustable tie closure
Can be machine washed
2 front pockets
Cons
It tends to shrink upon washing.
The Amazon Essentials Women's Lightweight Waffle Full-length Robe Is made of cotton and polyester. It comprises long sleeves, and a tie closure at the waist. It also comes with two front-hand pockets. The cloth bathrobe is lightweight, soft, and breathable with a waffle knit design.
Pros
Breathable fabric
Functional pockets
Lightweight design
Available in plus sizes
Cons
None
The Sioro Women's Kimono Robe is made of 100% cotton that makes it a lightweight and comfy loungewear, ideal for comfortable study breaks. The three-quarter sleeves and V-neck design of the robe add to its overall elegance. The durable combed cotton fabric offers you spa-like comfort during cozy night-ins. This robe has a perfect length and a waist belt for tie-up closure that help you to manage your daily chores without causing any discomfort. You can also customize the fit of this bathrobe with the provided inner sash and lounge comfortably. Each robe is designed with two outer side pockets to keep your essentials like your phone and keys safe. Additionally, the robe features a hanger loop at the back neck area making these robes easy to hang and store.
Pros
Breathable
Skin-friendly
Machine washable
Fade-proof
Lint-proof
Has pockets
Easy to hang
Tie-up closure
Value for money
Cons
The TowelSelections Women's Robe is made of 100% cotton terry cloth- a factor that has garnered this bathrobe numerous positive reviews online! The kimono-style robe is ideal for after-bath wear or even for lounging at a pool. The highly absorbent robe is super soft that keeps you warm and dry. The kimono collar of the robe adds warmth to your body and conserves your body's heat. The two large front pockets of the robe allow you to keep your essentials safe while the tie-up belt helps you to adjust its tightness. Additionally, the robe is double-stitched which makes it highly durable.
Pros
Soft fabric
Absorbent material
Has an adjustable belt
Contains two large pockets
Practical design
Machine washable
Cons
None
The Alexander Del Rossa Bathrobes For Women are long hooded plush female bathrobes which are 2.5x thicker than average fleece robes. This lightweight option not only keeps you cozy and comfortable but also warmer on winter nights. This comes with a tie closure and big pockets to keep your belongings. The robes are available in regular as well as plus sizes. It also makes an ideal Christmas gift for women. The product needs machine wash.
Pros
Comfortable fabric
Lightweight design
Multifunctional pockets
Available in plus sizes
Cons
None
The Just Love Solid Kimono Robes For Women are designed with the finest ultra-soft material to provide extra comfort and warmth to your skin. The robes are suitable for all sizes and offer perfect fit. There is a tie closure attached to the robes. They come with a scalloped pattern and classic look to offer a sensuous appeal. These are machine-washable and retain their quality even after multiple washes. The robes can also be paired with lounge bottoms. They make an excellent present for roommates.
Pros
Lightweight design
High-quality material
Convenient tie closure
Offers snug fit
Available in plus sizes
Cons
None
The Richie House Women's Plush Soft Warm Fleece Bathrobe is a premium long robe for women, which can be used for both spa and at home. The material is soft and comfortable. The two deep front pockets are convenient to keep your things and also provide warmth to your hands. The robe has a hood and a tie closure. It is made of polyester which is warm enough to be worn in winter. The flannel fleece fabric and superior stitching of the robe make it an ideal gift for family and friends. You can surprise your mother, wife, or friends by gifting this extra soft and comfortable bathrobe. The product is available in different vibrant color options.
Pros
Lightweight design
Premium-quality material
Multifunctional pockets
Cons
None
*The prices provided in this article are based on the latest available information. However, they may vary due to changes in pricing by the seller and/or promotional offers.
A bathrobe is fast becoming a must-have apparel, considering the shifting of work and education from offline to online. This comfy loungewear lets you relax and feel snug and cozy while working, attending a lecture, enjoying a spa, watching a movie, cooking, or just lazing away doing nothing. But what if we say that you are literally spoilt for choices, considering the variety of bathrobes available to buy. Hey, don't you worry, because we have listed down some points to remember while going bathrobe shopping!
How To Choose The Ideal Bathrobe For Oneself
There are bathrobes available in different fabrics in the market, depending upon the need of the user. Cotton is the most trusted fabric for bathrobes, especially when you're using it for summer. Pair them up with your favorite PJs and you are set for a lazy day at home. Bathrobes made from flannel are comfortable and feel very soft on the skin and keep you snug and warm on a chilly day/night. Although wool is the first choice of fabric when it comes to a robe, mainly because of the warmth it lends, it feels heavy and is not very breathable.
Fleece is sourced from polyester and keeps the wearer warm, just like wool, but is lighter on the body and on the pocket. But fleece is prone to pilling if not washed and stored properly. If you are looking for a bathrobe to wear right after a shower, terry should be your choice as they are highly absorbent. But do not expect them to be lightweight as all the water absorbed makes them heavy. Finally, silk or satin are ideal for relaxed evenings and special occasions owing to the luxurious feel they provide. Lightweight and fluid, these will set the tone for you to unwind and relax.
Most bathrobes are 'One Size Fits Most'. But these seldom fit the user properly. Instead buying a bathrobe according to your size makes it fit perfectly.
One can find bathrobes in various lengths. Short, knee length robes are best for warm climates. Long robes help keep the user warm and cozy.
Some fabrics like wool, terry, etc. tend to become heavy and are not very breathable. Choose a robe that allows air flow and is lightweight to allow for a comfortable wear.
The presence of pockets is convenient to the wearer and helps to keep and carry around small items of necessity.
You can choose from varied designs like shawl collar, kimono style, waffle weave, etc. Added hood on the bathrobe makes for a cozy wear. Additionally, tie closure on the inside and outside of the robe helps keep it secure. Based on your stylistic evaluation, you can also personalize the bathrobes with embroidery and paint.
Although the name suggests the use of the robe after a shower, one should choose a bathrobe that is versatile and can be used for different purposes as well.
Choose a bathrobe that is quick-drying, compact and can be cleaned easily. Be it gentle hand wash and line/drip drying or washing in the machine and tumble drying, the upkeep of the robe should be easy.
Why Trust StyleCraze?
Priyam Gupta, a fashion enthusiast and product reviewer, has researched exhaustively to find the best bathrobe for college students and reviewed her curated list for this article. She has gone through trusted online forums to gauge user feedback and ratings for numerous bathrobes available on the market and considered material, style, comfort, and other relevant criteria to shortlist the best options. The products listed and reviewed here are fashionable and available in various comfortable materials like cotton, silk, and fleece so that you can make a style statement as you lounge in every season.
Frequently Asked Questions
What is the point of bath robes?
A bathrobe is a dressing towel made of water-absorbing cloth. It acts as a towel and also as a comfortable cover for lounging in at home or in your dorms.
Can I sleep with a bathrobe?
Yes, you can sleep in a bathrobe, but check for comfortable fabrics and don't wear a wet one to bed.
Do college students wear bathrobes?
Anyone can wear bathrobes regardless of age or occupation.
Do I need a bathrobe?
No, it is not a must-have, but having a bathrobe ensures added comfort and coverage than a towel.
How often should you shower in college?
It is best to shower regularly to maintain good hygiene levels. Since life in college is busy and hectic, regular showers will not only keep you clean but also keep you feeling refreshed.
How often should you wash your bathrobe?
You can wash your bathrobe twice weekly to keep it clean and germ-free.
Recommended Articles