15 Best Nail Polish Colors For Older Hands – 2022
Subtle and elegant shades for a timeless look best suited for mature women.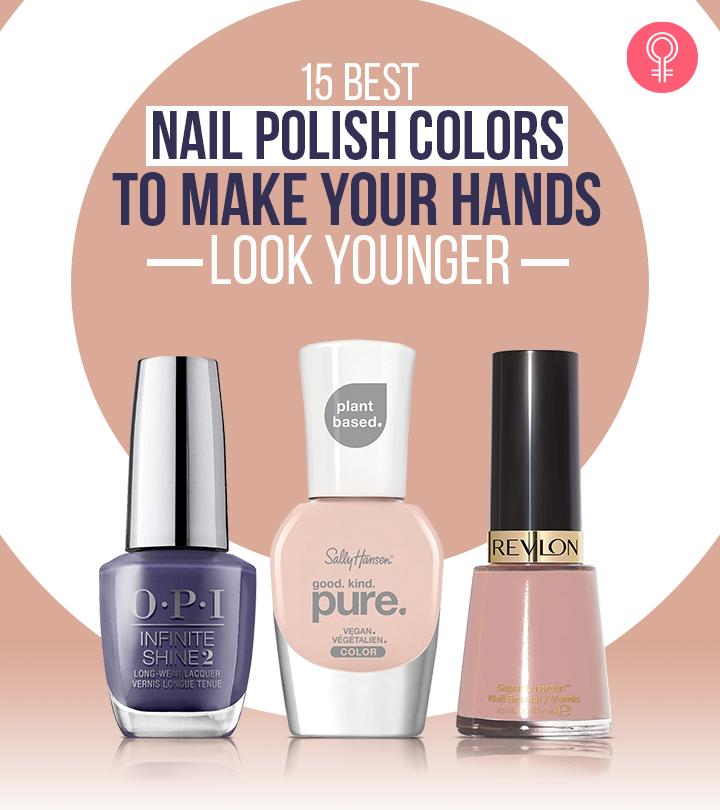 With the best nail polish color for older hands in place, your worries will be long gone. Yes, impactful cuticle oils and luxe hand creams can maintain the youthfulness of your mature hands, but with just the right nail colors, your task gets more manageable. No, you won't have to spend your money on expensive salon sessions. A basic home manicure is more than enough when you have chosen a suitable color. To make your job easier, we have listed 15 must-have nail polishes for mature hands. Neutral nudes and glossy teals? You got them all!
15 Best Nail Polish Colors For Mature Hands
The Sally Hansen Good. Kind. Pure has a plant-based formula that offers beautiful shades without compromising the natural beauty of your nails. This long-lasting formula is 16-free and does not damage the nails. The brush is made without using any animal-based product. It allows precise application. The rich and earthy color lasts for 4 days after application. Its Romantic Peach is a subtle shade that looks elegant on all skin tones.
Shade: Romantic Peach
Pros
Vegan
Parabens-free
Phthalate-free
Formaldehyde/resin-free
Toluene-free
Xylene-free
Acetone-free
Camphor-free
Glycol-free
Bisphenol-free
Styrene-free
Sulagte-free
Cruelty-free
Cons
Try this superior quality nail lacquer that suits your every mood and expression. The Nice Set of Pipes is a perfect shade of purple that gives a playful look to your hands. The O.P.I Infinite Shine 2 is a three-step manicure system that gives you a long-lasting finish. It is best used with a base and top coat to make it stay up to 11 days without chipping.
Shade: Nice Set Of Pipes
Pros
Long-lasting
Easy to apply
Highly pigmented
Chip-resistant
Glossy finish
Cons
The 165 Romantique is a nude brown shade that enhances the beauty of mature hands. It is made with anti-fade technology to stay vibrant on your nails without fading. The Revlon Super Lustrous Nail Enamel is formulated without any formaldehyde or toxic materials. It keeps your nails healthy and fresh. It dries super quickly and settles into a glossy finish.
Shade: 165 Romantique
Pros
Chip-resistant
Anti-fade
Bubble-free
Phthalate-free
Toluene-free
Camphor-free
Fast-drying
Cons
The Revlon ColorStay Gel Envy is formulated with diamond flex technology that makes it long-lasting. It delivers a salon-quality finish and shines like a diamond. Its wide-angled brush allows smooth and precise application. The advanced formula is made with shea butter and oils that condition your nails and make them strong. The Heartbreaker is a deep berry shade that is ideal if you like dark colors.
Shade: 610 Heartbreaker
Pros
Wide-angle brush
Salon-quality finish
Bubble-free
Smooth application
High-impact shine
Long-wearing
Chip-resistant
Cons
None
The CND Vinylux Longwear Nail Polish has a two-step formula that uses a color coat and a top coat to give the ultimate perfection when used together. It is formulated with prolight technology that increases the durability of your nail color when exposed to light. It contains vitamin E, Keratin, and jojoba oil that keep your nails healthy. Its curve-hugging brush allows smooth application and gives flawless coverage. The Negligee is a shade of nude pink that makes your hands appear younger.
Shade: Negligee 132
Pros
Dries fast
Long-wearing
High-quality brush
Good coverage
Glossy finish
Cons
The Sally Hansen Insta-Dri Pragmatic Shine has a 3-in-1 formula with a built-in base and top coat. It delivers a high shine finish. The 55 Celes-teal is a unique sea-green shade that looks fashionable and sultry on mature hands. The contoured shape of its brush allows precise and smooth application. It takes just 60 seconds to dry and delivers a high-gloss finish in one coat. The color does not smudge or fade with time.
Shade: 55 Celes-teal
Pros
Easy to apply
Smudge-proof
Long-wearing
Good coverage
Cons
The Venalasia Gel Nail Polish comes in a 15ml bottle that lasts a long time. This environmental-friendly product is formulated with natural resin and does not contain any toxic ingredients that may cause harm to your nails. Its lightweight formula has a very mild odor. It keeps your nails healthy. The stunning black and white shades look bold and classy and enhance your hands' appearance. The shades are easy to apply, and they last for up to three weeks if applied with base and topcoat. It dries fast if cured under UV or LED lights.
Shade: Black & White
Pros
Non-toxic
Easy application
Lightweight
Chip-free
Ultra-fine brush
Highly pigmented
Cons
None
The Butter London Patent Shine 10X Nail Lacquer is formulated with shock-resistant polymer technology that makes it chip-resistant. It is infused with diamond powder that gives a gel-like finish and delivers natural shine. The formula contains bamboo extracts that strengthens your nails and prevents breakage. It comes with a unique brush applicator that hugs your nails for flawless coverage. This dusty mauve shade, called Toff, looks awesome on mature hands.
Shade: Toff
Pros
Chip-resistant
Long-wearing
Non-fading
Cushioned finish
10-free formula
Cruelty-free
Vegan
Paraben-free
Cons
None
The Color Club Cosmic Fate Nail Lacquer settles into a holographic finish that shines and shimmers in a rainbow effect. It is crafted with some of the best raw materials and vitamin-infused ingredients that keep your nails healthy and naturally glowing. Its long-lasting formula gives you a salon-like finish and does not wear off easily. It comes with a smooth brush that makes application hassle-free. This shade of peach goes super smooth on your nails.
Shade: Peach
Pros
Full coverage
Cruelty-free
Allergen-free
Smooth application
Fast drying
Cons
The Duri Nail Polish is a steady favorite in several salons. This Pastel Mint Green shade represents harmony and dries down in a shiny look. The applicator is a rounded flat brush that enables smooth and no-clump application. Its toxin-free formula guarantees safe and healthy nails. It gives full coverage and delivers a semi-matte finish.
Shade: Pastel Mint Green
Pros
Formaldehyde-free
DBP-free
Toluene-free
Camphor-free
Phosphate-free
Xylene-free
Ethyl-free
Paraben-free
Cruelty-free
Vegan
Cons
The Smith & Cult Nail Color is formulated with high-quality ingredients to give high-impact shine. The highly pigmented formula delivers full coverage and does not chip easily. It comes in an elegant bottle that makes for an aesthetic addition to your green room. The Fosse Fingers is a metallic shade of terracotta that enhances the beauty of your hand and makes them look younger.
Shade: Fosse Fingers
Pros
Phthalate-free
Toluene-free
Formaldehyde-free
Resin-free
Camphor-free
Xylene-free
Ethylene-free
Phosphate-free
Long-wearing
Vegan
Gluten-free
Cruelty-free
Cons
The Essie Nail Lacquer Vernis is a limited-edition formula available in six saturated juicy shades to capture the essence of summertime. The highly pigmented formula gives the actual color opacity in just one coat. This 8-free nail polish is safe on your nails. Its angled brush allows easy application. The Tangerine Tease is a vibrant shade that makes your nails look beautifully manicured.
Color: Tangerine Tease
Pros
Flawless coverage
Easy-glide brush
Cruelty-free
Phthalate-free
Toluene-free
Formaldehyde-free
Resin-free
Camphor-free
Xylene-free
Ethylene-free
Phosphate-free
Vegan
Cons
The Mineral Fusion Nail Lacquer offers a long-lasting shade that does not fade easily. It has a hypoallergenic formula crafted with natural ingredients to reduce any impact on the planet. Its extra-thick brush delivers a flawless finish on every application. The Lagoon is a beautiful shade of green that looks stunning on mature hands.
Shade: Lagoon
Pros
Long-lasting
Chip-resistant
Carbon-free
Vegan
Cruelty-free
Ethyl-free
Xylene-free
Formaldehyde-free
Phosphate-free
Camphor-free
Fragrance-free
Cons
May be difficult to remove
The Memeda Gel Nail Polish is made with 100% safe ingredients. It has natural resin. It enhances the health of your nails. Its pigmented formula gives true color opacity in just one coat. This bright red shade looks chic and fashionable on mature hands. This salon-quality gel polish is easy to apply and does not smudge or chip for up to 2 weeks.
Shade: Red2
Pros
Non-toxic
Low odor
Longwearing
Chip-resistant
Easy to apply
Cons
None
The Barielle Protect Plus Color Nail Strengthener is formulated with Prosina, a keratin peptide, that gives strength to your nails and makes them break-resistant. It can be used both as a base coat or a wear-alone formula. It has high viscosity to provide a reinforced shield for protecting your nails. This shade of Dark Pink delivers a beautiful splash of color that is very gently elegant.
Shade: Dark Pink
Pros
Toluene-free
Phthalate-free
Formaldehyde-free
10-free formula
Cruelty-free
Paraben-free
Pregnancy Safe
Vegan friendly
Cons
In the section below, we have highlighted various aspects of nail paints and how they can make your hands look better.
How To Choose The Best Nail Polish Colors For Mature Hands
Choice Of Colors: Go for youthful shades like red, plum, and orange. Bright colors will draw attention to your manicure. Nude is an evergreen shade. So, light whites and baby pinks will give an elongated look to your fingers. Avoid using yellow as it can make your hands look swallowed.
Skin Tone: If you have light skin tone, then shades of nude, champagne, or white will enhance the beauty of your hand. For dark skin tone, choose cocoa, Cappuccino, or dark shades for a trendy look.
Ingredients: To keep your nails healthy and nourished, the nail polish you use should be free of toxic and harmful ingredients like parabens, phthalates, and more.
Other factors: Nail paints that are rich in pigments deliver high color pay-off and good coverage. You may also want to look for long-wearing, chip-resistant formulae.
Why Trust StyleCraze?
Baishali Bhattacharya, the author of this article, is certified in makeup artistry, and she relies on high-quality products safe for the skin. The author browsed hundreds of reviews online to provide you with the best nail polish color for older hands and checked user feedback listed on forums. The products listed above are chip-resistant, long-lasting, non-toxic, and easy to apply.
Frequently Asked Questions
Does dark nail polish make hands look older?
Dark shades look different on different skin tones. Very dark shades like black, blue, or green may make the hands look older. On the other hand, subtle shades give a more defined look.
What color of nail polish should 50-year-old wear?
If the skin tone is fair, then a neutral shade will play well on only 50-year-olds. Ladies with medium skin tone may prefer taupe or caramel shades.
Recommended Articles