7 Best Curling Irons For Beginners – 2023
Master the secrets of salon-perfect curls with these beginner-friendly curling tools.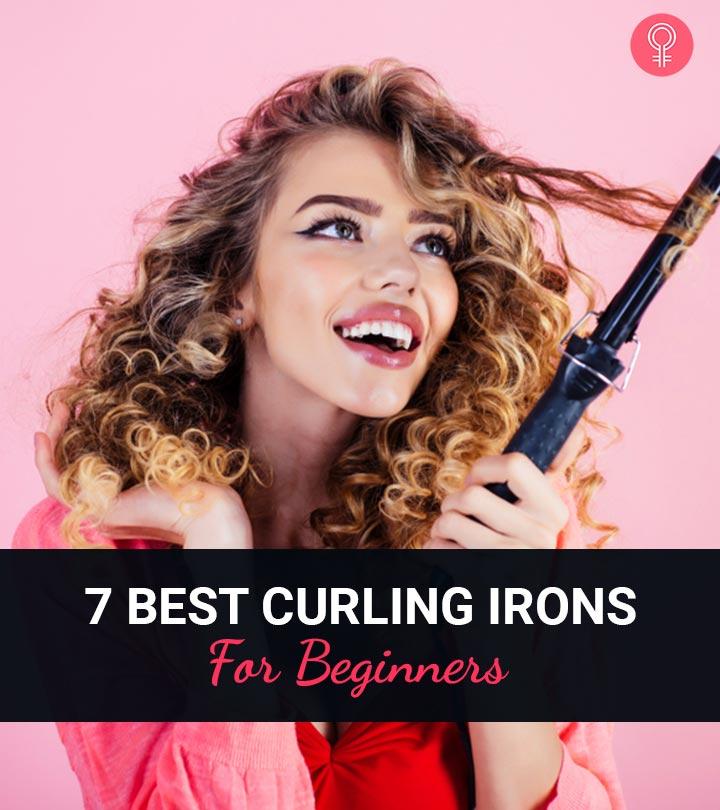 Women with curly hair look at straight hair like it's divine and women with straight hair think that curly hair is the most attractive type of all. This is exactly why straightening and curling devices are so popular. So, if you are a straight-haired woman looking for the best curling iron for beginners, we have got you covered! Whether you have wavy hair or finer hair, these tools can work wonders. Over-styling your hair can cause damage to your tresses so it is understandable if you are a little apprehensive about dipping your toes into the world of curling. But worry not, because the best hot tools for long-lasting curls come with inbuilt protective mechanisms that won't cause harm. They can also help you tame your coarse hair. You need to find something that heats quickly, curls fast and, comes with adjustable heat settings.
Let us help you make the best choice with our list of the top 7 curling irons for beginners.
7 Best Curling Irons For Beginners
Kiss Instawave 101 Ceramic Automatic Rotating Curling Iron is one of the best curling irons for beginners. It features Pearl Ceramic Ionic Technology that does not strip away the natural oils and essential moisture from your hair. The ions it emits act as a hair-smoothening agent and prevent frizz and split ends. This automatic curler reaches the highest temperature (400°F) in about 60 seconds. However, Jessica Shults, a licensed hairstylist, advises, "Only professional stylists should use 400° heat on hair. The customer should keep the setting closer to 200° for fine or damaged hair. 350° is a more ideal temperature for medium to coarse textured healthy hair." It offers multiple heat settings to prevent hair damage. This curling iron comes in two barrel size options for beginners – a 1-inch wand and a 1¼-inch wand. For short to medium length hair, use the 1-inch barrel, and use the 1¼-inch barrel for medium-long hair.
Push the power button and place your hair around the curling barrel and tongs. Select the direction in which you want the curls by pushing the directional button. The patented dial will automatically wrap your strands around the wand. This video detailing a tester's experience of using the curling iron will give you more insights into the product.
Barrel Size: 1.25 inches | Weight: 1.07 lb | Adjustable Temperature: Up to 400°F | Material: Ceramic | Heat Settings: 9
Pros
Prevents frizz and split ends
Multiple heat settings
Heats up quickly
Prevents hair damage
Suitable for long and short hair
90-minute automatic shut-off feature
Light indicator
Cons
None

The 1-inch Conair Double Ceramic Curling Iron is suitable for all hair lengths and types. The ceramic body heats up evenly and offers gorgeous curls without frizz. This curling iron features 30 heat settings and instantly heats up to 375° F. It is equipped with a unique cool tip for safe and easy handling and an auto-off feature. But if you still wish to go through some unbiased reviews before purchasing, then check out the product on Amazon as well!
Barrel Size: 1 inch | Weight: 0.14 lb | Adjustable Temperature: Up to 375°F | Material: Ceramic | Heat Settings: 30
Pros
Suitable for all hair types
Budget friendly
Recessed buttons
Turbo heat boost
Cons
None
The VODANA Professional GlamWave Ceramic Curling Iron helps you create different types of curls, from tighter curls, and full ringlets to relaxed and loose waves. The ceramic-coated curling barrel keeps your hair protected from heat damage and frizz. The quick heat-up technology with adjustable temperatures up to 200° C provides long-lasting curls. The swivel cord enables easy and comfortable styling time at any angle. The product has multiple positive customer reviews online as well to further assure you of its quality and results. Check them out!
Barrel Size: 1.4 inches | Weight: 1.65 lb | Adjustable Temperature: Up to 400°F | Material: Ceramic | Heat Settings: 5
Pros
Travel-friendly
6 color choices
3 sizes of the curler
Prevents split ends
Helps create tight as well as loose curls
Suitable for all hair types
Cons
The L'ANGE Hair Titanium Bubble Curling Wand comes in a unique bubble design enabling you to achieve N-type curls, from smaller tight to relaxed ones. This titanium wand takes 1 minute to heat up to 410°F, which is ideal for all kinds of hair. It comes with a 360° swivel cord that helps you achieve tangle-free, smooth curls and a dual-voltage facility suitable for traveling. The curling wand is designed with a hanging loop ideal for storage and has a soft-touch rubber finish. The product also comes with heat-resistant gloves to prevent burns.
Apply L'ANGE heat protectant to your hair and section it. Wrap a 1-inch section of hair around the barrel, wait for one minute, and gently release the barrel to create bouncy curls and waves. Check this video to watch an honest review of the tester's experience of using this bubble wand.
Barrel Size: 1 inch | Weight: 0.63 lb | Adjustable Temperature: Up to 410°F | Material: Titanium | Heat Settings: 1
Pros
Suitable for all hair types
Tangle-free swivel cord
Travel-friendly
Heats up in one minute
Easy to store
Offers quick styling
Cons
Revlon Salon Hair Curling Iron Ball Wand is devoted to creating gorgeous curls. It is undoubtedly one of the best and easiest curling irons for beginners. Be it vibrant curls, full ringlets, or soft, romantic waves – this curling wand does it all. It has a novel ball-shaped barrel that you can wrap your hair around for loose waves or tight curls. The tourmaline-ceramic coating delivers even heat and gives you professionally-styled hair without tangling or pulling it. It heats up to a maximum of 420°F. Once it reaches the maximum temperature, the High Heat and Constant Heat sensors of this quick heat-up curling iron for beginners monitor the temperature to quickly restore heat to the best styling level. Click here to check out this YouTuber's unbiased review.
Barrel Size: 1 inch | Weight: 0.88 lb | Adjustable Temperature: Up to 420°F | Material: Ceramic | Heat Settings: 30
Pros
Creates tight and loose curls
Even heat distribution
Comes with a heat-resistant glove
Adjust the temperature to optimum styling level
Cons
Transform your lifeless strands into voluminous, bouncy tresses with the Lily England Deluxe Curling Tong. It comes with six adjustable temperature settings and optimum temperature control for beginners and making it suitable for all hair types. The advanced ceramic-coated 1.25-inch barrel releases negative ions that nourish the hair, and seal cuticles, and has frizz-control features that also prevent heat damage. The 360°swivel rotatable cord allows easy movement and flexible styling. The dual-voltage facility of the tong makes it ideal for traveling. This easy-to-use curling ceramic iron is designed with a 60-minute auto-off mechanism for ultimate user safety. The product is perfect for gifting or simply testing it out yourself! It comes at an affordable price too.
Barrel Size: 1.25 inches | Weight: 0.87 lb | Adjustable Temperature: Up to 424°F | Material: Ceramic | Heat Settings: 6
Pros
Suitable for all hair types
6 heat settings
360°swivel cord
60-minute auto-shut off facility
Easy to use
Travel-friendly
Heats up quickly
Durable
Cons
None
The TYMO Interchangeable Curling Iron comes with three ceramic barrels that help achieve multiple hairstyles. It features five different temperature settings suitable for all hair types. This versatile curling iron features an advanced NTC control system designed with gold-plated internal wire and a thick ceramic coating that distributes heat quickly and evenly on your hair while precisely controlling the temperature and preventing heat damage. The built-in ionic system makes your hair smooth and tames frizz, making the tool suitable for frizzy and damaged hair. It keeps your hairstyle in place for hours. The 60-minute auto-off system safety feature offers better heat protection, and the 360°swivel power cord enables easy handling. This curling iron comes with a safety heat-resistant glove and a dual-voltage facility suitable for traveling. It comes with two hair clips, and one leather bag. The temperature is clearly visible on the LCD screen and the settings are ideal for all types of hair – be it damaged, dyed, thick, or thin. And, if you still are not quite sure about the product, then check it out on Amazon for some positive reviews that are sure to convince you!
Barrel Size: 0.5, 1, and 1.5 inches | Weight: 2.13 lb | Adjustable Temperature: Up to 430°F | Material: Ceramic | Heat Settings: 5
Pros
Travel-friendly
LED temperature display
Durable
60-minute auto-off
Easy to handle
360°swivel power cord
Comes with 3 ceramic barrel
5 temperature settings
Suitable for all hair types
Cons
None

*The prices provided in this article are based on the latest available information. However, they may vary due to changes in pricing by the seller and/or promotional offers.
Why Trust StyleCraze?
Oyendrila Kanjilal, the author of this article, is a hair care enthusiast. She is well-versed with people's requirements regarding curling irons after scouring numerous product quality reviews. She understands that an ideal one should be non-damaging to the hair, easy to handle, and efficient. Therefore, she has included premium quality products in this list of the best curling irons for you. You can go through the details of each product she has listed before picking the right one.
Frequently Asked Questions
Are curling wands easier to use than curling irons?
Both curling wands and curling irons are similar in many aspects. However, though a curling wand helps you curl your hair quickly, using one can be difficult as it requires the use of both your hands. It does not have a clamp like a curling iron, which holds your hair in place and allows you to use only one hand. A curling iron is also more suitable for short hair.
What product should I put in my hair before curling?
Always apply a heat protectant cream or spray before curling your hair.
Should I use hairspray after curling?
Yes, you should apply hairspray after curling your tresses. This helps set the curls in place and keep them well-defined for a long time.
What size curling iron do hairdressers use?
This depends on the type of curls the customers want, but most hairdressers prefer a ¾ or 1 inches curling iron.
How long do you hold a curling iron in your hair?
Depending on how hot your curling rod is, you should hold your curling iron for not more than 6-10 seconds.
Why won't my hair hold a curl with a curling iron?
There can be multiple reasons your hair is not holding the curls. Some of the most common reasons are:
• Your hair is not completely dry before curling and still has moisture.
• Your shower products have not washed off completely.
• The heat setting on the curler is not enough.
• Application of too much silicone product on the hair before curling.
Recommended Articles