7 Best Curling Irons For Beginners – 2022
Master the secrets of salon-perfect curls with these beginner-friendly curling tools.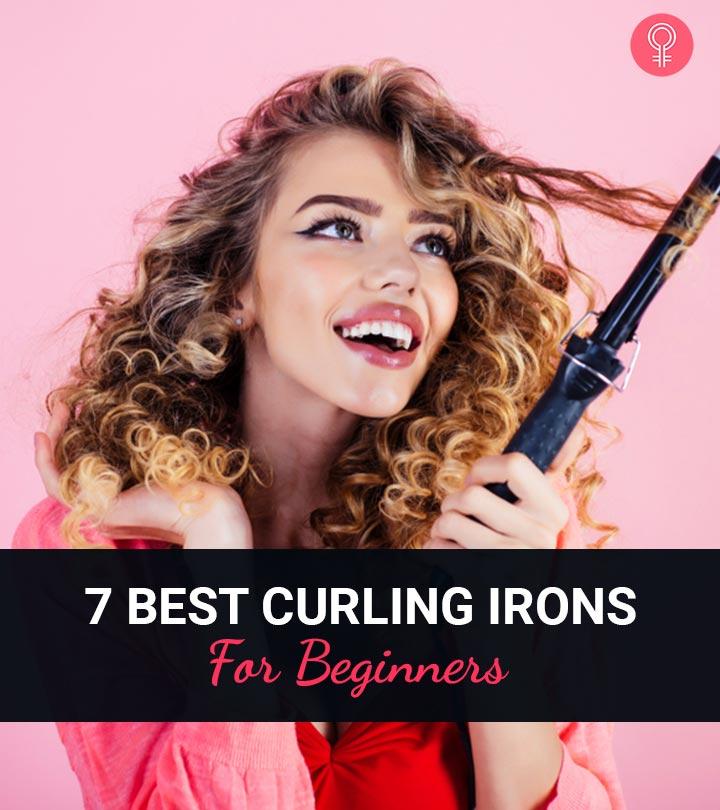 Women with curly hair look at straight hair like it's divine and women with straight hair think that curly hair is the most attractive type of all. This is exactly why straightening and curling devices are so popular. So, if you are a straight-haired woman looking for the best curling iron for beginners, we have got you covered! Over-styling your hair can cause damage to your tresses so it is understandable if you are a little apprehensive about dipping your toes into the world of curling. But worry not, because the best tools come with inbuilt protective mechanisms that won't cause harm. You need to find something that heats quickly, curls fast and, comes with adjustable heat settings.
Let us help you make the best choice with our list of the top 7 curling irons for beginners.
7 Best Curling Irons For Beginners
Kiss Instawave 101 Ceramic Automatic Rotating Curling Iron is one of the best curling irons for beginners. It features Pearl Ceramic Ionic Technology that does not strip away the natural oils and essential moisture from your hair. The ions it emits act as a hair-smoothening agent and prevent frizz and split ends. This automatic curler reaches the highest temperature (400°F) in about 60 seconds. It offers multiple heat settings to prevent hair damage. This curling iron comes in two barrel sizes – a 1-inch wand and a 1¼-inch wand. For short to medium length hair, use the 1-inch barrel, and use the 1¼-inch barrel for medium-long hair.
Push the power button and place your hair in the barrel and tongs. Select the direction in which you want the curls by pushing the directional button. The patented dial will automatically wrap your strands around the wand. This video will give you more insights into the product.
Pros
Prevents frizz and split ends
Multiple heat settings
Heats up quickly
Prevents hair damage
Suitable for long and short hair
90-minute auto shut-off feature
Light indicator
Cons
None
SWURL 3-in-1 Curling Iron Waving Wand & Flat Iron is an all-in-1 styling tool that allows you to curl and straighten your hair. It has a 1.15-inch barrel that enables you to style your hair as you desire. It heats up to a maximum temperature of 450°F, gets heated up efficiently, and its LCD screen allows you to monitor the temperature. This versatile styling tool moves in both directions, and the barrel wraps your hair automatically. Thus, there is no risk of burning your fingers. The 360° automatic curling option can be set at three custom speed settings, making styling convenient for beginners. This styling tool is also designed with a built-in stand that protects your countertop surfaces. It has an extra-long swivel cord that allows you to move it any way you want. Transform your frizzy and damaged hair into gorgeous-looking curls with this versatile curling iron.
Pros
Multipurpose styling tool
Reduces frizz
LCD temperature display
Suitable for long and short hair
3 custom speed settings
Hassle-free swivel cord
Heats up in 60 seconds
Cons
Heiha Professional Automatic Hair Curler is designed with an intelligent sensor chip that creates well-defined curls. It is an ideal choice for a beginner as it styles your hair without any tangles or pulling. The five different temperature settings vary from 248°F to 410°F, and it gets heated up within 30 seconds. The double anti-scalding protection ensures maximum safety. The 2.5 meter long power cord rotates 360°, which makes it easy to maneuver. This curling iron creates bouncy curls and waves anytime without any hassle. Its barrel is designed with a high-grade aluminum alloy that gives it an innovative design and lasts long.
Pros
5 temperature settings
Double anti-scalding protection
Ultra-long swivel cord
Comes with a heat-resistant glove
Dual voltage
Heats up in 30 seconds
Lightweight
Cons
None
DAN Technology Curling Iron is one of the best curling irons for beginners as it helps create tight as well as loose curls. Its Ceramic Technology helps in reducing frizz and giving you shiny and gorgeous curls. You only need to wait 60 seconds for this curling iron to heat up. It heats up to a maximum temperature of 500°F. Its user-friendly design features an anti-scald insulated wand tip and an 8' long and 360° tangle-free swivel cord that ensures smooth styling. To make an informed decision before buying, you can check out this video.
Pros
Reduces frizz
Imparts shine
Heats up in 60 seconds
User-friendly
Tangle-free swivel cord
Dual voltage
Comes with a heat-resistant glove
Cons
None
Revlon Salon Hair Curling Iron Ball Wand is devoted to creating gorgeous curls. It is undoubtedly one of the best and easiest curling irons for beginners. Be it vibrant curls or soft, romantic waves – this curling wand does it all. It has a novel ball-shaped barrel that you can wrap your hair around for loose waves or tight curls. The tourmaline-ceramic coating delivers even heat and gives you professionally-styled hair. It heats up to a maximum of 420°F. Once it reaches the maximum temperature, the High Heat and Constant Heat sensors monitor the temperature to quickly restore heat to the best styling level. Click here to check out this YouTuber's unbiased review. Click here to check out this YouTuber's unbiased review.
Pros
Creates tight and loose curls
Even heat distribution
Comes with a heat-resistant glove
Adjust the temperature to optimum styling level
Cons
The O'Bella 5-in-1 Curling Iron Set is perfect for beginners. It comes with five wands of different sizes – a tapered clipless 0.5-1 inch wand, a tapered clipless 0.75-1.25 inch wand, a 0.75-inch cylinder wand, a 1 inch cylinder wand, and a 1.25-inch cylinder wand. You can style your hair in different types of curls according to your mood with these wands. They are perfect for different types of curls, such as voluminous waves, full ringlets, or tight curls. It gets heated up in 60 seconds and has five different temperature settings that vary from 260°F to 410°F. The temperature settings are ideal for all types of hair – be it damaged, dyed, thick, thin, or coarse. This tool also has an LCD that stops flashing once the desired temperature is reached. It is considered to be one of the safest curling irons for beginners.
Pros
5-in-1 curling iron set
Universal dual voltage
Comes with a heat-protectant glove
60-minute auto shut-off feature
Ultra-long swivel power cord
Suitable for all hair types
Cons
None
Do you find it difficult to hold a brush in one hand and a blowdryer in the other while styling your hair? Aima Beauty 4-in-1 Upgrade Hot Air Straightener Curler is a versatile and comfortable curling tool for beginners. This 4-in-1 tool serves the purpose of a blowdryer brush, a hair straightener, and a hair curler. This hot airbrush is excellent for those who style their hair almost regularly. Its ceramic coating allows even distribution of heat, and the emission of negative ions moisturizes and nourishes dry and damaged hair. This brush's upgraded design prevents tangles and has massaging ball tips that soothe your scalp. That's not all – its plug has a leakage protector air inlet with a net cover that prevents dirt from entering the machine. This 4-in-1 tool is equipped with three modes of heat settings and trusted by both beginners and professionals.
Pros
Versatile styling tool
Prevents tangles
Easy to use
Moisturizes dry and damaged hair
3 heat settings
360° swivel power cord
Suitable for people who style their hair regularly
Cons
Why Trust StyleCraze?
Oyendrila Kanjilal, the author of this article, is a hair care enthusiast. She is well-versed with people's requirements regarding curling irons after scouring numerous product quality reviews. She understands that an ideal one should be non-damaging to the hair, easy to handle, and efficient. Therefore, she has included premium quality products in this list of the best curling irons for you. You can go through the details of each product she has listed before picking the right one.
Frequently Asked Questions
Are curling wands easier to use than curling irons?
Both curling wands and curling irons are similar in many aspects. However, though a curling wand helps you curl your hair quickly, using one can be difficult as it requires the use of both your hands. It does not have a clamp like a curling iron, which holds your hair in place and allows you to use only one hand. A curling iron is also more suitable for short hair.
What product should I put in my hair before curling?
Always apply a heat protectant cream or spray before curling your hair.
Should I use hairspray after curling?
Yes, you should apply hairspray after curling your tresses. This helps set the curls in place and keep them well-defined for a long time.
What size curling iron do hairdressers use?
This depends on the type of curls the customers want, but most hairdressers prefer a ¾ or 1 inches curling iron.
How long do you hold a curling iron in your hair?
Depending on how hot your curling rod is, you should hold your curling iron for not more than 6-10 seconds.
Why won't my hair hold a curl with a curling iron?
There can be multiple reasons your hair is not holding the curls. Some of the most common reasons are:
• Your hair is not completely dry before curling and still has moisture.
• Your shower products have not washed off completely.
• The heat setting on the curler is not enough.
• Application of too much silicone product on the hair before curling.
Recommended Articles