10 Best 2-Inch Curling Irons Of 2021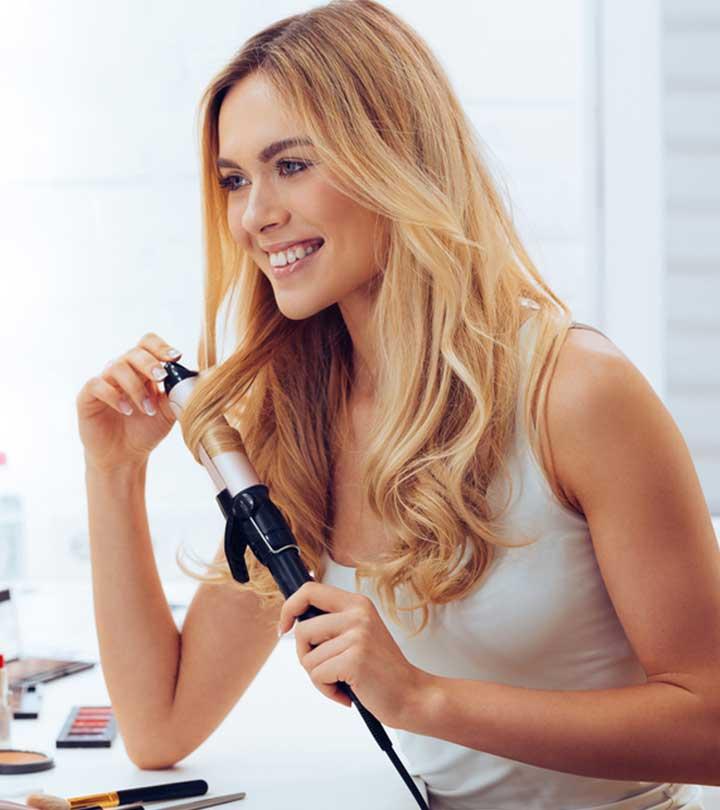 Are you struggling to get that perfect wavy hair? Having the right curling iron by your side is extremely important when you have an unruly mane with a mind of its own. Whether you want to create tight, bouncy curls or loose waves, it's hard to perfect it with your average curling wand. While the right hair care products can help you get a head start on things, we'd be lying if we said that was enough. A 1 ½ or 2-inch curling wand might seem big, but sometimes that is what it takes to keep bad hair days at bay. Here, we've rounded up the 10 best 2-inch curling irons for your varied styling needs.
10 Best 2-inch Curling Irons To Meet Your Curling Needs
Create instant, beautiful waves effortlessly with the Conair Instant Heat 1 ½ inch curling iron. The curling iron is designed with 25 distinct heat settings to help you create anything from tight curls to loose waves. It heats up to 400° F in a mere 30 seconds, letting you style your hair as you desire. Its patented Euro design comes with a non-slip grip handle and a long cool tip. The barrel is made with chromium, nickel, and steel to produce long-lasting curls.
Pros
Auto-off feature
Dual voltage option for international travel
Comes with a tangle-free swivel cord
Perfect for all hair types
Cons
May not be suitable for long hair
INFINITI PRO curling iron by Conair is designed specifically to create smooth and shiny curls. Crafted using Tourmaline Ceramic technology, it helps reduce frizz and create soft curls. The 1 ½ inch curling iron heats up evenly and prevents any damage to your hair. The barrel heats up in just 30 seconds, helping you instantly style your hair. It also comes with 5 precise LED heat settings to create the curls of your choice.
Pros
Comes with a protective heat shield
Heats up to 400° F
Even heat distribution
Auto-off feature
Cons
This curling iron by MiroPure is perfect for creating beautiful volumizing curls. It is designed using tourmaline ceramic to provide even heat distribution and produce long-lasting curls. It has a 1.5-inch barrel that helps create distinct curls and waves for all hair types. The curling iron comes with 6 different heat settings to make the process effortless. Furthermore, the wand heats up in 30 seconds and can easily reach a temperature of up to 410° F.
Pros
Produces frizz-free curls
Comes with large LCD display
360° swivel cord
60 minutes auto shut off feature
Travel-friendly dual voltage feature (100V-240V)
Protective glove and hair clips included
Cons
The clamp may not hold small portions of hair.
Next on our list of the best 2-inch curling iron is the INFINITI PRO curling brush from Conair. The curling iron comes with a 2-inch titanium barrel. The nylon bristles attached to the barrel are perfect for creating smooth silky curls. The wand is designed to actively generate super ions that minimize frizz while styling your locks. The curling brush provides even heat up and recovery, and prevents burns. The hot brush is specifically designed with 5 LED heat settings to provide long-lasting smooth curls without unwanted hassle.
Pros
Instant heating up to 375°
Easy to use
Even heat distribution
Cons
The curling iron from Revlon comes with an advanced design that prevents hair damage while curling. The 1 ½ inch barrel is designed with triple ceramic coating to provide frizz-free curls. The curling iron heats up to 400° F and is designed to suit all hair types ranging from fine, thin hair to coarse hair. Furthermore, the wand can be easily turned on and off by pressing the button for 3 seconds. It also comes with an auto shut-off feature for safe styling.
Pros
Features 30 different heat settings
Dual voltage option for worldwide use
Comes with a tangle-free swivel cord
Comes with safety stand and extra-long cool tip
Cons
The handle is not ergonomic.
Looking for the best 2-inch curling iron? Check out the  4 in 1 Pro Titanium Clipless Curling Iron Set from Cortex Professional. The set includes 4 tourmaline and ceramic interchangeable barrels of different sizes ranging from ½ inch to 2 inches. The adjustable heat setting allows you to set temperatures up to 450°F. The curling iron is designed with Far Infrared technology that evenly distributes heat along the lengths of the hair to reduce hair damage while locking in natural oils. Thanks to its negative ion technology, you can now sport silky and healthy hair in just a few minutes.
Pros
Ergonomic handle with non-slip grip
11-inch heat resistant tangle-free swivel cord
Interchangeable heads for different curling styles
Includes a heat-resistant styling glove
Cons
Next on our list of the best 2-inch curling iron is the Anjou Curling Iron. This hair tool is built with 8.27 inches length and 1.5 inches width making it ideal for medium and long hair. The fast heating PTC technology with ceramic coating offers quick and smooth curling up to 210 °C/410 °F in under a minute. The barrel features an LCD display to adjust the temperature from 200°F to 400°F that is suitable for all hair types. The 2.5m 360° rotatable power cord gives more room to style your hair than other curling irons.
Pros
Thermally-insulated wand tip prevents scalding
Ceramic coating avoids tugging of hair
30 minutes auto-shutoff
Heat resistant glove included
Cons
Cannot use it without the glove as the tip of the barrel gets hot
One of the best 2-inch curling irons, the Hot Tools 2 inch curling iron helps create long-lasting curls by providing consistent heat. With a rheostat heat control ranging from 280 °F to 430 °F, it suits all hair textures and types. The large barrel curling iron is designed using patented pulse technology for quick and consistent heating. The ceramic tourmaline curling barrel makes the hair look healthy by reducing frizz and locking in moisture. The soft-grip handle makes it easy and comfortable to style and the indicator light lets you know when it's on or off.
Pros
8 ft tangle-free swivel cord
Variable heat settings
Handle with an extra-long cool tip
Easy to operate
Cons
Finding the best 2-inch curling iron can be quite tricky with innumerable options available in the market today. The Ouiast Hair Curling Iron features tourmaline ceramic technology to reduce damage while heating by minimizing frizz and locking in more moisture for shiny and healthy hair. It offers easy operation with just one button to turn on the device and lets you choose the temperature setting of 300 to 430°F by double-clicking. The wide barrel curling iron can be turned off by pressing the button again for 2 seconds. The 1.5-inch barrel width is ideal for medium and long hair and the dual PTC heater provides quick and even heat distribution within 30 seconds.
Pros
Dual-voltage
60 minutes auto-shutoff
Includes a heat-resistant glove
Unique insulated tip and anti-scale clip for added safety
8 different heat control settings make it suitable for all hair types.
Cons
The ceramic coating may wear off after a while.
Next on our list of the best 2-inch curling iron is the Bellezza Pro Beauty TI Titanium Curling Iron. The tapered shape of the clipless barrel and fast heating of the base makes it possible to style your hair in different ways with ease. The 2-inch curling iron features Ionic Tourmaline Technology for frizz-free, shiny, and healthy hair. The barrel is made of ceramic and titanium with special infrared and ionic technology that helps to lock in moisture within the hair strands to protect your hair from heat damage. The 2-inch curling iron is designed with an ergonomic non-slip handle and an 11" swivel cord which allows you effortlessly twist and turn the wand while styling.
Pros
Dual-voltage
Ergonomic design
Heat resistant glove included
Consistent and quick distribution of heat
Cons
Now that you are familiar with our top picks of the best 2-inch curling iron, let's head to the buying guide to help you make an informed choice.
2-Inch Curling Irons — Buying Guide
What Should I Look For When Choosing A 2-Inch Curling Iron?
Choosing the best 2-inch curling iron can be challenging as there are a variety of curling wands with different features and heating technologies. Though part of your decision will be based on the curl type you are looking for, there are a few things you should take into consideration:
Material: Curling irons are made of different materials, with ceramic and tourmaline being the most commonly used. Ceramic models are known for their even heat distribution and fast heating whereas tourmaline models emit negative ions to reduce frizz and damage. They are perfect curling wands for fine hair. Gold plated iron is another great pick for its quick and even heating and works for coarse, thick hair. Titanium models are a favorite among hairstylists as they are lightweight and offer the highest temperatures.
Consistency And Digital Temperature: Models with LCD displays are easy and convenient when setting the temperature for curling. Most models feature buttons on the side to offer multiple heat settings to choose a temperature that is ideal for your hair type. 
Safety Features: Burning your fingers is a huge concern and a possibility while curling your hair. Hence it's important to look for features that add safety to your curling wand such as a cool tip or safety glove. You can also opt for those that come with an auto-shutoff feature that prevents the risk of overheating or even potential fires.
How Do You Use A 2 Inch Curling Iron?
With the right curling iron by your side, you won't have to depend upon salons or a hairstylist to rock those curls. Here's how you do it:
Wash your hair by using a good quality shampoo and conditioner that suits your hair type and blowdry your hair. You can also use a heat protectant spray to prevent your hair from heat damage.
Next, part your hair into small sections using a hair clip or hairband.
Choose the ideal temperature based on your hair type.
Next take a small section closer to the roots and wrap it around the curling iron all the way till the end. Make sure you are wrapping your hair in the same direction.
Continue the same way for the rest of the sections of your hair by slowly removing one section of hair at a time.
Styling your hair has never been so easy, thanks to the wide range of curling irons available in the market today. But when it comes to picking the right curling iron, we get that it can be incredibly overwhelming and challenging for you. We hope that with our aforementioned list of the best curling irons and our detailed buying guide, choosing the best 2-inch curling iron would be more fun and less nerve-racking.
The following two tabs change content below.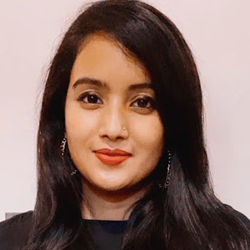 Kirtana developed a deep passion for writing ever since she was a little girl after reading the brilliant works of Enid Blyton and Roald Dahl. She completed her Master's in Mass Communication and Journalism from St. Joseph's College, Bengaluru and has chosen a career that is driven by creativity. A fashion enthusiast who believes in communicating effectively with a personal touch, she writes about beauty, skin care, fashion, and just about anything else.