10 Best 2-Inch Curling Irons Of 2023
Wave lousy hair days goodbye and say hello to gorgeously styled waves and curls.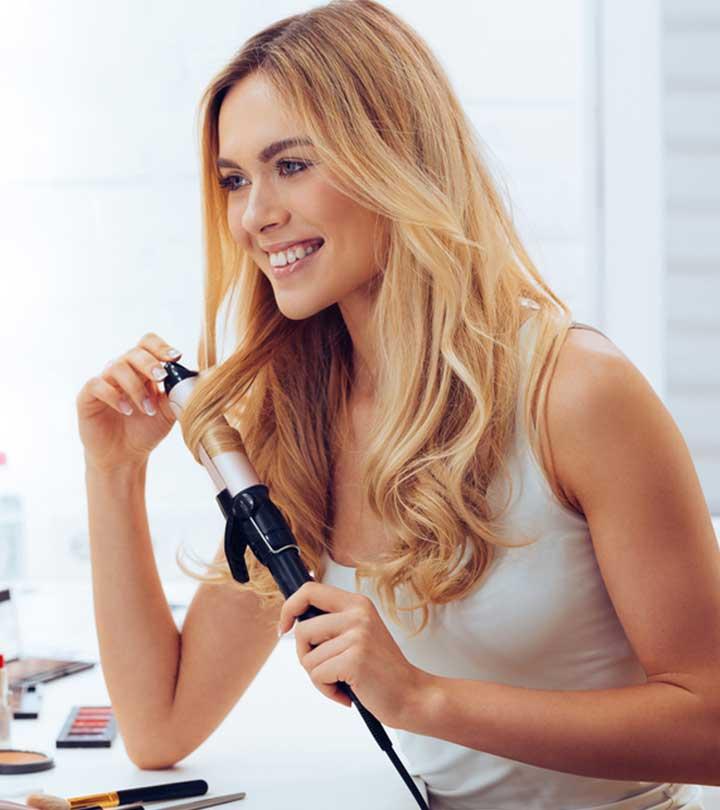 Get the best 2-inch curling iron by your side and own some gorgeous wavy hair. To keep the bad hair days at a significant distance, a 2-inch curling wand is all you want, even though it might appear to be too big. This is because creating either loose waves or tight and bouncy curls is not easy with a curling wand of average size. This is why we have prepared a list of the 10 awesome 2-inch curling irons that you should get right away so that you do not have to struggle searching for one by yourself. Alexandro Vasquez, an expert hairdresser says, "Curling irons are one of the best tools to help every girl to style their hair. One needs to be careful while working with it by using thermo-activated protectors and a good serum for finishing. Another point is, if you don't have much experience with them, try to use it at a low temperature first to avoid burning your hair and work in a safe distance from your skin." So go ahead, pick the one your heart desires and get yourself some beautiful hairstyles!
Top Picks
10 Best 2-inch Curling Irons To Meet Your Curling Needs
Create instant, beautiful waves effortlessly with the Conair Instant Heat 1 ½ inch curling iron. The curling iron is designed with 25 distinct heat settings to help you create anything from tight curls to loose waves. It heats up to 400° F in a mere 30 seconds, letting you style your hair as you desire. Its patented Euro design comes with a non-slip grip handle and a long cool tip. The barrel is made with chromium, nickel, and steel to produce long-lasting curls. Watch this YouTuber's honest review to get a better idea about the product and its features.
Pros
Auto-off feature
Dual voltage option for international travel
Comes with a tangle-free swivel cord
Perfect for all hair types
Cons
May not be suitable for long hair

Quick Tip
When curling your hair with an iron, always leave an inch of hair out at the ends. This will keep your hands from getting burned and also lessen heat damage to the already-vulnerable roots.
Price at the time of publication: $10.97
INFINITI PRO curling iron by Conair is designed specifically to create smooth and shiny curls. Crafted using Tourmaline Ceramic technology, it helps reduce frizz and create soft curls. The 1 ½ inch curling iron heats up evenly and prevents any damage to your hair. The barrel heats up in just 30 seconds, helping you instantly style your hair. It also comes with 5 precise LED heat settings to create the curls of your choice.
Pros
Comes with a protective heat shield
Heats up to 400° F
Even heat distribution
Auto-off feature
Cons
Price at the time of publication: $26.99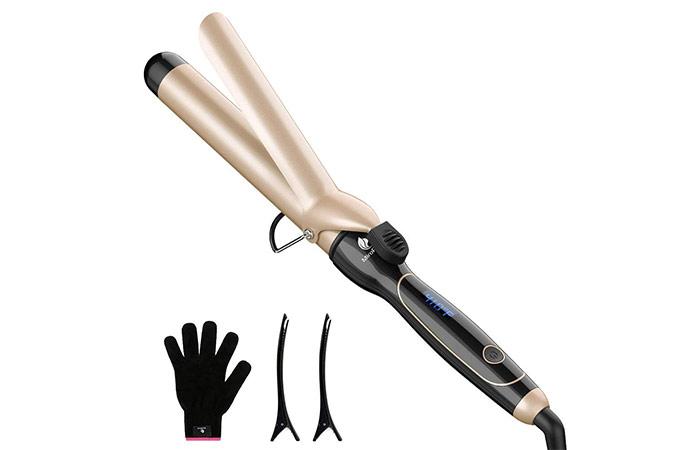 This curling iron by MiroPure is perfect for creating beautiful volumizing curls. It is designed using tourmaline ceramic to provide even heat distribution and produce long-lasting curls. It has a 1.5-inch barrel that helps create distinct curls and waves for all hair types. The curling iron comes with 6 different heat settings to make the process effortless. Furthermore, the wand heats up in 30 seconds and can easily reach a temperature of up to 410° F.
Pros
Produces frizz-free curls
Comes with large LCD display
360° swivel cord
60 minutes auto shut off feature
Travel-friendly dual voltage feature (100V-240V)
Protective glove and hair clips included
Cons
The clamp may not hold small portions of hair.

Quick Tip
Use as little heat as possible. As a general rule, keep your curling iron temperature under 200oF, especially if you have fine hair.
Price at the time of publication: $39.99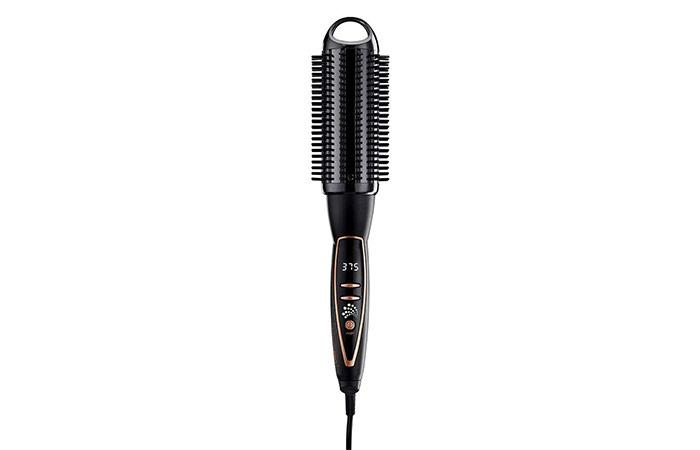 Next on our list of the best 2-inch curling iron is the INFINITI PRO curling brush from Conair. The curling iron comes with a 2-inch titanium barrel. The nylon bristles attached to the barrel are perfect for creating smooth silky curls. The wand is designed to actively generate super ions that minimize frizz while styling your locks. The curling brush provides even heat up and recovery, and prevents burns. The hot brush is specifically designed with 5 LED heat settings to provide long-lasting smooth curls without unwanted hassle. This video will give you a better insight into the product.
Pros
Instant heating up to 375°
Easy to use
Even heat distribution
Cons
Price at the time of publication: $55.59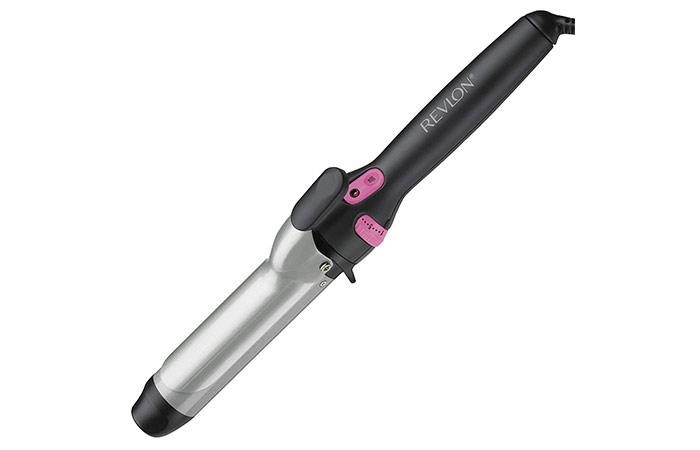 The curling iron from Revlon comes with an advanced design that prevents hair damage while curling. The 1 ½ inch barrel is designed with triple ceramic coating to provide frizz-free curls. The curling iron heats up to 400° F and is designed to suit all hair types ranging from fine, thin hair to coarse hair. Furthermore, the wand can be easily turned on and off by pressing the button for 3 seconds. It also comes with an auto shut-off feature for safe styling. Watch this video for a thorough understanding of the product.
Pros
Features 30 different heat settings
Dual voltage option for worldwide use
Comes with a tangle-free swivel cord
Comes with safety stand and extra-long cool tip
Cons
The handle is not ergonomic.

Pro Tip
Use hairspray on your hair before and after curling it. This way, you can get more grip while using the curler. And a few spritzes after curling will help the curls stay in place longer.
Price at the time of publication: $14.34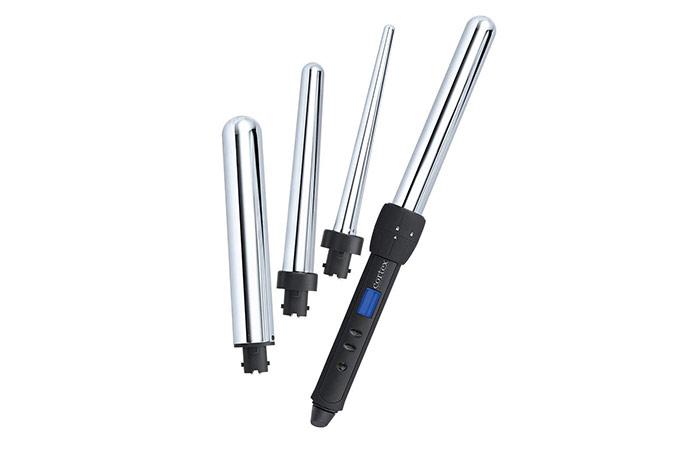 Looking for the best 2-inch curling iron? Check out the  4 in 1 Pro Titanium Clipless Curling Iron Set from Cortex Professional. The set includes 4 tourmaline and ceramic interchangeable barrels of different sizes ranging from ½ inch to 2 inches. The adjustable heat setting allows you to set temperatures up to 450°F. The curling iron is designed with Far Infrared technology that evenly distributes heat along the lengths of the hair to reduce hair damage while locking in natural oils. Thanks to its negative ion technology, you can now sport silky and healthy hair in just a few minutes.
Pros
Ergonomic handle with non-slip grip
11-inch heat resistant tangle-free swivel cord
Interchangeable heads for different curling styles
Includes a heat-resistant styling glove
Cons
Price at the time of publication: $79.95
Kristin Ess Soft Bend Curling Iron is a 2″ titanium barrel curling iron with a heat-resistant cool tip thumb grip. The 4 digital settings heat up to 425°F to give you tight and consistent curls. The automatic shut-off feature makes the curler convenient for use. The 9ft swivel cord and safety stand make this curler easy for travel and safety purposes.
Pros
30 minutes auto shut off
4 temperature settings
Comes with a safety stand
Eliminates frizz
Cons
None
Price at the time of publication: $69.9
If you want well-defined curls or beachy waves for your next party, the 24K Gold Curling Iron/Wand by HOT TOOLS is what you need. This elegant curling iron cum wand uses a 24K gold surface to distribute heat evenly and provide a consistent style. It uses Pulse Technology to heat up quickly and a soft touch grip to provide ease of convenience. The variable heat settings help kind all hair types, textures, and lengths while also enabling you to create curls, waves, or spirals.
Pros
Quick heat up
Affordable
Durable
Variable temperature control
Portable
Easy to use
Cons
Price at the time of publication: $43.45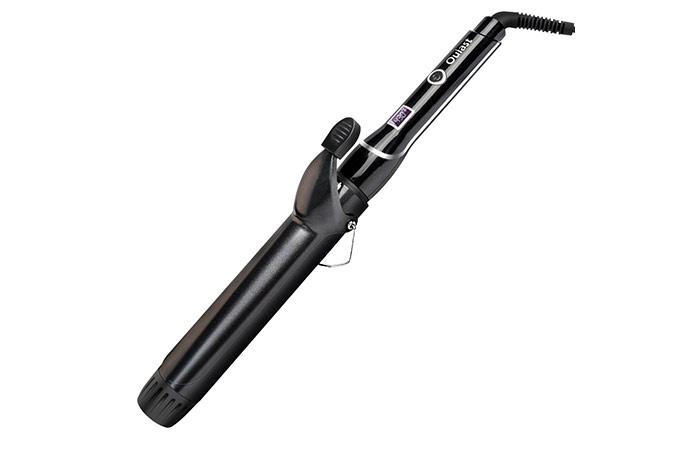 Finding the best 2-inch curling iron can be quite tricky with innumerable options available in the market today. The Ouiast Hair Curling Iron features tourmaline ceramic technology to reduce damage while heating by minimizing frizz and locking in more moisture for shiny and healthy hair. It offers easy operation with just one button to turn on the device and lets you choose the temperature setting of 300 to 430°F by double-clicking. The wide barrel curling iron can be turned off by pressing the button again for 2 seconds. The 1.5-inch barrel width is ideal for medium and long hair and the dual PTC heater provides quick and even heat distribution within 30 seconds.
Pros
Dual-voltage
60 minutes auto-shutoff
Includes a heat-resistant glove
Unique insulated tip and anti-scale clip for added safety
8 different heat control settings make it suitable for all hair types.
Cons
The ceramic coating may wear off after a while.
Price at the time of publication: $78.0
This 2-inch ceramic curling iron from Hot Shot Tools uses pulse technology that releases negative ions to lock in moisture. The iron also features a rheostat control with variable heat settings to match the needs of different hair types. This curling iron smoothes frizz, giving you frizz-free, soft, and shiny curls.
Pros
Rheostat control
Heats up to 450°F
Gives you soft, healthy hair
Suitable for different hair types
Cons
The handle might feel small for some people.
Price at the time of publication: $115.99
Now that you are familiar with our top picks of the best 2-inch curling iron, let's head to the buying guide to help you make an informed choice.
2-Inch Curling Irons — Buying Guide
Choosing the best 2-inch curling iron can be challenging as there are a variety of curling wands with different features and heating technologies. Though part of your decision will be based on the curl type you are looking for, there are a few things you should take into consideration:
Material: Curling irons are made of different materials, with ceramic and tourmaline being the most commonly used. Ceramic models are known for their even heat distribution and fast heating whereas tourmaline models emit negative ions to reduce frizz and damage. They are perfect curling wands for fine hair. Gold plated iron is another great pick for its quick and even heating and works for coarse, thick hair. Titanium models are a favorite among hairstylists as they are lightweight and offer the highest temperatures.
Consistency And Digital Temperature: Models with LCD displays are easy and convenient when setting the temperature for curling. Most models feature buttons on the side to offer multiple heat settings to choose a temperature that is ideal for your hair type.
Safety Features: Burning your fingers is a huge concern and a possibility while curling your hair. Hence it's important to look for features that add safety to your curling wand such as a cool tip or safety glove. You can also opt for those that come with an auto-shutoff feature that prevents the risk of overheating or even potential fires.
How Do You Use A 2 Inch Curling Iron?
With the right curling iron by your side, you won't have to depend upon salons or a hairstylist to rock those curls. Here's how you do it:
Wash your hair by using a good quality shampoo and conditioner that suits your hair type and blowdry your hair. You can also use a heat protectant spray to prevent your hair from heat damage.
Next, part your hair into small sections using a hair clip or hairband.
Choose the ideal temperature based on your hair type.
Next take a small section closer to the roots and wrap it around the curling iron all the way till the end. Make sure you are wrapping your hair in the same direction.
Continue the same way for the rest of the sections of your hair by slowly removing one section of hair at a time.
Infographics: How To Use A 2-Inch Curling Iron
It is time to say goodbye to bad hair days and hello to beautiful waves! With a 2-inch curling iron, you can create loose waves or tight and bouncy curls effortlessly. Check out the infographic below to learn the step-by-step guide to curling your hair.

Styling your hair has never been so easy, thanks to the wide range of curling irons available in the market today. But when it comes to picking the right curling iron, we get that it can be incredibly overwhelming and challenging for you. We hope that with our aforementioned list of the best curling irons and our detailed buying guide, choosing the best 2-inch curling iron would be more fun and less nerve-racking.
Why Trust StyleCraze?
The author of this article, Kirtana Divakar, is a hair care enthusiast who has a deep interest in trying out new products or devices. She went through multiple product websites and checked many user reviews online to compile this list of the best 2-inch curling irons for her readers. She also considered the material and other features to shortlist the best ones. The listed products are perfect for all hair types and give you those luscious curls in no time.
Frequently Asked Questions
Is a 2-inch curling iron too big?
Yes, a 2-inch curling iron is big and ideal for people with longer hair. You can achieve perfectly loose curls and waves with the help of a 2-inch curling iron if you set it at the right temperature.
What is a 2-inch curling iron used for?
A 2-inch curling iron is best used for loose curls and waves on longer hair. You can create a round-brushed look or slightly bend the end of a long updo with the help of a 2-inch curling iron.
How often do I need to replace my curling iron?
Curling irons typically last between 500 hours to 1,000 hours. If heavily used, you can replace your curling iron within 2 months for best results.
How do I know what temperature on the curling iron to use?
People with fine or thin hair can keep their curling iron temperatures to 200° F. If you have thicker tresses, 200° and 300° F work wonders.
When and how should a curling iron be cleaned?
It is recommended to clean your curling iron every week if used a lot. If not, you can stick to cleaning the product twice a month. Rub a damp cloth gently around the barrel to remove dirt, oil, or any product buildup. Do not put the curling iron under running water.