9 Best Drugstore Curling Irons To Style Your Strands – 2023
Get salon-like curls with these durable and affordable choices in curling irons.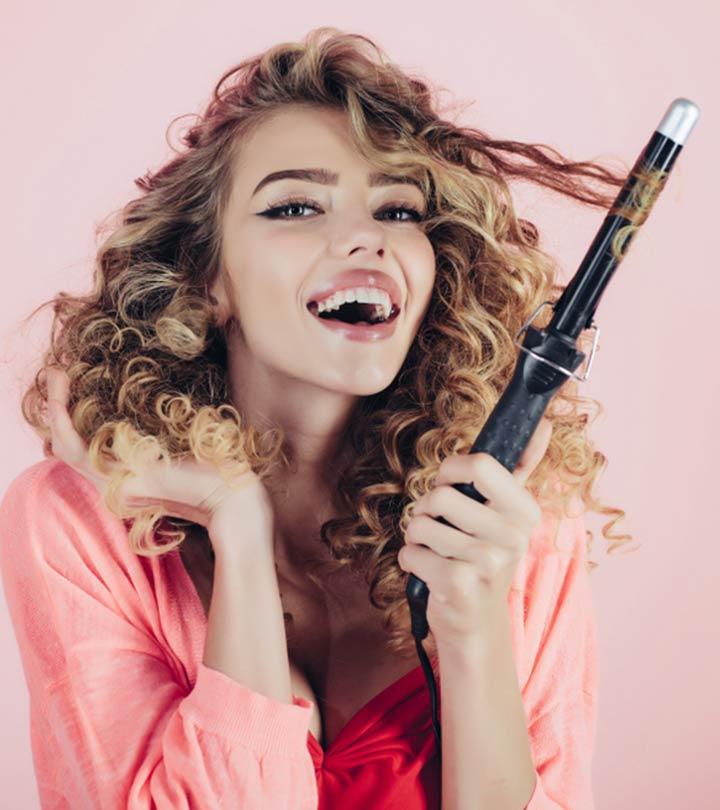 When it comes to choosing curling irons, there are many out there that are worth the hype. Unfortunately, some of the best drugstore curling irons out there don't get their due credit. We often assume that to get gorgeous-looking, bouncy curls, we have to step into a salon, but it is not necessarily so. An ideal budget-friendly curling iron has the right heat and thermostat settings, a swivel function, decent cord length, and a good-quality clamp. You can also consider the material with which the curling iron is made — whether it is ceramic, tourmaline, or titanium.
In this article, we will help you find some inexpensive curling irons that are worth investing in. With so many options out there, it might seem a daunting task to pick one. So, we have narrowed down the list of the best drugstore curling irons for you. Scroll down!
9 Best Inexpensive Curling Irons
Are you looking to change your appearance for the day? A curling iron can do that for you in a matter of minutes. With a curling iron like this one, you can achieve different types of curls – tight, classic, soft, or loose waves. This one comes with a 1-inch wand, which is ideal for creating classic curls. Its multi-layer barrel technology provides an even and consistent distribution of heat while the turbo heat button releases a burst of heat for styling ease and finishing touches. Made with a patented design, it features 25 heat settings and heats up in 30 seconds. It also comes with a non-slip grip handle and an extra-long tip for safe handling. You can check this video out if you need to know more about the product.
Pros
Multilayer barrel technology for even heat distribution
Turbo heat button
30-second heat-up
Automatic shut-off
25 heat settings
Non-slip handle
Cons
Takes some time for the curls to set
Price at the time of publication: $21.01
Whether you have fine, frizzy, coarse, straight, or already curly hair, this unique ball-shaped wand will help you create loose and natural-looking curls. This salon-grade curling wand is coated with tourmaline and ceramic and works its magic by helping you achieve long-lasting curls. It heats up in 30 seconds and reaches upto 420°F. If you want to curl your hair straight from the root to the tip, you can do so with this wand. It comes with a cool tip allowing you to use it close to the scalp as well. To find out more about this product, check this video review out.
Pros
Ball-shaped curling iron
Creates two types of curls
Fast heat-up
The wand is coated with tourmaline and ceramic
Comes with a heat-protectant glove
Cons
May cause hair some heat damage
Price at the time of publication: $25.05
Achieve salon-style curls from the comfort of your bedroom with this 9mm slim curling iron wand. The ceramic barrel heats up quickly to deliver curls that last all day without damaging your hair. It comes with 6 adjustable temperature settings for different types of hair. Along with an anti-slip handle, the wand also comes with a clamp to secure the curls in place. When you are not using it, you can use the support stand to place it on the table. As the wand is extremely slim, it can be used on extremely short hair as well. The 360° rotating cord makes it an easy tool to use.
Pros
Sleek 9 mm ceramic barrel
6 heat settings
Comes with a clamp
360° swivel cord
Comes with a heat-protectant glove
Cons
Takes some time for the curls to set
Price at the time of publication: $23.99
One of the best hair curling irons available in the market, it is quite popular among professional hairstylists. The 24K gold-plated barrel is an exceptional conductor of heat and also provides consistent heat flow. The temperature goes from 200°F-500°F, and the multi-temperature regulator allows you to switch between heat levels. So, if you have fine hair, it is recommended that you use the curling iron on low heat. This wand also comes with a cool tip for ease of use, and the golden clamp on the wand secures hair in place. Along with these qualities, it also comes with a safety stand and an 8-ft long swivel cord.
Pros
Suitable for all hair types
24k gold-plated barrel
Cool tip feature
Comes with a clamp in the wand
8-ft tangle-free cord
Cons
Does not come with an automatic shut-off
Price at the time of publication: $43.01
If you want to look your best by having some classic tight curls, your search ends here. The Conair Double Ceramic Curling Iron with a 1-Inch barrel gives you long-lasting curls with no frizz. With 30 heat settings, the iron boosts up to 400°F to help you achieve the desired hairstyle instantly for any hair texture or type. The cool tip of the iron and the auto-shut-off feature ensures safe handling, causing no heat damage. In addition, the dual-voltage quality of this iron makes it your perfect travel buddy.
Pros
Double ceramic coated
Eliminates frizz
Dual voltage
30 heat settings
Auto shut-off feature
Cool tip
Cons
Price at the time of publication: $16.99
Let the power of 3 barrels give you flowy and shiny curls. This curling iron comes with 2 different heat settings, so you can adjust the temperature according to your hair type or the style you want to experiment with. The barrels are coated with ceramic glaze, which provides uniform heat and protects the hair from heat damage. The wand also uses negative ion technology to fight frizz and retain the natural moisture of hair. With the 1-inch barrels in this iron, you can create long-lasting loose waves effortlessly. To use the wand, preheat it for a minute, and let the hair stay in between the barrels for 10 seconds.
Pros
Works on all hair types
2 temperature settings
Ceramic glaze coating
Insulated scald-proof tip
Cons
Some may think that using this wand to curl hair is a time-consuming process
Price at the time of publication: $21.99
The T3 SinglePass Professional Curling Iron allows you to achieve salon-like hair styling at home. The iron has tourmaline and ceramic technology, which generates a large number of negative ions. It helps to seal the hair cuticle, smooth frizz, and enhance shine. It has 1-inch plates that are designed to glide through hair smoothly and ensure even heat distribution while preventing hair damage. It has 5 adjustable temperature control and a microchip-enabled heating system that keeps the temperature consistent throughout styling. With each use, the iron is designed to deliver quick yet precise styling.
Pros
Ensures smooth curls
Smart-twist dial
Long-lasting curls
Prevents heat damage
Light and ergonomic design
Cons
Price at the time of publication: $169.99
Reveal different sides of your personality with a variety of curls with the help of this 5-in-1 ceramic curling wand set. These easily interchangeable 100% ceramic tourmaline barrels come in different sizes and are specifically designed for different styles of curls like beachy waves, soft curls, and classic tight curls. It's easy to use too! Choose the barrel shape you want, insert it into the base, press it down, turn it clockwise, and you're good to go. The non-skid handle allows for a solid grip, and the curler comes with a heat protectant glove.
Pros
5-in-1 interchangeable curling wand
Comfortable handle
100% tourmaline ceramic barrels
Dual voltage
Comes with a heat resistant glove
Cons
Doesn't come with a clamp
Price at the time of publication: $37.99
One of the best curling irons for fine hair, this pink beauty will not disappoint you. Crimp your hair away to glory with this ceramic curling iron, which is also perfect for creating naturally-bouncy, long-lasting curls. Whether you have short or long hair, thin or thick, this iron will work on all hair types and textures. The ceramic barrels produce negative ions to fight frizz, leaving it soft and shiny. As a bonus, it also comes with insulated barrel tips. It can also act as a great travel companion as it is a dual voltage curling iron.
Pros
Negative ion technology fights frizz
Ideal for all hair types
Comes with 3 barrels in 1 stand
Tangle-free swivel cord
Easy-grip handle
Dual voltage
Cons
Price at the time of publication: $27.99
It can be quite confusing while purchasing the ideal curling iron for creating hairstyles. We are providing a detailed buying guide to help you in choosing the best curling iron for your styling needs!
Things To Look Out For In Drugstore Curling Irons Before Buying
Most of the curling irons are made of ceramic because it helps in proper heat distribution. For thin hair that requires controlled heat, ceramic technology works best! Other alternative materials are titanium, tourmaline, and gold plating. Curling irons made with titanium are lightweight and heat-resistant. Hair curlers made of gold plating are good for coarse hair and can withstand high heat. Tourmaline curling irons can seal in moisture by blocking the negative ions. You can choose the material according to your choice and requirements in curling irons.
There are many barrel sizes available to choose from. A 1-inch barrel size is an all-arounder, while a 3/4-inch barrel is for compact ringlets. People with long hair can choose a barrel size of 1.5 inches. For a style that highlights loose curls, a two-inch diameter iron is perfect, whereas tighter, smaller ringlets require an iron with a thickness of up to an inch only.
Considering the heat setting is also an important factor as it ensures curl hold and protects your tresses against damage. A curling iron with lower heat settings may work wonders if you have fine or damaged tresses. On the other hand, thick and coarse hair requires a higher heat setting. Apply a heat protectant before using any hair tool. Additionally, a curling iron with manual heat control is advised.
Why Trust StyleCraze?
The author, Vaishnavi Kothuri, is a skin and hair care enthusiast who loves using different makeup products and gadgets. Before curating this list for her readers, she has considered customer reviews of budget-friendly curling irons online. These drugstore curling irons have the best heat and thermostat settings, good cord length, and swivel function. Sneha's article features curling irons for frizzy, coarse, and straight hair types.
Frequently Asked Questions
At what temperature should I use my curling iron?
Keep your iron's temperature set at or below 200°F if you have fine or thin hair. Your hair may burn if you go any higher. Set your curling iron between 200°F and 300°F if you have thicker or coarser hair.
What size curling iron should you use?
For tight curls, use barrel sizes of 1″ to 1.25″; for huge, bouncy curls, use 0.75″ to 1.5″; for big curls, use 1.25″ to 1.5″; and for loose curls, use 1.25″ to 2″.
Should I use rollers or curling iron?
If you use curling irons, you will have more control over your appearance. Curls created with a decent curling iron can hold their shape until your next shower, unlike curls created with hair rollers, which may become loose and flat after a few hours. However, if you use rollers, you do not risk any heat damage to your hair.
When should you clean a curling iron and how?
If you use a lot of hair products before curling your hair, wipe the rod after every use. However, if you don't use too many products or use the curling iron too often, you may clean it every two to three weeks.
Here's how you can clean it safely and neatly:
•  Warm up your curling iron for a brief period of time and unplug it. When they're mildly heated, curling irons are so much simpler to clean!
•  Dip a soft cloth or a thick paper towel in rubbing alcohol and fold it several times. Now use it to wipe your wand or curling iron plates.
•  Use an old toothbrush to clean particularly tough build-up areas.
•  Once the gunky filth has been removed, warm it up one more time and wipe it with rubbing alcohol.
•  To avoid any potential rust stains, wipe your curling iron off with a clean, damp cloth at the end.
•  Then, dry it completely with a clean towel.
Recommended Articles