11 Best Drugstore Eyeliner Brushes To Get Your Eyeliner Game On Point
Draw a neat winged liner or other fun shapes with specially designed brushes.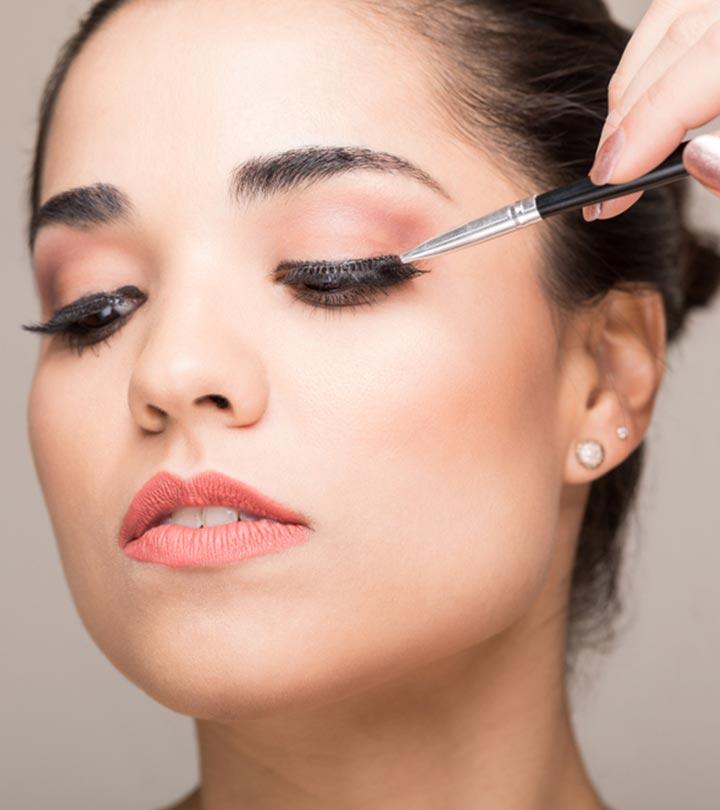 If you are looking for the best drugstore eyeliner brush, we got you covered. Whether you are just venturing into eye makeup or are a professional, you need to have a good eyeliner brush handy with you. Having said that, you must look for the right shape, ideal size, durability, and quality while selecting the right one for yourself. And once you have found that right match, it's like a match made in heaven for your eyes. It would not only help define your eyes better but elevate how your whole eye makeup looks. With tons of options to choose from, it can get overwhelming to narrow down to one. That's precisely why we have shortlisted the best 11 drugstore eyeliner brushes that are not just perfect for your eyes but easily available and affordable as well.
11 Best Drugstore Eyeliner Brushes With Reviews Of 2022
Here is the perfect eyeliner brush that lets you pay attention to detail. Crafted with fine wood, the brush handles are easy to grip and handle. From creating precise lines on your lashes and under lashes to drawing curve lining, this eyeliner brush does it all. These high precision brush bristles are made of synthetic bristles that deliver a smooth look while staying gentle on the skin. The angled shape of this brush also helps in drawing a winged eyeliner perfectly.
Pros
Has flat bristles
Premium quality
Easy to clean
Good for creating thick lines
Cons
Has slightly sharper edges
Price at the time of publication: $11.99
This eyeliner brush kit from Dogie Lyn contains 3 different brushes. There is an angular brush, a flexible fine bent eyeliner brush and a pointed round brush in it. All these brushes contribute towards creating beautiful, precise lining that make your eyes stand out. These pro-precision brushes are made of premium material that enhance longevity. The smooth edges of the brushes help easy access to the eyes and outlines the eyes amazingly well. Cleaning these brushes is quite simple. All you need to do is move bristles on a cotton pad infused with makeup remover. Keep patting the brush over the cotton pad until the brush has no color on it.
Pros
Durable handle
Has silky bristles
Multipurpose brushes
Good to draw thin lines
Cons
Price at the time of publication: $7.99
Suitable for all types of skin, this drugstore angled eyeliner brush is perfect for winged cat eyes. It allows you to take good control of your precise drawing. It makes the application easy with better control. The angled shape helps in building up liner thickness to provide you with a beautiful eye line definition. It can even be used as a brow eye brush to apply brow powder in soft strokes for getting beautiful, fuller brows. The brush has synthetic bristles that are strong, don't feather or shed with regular use. You can use it with a gel, powder, cream, cake or liquid eyeliner which means it works well for all liners.
Pros
Vegan brush
Versatile
Soft bristles
Sturdy handle
Cons
Brush doesn't come with a cover
Price at the time of publication: $11.97
This brush from the da Vinci brush line is a must-have for all the pros and the beginners. It has a long handle with a pointed round head. This range of brushes is handcrafted in Germany with sustainable wood. It outperforms with cake eyeliner and is suitable for lining of any type. Another good use of this is for body painting. It holds its shape and doesn't shed with continuous use. With its slim edge, you can create thin and thick lines all across your lash line and top of your lashes. You will love the soft synthetic bristles that are firm yet gentle on the skin.
Pros
Weighs light
Good quality
Ergonomic design
Suitable for easy application
Cons
Bristles might be too short for some
Price at the time of publication: $13.95
Kooba Angle Eyeliner Brush is a wonderful precision eyeliner brush that has a compact size of 6 inches and fits perfectly for your purse. It is very handy and ideal for daily use. It weighs really well and is suitable for travels too. This angled bristle head helps you create tight lines to the upper and lower lash lines without any trouble. If you are a winged liner fan, then this brush has to be your top choice. The best quality bristles stay tight with no shedding involved. The bristles are super soft and gentle on your eyes. Professionals love this drugstore makeup brush as it works astonishingly well with any type of eyeliner. It also works for filling in your brows and completing your eye look.
Pros
Washable
Hypoallergenic
Cruelty-free
Vegan-friendly
Cons
Edges might be slightly less sharp for some
Price at the time of publication: $5.99
The Revlon smoky eye brush is one of its kind. Unlike other eyeliner brushes, it has a cool diamond design that is attractive and super handy. This slanted brush is designed for ultimate application, comfort and to excel at stunning smoky eye looks. It works best with both eyeshadows and eyeliners. Whether you are dealing with powder or creamy formulas and liquid liners, this drugstore eyeshadow brush is suitable for all. The slanted edge helps in creating fine lines on eyelashes. It also can be used for smudging shadows for dramatic bold eyes. With its expert FX brush heads, the application is super comfortable. The brush is a 2016 RedDot Award Winner for design and it deserves to be tried out.
Pros
Great grip
Sturdy handle
Firm bristles
Reasonably priced
Cons
Handle might be slightly long for some
Price at the time of publication: $10.1
Suitable for both natural and dramatic eye looks, this eyeliner is perfect for all. It is a narrow eyeliner brush with a thin edge that delivers precise eye-lining. The flat edge also makes it a great smudge brush for eyeliner. The angular tip of the brush makes application convenient. This brush has bristles of super soft synthetic fibers of high quality. You can clean the brushes easily by washing them in warm soapy water. 
Pros
Soft synthetic fibers
Cruelty-free
Affordable price
Washable brush head
Cons
Slightly shorter bristles
Price at the time of publication: $9
Makeup lovers who wish to invest in a professional makeup brush must give this one a chance. It has a beautiful slim look that can be held comfortably and used for uniform fine line application. It is 7.5 inches tall and 0.5 inches wide. The pointed tip of this brush delivers high-definition eyeliner design that makes your eyes look remarkable. With premium quality dense bristles and solid wooden handle, this brush helps you apply makeup like a pro.
Pros
Sleek design
Vegan-friendly
High definition brush
Extra dense bristles
Cons
Bristles might be slightly sparse for some
Price at the time of publication: $9.99
This 4-piece brush set is of high quality and the bristles are silky enough to delicately slide the eyeliner on the lash line. Each brush serves as a perfect makeup tool that helps form a thin lining over the lashes. The length of each brush is about 7 inches and is travel-friendly. The brush can be used for a variety of applications. It includes application of eye and lip liner, eye makeup solvent, eyelash growth products, etc. From beginners to professional makeup artists, this eyeliner brush set is suitable for all.
Pros
Light weight
High-quality
Slim design
Multi-functional
Cons
Bristles might stick together for sometime when washed
Price at the time of publication: $6.99
This amazing eyeliner brush is unique. It is a different kind of brush with two brush heads. Each brush head is located on each end, which gives you the chance to enjoy two liner brushes in one single brush. There is a pointed brush head on one side and an angular tip on the other. Weighing just 0.02 pounds, this brush is easy to carry. It fits perfectly fine in your makeup kit and can stay with you at all times. You can easily create a winged or curved liner with its angled brush. The pointed, slim brush head is perfect for creating fine lines. The brush lets you enjoy both natural looking eyes and bold beautiful eyes as and when desired.
Pros
Cruelty-free
Simple to use
Compact size
Good quality
Cons
Price at the time of publication: $20
When looking for a perfect flat brush for eye makeup, this brush is among the top choices. It has soft bristles narrowing down to a thin flat line which makes the placement of the eye product along the lash line comfortable and easy. You can work it with a liquid, powder or gel liner that makes your eyes look flawless. Other than that, you can use this brush to eyelash growth extension. It measures around 5.91 x 1.18 x 1.18 inches, which makes it travel-friendly. This brush also serves as a great option for an affordable eyeshadow brush. Cleaning this brush is also quite easy with the help of a makeup remover.
Pros
Good precision
Stiff bristles
Simple to use
Multi-functional
Cons
Some may find it difficult to clean
So, these are the top 11 drugstore eyeliner brush brands that can take your eye makeup a notch higher. Do read the following tips for choosing the best eyeliner brush before heading on to making purchases.
Tips For Choosing The Best Eyeliner Brush
The best eyeliner brushes can be acquired by taking the following points into consideration-
A good quality eyeliner brush is one that is durable. It should precisely apply the eyeliner and last long. The handle must be of premium quality and the bristles must be firm, so that the bristles work well and don't get ruined during cleaning.
It is always good to invest in an eyeliner brush that can deal with all types of eyeliners be it gel, creamy, liquid or powder. Also, it should be good for the application of all types of designs, i.e. winged liner, thin liner, thick liner, or graphic eyeliner designs.
The bristles of an eyeliner brush should be soft and silky. Harsh bristles can affect your lashes, so you must check for softness of eyeliner brushes before purchasing one.
It is good to invest in a great drugstore eyeliner brush. But make sure that it does not rip off your pockets. A good quality eyeliner brush costs anything under $20.
Angular eyeliner brush
For cream, liquid or gel liners, angled eyeliner brushes suit the best. The thin edge helps in drawing thin lines. Such brushes can also be used for filling eyebrows.
Pointed eyeliner brush
For easy application, you can choose pointed eyeliner brushes. These are great for getting both thin and thick lines on the lashes. The brushes also work great with gel and liquid liners.
Flat eyeliner brush
Flat eyeliner brushes are great for lining the lower lash line accurately. For those who like subtle definitions, this is the brush to opt for. You can use such brushes with powder or cakey liners.
Bent eyeliner brush
Bent eyeliner brushes are great for beginners. These brushes are not just helpful but can assist you in mastering the winged eyeliner look. Also, these eyeliner brushes can be used with gel, powder or cake eyeliners.
Why Trust StyleCraze?
Chaitra Krishnan, a fashion and makeup enthusiast with experience in product writing, has compiled this list of the finest drugstore eyeliner brushes. She selected these products after extensively analyzing several products' characteristics and customer evaluations. In addition, she has included each product's features and a shopping guide to assist you in identifying your needs so you can pick the best eyeliner brush.
Frequently Asked Questions
Is the lip brush the same as the eyeliner brush?
Yes. Lip brushes and eyeliner brushes are very similar. The only difference is that a lip brush is smaller and lacks the eyeliner brush's pointed tip.
What is the best drugstore brush to apply gel eyeliner?
The Dome Shaped Semi Flat Brush is best for applying gel eyeliner. It makes it easier to apply gel eyeliner with the right amount of product.
Are angled eyeliner brushes better?
Yes. Angled eyeliner brushes are better since they allow you to draw thick and thin lines and accurate wings.
What is a smudge brush?
Smudge brushes help set the eyes and crease, reduce harsh lines, and create smokey eye effects.
Can I use an eyebrow brush for eyeliner?
Yes, an eyebrow brush helps with accurate eyeliner application, just like an eyeliner brush.
Recommended Articles