10 Best Drugstore Eyeliner Brushes To Get Your Eyeliner Game On Point
Draw a neat winged liner or other fun shapes with specially designed brushes.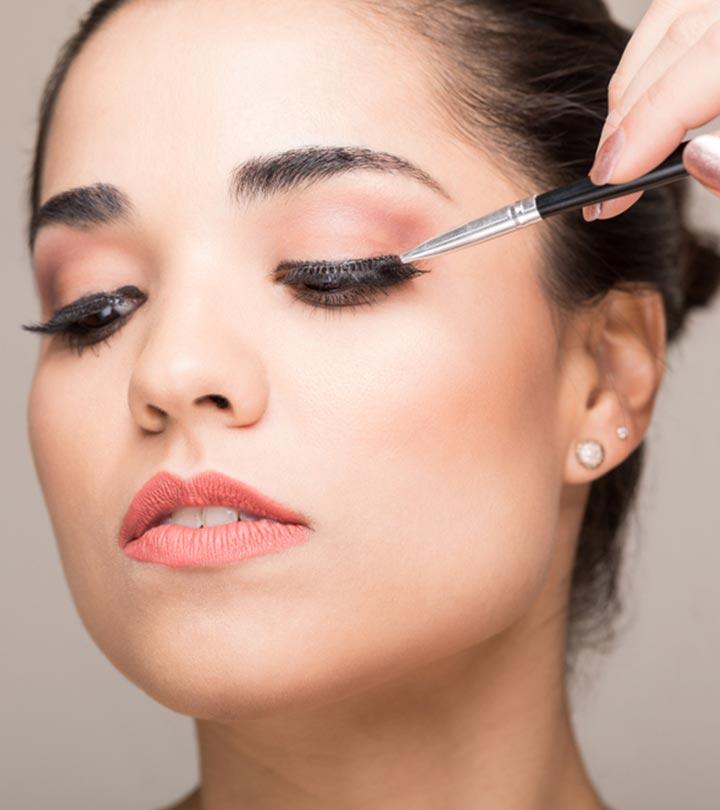 If you are looking for the best drugstore eyeliner brush, we got you covered. Whether you are just venturing into eye makeup or are a professional, you need to have a good eyeliner brush handy with you. Having said that, you must look for the right shape, ideal size, durability, and quality while selecting the right one for yourself. And once you have found that right match, it's like a match made in heaven for your eyes. It would not only help define your eyes better but elevate how your whole eye makeup looks. With tons of options to choose from, it can get overwhelming to narrow down to one. That's precisely why we have shortlisted the best 10 drugstore eyeliner brushes that are not just perfect for your eyes but easily available and affordable as well.
10 Best Drugstore Eyeliner Brushes With Reviews Of 2023
Pros
Has flat bristles
Premium quality
Easy to clean
Good for creating thick lines
Cons
Has slightly sharper edges
Price at the time of publication: $11.99
Pros
Vegan brush
Versatile
Soft bristles
Sturdy handle
Cons
Brush doesn't come with a cover
Price at the time of publication: $11.97
This brush from the da Vinci brush line is a must-have for all the pros and the beginners. It has a long handle with a pointed round head. This range of brushes is handcrafted in Germany with sustainable wood. It outperforms with cake eyeliner and is suitable for lining of any type. Another good use of this is for body painting. It holds its shape and doesn't shed with continuous use. With its slim edge, you can create thin and thick lines all across your lash line and top of your lashes. You will love the soft synthetic bristles that are firm yet gentle on the skin.
Pros
Weighs light
Good quality
Ergonomic design
Suitable for easy application
Cons
Bristles might be too short for some
Price at the time of publication: $13.95
Pros
Precise application
Angled design
Soft and durable fibers
Lightweight
Comfortable to hold
Easy to clean and maintain
Versatile
Cons
Requires efforts to create accurate lines
Price at the time of publication: $4.99
The e.l.f. Studio Small Angled Brush helps you apply any type of eyeliner with accuracy and perfection. The brush has a compact, angled shape that makes it suitable for drawing the perfect winged eyeliner. It is multi-purpose and thus, the ideal addition to your makeup collection, whether you're correcting the curve of your lips or achieving a strong eyebrow look. The synthetic bristles of the brush are gentle on the skin and avoid pulling or dragging makeup on the delicate eyes. Its svelte and sturdy form is ideal for easy storage and travel.
Pros
Soft, synthetic bristles
Sleek design
Durable
Compact size
Affordable
Travel-friendly
Cons
Price at the time of publication: $3
The Jessup Brush Set is a high-quality makeup tool that helps you create precise makeup looks effortlessly. The set includes four tapered brushes, two flat brushes, three angled brushes, and two water line brushes. They are lightweight, durable, easy to clean, and perfect for personal and professional use. They are made of high-quality synthetic fibers that allow easy application of liquid, gel, or cream eyeliners. The real wooden handle is designed for ultimate comfort. It has a long-lasting silver copper ferrule that is securely attached to each brush, protecting both the hairs and the handles while enhancing the texture of the makeup brushes.
Pros
Vegan
Lightweight
High quality synthetic fibers
Easy to use
Best suited to create thin lines
Cons
None
Price at the time of publication: $22.84
Makeup lovers who wish to invest in a professional makeup brush must give this one a chance. It has a beautiful slim look that can be held comfortably and used for uniform fine line application. It is 7.5 inches tall and 0.5 inches wide. The pointed tip of this brush delivers high-definition eyeliner design that makes your eyes look remarkable. With premium quality dense bristles and solid wooden handle, this brush helps you apply makeup like a pro.
Pros
Sleek design
Vegan-friendly
High definition brush
Extra dense bristles
Cons
Bristles might be slightly sparse for some
Price at the time of publication: $8.99
Pros
Easy to use
Enables precise lines
Natural and synthetic fibers
Soft to touch
High-quality
Long lasting
Good for beginners
Versatile
Cons
None
Price at the time of publication: $10
Pros
Easy to use
Bent design
Provides control and accuracy
Soft bristles
Easy to maintain
Durable
Cons
Price at the time of publication: $7.95
When looking for a perfect flat brush for eye makeup, this brush is among the top choices. It has soft bristles narrowing down to a thin flat line which makes the placement of the eye product along the lash line comfortable and easy. You can work it with a liquid, powder or gel liner that makes your eyes look flawless. Other than that, you can use this brush to eyelash growth extension. It measures around 5.91 x 1.18 x 1.18 inches, which makes it travel-friendly. This brush also serves as a great option for an affordable eyeshadow brush. Cleaning this brush is also quite easy with the help of a makeup remover.
Pros
Good precision
Stiff bristles
Simple to use
Multi-functional
Cons
Some may find it difficult to clean
So, these are the top 10 drugstore eyeliner brush brands that can take your eye makeup a notch higher. Do read the following tips for choosing the best eyeliner brush before heading on to making purchases.
Tips For Choosing The Best Eyeliner Brush
The best eyeliner brushes can be acquired by taking the following points into consideration-
A good quality eyeliner brush is one that is durable. It should precisely apply the eyeliner and last long. The handle must be of premium quality and the bristles must be firm, so that the bristles work well and don't get ruined during cleaning.
It is always good to invest in an eyeliner brush that can deal with all types of eyeliners be it gel, creamy, liquid or powder. Also, it should be good for the application of all types of designs, i.e. winged liner, thin liner, thick liner, or graphic eyeliner designs.
The bristles of an eyeliner brush should be soft and silky. Harsh bristles can affect your lashes, so you must check for softness of eyeliner brushes before purchasing one.
It is good to invest in a great drugstore eyeliner brush. But make sure that it does not rip off your pockets. A good quality eyeliner brush costs anything under $20.
Angular eyeliner brush
For cream, liquid or gel liners, angled eyeliner brushes suit the best. The thin edge helps in drawing thin lines. Such brushes can also be used for filling eyebrows.
Pointed eyeliner brush
For easy application, you can choose pointed eyeliner brushes. These are great for getting both thin and thick lines on the lashes. The brushes also work great with gel and liquid liners.
Flat eyeliner brush
Flat eyeliner brushes are great for lining the lower lash line accurately. For those who like subtle definitions, this is the brush to opt for. You can use such brushes with powder or cakey liners.
Bent eyeliner brush
Bent eyeliner brushes are great for beginners. These brushes are not just helpful but can assist you in mastering the winged eyeliner look. Also, these eyeliner brushes can be used with gel, powder or cake eyeliners.
Why Trust StyleCraze?
Srijani Roy Chowdhury, a fashion and makeup enthusiast with experience in product writing, has compiled this list of the finest drugstore eyeliner brushes. She selected these products after extensively analyzing several products' characteristics and customer evaluations. In addition, she has included each product's features and a shopping guide to assist you in identifying your needs so you can pick the best eyeliner brush.
Frequently Asked Questions
Is the lip brush the same as the eyeliner brush?
Yes. Lip brushes and eyeliner brushes are very similar. The only difference is that a lip brush is smaller and lacks the eyeliner brush's pointed tip.
What is the best drugstore brush to apply gel eyeliner?
The Dome Shaped Semi Flat Brush is best for applying gel eyeliner. It makes it easier to apply gel eyeliner with the right amount of product.
Are angled eyeliner brushes better?
Yes. Angled eyeliner brushes are better since they allow you to draw thick and thin lines and accurate wings.
What is a smudge brush?
Smudge brushes help set the eyes and crease, reduce harsh lines, and create smokey eye effects.
Can I use an eyebrow brush for eyeliner?
Yes, an eyebrow brush helps with accurate eyeliner application, just like an eyeliner brush.