10 Best Powder Eyeliners That You Must Buy In 2022
Try these waterproof, long-lasting powder eyeliners to get that soft, smudge look.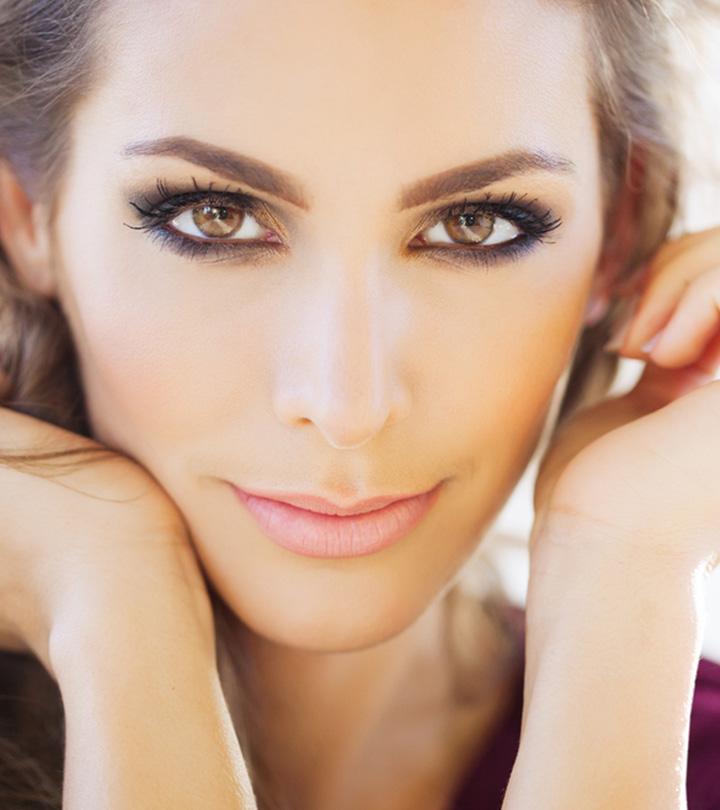 Owning the best powder eyeliners just makes sure your eyes look the best always. If you haven't used one already, we can assure you; you are missing out on a lot. Powder eyeliners are taking over the beauty industry for all good reasons! You might have used liquid and gel eyeliners before, but the soft smudge look is almost impossible to achieve with them. On the other hand, Powder liners give you a dramatic and bold look that looks more professional than what you could achieve on your own. They can also do way more than just frame your eyes. It can work as an eyebrow enhancer, eye shadow, and even mascara. These smudge-proof, waterproof, and long-wear powders are what you need to keep your makeup intact all day. Go through our list of 10 best power liners to choose the perfect one for your eyes.
10 Best Powder Eyeliner Reviews Of 2022
Want the perfect smoky eyes? Then get this powder eyeliner that will help you achieve that lustrous look in one sweep. It is equipped with a foam applicator that instantly blends the color without any need for smudging. This highly pigmented gel-like powder formula glides on smoothly and delivers a smokey look for up to 14 hours. You can apply this eyeliner along the top and bottom lash line of your eyes. And for a dramatic look, use the foam applicator to blend the color towards the outer corner of your eyes. Plus, you can use this powder eyeliner as an eyeshadow to achieve a bold look. Check out this video to know more about this product.
Pros
Durable
High-quality
No creasing
Easy to apply
Never needs sharpening
Cons
Price at the time of publication: $27.99
Add charm to your beautiful eyes with this cake eyeliner that delivers a fine line with powder dry finish. This perfect cake eyeliner formula will make your peepers pop and will definitely give you a sassy look at work or parties. Use an ultra-stiff angle brush to achieve a subtle appearance and for a bold intense look, mix the compact powder formula with a few drops of water and sweep above the lash line. This high-quality eyeliner not only makes your eyes prettier but also keeps the application area moisturized as it contains beeswax, which helps to glide this eyeliner smoothly without any creasing or flaking.
Pros
Affordable
Waterproof
Long-wearing
Easy to remove
Reusable compact
Suitable for contact lens wearers
Cons
May not be pigmented enough
Price at the time of publication: $12.62
Want a powder eyeliner made from natural ingredients? If yes, then this cake eyeliner is perfect for you! This highly pigmented, pressed powder formula is infused with natural plant extracts and hypoallergenic ingredients to keep your eyes safe and sassy at the same time. Whether you wear it in humid weather or extremely hot and dry conditions, you will not experience flaking or bleeding issues with this liner, even if you have sensitive eyes. From a winged eye or a fine line to mixing it with water and then applying it for an intense look, you can use this eyeliner in any way and get a perfect matte-finish look. This easy-to-apply and remove eyeliner can also be used as deeply pigmented eyeshadow for a dramatic appearance.
Pros
Vegan
Gluten-free
Cruelty-free
Smudge-proof
Long-wearing
Perfect for contact lens wearers
Cons
May not be water-resistant
Price at the time of publication: $14.99
Wouldn't it be convenient to have a powder eyeliner with a built-in brush? Well, the Jane Iredale Mystikol Powdered Eyeliner comes with a removable brush that helps achieve smokey eyes or a subtle look. This powder cream formula provides staying power and is easy to apply in seconds delivering all-day long smoky eyes. Just gently dip the built-in brush in the formula and apply it over the lash line or use it as a deeply pigmented eyeshadow for an intense look. Also, it works great as a brow enhancer. Before buying, have a look at this video for more details.
Pros
Vegan
Waterproof
Smudge-free
No creasing
Easy to remove
Cons
Price at the time of publication: $20.8
Define your eyes flawlessly with this powder eyeliner that glides on smoothly over your lash line and deliver a semi-matte finish look. You can wear this lightweight formula all day long without any creasing or fading. However, do not apply this liner like you wear normal eyeliners. For this, dip a clean flat eyeliner brush in water and then in the product to form a paste-like texture, then apply it underneath the roots of the lash line by gently smudging between the lashes. And if you want an intense and dramatic look, then add an extra coat of eyeliner. Watch this video to know more about the product.
Pros
Flake-free
High-quality
Easy to remove
Suitable for contact lens wearers
Dermatologist and ophthalmologist-tested
Cons
Price at the time of publication: $34.99
Michael Marcus Cake Eyeliner in the shade Amethyst is one of the most versatile and highly pigmented formulations. The vibrant hue opens the door to exploring a wide range of eye makeup styles and gives you a professional-like finish. The formula is smooth to apply and blend evenly without blotching or caking. It is a water-activated formula that gives you a vivid and powerful color payoff. The eyeshadow comes with an easy-to-apply brush that allows you to create multiple fantastic eye makeup looks without hassle.
Pros
Buildable formula
Affordable
Smooth application
Long-lasting formula
Highly pigmented
Smudge resistant
Cruelty-free
Paraben-free
Cons
Not waterproof
Slightly flaky
Price at the time of publication: $24.99
Get perfect, rich lines with this water-soluble pressed powder eyeliner that can be applied with the help of a damp brush. Whether you are a beginner or a makeup professional, you can easily apply this compact cake eyeliner and define your eyes beautifully. It is rich in pigmentation and does not fade throughout the day. The formula glides on smoothly over your lash line and delivers a powder-dry finish all day long. Plus, this durable powder eyeliner resists smudging and smearing. For easy application, use a clean damp brush to apply neatly on your lash lines, and for removing the eyeliner, use cotton dipped in lukewarm water.
Pros
Easy to dry
Waterproof
Cruelty-free
No flaking
Transfer-resistant
Cons
May not be suitable for sensitive eyes
Price at the time of publication: $15.99
Who wouldn't prefer pure and organic eyeliner? Bring this powder eyeliner home that is made of 100% natural and organic minerals. Whether you want to use it dry or wet, this eyeliner will deliver all kinds of looks, from subtle and smoky to bold and dramatic, with perfection. This highly pigmented eyeliner provides matte-finish, instead of a shimmery or sparkly appearance. This eyeliner powder is easy to apply and glides on smoothly over your lash lines. Apply the eyeliner with a superfine brush over the lash lines to achieve powder dry finish. Also, you can build up the color and add depth to your look by using a damp brush.
Pros
Affordable
Long-lasting
Chemical-free
Smudge-proof
Paraben-free
Cons
May not have sieve on the top to avoid powder falling off the container
Price at the time of publication: $7.15
Don't want to buy two separate shades of eyeliner? Then grab this matte pressed powder eyeliner that comes in dual colors, Black and Brown, which go perfectly with every skin tone and eye color. From precise lines to winged shape and smokey eyes, this cake eyeliner adds definition to your pretty eyes efficiently. You can get a dramatic bold look with these powdery-soft hues with a damp angled brush or just apply a fine line for a natural look. The application is easy with this powder liner, which can also be used as an eyeshadow, primer, or brow enhancer.
Pros
No fading
Travel-friendly
Value for money
Intense color payoff
Transfer-resistant
Cons
May not be water-resistant
Price at the time of publication: $8.75
Get ready to define your eyes flawlessly with this powder eyeliner that is deeply pigmented and delivers a matte finish. You can get a natural look by smudging it dry on your lash line with a fine eyeliner brush, or a bold intense look by applying it with a damp brush. Either way, the application is easy and also, the removal of the eyeliner is hassle-free. You can even use the eyeliner as an eyeshadow as it will smudge effortlessly to give a matte-finish look. This eyeliner is suitable for sensitive eyes as no chemicals have been used in the making.
Pros
Travel-friendly
Durable
Non-GMO
Gluten-free
Cruelty-free
Cons
May not last long on oily lids
Powder eyeliners are perfect for defining your lash line and achieving a dramatic eye look! These eyeliners can be used as an eyebrow enhancer as well. They are often used as an eyeshadow to get those smokey eyes. However, you should be aware of certain important pointers that need to be kept in mind while considering purchasing powder eyeliners. This buying guide can come in handy.
What To Consider When Buying Powder Eyeliners
Ingredients: Opt for a formula enriched with natural ingredients and vitamins. Organic extracts are hypoallergenic which does not harm the eyes and does not provide any burning sensation on the skin around your eyes.
Pigmentation: Pigments play a vital role when choosing powder eyeliner. Look for highly pigmented colors that accentuate your eyes. Remember, higher the pigmentation the richer the color!
Brand: Purchase powder mascara from a reputed brand since they are made from high-quality ingredients that are safe for sensitive eyes and contact lens wearers. A good-quality eyeliner glides smoothly without flaking or creasing and keeps the eyelid area hydrated.
Ease of application: Powder eyeliners are available in different forms which you can choose according to your convenience. Eyeliner with foam applicator glides easily in a single swipe. It reaches the corners of the eyes and smudges easily. While cake eyeliner comes in a compact look, for application, add a few drops of water in a brush and sweep above the lash line to get a perfect finish.
No chemicals: Chemical-free formulations are very important for the eyes. Read online reviews about the products and check the label to make sure the product is chemical free. Paraben, sulfate, and gluten should be avoided at all costs.
Color: Choose a color that suits your skin, complexion, and style. Darker colors like brown, black, and gray look great for a fairer skin tone. While purple, green, navy blue, and other similar shades suit medium to dusky skin tones.
Skin-friendly: Go for an eyeliner that is dermatologically and ophthalmologically tested. This denotes that the eyeliner is safe to use over your eyelids without the risk of any side effects.
Before you choose your favorite, let us guide you on how to apply a powder eyeliner.
How To Apply Powder Eyeliner
Applying powder eyeliner seems easy, but there are a few points to consider to achieve the perfect look.
Shade: Black is the most common color when it comes to eyeliners. This is one of the colors that work with any skin tone, so are these shades — dark brown, navy blue, and dark green.
Eyeliner brush: Superfine or angled eyeliner works best for powder eyeliners. These brushes will help you bring precision and avoid excess powder on the application.
Bold or subtle: Whether you want a dramatic look or a natural subtle look, you will have to use the brush accordingly. If it's the subtle look you are going after, then smudge along the lash line with the help of the brush. And to achieve a dramatic bold look, dampen the brush with water and then apply it over your lash line. Also, you can add extra coats for a more intense appearance.
Let it dry: If you are mixing water with the powder eyeliner, then give some time to dry. This will help the liner to stay for a longer period.
Bottom lash line: You can also apply powder eyeliner over your bottom lash line to enhance your eyes flawlessly with perfection.
Why Trust StyleCraze?
Chaitra Krishnan is a beauty expert who uses her expertise to review fashion and makeup products. She has compiled this list of the best powder eyeliners so you can find one that suits your taste. She checked thousands of online reviews and feedback to compile this list of her top favorites for you.
Frequently Asked Questions
Is powder eyeliner good?
Powder eyeliner is a good eye makeup product that helps in achieving a natural smudged or smoky look.
Can you use brow powder as an eyeliner?
Yes, you can use brow powder as eyeliner. You can use it dry or apply it with the help of a damp brush; the brow powder can be a good substitute for eyeliner.
What powder eyeliner is easiest to apply?
The Jane Iredale Mystikol Powdered Eyeliner and the Sweet Face Minerals Black Powder Eyeliner are easy to apply as they effortlessly glide on your smooth lashes and provide a matte finish to your look.
Can you put powdered eyeliner on your waterline?
Yes, use a flat or angled eyeliner brush to apply powder to the waterline. However, make sure to dab off extra product from the brush to avoid particles from getting inside your eyes. The powder will absorb excess oil around it and stay on for a long time.
Which one is better – powder or liquid eyeliner?
Powder eyeliners give you a dramatic and bold look that looks more professional. On the other hand, liquid eyeliners can make your eyes look bigger, but it is not possible to achieve a soft smudge look with liquid and gel eyeliners.
Do powder eyeliners smudge?
No. Powder eyeliners absorb the skin's oils to stay in place without smudging.
Recommended Articles