The 13 Best Makeup Products For Older Women – 2023
Tips, tricks, and guides to using makeup products on mature skin for a flawless look.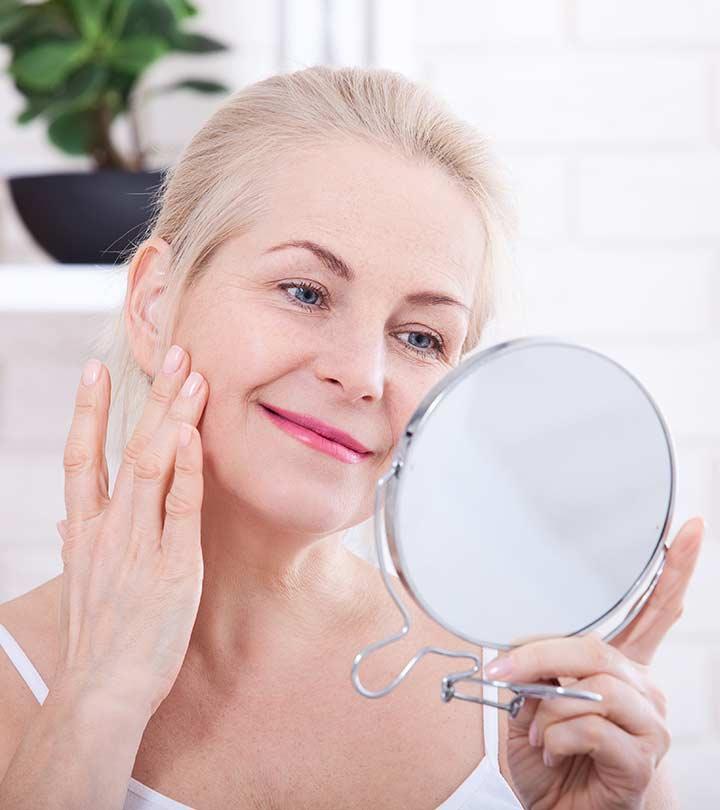 Makeup gets trickier on mature skin. But, the correct makeup techniques can make or break a look. The best makeup tips for mature skin can enhance your natural features to look your best. With advanced age, skin concerns like wrinkles, age spots, blemishes, etc., appear on the facial skin. To navigate these signs and get a good makeup look, you must follow some cardinal makeup rules that professionals follow. In this article, we have listed some insider makeup tips and tricks for women who want to feel great in makeup while embracing their aging process. So, keep reading to learn more.
15 Best Makeup Tips For Mature Skin
Here's our compilation of the best makeup tips that you need to keep in mind the next time you're doing your makeup. We guarantee that you will see a huge change!
Prepping your face is a must if you want your makeup to look flawless and last all day long. Use a hydrating moisturizer and a primer to go with it. A primer will even out your skin tone and reduce the appearance of large pores, fine lines, and wrinkles.
Pros
Does not feel heavy
Matte finish
Oil-free
Illuminating effect
Leaves no residue
Offers UV protection
Suitable for oily skin
Paraben-free
Alcohol-free
No artificial fragrance
Dermatologist tested
Non-comedogenic
Cons
Price at the time of publication: $28.69
Using the right foundation or
BB cream
makes a world of a difference.
A lightweight formula will help your base look more natural and radiant (and nobody wants to end up with a cakey finish)
. Apply your foundation with a damp Beauty Blender or brush, and blend it in really well to achieve the right amount of coverage.
This long-wearing formula is ideal for all skin types (and is available in 50 different shades!). It is extremely easy to apply and blend and leaves you with a natural "second skin" finish. When it comes to aging skin, it is best to opt for products that won't leave you with a powdery finish – and this is perfect! You'll be left with a subtle, satin finish that stays on all day long. It can be used on all skin types, as it does not irritate even the most sensitive lips. Apply this using a dense brush for gorgeous coverage. Learn more about this product in this video.
Pros
Ideal for all-day wear
Oil-free formula
Fragrance-free
Buildable coverage
Satin finish
Does not clog pores
Minimizes the appearance of pores
Heat-resistant
Humidity-resistant
Smudge-free
Transfer-free
Does not stain clothes
Cons
None
Price at the time of publication: $30
If you have problem areas like dark circles, age spots, and redness, all you need is a bit of concealer to get them sorted
. Remember, always use your concealer after you've applied your foundation. That way, you won't need much coverage. Find a shade that exactly matches your foundation for best results.
Pros
Lightweight formula
Offers a radiant glow
Blends easily
Suitable for every skin type
Paraben-free
Cons
Price at the time of publication: $67.99
A dab of cream blush that will leave you with a subtle hint of color is perfect for older skin. It will leave you with a "just-applied" look for hours. You need to take into account the shape of your face and apply the color at the height of the apples of your cheeks. Blend this upwards along your cheekbones to define and instantly lift your features.
You'll be surprised by how well this trick works to not only add radiance to your face but also to make it look livelier and youthful.
This cream blush from M.A.C has a beautiful texture. It is super easy to apply and blend and stays put all day long. You can also choose a color of your choice from its wide shade range. The intensity of the color is buildable, so you can start out sheer, building up as you go. You need to try this blush for mature skin if you want to achieve a natural flush of color that really lasts.
Pros
Lightweight
Creamy formula
Satin finish
Buildable
Blends easily
Medium coverage
Cons
None
One of the most notable areas where you develop fine lines is around the mouth. If you want to prevent your lip color from feathering and bleeding into these lines, all you need is dab a small amount of concealer around your lips and use a pencil lip liner to define them.
This simple trick will add fullness to your mouth
. Choose a color that matches your natural lip color for best results.
Pros
Mineral pigment-based formula
Moisturizes the lips
Skin-loving ingredients
Does not tug
Blends easily
Cons
Price at the time of publication: $20
Choose a volumizing mascara to enhance and define your eyes. Mascara can be a great way to define thinning eyelashes, and it also makes you look more awake and your eyes more pronounced. Mascara is a quick and easy way to add not just to your makeup but also to your confidence to carry around your makeup comfortably.
Pros
Buildable formula
Cruelty-free
Vegan
Easy to remove
Long-lasting
Intense pigment
Cons
May smudge
May clump your lashes
Price at the time of publication: $29
When it comes to aging skin, the skin on the eyelids can become loose and also descend over them. There are many ways you can combat this concern. Your eyeshadow can play a crucial role in the appearance of your eyes. Steer clear of very dark shades and overly glittery eyeshadows as these tend to recede things. Instead, use lighter colors without a lot of shimmers to bring your eyes forward.
This blendable multi-stick applies like a cream and can be used for your eyes, lips, and cheeks. The range features universal shades that complement all skin tones, and they are formulated in a way that they can be used anywhere on your face. If you want a long-lasting, weightless color, try a few shades from this range. You will not be disappointed.
Pros
Long-lasting formula
Corrects uneven skin tone
Lightweight
Easily blendable
Soft-focus finish
Non-drying
Cons
None
As you age, your eyebrows tend to become thin and sparse and also lose their shape. Grooming your brows will help you bring your whole look together. You only need to add some color and brush them up to add definition, texture, and depth to your brows. It's easier than it sounds!
This retractable brow pencil is perfect to fill in any sparse areas on your brows. It will help you create precise, hair-like strokes and comes with a custom spoolie to help blend the product out for a flawless finish. It is also long-wearing and smudge-proof and available in 10 shades. You can also add a transparent brow gel over this to enhance your natural brows and to keep them in place.
Pros
Long-wearing formula
Glides effortlessly
Natural-looking finish
Rich color-payoff
Vegan
Cruelty-free
User-friendly packaging
Cons
None
Price at the time of publication: $23.0
Love your
eyelash curler
, ladies! Curling your lashes makes you look a lot younger. It's important to always curl your eyelashes before you apply mascara or else you risk breaking off your lash hairs and ruining your curler with mascara gunk.
This eyelash curler from Brilliant Beauty will help create the most voluminous curls. It does not cause any tugging, pulling, or broken lashes, so don't be afraid to try!
Pros
Durable
Long-lasting effect
Comfortable grip
Seamless eyebrow grooming
Easy to use
Does not tug, pinch, or pull
Cons
Not suitable for sensitive eyes or skin
Price at the time of publication: $7.49
Wearing black mascara that's designed to create thicker, darker lashes will help define your eyes and leave you looking bright-eyed and youthful. Choose a product that's designed for your needs – be it curling, volumizing, or lengthening – and apply it once you finish curling your lashes.
Dior's Iconic Overcurl mascara is a must-try for thinning, sparse lashes. Two coats of this will instantly amp up your lashes, leaving you with a whole lot of volume and length. It is a high-end product, so it's a tad bit pricey but worth every penny!
Pros
Contains premium-quality ingredients
Long-lasting
Volumizing effect
User-friendly brush
Suitable for casual wear
Cons
Price at the time of publication: $39.5
Instead of a
liquid eyeliner
that may look too heavy on you, opt for a pencil eyeliner in a soft brown or taupe shade. Use it to subtly define your upper lash line and tight line your lashes. It's a good idea to leave your lower lash and waterline alone because defining them can make your eyes look smaller and tired.
Pros
Long-lasting
Creamy formula
Matte finish
Hydrating ingredients
Blendable coverage
Glides on smoothly
Does not tug or pull
Cruelty-free
Cons
Price at the time of publication: $23.0
Pronounced cheekbones will lift your face and draw attention to your eyes. Make sure you are light-handed while highlighting this area as you don't want to look overdone during the day. Just a subtle glow looks truly flattering and can be done on a daily basis within a few seconds.
If you want a natural, lit-from-within kind of glow, this luminizer from RMS Beauty is perfect. This is one of the best cream highlighters and adds a healthy sheen to your face. Although its packaging is simple, and it comes without a mirror, its formula is what makes it a cult-favorite.
Pros
Lightweight
Camouflages dark circles
Creamy formula
Natural-looking finish
Non-greasy
Non-sticky
Suitable for evening wear
Non-GMO
Soy-free
Gluten-free
Cruelty-free
Cons
Price at the time of publication: $30.59
How you finally take off your makeup at the end of the day is essential to your skin's overall health. Coconut oil works as a wonderful makeup remover as it melts even the most stubborn makeup away. Also, it is good for your skin and acts as a natural moisturizer. Apply it directly on your face as an oil cleanser, let it sit for a bit or gently wipe it off with a wet wipe. Then, wash your face with water and your regular cleanser. Thank us later for your glowing, beautiful skin!
Ladies, less is indeed more because nobody likes a plastered face. Use your makeup to highlight your best features and not to hide underneath its layers. As your skin matures, you need to be careful with your application technique because one wrong step can make you look older than you actually are (because makeup sometimes tends to accentuate wrinkles and fine lines). So, keep it simple!
Here's what we recommend for lip makeup. It is a good idea to stick to moisturizing lipsticks or glosses that won't bleed or feather into the lines around your lips. Choose lighter colors because they tend to make your lips look fuller and poutier than darker shades. If you have thin lips, don't make them look thinner with dark lip colors. If you like a pop of vibrant color, don't be afraid to experiment.
Finally, a dose of confidence is all we really need to let ourselves genuinely shine! Even if you've only just started out wearing makeup, wear it boldly and with confidence. Remember, you're gorgeous either way, so why not flaunt it?
David Bowie once said, "Aging is an extraordinary process where you become the person you always should have been." We couldn't agree more! Don't forget to embrace the process.
The author, Esha Saxena, is a makeup enthusiast who knows the latest tips and tricks of the trade. She recognizes that as your skin ages, makeup techniques can make or break your look. She conducted a thorough investigation and compiled this list of makeup tips for older women that enhance your natural looks and make you love and embrace yourself!
Frequently Asked Questions
How do you apply makeup to mature skin?
Use makeup products that have anti-aging benefits. Start with a hydrating primer that covers fine lines and wrinkles and evens the skin texture. Next, apply a full coverage foundation and use a concealer to cover blemishes and spots. Avoid using glitters or shimmery products that can highlight fine lines on mature skin.
What kind of makeup should a senior woman wear?
Senior women may opt for a lightweight liquid foundation with full coverage and a dewy finish. This ensures that the wrinkles and fine lines are covered and the skin looks naturally radiant. Apply a cream eyeshadow for mature eyes for seamless application and do not extend beyond the end of the eye to prevent accentuating the jowls.
How do you make your foundation look good on older skin?
Tips and tricks to get a flawless foundation look on mature skin:
•  Start with a hydrating moisturizer and an anti-aging primer to prep the skin for a flawless base.
•  Next, choose a liquid or cream foundation in satin or dewy finish to get a radiant glow.
•  Apply a little amount of the foundation with the help of a brush.
•  Blend it well to get the best coverage.
•  Opt for buildable formulas and layer on the foundations instead of using a thick formula.
Pro tip: Begin with a quick 5 min face massage using your fingertips, gua sha, or a jade roller. This improves the circulation and vibrancy of the skin.
Should a mature woman wear mascara on her bottom lashes?
No, mascara on the lower lashes makes your eyes droopy and tired.