13 Best Primers For Women Over 50 – 2022's Top Picks
Cover the fine lines and wrinkles and give your skin a long-lasting smooth finish.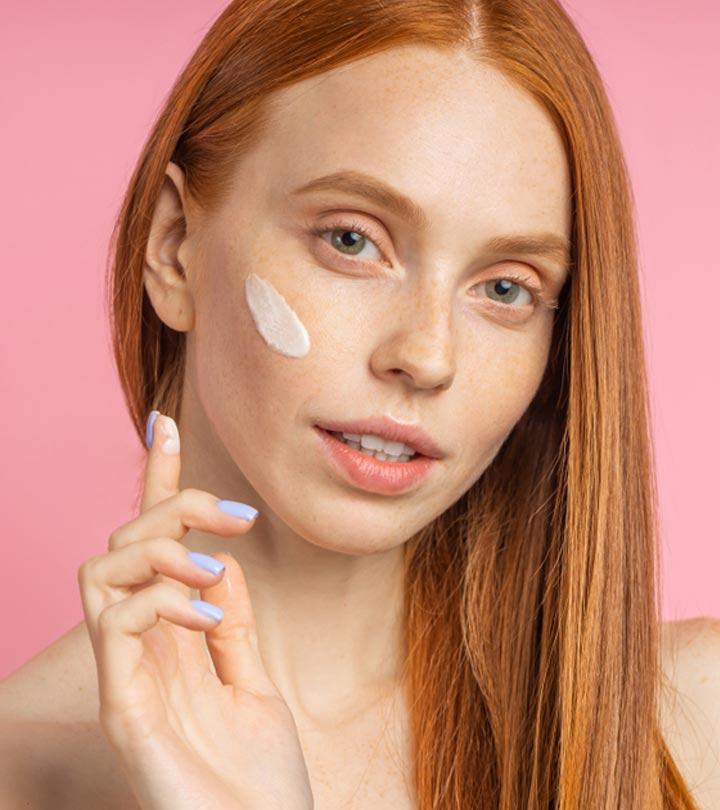 The 5th decade of your life brings wisdom and wrinkles – the former requires celebration, the latter makeup. The best face primers for over 50 years' women become the MVP of your makeup kit at this point. Because this is the time when your skin needs some extra TLC as it starts to manifest your age. It gets dehydrated easily, fine lines and wrinkles start sprouting up, dark circles and blemishes make your skin look dull, and pores get even more clogged than it was. You need a lot of makeup to cover the freckles and scars, but it ends up giving you a cakey look. Regular beauty products become less effective at this point, and your skin starts to ask for some special care. But aging does not have to sound like a horror story. It is a beautiful process, and as for mature skin, there are products in place that can give you a flawless look, no matter your age.
Want to give your face an instant lift? Check our list below!
Top 13 Best Primers For Women Over 50 – Our Picks For 2022
Let the almost-ordinary packaging of this product not deceive you, as this foundation primer for women over 50 is one the best ones available in the market. This fantastic primer, when applied as a base, helps in making your liquid foundation stay longer. This creamy primer penetrates the epidermis of the skin, keeping it nourished and hydrated while also fighting the signs of aging. It can also be used as a moisturizer for a radiant, dewy, and youthful look. A few pumps of this primer will go a long way in keeping your face fresh for the whole day and lending a natural looking coverage.
Pros
Affordable
Cruelty-free
Easy pump dispenser bottle
Anti-aging properties
Hides pores
Fragrance-free
Cons
May not conceal very deep lines and wrinkles
Price at the time of publication: $11.89
As the name suggests, this primer is not just a base or a prep product; it also adds a radiant glow to your skin. Not only does it mask wrinkles, fine lines, pores, and dark spots, it also evens out skin tone. A helpful addition to your makeup routine, this primer helps in keeping your skin look firm and youthful with its anti-aging properties offered by the green and white tea extracts, and retains your healthy, natural glow with the help of grapefruit extracts. Just apply a pea-sized amount of this primer to bring back life to dull skin, and also marvel at how your makeup goes on easier with this product. If you want a detailed review of the product, make sure to take a look at this video.
Pros
Subtle but pleasant fragrance
Dermatologically-tested
No parabens, sulfates, and phthalates
Contains natural brightening ingredients
Lightweight
Smooth texture
Cons
Expensive
It takes some time to absorb
Price at the time of publication: $50.0
Shine throughout your fabulous 50s with a little help from this anti-aging primer that's quickly becoming quite the crowd-pleaser. This two-in-one duo of oil blend serum and makeup base is extremely hydrating and takes care of your skin thoroughly. Formulated with the help of world-renowned plastic surgeons, this serum primer is what you should place your bet on. It contains more than 50+ anti-aging ingredients, essential lipid-rich oils, vitamins, extracts, and botanicals, all of which work in perfect harmony to reduce the appearance of wrinkles and enlarged pores.
Pros
Contains more than 50 ingredients to fight the signs of aging
Made with the expert advice of plastic surgeons
Oil blend serum primer
Reduces dryness
Cruelty-free
Non-greasy
Free of parabens, sulfates, and talc
Cons
Price at the time of publication: $58.0
As smooth as silk or as smooth as a baby's bottom, either way, this primer for women over 50, is as smooth as it can get. Enriched with the goodness of vitamin E, rice bran essence, and shea butter, this product leaves your skin feeling revitalized. Illuminate your face with this non-greasy primer, which adds a pale, pink glow to the skin. While covering all your wrinkles and pores, it also enhances your makeup with its soft-matte texture. It's so lightweight and non-greasy, you won't even feel like you have applied anything under your makeup.
Pros
Can also be used as a highlighter
Non-oily
Lightweight
Adds a subtle pink glow to the skin
Glides over skin
Fragrance-free
Cons
Not very hydrating
Slightly expensive
Price at the time of publication: $59.99
A face primer that also protects the skin from harmful rays of the sun! We must be dreaming, or somehow, it appears that all our prayers have been answered. This primer may look small, but have no doubts that it packs quite a punch. Not only does it keep your makeup fresh all day long, this mattifying sunscreen cum primer offers ultimate anti-aging protection. Packed with the lush goodness of cherry blossom, lemon balm, and white tea extract, this primer lends a soothing effect on the skin. Carnosine (a protein building block) present in this primer makes the skin firm and softens wrinkles.
Pros
Contains highly effective SPF 45
Lightweight
Oil-free
Contains soothing botanicals
No parabens, phthalates, and sulfate
Mineral-oil free
Cruelty-free
Fragrance-free
Vegan
Cons
May leave a white residue when used in excess
Price at the time of publication: $83.3
What are the two most important things we look for when we select a makeup product, particularly a primer? Firstly, it has to make our skin feel instantly smooth, and secondly, it should help blend out any imperfections on our face – this primer does both. It's remarkably smooth, oil-free, and glides on effortlessly and blurs out lines, wrinkles and reduces the appearance of open pores vastly. This perfector can be used as a base before you apply foundation or as an instant lift-me-up for your dull skin. Once you have applied this primer, wait a few minutes before you put on your foundation for best results.
Pros
Non-comedogenic
Non-oily
Revitalizes dull skin
Dermatologically-tested
Tested by an ophthalmologist
Nourishes and protects skin
Cons
May not hide huge pores
Slightly expensive
Price at the time of publication: $28.0
A skin perfector that puts velvet to shame, Tatcha's The Silk Canvas priming balm for women over 50, helps makeup glide on smoothly and keeps it fresh for long periods. It also benefits the skin by preventing clogged pores and breakouts. Why is this product such a hit among mature women across the world, one might ask? It not only helps makeup last longer, it also protects the skin by keeping makeup from clogging pores. With natural active ingredients like real silk, pink and gold pearl, and Tatcha's very own anti-aging superfood trinity, this primer nourishes dull skin while blurring out the appearance of pores, wrinkles, and other imperfections. This makes it one of the best primers for aging skin.
Pros
Protective priming balm
Attractive packaging
Tested by a dermatologist
Cruelty-free
Doesn't contain sulfate, parabens, and phthalates
No mineral oil
Non-irritating
Anti-aging properties
Cons
High-cost
Some may find the texture slightly thick
Price at the time of publication: $54.0
Let your face be the masterpiece that the whole world is waiting for with a little help from this perfecting primer by Revlon. Be not just photo-ready, but always ready with its high definition filter technology. It reflects and diffuses light to lend you an enviable, airbrushed look. This pink-tinted formula also helps in brightening your skin tone and reduces the appearance of imperfections. For best results, start by applying the primer to the center of your face and blending it outwards.
Pros
Lightweight
Affordable
Talc and fragrance-free
Paraben-free
Non-greasy
Cons
It takes some time to absorb into the skin
May not be suitable for extremely sensitive skin
Price at the time of publication: $10.0
An excellent example for the saying, "great things come in small packages", this amazing tube contains stuff that 'perfect-skin' dreams are made of. If you are looking for a primer that acts instantly to hide the appearance of large pores, this product fits the bill. For skin as smooth as butter, apply this lightweight formula and watch your fine lines and wrinkles vanish immediately. This translucent formula also contains vitamin E, which helps in protecting the skin. Suitable for all skin tones, this primer can be applied under or over your makeup.
Pros
No-oil formula
Complements all skin tones
Translucent formula
Long-lasting
Lightweight
Non-greasy
Cons
Some may find the texture to be a little runny
Price at the time of publication: $29.51
One of the best primers for mature skin, Base Magique protects the skin by keeping it thoroughly hydrated. It helps in concealing wrinkles and open pores like a dream and gives the skin an even appearance. If you are someone who swears on foundation, this primer will be of great use for you, as it makes the foundation last longer. Forget greasy and shiny skin with this primer for aging skin, as it has a mattifying effect. Silicon oil present in this perfecting base cream allows for easy application and adds a radiant glow to your face.
Pros
Ultra-hydrating
Makes foundation last longer
Matte-effect
The silicon oil in it makes application easier
Absorbs excess oil
Suitable for oily and acne-prone skin
Lightweight formula
Cons
It takes some time to blend
Not the best fit for very dry skin
Price at the time of publication: $32.99
It's a pity that most women who enjoy makeup don't realize the importance of what a great primer can do for them. Women with mature skin should invest in a good primer, much like this one from Smashbox. A Smashbox bestseller, this photo finish foundation primer is oil-free and settles on the skin as soon as it is applied. Transform your face into a beautiful, even surface with this transparent primer gel to blur out all flaws like deep lines, wrinkles, and large pores.
Pros
Non-greasy
No parabens and phthalates
Fragrance-free
Cruelty-free
Complements all skin types
Vitamin A and E in the primer protects the skin
Contains antioxidants which helps in fighting environmental pollutants and skin damage
Cons
Some may find the texture a little thick
Price at the time of publication: $25.9
From the makers of some of the best makeup products in the world, comes another great innovation – the perfecting makeup primer. This oil-free formula not only has a smoothing effect but also keeps the skin cool. One of the best primers for mature skin, it creates a radiant and long-lasting canvas for a refined look. As it is a transparent primer gel, it can be used on any skin tone. It's so silky and glides on so effortlessly; one will forget that they have used any base for their product. It helps makeup stay on all day long without making it cakey on the wrinkles.
Pros
Oil-free formula
Absorbs into the skin quickly
Hides all wrinkles and pores
Suitable for all skin tones
No cakey appearance
Cons
May not be suitable for sensitive skin
Expensive
Price at the time of publication: $40.0
Bobbi Brown products are loved all over the world by both amateur and professional makeup artists and deservedly so. They work like a charm and are made with lush, nourishing ingredients. This two-in-one moisturizing cream and primer is lightweight and preps your skin in seconds for the perfect makeup application. If your skin is thirsty, quench its thirst with this hydrating product enriched with mineral water and algae extracts. So, whether it's a hydrating cream or a makeup primer that you're looking for, this one will not disappoint you.
Pros
Contains mineral water and algae extracts
Ultra-hydrating
Moisturizing cream + primer duo
Smooth application
Non-oily, thereby suitable for oily skin
Cons
Price at the time of publication: $44.93
[ Read – Bobbi Brown Hydrating Face Cream Review ]
Now, let us take a look at some important factors you must consider before choosing a primer:
Why Do Women Over 50 Need A Primer
It is no secret that women over 50 have wrinkles and enlarged pores. While many women go makeup-free and flaunt their wrinkles, some like to keep them concealed. Foundations can go a long way in blurring the imperfections, but a primer is what sets the tone for the makeup. It helps the foundation glide on smoothly and also makes it last longer. Primers are specifically designed to make skin look smoother, minimize the appearance of wrinkles and pores, and also to hold makeup in place for hours. However, it has an added advantage for women over 50 (or even 40); it perks up the face instantly.
How To Choose A Face Primer For Women Over 50
If you have oily skin, stick to an oil-free primer with a mattifying effect. A primer with silky powder will also help in absorbing excess oil.
However, if you have dry skin, your best bet is to choose a gel-based or illuminating primer, which will keep your skin hydrated.
For those of you who have combination skin, look for a primer that has light-reflecting properties as it adds a healthy glow to the skin.
Why Trust StyleCraze?
Chaitra Krishnan, the author of this article, is a makeup fanatic and admires providing research-backed articles for her readers. She conducts thorough research by browsing various product specifications of primers and analyzing the user feedback online to provide the curated list of the best face primer. These face primers keep your face fresh all day, provide good coverage, keep your skin hydrated and make you look youthful.
Frequently Asked Questions
Do primers age your skin?
No, other factors like the environment, food habits, and metabolism among others make your skin age as you grow older, but a primer can help you conceal those imperfections.
Are primers good for mature skin?
Yes, not only does it mask fine lines, wrinkles, and open pores, it can also hydrate the skin.
Can primer be used everyday?
Yes, it can be used as a base for when you want to apply makeup, or just as a hydrating cream in itself.
What is the best face primer for wrinkles and pores?
The Jane Iredale Smooth Affair Facial Primer And Brightener, the Covergirl Simply Ageless Anti-Aging Foundation Primer, and the It Cosmetics No.50 Serum Collagen Veil Anti-Aging Primer are some of the best primers for wrinkles and pores. These products reduce the appearance of aging signs and offer youthful skin for a flawless makeup base.
Does primer go on before or after moisturizer?
A primer should ideally be applied after the moisturizer. This ensures your skin is well hydrated before the subsequent makeup products are applied.
Recommended Articles