15 Best Wigs With Bangs For Everyday Experiments!
Embrace edgy hairstyles and hair colors without worrying about messing up your natural hair.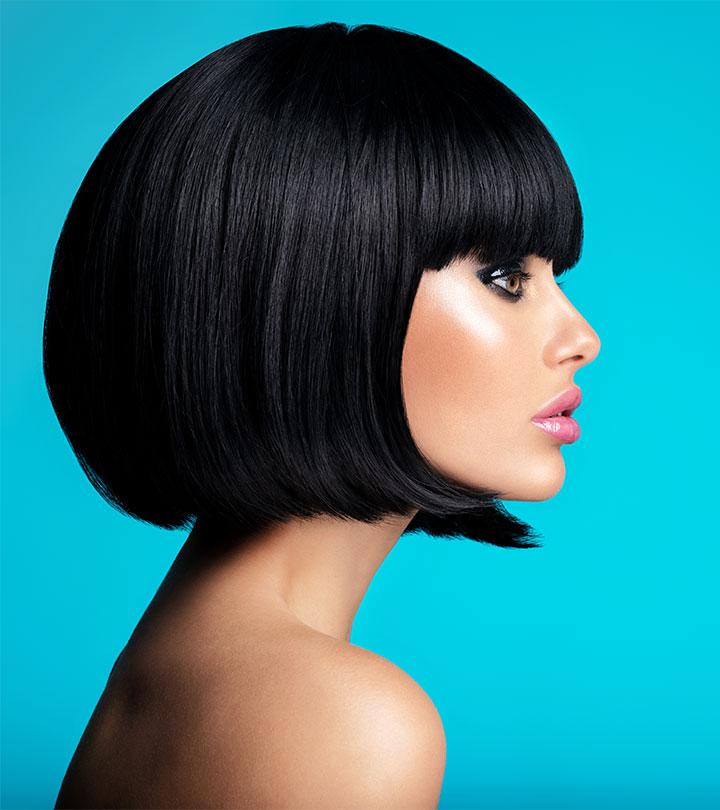 Although experimenting with nails and outfits has always been a thing for women, even notable fashion enthusiasts think a gazillion times before going wild with hair because carrying a wrong hairstyle for months and months is a big "no". But wigs come to the rescue, and you can just flaunt awesome hairstyles without having to get a haircut or color them. To this end, we have listed for you some of the best wigs with bangs of the year 2021 that can take your look to the next level. The shortest pixie, those bobbed wigs, long and lustrous tresses, we have covered it all. And the best part is, they come with bangs. So go ahead and give this piece a read, and find out the perfect match for you. Get a suitable wig with bangs that can make you look unique every single day! C'mon!
What Do Wigs With Bangs Mean?
Wigs with bangs are wigs that are designed with fringes in the front to cover your forehead. If you have curly and wavy hair, you could have a disaster in getting a front cut as the fringes can roll upwards when you do not set them right. Wigs with bangs can be those wish masters that fulfill your wish of having a band of fringes over your forehead without cutting your hair. Bangs can go well on square faces with broad foreheads. They cover the forehead and make the face look smaller.
15 Best Wigs With Bangs To Flaunt A New Temporary Look
This is one of those ombre wigs with bangs that have a tinge of pink to suit women with fair and pale skin tones. It is made with 100% high-quality synthetic that looks so natural on your head. Cut the 30-inch long tresses and style it just the way you like or leave it as it is for that long and curly look. It comes with a breathable rose net cap that can be adjusted to your head's circumference. Wear it as a cosplay wig or flaunt it every day to look prettily perfect.
Pros
Natural appearance
Easy to wear
Easy to maintain
Breathable wig cap
Cons
It is advisable to not dye or perm the wig hair.
Price at the time of publication: $19.99
Straight hair is the simplest base for many voguish hairstyles and trends. If you are very experimental and love trendy hairdos or need silky soft hair, get this long-straight wig with bangs. The 16-inch long and straight hairs are obtained from naturally Brazilian hair and are attached to a breathable elastic cap with adjustable straps for the perfect fit. You can bleach, perm and style the wig hair, and try new looks with it. Wear it to work daily and have tangle-free tresses and nice-looking fringes. This video helps you know more about the product.
Pros
100% human hair
Tangle-free
Disinfected and treated
Can be bleached and permed
Cons
Price at the time of publication: $109.99
Flaunt a bob look without cutting your long tresses with this natural-looking short and wavy wig. This wig is one of the most chosen synthetic wigs with bangs used by many women with a broad forehead. It effectively covers the forehead and makes your face look smaller. Wear this wig all day long without feeling uncomfortable as it is lined with a breathable rose net. The elastic band, along with adjustable straps and clips, fits your head well and keeps the wig in place. Check out this video to know more about this product.
Pros
Wavy tresses
100% synthetic
Thick density
Breathable cap
Cons
Price at the time of publication: $23.99
Get lusciously wavy flowing hair that goes down your shoulders until your waist with such natural-looking long hair wigs with bangs. This one mainly is made with high-quality synthetic hair that is deeply fixed into a natural-looking scalp base. When you wear this on, not one gets a hint that it is a wig — even if you are under sunlight or the spotlight. A rose-netted head cap with elastic adjustable straps and hairpins keeps the wig in shape as you flaunt the long and wavy hair look teamed with a cute front cut. Before buying, have a look at this video for more details.
Pros
Looks very natural
Adjustable elastic tabs
High-grade synthetic
Heat-resistant
Cons
Washing the wig could be hard.
Price at the time of publication: $26.99
Hair tangling is common if you have long wavy hair but you could have a tangle-free experience with long wavy wigs with bangs like this one. The rich honey-ombre brown color goes well on all skin tones and syncs well with any occasion. With 180% hair density, you can style as you like or simply let it flow down your shoulders to look natural. You will not have any issues with the shedding and tangling of wig hair as each strand is made by Japanese high-quality synthetic material.
Pros
Tangle-free waves
180% dense
Japanese high-quality synthetic
Medium brown scalp color
Cons
The waves may not last too long.
Price at the time of publication: $26.99
The typical Halloween-orange hair is a much-endorsed fashion trend today. How about getting a wig to show off this style? This wig has ginger-orange wavy hair with bangs to suit all skin tones and get that perfect orange-hair look. You can use this wig for cosplay or match it with a lovely party dress to have all mouths praising you. The lean wavy tresses and the light fringes of the wig look so much natural, although it is made of synthetic material. The soft hair texture can be preserved even if you style it many times.
Pros
Lightweight wig
Natural-looking synthetic hair
Easy to clean
Heat-resistant
Cons
The wig hair color might fade with time.
Price at the time of publication: $25.9
Rapunzel-like hair makes you look gorgeous and so does pixie-like hair. Do not chomp your natural hair, instead get one of those natural-looking pixie cut wigs with bangs. This extremely short wig is made of natural hair that is dyed in ombre-brown color. The natural hair is plucked and treated to prevent any form of allergies and infections to your skin and scalp when you wear it with style. You can fit it perfectly by fastening the adjustable straps of the head cap without any glue.
Pros
Pretty pixie look
Adjustable straps
100% natural virgin hair
Breathable head cap
Cons
The wig hair strands can loosely fall off.
Price at the time of publication: $18.88
Let's talk about adding colors to pale skin with a light blonde hair look. One of those gorgeous trends includes coloring your hair dark in the scalp region and getting a light hair color on the bottom. Inspired by such a color pattern, there are blonde wigs with bangs that start dark at the root and end light in the tip. Here is one such wig that has long and wavy tresses of 22 inches, beautifully colored to get that realistic look. They are easy to wear and stay in place when you fasten the adjustable straps on the elastic headband. The light fringes complete your look and hide your bulging forehead.
Pros
Lightweight
Dark-light hair color pattern
Breathable head cap
Safe adjustable headband
Cons
The wavy tresses become straight when you wear them frequently.
Price at the time of publication: $21.99
If you carry a dark skin shade, get the blonde look that Beyonce once carried out so well. This wig has naturally long and straight hair completely in blonde to suit any skin shade. The hair is pre-plucked and disinfected before being made into this thick wig of 150% density. The bangs are pretty thick and long to cover your forehead and the long hair at the back remains tangle-free throughout the day. In case you get bored of the blonde color, feel free to color it with any hair color of your choice. The wig can be styled, straightened, and permed to help you experiment with different hairstyles.
Pros
100% Brazilian natural hair
Machine-made
Super-comfortable fit
Can be permed and styled
Cons
The shiny blond color becomes dull after a while.
Price at the time of publication: $159.99
Don one of those kinky curly wigs with bangs to stop looking so serious about life. Yes, the wavy and curly hair texture gives you a carefree look for those carefree days that you plan to hang out and chill with your friends. The wig starts off with a dark shade of blonde in the scalp area and trickles down into a light blonde shade. It is made with high-quality synthetic material that looks and feels so much like natural hair. The breathable rose-netted cap along with adjustable straps and hairpins keep the wig in place and give you good comfort all day long.
Pros
Imitation of natural hair
Smooth and soft texture
Lightweight
Washable
Cons
The hairline looks artificial.
Price at the time of publication: $25.99
Black is beautiful and long straight wigs with bangs like this one can enhance your looks and make you feel bold and beautiful. Made with 100% natural Brazilian hair, this wig has all the natural looks, softness, and shine to make it crown your head and look seamlessly natural. It can easily fit any head size and the netted head cap keeps your head breathing and free of sweat. Use it every day and once you get bored of the black color, bleach, dye, and color it without any hesitation.
Pros
Natural Brazilian hair
Tangle-free
Minimal shedding
Can be permed, bleached, and dyed
Cons
Price at the time of publication: $99.99
A perfect blunt bob look with bangs can be an instant head-turner and cute wigs with bangs like this one can get you such a look easily. The wig is made of 100% natural human hair and is woven together using a machine to minimize shedding. You can wear this easily and make it fit your head circumference by tightening the adjustable straps. The hairline area of the wig is dark blond and the tips have a light blonde color. The wig suits any skin tone and can be one of those best African-American wigs with bangs.
Pros
Natural hair
Easy-to-wear band
Can be dyed
Light in weight
Cons
Price at the time of publication: $169.85
Get your best look by wearing one of the best curly wigs with bands like the one showcased here. This wig is made of natural hair to give it natural smoothness and shine. It has 150% hair density to give you full coverage and you can style it into a ponytail or just leave it loose. The springy hair can be restyled into a straight one or a wavy one using your hair styling tools. You can bleach or dye it with any hair color of your choice.
Pros
Natural hair
50% machine-made
150% hair density
Compatible for bleaching and dyeing
Cons
The curls tangle and look messy.
Price at the time of publication: $69.79
Put on the short and wavy wig and show off your chic side beautifully. This carefully crafted high-density synthetic wig comes with the perfect wide red color to suit pale skin tones. It fits your head perfectly when you adjust the headband straps and gives you a natural look. The hair strands are resistant to heat and you can style them as you wish and experiment with new looks. The long band of fringes can be made short if you carefully run your scissors on it.
Pros
Synthetic hair
Breathable cap
No much shedding
Soft hair texture
Cons
Price at the time of publication: $23.79
Here is another straight black hair wig for the most beautiful look. This wig is made of natural virgin hair that is handpicked and pre-plucked to retain smoothness and softness. This beautiful hair wig is attached to a breathable head cap that fits your head to give complete coverage. Style and use this wig as one of those cute braided wigs with bangs or tie the hair up into a high ponytail to experiment with a new look. When you get bored of black, bleach and dye them into any of the colors of your choice.
Pros
Machine-made
Minimal shedding
Natural hair
Free of tangles
Cons
Price at the time of publication: $49.99
How To Choose The Right Wig With Bangs
Face shape

Wigs with bangs look very good on square and heart-shaped faces. In case you have any other face cuts, here is what you need to look out for.
Oval face – Long and wavy wigs or shoulder-length wigs with bangs
Round face – Layered wigs or bob wigs with a side partition
Square face – Wigs having short bangs with long wavy hair
Long face – Tomboy or pixie wigs with bangs
Style
Wigs come in various styles to make all eyes get instantly attracted to your looks. You can look out for straight hair wigs to sync with your office outfit. Wavy and curly wigs look good on your casual attires. Wigs also come in different colors. For fair skin tones, blondes, reds, and vibrant colored hair look the best. If you have a dark skin tone, go for blacks, burgundy, and deep brown wigs.
Material
Wigs are either made of human hair or synthetic material. If you need a weightless wig that has impeccable shine, choose synthetic wigs. Wigs with natural hair are more versatile when it comes to styling. They are heat resistant and can be permed. Managing human hair can be a challenge and you need to take care of it just like how you care for your natural hair.
How To Wear Wigs With Bangs:
Step 1 – Prep up the wig by combing and detangling it. Do not comb it too much and make it lose its curls and waves.
Step 2 –Secure your natural hair by braiding it and grooming it into a bun. If your hair is too short, push it into a headband cap.
Step 3 – Wear the wig and secure it with adjustable straps and pins.
Step 4 – For the final touch, detangle and brush it once again and flaunt your new look in style.
Wigs with bands have been a game changer for ladies with a bold face cut. The wavy layers of bangs on the face cover their cold features and make women look more appealing. Women having a broad forehead can use such wigs with bangs to make their forehead look smaller. Understand your facial features before you pick one of these 15 best wigs with bangs. TLong wigs are always fascinating but you can always experiment with the short bobbed or pixie ones to stand out of the crowd. Pick the right wig and enhance your fashion statements by syncing your outfit to your hairstyle.
Why Trust StyleCraze?
The author of this article, Vaishnavi Kothuri, is a hair care enthusiast. She loves recommending various hair care products to her readers. This list of best wigs with bangs is curated after thorough research and reading many customer testimonials online. The shortlisted wigs are the best way to flaunt your style without coloring or cutting your hair. They appear natural and are easy to maintain and use.
Frequently Asked Questions
How does a wig with bangs help?
Wigs with bangs cover your broad forehead and frame your face to make it look smaller and prettier.
Can synthetic wigs be styled and permed?
Not all synthetic wigs can be styled and permed. You can be lucky if you get yourself a heat-resistant synthetic wig.
Should I glue my hairline to wear a wig?
Not all wigs are designed to be glued to your hairline. You can look out for safe wigs that can just be fastened to your head with laces and straps.
Do wigs look better with bangs?
Yes, wigs with bangs look more natural as they successfully hide the hairline.
How do you remove wig bangs?
Wear the wig and use your natural face shape as an outline to cut off the bangs or use styling gel to part them and fix them onto the sides using hair spray.
How do you keep your bangs straight all day?
Use a smoothening conditioner and blow-dry after showering. Follow up with a humidity-resistant hair spray to keep them straight all day.
Recommended Articles