12 Best Wig Caps To Transform Your Looks – With A Complete Buying Guide
Say goodbye to itchy scalps and uncomfortable hairdos with these headwears.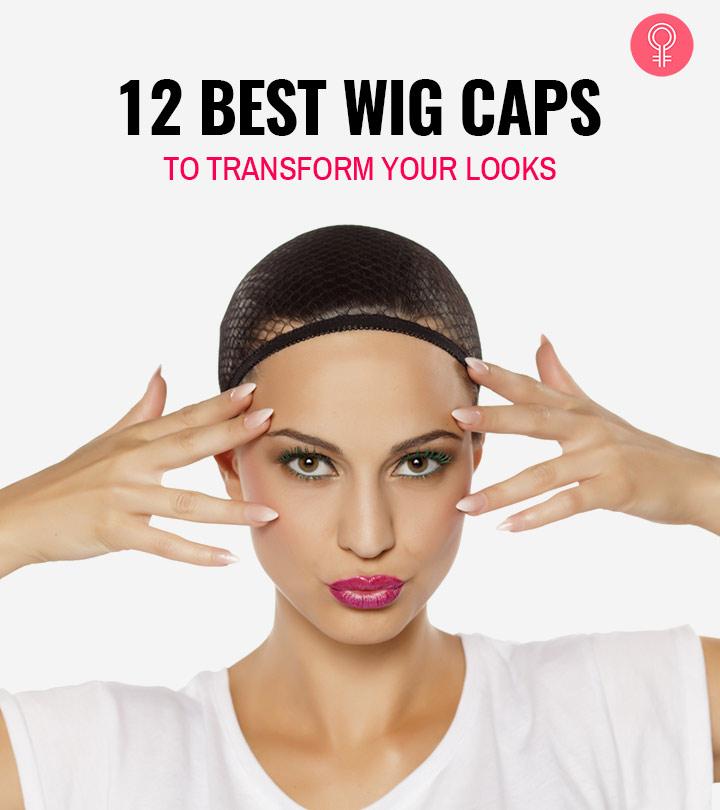 You might want to put on a wig to cover your hair loss or maybe to rock a new look for that next grand party. But, wearing a wig can be uncomfortable. This is when you should choose from the best caps in the world. These caps act as a barrier between your scalp and the wig. So, no more scalp irritation. Below is a list of the 12 most effective wig caps available in the market now. They are easy to use and can perfectly mimic your head's shape. So, without further ado, go ahead and check out the list!
12 Best Wig Caps
The eBoot Wig Caps comprise of two pieces of black nylon wig caps with one piece of black mesh net wig cap. They are stretchable enough to fit all head sizes. They are soft, thin, and quite comfortable to wear. These daily wig caps help hold the hair in place. You can also wear two kinds of wig caps at the same time for added protection. These wig caps are easy to use and wash.
Pros
Stretchable wig caps
Made of nylon
Fit all head sizes
Soft and thin
Comfortable
Sturdy design
Easy to use
Affordable
Available in 6 different color combinations
Cons
Nylon could be too thin
Could be too light on the hair
The Dreamlover Black Mesh Wig Caps are foldable. They have two layers that ensure no hair is falling out. They are especially designed for protecting long hair. They are dilated elastic bands with exquisite workmanship. They comprise of a neat mesh that provides ultimate protection for very long and thick hair. Each wig cap can easily wrap waist-length hair. Although it wraps hair in two layers, the thick elastic nylon threads it is made of are quite breathable and comfortable for all-day wear. Watch this video for a thorough understanding of the product.
Pros
Best for long hair
Durable nylon wig caps
Two-end opening
Firm and breathable fabric
Two-layered wig caps
Comfortable
Cons
May feel a little too tight
The Qfitt Mesh Dome Style Wig Cap is inspired by a Japanese swim cap. It is extra-large and can fit most head sizes. It is a U-part wig made with lightweight breathable mesh fabric to provide all-day comfort. This has a tight band that keeps your hair in place without straining your scalp. It is easy to use and affordable.
Pros
Full wig with a lace closure
Comfortable to wear
Allows your scalp to breathe
Thick elastic band keeps hair in place
Cons
The Teenitor Brown Stocking Wig Cap is ultra-light and ultra-thin. It is designed to cover most lengths of hair. It is made of elastic nylon that is soft, breathable, and super-comfortable for all-day wear. The wide elastic band wraps any length of hair without gripping the head too tight. The band also keeps the wig from slipping. The sweat-absorbent fabric keeps your head cool even if you wear it all day long. The ultra-thin fabric will not be easily noticed, keeping your appearance natural. You get a pack of 20 wig caps that are easy to wash.
Pros
Ultra-thin
Lightweight
Breathable fabric
100% stretchable nylon
Comfortable to wear
Wide elastic band for a tight grip
Easy to wash
Pack of 20 wig caps
Cons
Could be too small for those with a big head
The Fandamei Stretchy Stocking Wig Caps are made with a durable, sturdy, and comfortable fabric that protects your hair. They comprise of soft, elastic, breathable nylon material that adds no burden to your hair or scalp. The strong stretchable elastic perfectly grips over your head without being too tight. The lightweight, ultra-thin stocking wig caps absorb sweat fast and give you a cooling effect in extreme climates. They come as a set of four wig caps packed together in one paper board. They are reusable and easy to wash.
Pros
Soft, elastic fabric
Easy to wear
Protects hair
Durable wig caps
Soft elastic
Non-slip band
Ultra-sweat absorbent
Fit to all head sizes
Strong and stretchable
Soft, breathable mesh
Easy to wash
Reusable
Cons
The Evolve Black Wig Caps are made of nylon fabric. They are stretchable and cover any length of hair. They come as a set of four wig caps. They are super-soft and comfortable. The caps are suitable for wearing for a longer duration.
Pros
Comfortable standard nylon wig cap
Stretchable
Super-soft
Comfortable for long wear
Cons
None
The Tatuo Black Dome Stretchable Wig Caps are made with soft, comfortable, and breathable nylon fabric. They are suitable for all kinds of hair and can easily fit over most head sizes. This black mesh wig cap with stretchable hair nets easily covers without feeling tight. The caps come in three different sizes. The stretchable fabric of the wig caps easily covers long, short, straightened, or curly hair. The caps are reusable and easy to wash.
Pros
Stretchable nylon fabric
Breathable
Easy to fit
Available in different sizes
Available with four sewing needles
Easy to wash
Reusable
Cons
None
The Yantaisiyu Swiss Lace Wig Cap is made of strong, durable, soft, and breathable material. It can be used for all lengths of hair. It comes with a U-Part lace that fits perfectly on the head. The lace has eight adjustable buckles that allows one to change the cap size as per the need. This soft lace material is perfect for sensitive skin. It is available in four different sizes (from S to XL) and in four different colors.
Pros
Adjustable buckles
Soft and durable fabric
Breathable mesh wig cap
Lightweight
Comfortable to wear
Suitable for sensitive scalp
Available in four different sizes
Available in four different colors
Cons
None
The Omorfieer Unisex Stocking Wig Cap is lightweight and ultra-thin. It is made of nylon fabric that is easy to breathe. It is stretchable and covers the entire head for ultimate protection. The high-quality wide elastic band makes the caps fit all head sizes. The band holds the hair firmly. The caps as a set of two packed together in a paper board.
Pros
Lightweight
Ultra-thin
Nylon stretchable fabric
Wide elastic band
Fit all head sizes
Come as a pack of two wig caps
Cons
May cause headaches in some
Could be too tight
The Milano Collection Lace Wig Cap is a perfect solution for wig wearers, individuals with hair loss problems and alopecia, and chemotherapy patients. The cap is made of lightweight fabric that is a unique blend of absorbent fibers. It feels comfortable to be worn during any type of weather or physical activity. This cap is suitable for sensitive skin.
The cap is made with durable, sturdy Swiss lace material that eliminates any bulkiness along the front hairline. It also comprises of super-absorbent bamboo-cotton blends that absorb moisture and keep your scalp cool. This special patented reinforced design secures the wig without any glue, tape, or wig clips. The adjustable stretchable design fits all head sizes with ease. The comfortable design prevents headaches, eases out any tension points or discomfort. The wig cap is machine-washable. You can air-dry it to reuse it. Click here to check out a detailed personal review of this product.
Pros
Durable, sturdy design
Reusable
Lightweight fabric
Comfortable to wear
Suitable for sensitive skin
Made with a super-absorbent fabric blend
Bamboo wig cap
Fits over all head sizes
Prevents headaches
Machine-washable
Provides warm, cozy protection in every weather
Seamless wear
Attached with an adjustable Velcro strap
Cons
The wig may slide off
Expensive
The Leeons Spandex Dome Style Wig Caps are made of a high-quality spandex fabric that is comfortable to wear. They are soft, durable, breathable, and airy. The wig caps can be easily worn the entire day. Their high-elasticity makes them super-stretchable. However, they only fit over a head with a circumference of 21 inches. The wig caps come as a set of three. They are available in two different colors.
Pros
Comfortable
Easy to wear
Soft and durable
Breathable mesh wig caps
Perfect for all-day use
Cons
Only fit over a head with a circumference of 21 inches
The Feel Me Black Wig Cap is a breathable elastic-edge cap with a braided design. It is made with high-quality cornrow synthetic braids for a natural, neat look. The crochet braid sewed with a synthetic fiber adds less burden to your head. It is a stretchable wig cap that can fit over any head size. Its breathable design allows it to be worn all day long. Two clip-in combs are attached inside the cap for an easy fit.
Pros
Breathable fabric
Synthetic braids
Less burden on the head
Stretchable fabric
Attached combs for easy to fit
Cons
Suitable only for those with big heads
These are the twelve best wig caps available online. In the following section, we will discuss the different types of wig caps.
Different Types Of Wig Caps
Basic Wig Cap: This is a machine-made wig cap. It is made by sewing wefts on a strip of thin elastic material. It is lightweight and has built-in volume.
Dome Cap For Wigs: This cap is thicker. It is a nylon cap made with spandex fabric that makes it more stretchable. People with thick, long hair can pick a dome cap for a perfect fit.
Weaving Cap: This is a sew-in style wig cap and made of mesh material with an adjustable strap for custom fitting.
U-Part Wig Cap: The U-Part caps come with adjustable straps, and the material is a stretchable mesh. The caps comes in standard size and the adjustable strap can extend the wig cap as per the head size.
Japanese Swim Cap: It is a lightweight mesh cap with a thick band and the stretchy fabric fits it to every head size. The mesh material makes it breathable and comfortable for long-wear.
Benefits Of Wig Caps
A wig cap protects hair from any kind of friction, breakage, or damage.
Wearing wig caps forms a protective barrier between the wig and the scalp. This reduces itchiness, and can be especially beneficial to those with a sensitive scalp.
The cap absorbs sweat to keep your head cool.
It allows you to mask any signs of hair loss.
Though a wig cap has certain advantages, it may have certain downsides too.
Downsides Of A Wig Cap
Wearing a wig cap for a longer duration may cause your scalp to heat up.
Wig caps that are too tight can cause headaches.
A poor quality wig fabric may cause itching or redness on the scalp.
In the following section, we have discussed what you need to look for in a wig cap before you make a purchase.
Tips To Choose The Right Product
A wig cap should be made of stretchable fabric that easily fits over a head of any size.
It should be lightweight and should not become a burden over your head.
It must have a super-absorbent fabric that absorbs excess sweat.
The fabric of the cap must also be soft, comfortable, and suitable for sensitive skin.
It should have a wideband that keeps the wig from slipping (and does not grip the head too tight).
Why Trust StyleCraze?
Oyendrila Kanjilal, the author of this article, is passionate about hairstyling and haircare products. She has gone through several online reviews and feedback to curate the best wig caps available online. The products that she has shortlisted and reviewed in detail are built with exquisite craftsmanship to emulate the shape of the head, keep existing hair in place, and offer comfort to the user.
Frequently Asked Questions
How to put long hair within a wig cap?
Firstly, swirl and tuck the braids by using pins or clips. Put a wig cap to cover the entire knot. Now, you can wear a different wig style as you want.
How to use a weaving cap?
After washing your hair, place the wig on your hair. Use a C-shaped needle and weave the thread to sew the cap around the perimeter of your head (about an inch away from your hairline with the large overcast stitches). Cut the excess fabric from the perimeter of your head. Ensure you do not cut the fabric too close to the stitches.
How to put a wig cap on thick hair?
Pull the wig cap down to your neck, with the widened elastic band place downwards. Stretch the rolled-up open-end backward till the widened elastic band stays at your hairline. Now put all your hair inside the wig cap and make it as flat as possible.
Does a wig cap cause hair loss?
No. A wig cap protects hair from loss and friction. However, fastening the wig cap improperly may lead to hair loss.
How do you keep a wig cap from slipping?
Get a wig cap with a wide elastic band to keep it from slipping.
Is a wig cap necessary?
Yes, it is necessary as it adds friction to your wig and prevents it from sliding down. It also holds all your natural hair together. Additionally, the wig cap acts as a barrier between your scalp and the wig and helps reduce scalp irritations.
Are fishnet wig caps better?
Yes, fishnet caps are better as they are breathable and stretchy. They can also hold a large amount of hair together and have a thicker band around the hairline enabling them to grip baby hairs in place.
Can you sleep with a wig cap on?
No, sleeping with a wig cap can cause irritation to your scalp and should be avoided. You can also get sweaty and develop buildup in your wig cap.
Does wearing a wig cap damage hair?
Yes, it can be damaging to the hair if not used properly. Although wig caps protect your natural hair under the wig, they can cause dryness along the hairline. And, certain fabrics like cotton, if worn for a long time can draw the moisture out and leave your hair lifeless..
How long can you wear a wig cap?
You can wear a wig cap for a maximum of eight hours at a stretch. Wearing it for longer hours can damage your hair follicles.
How long does a wig cap last?
Although, it depends on how frequently you wear it, a wig cap can last for a maximum of six weeks, if worn regularly. Take good care of your wig cap and remove it every night for increasing its longevity.
Recommended Articles