15 Best Rose Perfumes For The Ultimate Rose Lover – 2022
Intoxicating fragrances that uplift your mood instantly and are perfect for all occasions.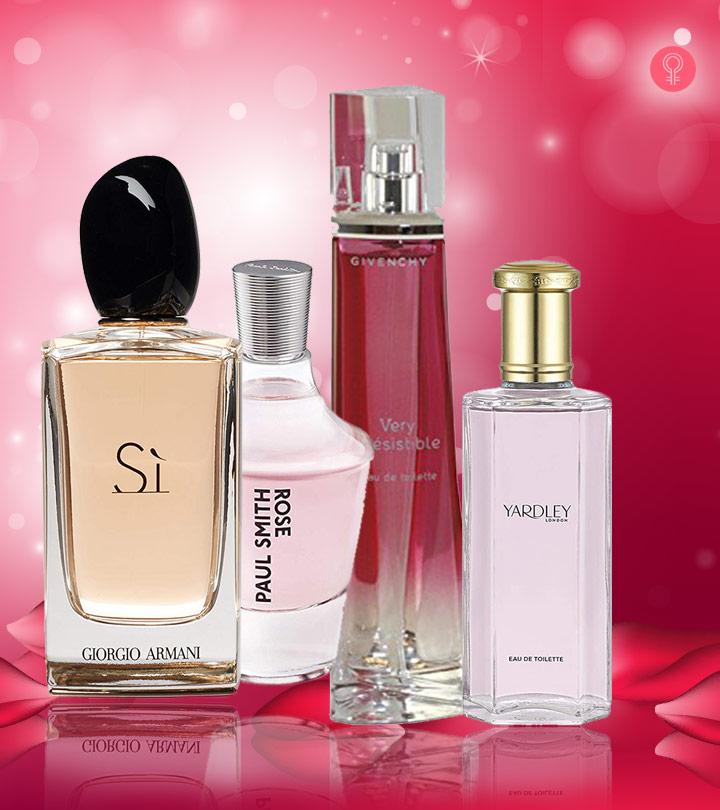 Some of the best rose perfumes are considered to have the most romantic fragrance and are ideal for gifting someone you love. Rose fragrance is the most coveted fragrance, especially among women, as it lifts your spirit and is seductive. You can use intoxicating rose perfumes for anniversaries, weddings, special events, and other parties as well. But there are countless rose perfumes available in the market, and choosing one may seem tricky. Try out our curated list of the best rose perfumes that can make you feel fresh all day. Keep scrolling!
15 Best Rose Perfumes To Try Out
The Perfumer's Workshop Ltd. Tea Rose Eau De Toilette Spray has been a favorite with women of all ages for over 40 years now. This tea rose perfume features a blend of spicy and warm florals with green, earthy hints. While the top notes are comprised of peony and chamomile, the heart notes include tea rose, Damask rose, and Bulgarian rose. Geranium leaves, violet leaves, and cedarwood make up the base notes of this enchanting perfume. The fragrant rose and tropical tuberose accents are heightened by the light and sensual notes of lily, bergamot, and sandalwood. This alluring perfume has an earthy appeal that makes it ideal for daily wear. Have a look at this video to learn more about the product.
Pros
Ideal for casual wear
Long wearing
Value for money
Cons
None
Pacifica Beauty Persian Rose Perfume is a lightweight yet pleasant fragrance that is derived from natural single grain alcohol and a proprietary blend of essential oils. The scent is an enchanting blend of Bulgarian rose and subtle violet, which serve as the top notes. The base notes are crafted with ancient myrrh and delicate fruit. The inspiration for this rose-scented perfume comes from the floral empire of the Persians who were the kings of perfume in the 9th century. This elegant and classic scent can easily serve as your go-to fragrance anytime you are stepping out for a romantic evening with your beloved. Here is an informative video that tells you more about the product.
Pros
Vegan
Cruelty-free
Paraben-free
Phthalate-free
Cons
Chloe Eau De Parfum Spray is a romantic yet versatile fragrance that you can wear every day with ease. It is light and fresh but also elegant and bold. The top notes are made of peony, lychee, and springtime freesia, while rose petals, lily of the valley, and magnolia comprise the heart. The base notes include cedarwood and warm ambergris. This long-lasting perfume beautifully encapsulates the creative and confident individuality of the Chloé woman. Its fresh and feminine rose-scented fragrance is ideal for the free-spirited woman who owns an inherent sense of chic. Wear this any time you are in the mood to flaunt an intimate and sensual vibe. For more information about the product, click this video.
Pros
Long-lasting
Elegant and romantic
Overwhelming
Value for money
Cons
None
Givenchy Very Irresistible Eau De Toilette Spray captures at its core a long-worshipped symbol of elegance and femininity – the rose. This refreshing scent features fruity top notes of green apple and pear, with rose heart notes that give it a burst of floral goodness. The patchouli and vanilla at the base create the ideal fusion of spicy and sweet for the finale. The rose notes in this perfume are made more alluring by the aromatic accord of the star anise, which adds a zing of freshness to this sensual fragrance. One of Givenchy's best-rose scented perfumes, it is ideal for daily wear as well as office-friendly. 
Pros
Ideal for gifting
Affordable
Attractive packaging
Long-lasting
Cons
Yves Saint Laurent Paris Eau De Toilette Spray is named after Paris – the beloved city of renowned designer Yves Saint Laurent. He created this rose-scented perfume to pay homage to Parisian women whom he considered romantic, elegant, lively, joyful, and utterly charming. This fragrance is a delightful blend of roses and violet flowers. Bergamot and violet form the woody-floral's top notes, with iris and may rose at its heart. Sandalwood at the base gives it a warm character. The blend of fruity and floral creates a wonderfully light-hearted fragrance that will put a spring in your step whenever you wear it, especially on a date night.
Pros
Long-lasting
Pleasant scent
Woody-floral notes
Elegant packaging
Cons
None
Giorgio Armani Si Eau de Parfum Spray was designed keeping in mind the modern woman: strong yet feminine, elegant yet enigmatic. She represents the soul of Italian chic. The top notes tantalize your senses with a heady fusion of cassis and black currant extracts. At the heart of this fragrance lies an accord of May rose, neroli absolute, davana, and osmanthus. The base contains patchouli, ambroxan, and a blend of woody notes as a pleasing finish.
Pros
Musky notes
Feminine
Elegant fragrance
Cons
The Stella Eau de Parfum Spray by Stella McCartney is an easy to wear and very soft citrus-rose fragrance that comes in a petite, lovely purple bottle. This fragrance captures the fragility of the high summer rose when the petals are just about to fall off. It consists of notes of rose essence, peony, amber, mandarin, and rose absolute. Initially, it smells of dewy flowers and crisp citrus, but as it dies down, it leaves a pleasant, woody-musky amber. It contrasts the freshness and softness of the rose, but is not deep and dark. Rather, it is a subtle fragrance with minimal sillage. The rose is prominent but soft, giving it a nice touch.
Pros
Floral-citrus tone
Mild
Ideal gift for wife/girlfriend
Pleasant fragrance
Cons
None
Ombre Rose Eau de Toilette Spray is a classic powdery floral perfume launched by the design house of Jean Charles Brosseau. This lightweight fragrance is ideal for casual wear. Its scent is composed of top notes of rosewood, peach, and honey with a heart of rose, lily of the valley, and iris. The base is made of musk, coumarin, vanilla, and sandalwood notes. It is a long-lasting vintage fragrance that embodies refinement and classic elegance. For a first date or an anniversary, Ombre Rose is easily among the best rose perfumes to choose when aiming to create an unforgettable impression.
Pros
Classic scent
Ideal for casual wear
Long-lasting
Cons
None
Balenciaga Florabotanica Eau de Parfum Spray delights your senses with the pleasing scent of fresh flowers and crisp greens. Its fragrance charms with refreshing mint in the top notes, which sweeten into rose and carnation at the heart. As this scent dries down, you are enveloped in the lingering warmth of rich amber. This unique blend gives you a lightweight rose perfume that is perfect for both formal as well as casual events. The accords of vetiver, amber, and caladium leaf recreate the vibe of a soft and mysterious dark wood – perfect when you want that balance between sensual and enigmatic.
Pros
Floral fragrance
Suitable for all occasions
Long-lasting
Cons
None
Embrace the romance and passion of roses with the Vera Wang Embrace Rose Buds and Vanilla Eau de Toilette Spray. Mixed with the sweetness of vanilla, this rose-scented perfume is gentle, daring, and romantic. The top notes in this floral oriental perfume are rosebuds with a shimmering accent of mandarin oil. Sweet magnolia and cyclamen add an elegant radiance to the heart notes. As the perfect finishing touch to this dreamy fragrance, the base notes are vanilla and creamy sandalwood. This Vera Wang rose perfume was introduced in 2015 and embodies timeless sophistication for the modern woman.
Pros
Sophisticated
Romantic
Timeless gift
Ideal for daily wear
Cons
Chloe Roses De Chloe Eau de Toilette Spray instantly reminds you of a bouquet of fresh-cut roses. This graceful rose scented perfume evokes an incredible freshness. The top note lures you in with seductive bergamot that develops into a charming heart of damask rose and magnolia. The base notes comprise white musk and amber, which linger on your skin and keep you delighted. This beautiful soft floral scent is ideal for that special night out with your beloved.
Pros
Ideal for romantic dates
Budget-friendly
Smells great
Cons
None
Yardley London English Rose Eau De Toilette is a refreshing floral fragrance that evokes the royalty, elegance, beauty, and passion of the rose. This perfume delights your senses with sparkling citrus and rose top notes blended with tea accord. The heart notes include rosebud, magnolia, violet, and cassis with warm woody notes. The velvety tones of the base are enhanced with patchouli and musk. The lightweight rose perfume is suited for everyday wear and is also office-friendly.
Pros
Vegan
Naturally derived ingredients
Refreshing
Long-wearing
Cons
L'Occitane Fresh & Delicate Roses Et Reines Eau De Toilette Spray envelopes you in its delicate freshness while celebrating the flower of queens. Its top notes are bergamot and blackcurrant leaves, followed by alluring heart notes of roses from Bulgaria, Turkey, Grasse, and Morocco. The base notes are enriched with white cedar, heliotrope, and musk. This rose fragrance also contains fruity notes of rose extract obtained by the traditional technique of enfleurage. In this method, the freshest of rose petals are steeped in oil, allowing it to become saturated with the natural fragrance of the rose, resulting in a fruitier scent. For a more intense and long-lasting impression, layer this perfume with Rose et Reines Beautifying Body Milk.
Pros
Long-lasting
Fruity tone
Pure rose scent
Budget-friendly
Cons
None
Paul Smith Rose Eau De Parfum Spray is a modern and seductive fragrance that adds a unique hint of elegance to your personality. It was created in 2007 by Antoine Maisondieu, and Alan Abound designed the bottle. This perfume is sweet and refreshing at the top with notes of rose, green tea, and violet. At the heart, the rich and feminine scents of Turkish rose and magnolia delight your senses with their intense and enveloping aroma. Woody cedar and warm musk complement the base, adding depth and sensuality to this rose-scented perfume. This romantic and feminine fragrance is highly recommended for daytime wear.
Pros
Great packaging
Ideal for gifting
Gentle
Feminine
Cons
None
Woods of Windsor True Rose Eau De Toilette Spray is a floral fragrance featuring Bulgarian rose, freesia, and geranium. This elegant rose petal scent blends crisp green violet leaves with rose otto and warm damask rose. The result is a delicate English classic with a distinctive, long-lasting effect. The rich rose scent lightens to a fresh, powdery finish. This elegant perfume is sold in a tall glass flacon with the alluring rose-tinted liquid visible through the glass. The design is simple, classic, and well suited for the soft, blossoming scent inside.
Pros
Affordable
Floral-fragrance
Mild
Elegant
Cons
Not long-lasting
Price Range
These rose perfumes can cost you anywhere between $11 to $100, depending on the brands you favor. But rest assured, even the mid-range ones will give you a fancy and luxurious feel. For those of you on a budget or just experimenting with rose fragrances for the first time, the Tea Rose EDT from The Perfumer's Workshop can be a safe place to start.
Why Trust StyleCraze?
The author, Sakshi Bahal, loves using and reviewing perfumes and has compiled this list of the best-selling rose perfumes after considering the quality and scent of the products. These rose perfumes keep you smelling good all day so that you feel confident and stand out in important events, parties, and meetings. She handpicked the products after checking the user reviews and feedback on various e-commerce sites.
Frequently Asked Questions
What does Rose perfume smell like?
Rose has a sweet and woody fragrance. It has a clean, intoxicating aroma that revitalizes the wearer's senses.
Is Rose a popular scent?
Yes. Rose is a popular scent. Popular A-listers love wearing rose fragrances.
Is Rose a feminine scent?
Yes, rose has floral notes and hence can be considered a feminine scent.
Is Rose perfume attractive?
Yes. It has a sweet, floral, woody fragrance that makes it a common ingredient in many of the most loved perfumes.
Does Rose perfume suit the elderly?
Yes. Rose perfumes surround the elderly with a youthful vibe.
How long does Rose perfume smell last on the skin?
Usually, rose perfumes last for five to six hours on the skin. However, it also depends on the concentration of the formula and how it is worn.