Top 13 Turmeric Face Masks Of 2023 To Get Rid Of Acne And Dark Spots
Unveil healthy, glowing, flawless skin with the help of this antioxidant-rich ingredient!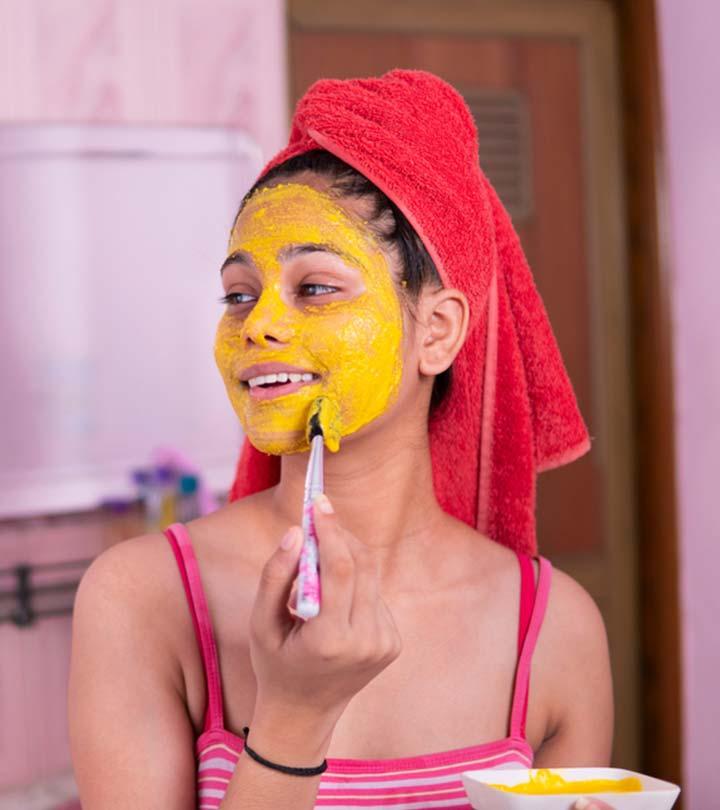 When it comes to spots, acne, and aging, turmeric can address them all! The best turmeric face mask can deal with pimples, irritation, spots, and inflamed skin. The anti-inflammatory properties of these plants have made them useful for centuries in eastern medicine. In addition, turmeric can revitalize the skin and is packed with antioxidants. Therefore, your skincare routine should include this ingredient to keep your skin youthful and free of any troubles. Therefore, it is not surprising that skincare companies embrace this bright yellow powder in their products.
Turmeric, on its own, may stain your face yellow, so use a face mask that combines it with other ingredients to maximize its benefits. It will help hydrate your skin, lock in the moisture, and give you all these benefits. Here are our reviews on the top 13 turmeric face masks. Choose one that suits your needs. Take a look!
What Does Turmeric Do For Your Skin?
WIth its antibacterial and anti-inflammatory properties, turmeric brings time-tested goodness to your skin that improves the health of your skin internally and makes your face appear radiant. It fights breakouts and dark spots to improve the texture and tone of your skin.
Best 13 Turmeric Face Masks Of 2023 For Fighting Acne And Dark Spots
This is an impactful natural exfoliator that scrubs away dead skin cells, dark spots, and helps brighten the skin. With ingredients such as organic turmeric, organic cinnamon, raw Manuka honey, chamomile, and lemon extract, this scrub that can also be used as a mask, helps get rid of dark spots left by acne from the surface of the skin in a gentle manner. All you need to do is use it twice a day and leave it on for 10 minutes after massaging it onto the skin. It is suitable for hyperpigmentation and is an ideal fit for all skin types. Click on the video to watch an honest review of the Minimo Glow Turmeric Skin Brightening Facial Scrub.
Pros
Doubles as a scrub and mask
Combats hyperpigmentation
Uses organic turmeric
Uses non-comedogenic oils
Cons
Price at the time of publication: $28.95
A powerful mask loaded with the benefits of turmeric, aloe vera, and vitamin C, this mask takes the fight to acne and dark spots, while rejuvenating the skin by improving its texture and evening out the skin tone. Yellow Australian clay stimulates the flow of blood due to its toning qualities and the mask clears blemishes, while also preventing breakouts. This mask can be used safely on all kinds of skin, including sensitive skin types as it has no chemicals and is also vegan. If you are still unsure about the Gleamin Vitamin C Clay Mask With Turmeric And Aloe, take a quick look at the review of the product.
Pros
Contains aloe vera and vitamin C
Yellow Australian clay helps toning and increase blood flow
Suitable for sensitive skin
Non-staining
Cons
It might burn a little upon application for those with super-sensitive skin
Price at the time of publication: $41.99
A natural mask made of turmeric powder and bentonite clay, it helps in addressing problems of uneven skin tone and dullness of skin. With ingredients such as aloe vera and vitamins C and E, this turmeric face mask rejuvenates the skin, brightens and restores radiance, and also fights emerging signs of aging like sagging skin, lines, and wrinkles. Its antioxidants and anti-inflammatory properties also help remove scars. Watch this video to learn about the benefits of the product.
Pros
Contains vitamin C and E C
Fights signs of aging like fine lines and wrinkles
Bentonite clay can help even out skin tone
Removes scars
Cruelty-free
Hypoallergenic
Cons
May take some time to dry completely
Price at the time of publication: $15.99
Meliza Turmeric Clay Mask cleanses and detoxes the facial skin. The mask helps to brighten skin, minimize pores, reduce acne, remove spots, blackheads, and tones the facial skin. Turmeric present in the skin reduces the darkness under the eyes, removes dullness, soothes dry skin, and clears up blemishes. Calendula helps to draw out the impurities and environmental toxins, smoothing your skin texture. Kaolin infused in this mask helps to remove excess sebum from the face. This face mask is ideal for sensitive skin as well.
Pros
User-friendly
Travel-friendly
Suitable for all skin types
Cons
Price at the time of publication: $15.99
This is a nourishing deep cleansing mask that also acts as a treatment for people with dry and dull skin types. It uses cedrus clay to exfoliate the face deeply, drawing out toxins and dirt and leaving a hydrated, non-irritated, glowing skin. While both honey and turmeric help soothe the skin, the turmeric fights acne and spots while the honey has antimicrobial properties. This turmeric face mask also helps in fighting signs of aging.
Pros
Deep cleanses the face
Nourishes and hydrates
Fights acne, spots and aging
Draws out toxins
Cons
May not be suitable for daily use for all types of skin
Price at the time of publication: $11.74
With turmeric, aloe vera, bentonite and kaolin clay, vitamin C, sweet almond oil and coconut oil, this face mask tightens pores, fights acne and clears the complexion, leaving your skin radiant and bright. It also addresses the problem of hyperpigmentation on the skin, soothes the skin, fights redness, scars and aging too. This is a nourishing face mask for oily skin that leaves the skin glowing.
Pros
Maintains oil balance
Nourishes and soothes the skin
Hydrates with almond and coconut oil
Tightens pores
Cons
May not be suitable for daily use
Price at the time of publication: $14.99
With turmeric, honey, vitamin B, yogurt, and oatmeal as the main ingredients, this detox mask powder brightens the skin and leaves it glowing and radiant. Cinnamon and clay reduces the appearance of pores and leaves the skin looking youthful, while the antioxidizing properties of the ingredients help draw out toxins to cleanse and rejuvenate the skin. Turmeric fights acne, while the honey and yogurt helps the skin heal.
Pros
Acts as a detox mask
Uses yogurt for nourishing the skin
Oatmeal adds a layer of defense to the skin
Can be used with desired medium to prepare the mask for application
Cons
Requires the additional step of mixing with a medium before usage and therefore not a ready-to-use product
Price at the time of publication: $8.95
Turmeric is combined with clay and cranberry seeds to make this mask a brightening miracle and also leaves it rejuvenated. Turmeric brightens, cleanses and soothes the skin, while cranberry seeds exfoliates and fights signs of aging like fine lines and wrinkles. The use of vitamins A, C, and E also help in fighting aging while deep-cleansing the skin. The star ingredients, turmeric, lends the skin a radiant glow, while kaolin and bentonite clay deeply exfoliates the skin.
Pros
Organic and natural ingredients
Cranberry seeds act as exfoliator
Suitable for all skin types
Contains Japanese green tea
Cons
Price at the time of publication: $19.98
This is a refreshing alcohol-free jelly turmeric face mask that hydrates the skin and also clears the skin of acne and brightens. Allantoin, turmeric and ginger calm the skin and fight inflammation, acne, and other irritations, while vitamin C brightens the skin and combats dark spots. The jelly formulation is easier to apply and cools down the skin, while also adding some moisture. Additionally, this mask is also allergy-tested, suitable for sensitive skin, and vegan.
Pros
Jelly formulation hydrates and refreshes
Gluten-free
Tested for allergies
Suitable for sensitive skin
Contains cardamom seed oil
Cons
Requires a lot of product to spread it evenly on the skin
Price at the time of publication: $14.97
Jojoba oil, turmeric, and bentonite clay help in fighting acne, dark spots, aging and hyperpigmentation while also exfoliating organically. This mask not only fights pimples but also helps in keeping flare-ups at bay and cleanses the skin of dirt and unclogs and tightens pores. It leaves the skin feeling moisturized, clear and glowing and is best suited for use only twice a week.
Pros
Moisturizes the skin
Fights signs of aging like fine lines and crow's feet
Helps prevent acne flare-ups
Exfoliates to unclog and tighten pores
Cons
Not suitable for daily use
Not tested for allergies
Price at the time of publication: $13
Turmeric and cranberry seeds in this mask brighten and rejuvenate dull skin, leaving the skin nourished and supple. The brand claims visible rejuvenation of dull skin with a look of "instant facial" as the crushed cranberry seeds in this formulation help gently exfoliate the face to reveal younger, softer skin. The turmeric with its antioxidants fights dullness to energize the skin and makes it look fresh and radiant.
Pros
Exfoliates and nourishes
Hydrating properties
Crushed cranberry seeds exfoliate skin softly
Reveals younger, supple-looking skin
Cons
Slightly expensive for quantity provided
Price at the time of publication: $44.99
Made of brightening ingredients like turmeric, milk, and honey, this mask reveals a clear and glowing face. Bentonite clay and cinnamon tightens pores to reveal younger skin, the turmeric cleanses out toxins and oatmeal adds a layer of natural protection to the skin. Turmeric and honey powder combine to fight acne and the scars it leaves and to balance out oils. It also contains yoghurt and oatmeal, which helps create a protective barrier for your skin.
Pros
Exfoliating properties
Removes toxins
Evens out skin tone
Removes dead skin cells
No chemicals used
Cons
Needs to be mixed with a medium for application
Price at the time of publication: $8.99
And with our reviews of the top 13 turmeric face masks now done, let us help you to pick out the one most suitable for you with this buying guide:
Things To Know Before Buying A Turmeric Face Mask
How To Choose Turmeric Face Mask
The selection depends on your usage and the need of your skin. While masks that are ready for application are the best, there are also powdered mixes available that one can mix with their preferred medium such as egg white or yogurt and apply to the skin. Pay attention to the ingredients listed and pick the one that you need for your own skin – pick one suited for sensitive skin if you need that or a deep-hydrating one if you have dry skin. Turmeric can be used in a number of ways and have found its way to everything from cleansers and face masks to serums and moisturizers.
Benefits Of Turmeric Face Mask
The benefits are many, including the restoration of the skin, anti-aging, reducing fine lines and wrinkles, cleansing, exfoliating, fighting acne and dark spots, fighting pigmentation, and improving texture and tones of the skin.
Why Trust StyleCraze?
The author of this article, Vaishnavi Kothuri, is a skin care enthusiast and loves experimenting with different products. She checked many user reviews online to compile this list of the best turmeric face masks. She also conducted in-depth research into the ingredients to choose the best ones for her readers. These products can help get rid of acne and dark spots without harmful chemicals.
Frequently Asked Questions
Does a turmeric face mask really work?
Turmeric has been used in eastern medicine for centuries and its benefits for the skin have been proven historically and scientifically.
Can I use a turmeric mask every day?
The frequency of its usage depends on the kind of product you are using. All face masks come with instructions about how frequently they can be used. Some can be used twice daily while some can only be used once a week.
Does turmeric and yogurt brighten skin?
They both help in brightening the complexion by fighting acne, dark spots, and pigmentation and help even out the skin tone.
How long does it take to see results from a turmeric mask?
That depends on the kind of face mask you are using and its efficacy and suitability for your skin type.
Do you wash your face after a turmeric mask?
Yes. Wash your face with warm water after removing the turmeric mask to get rid of the turmeric excess from every corner of your face, especially from your hairline, brow area, and nostrils.
How long do you leave a turmeric face mask on?
Leave the turmeric face mask on for 10 minutes on your face. Then, remove it with warm water.
Is a turmeric face mask safe for use during pregnancy?
Yes. A turmeric face mask has medicinal benefits that improve the health of your skin during pregnancy. This non-invasive mask is completely harmless to the fetus' health.
Does a turmeric face mask brighten the skin?
Yes. A turmeric face mask can brighten the skin after three to four weeks of consistent use. The mask lightens the dark spots and enhances the glow of the skin.
Does a turmeric face mask remove hair?
Yes. The turmeric face mask sticks to unwanted facial hair and removes them. However, it cannot remove all hair in a single use.
Recommended Articles: