6 Best Arm Hair Removal Products That Actually Work – 2023
Get rid of all unwanted hair on your body and instantly have flawless and smooth skin.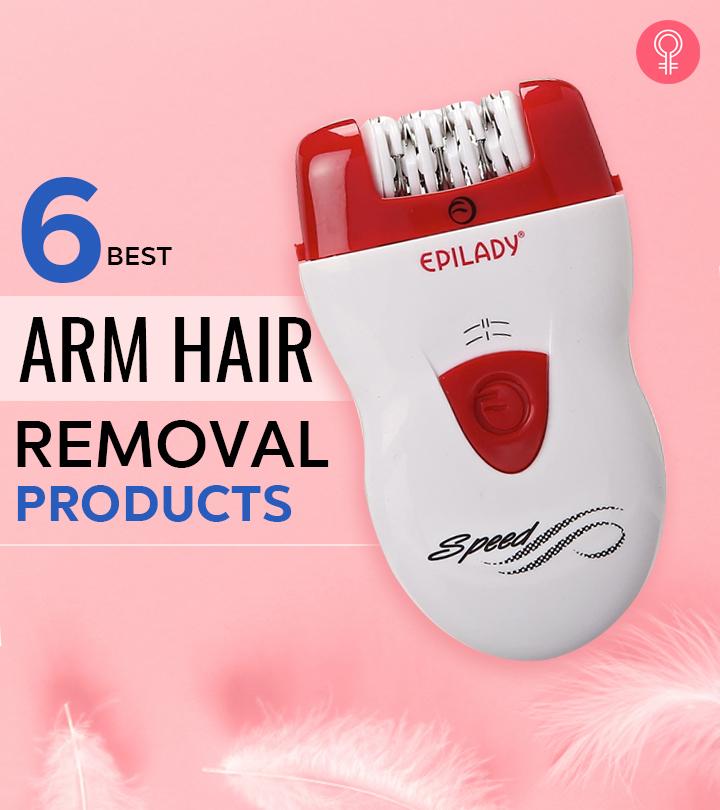 If you are looking for the best arm hair removal, you are exactly in the right place. In this article, we are going to acquaint you with the best options available because we understand that running to the salon every time is both time-consuming and expensive. Below is a list of the 6 most effective arm hair removal products that are affordable, painless, and give you long-lasting results. So, go ahead and check it out.
6 Best Arm Hair Removal Products Of 2023
Pros
5 energy levels
Ergonomic handle
Auto and manual modes
Easy to use
Durable
Cons
Price at the time of publication: $99.99
Pros
Ergonomic design
Hypoallergenic
Easy to use
Easy to clean
Waterproof
3 interchangeable heads
Cons
None
Price at the time of publication: $29.99
Removing your body hair is not painful anymore with the Epilady Corded Epilator. It removes hair from the legs, arms, underarms, bikini line, and face. This device comes with two operating speeds and 40 tweezer discs. It delivers 31000 tweezes per minute at full speed. This epilator removes the shortest, finest hair, keeping your skin smooth for up to four weeks.
Pros
Easy to clean
Gentle on the skin
2 operating modes
Angle guide cap
Ergonomic design
Cons
None

Price at the time of publication: $39.95
Pros
Unisex
Easy application
Painless
Suitable for the bikini area
Convenient
Long-lasting
Cons
Not safe for scars and moles
Price at the time of publication: $19.89
Pros
Non-irritation
Natural
Moisturizing
3-seconds application
Travel-friendly
Cons
None

Price at the time of publication: $14.99
Pros
Gentle formula
Pleasant fragrance
Smoothens and brightens the skin
Easy to carry
Dermatologist tested
Cons
None
Price at the time of publication: $14.07
Why Trust StyleCraze?
The writer of this article, Shiboli Chakraborti, is a certified skin care coach who understands the struggle to find a good hair removal product that does not irritate the skin, cause redness or bumps. So to make things easier for you, she researched the products and poured over their reviews across forums. The listed products were chosen depending on their ease of use, design, painlessness, and efficacy.
Frequently Asked Questions
Is it bad to remove arm hair?
No. However, any body area, including the arms and armpits, can experience adverse side effects from shaving. When using a dull blade to shave, you risk getting itchiness, scratches and scars, razor burn, and inflammation.
Is shaving or waxing better for arms?
Waxing is a better option if you want the hair to be gone for longer, whereas shaving your arms will only trim the hair and make them grow back faster.
How do I get rid of hairy arms forever?
Electrolysis can make your arm hairs go forever.
Does removing arm hair grow back thicker?
No, that is a myth. Removing arm hair does not affect hair thickness.
Does laser arm hair removal hurt?
Yes, laser hair removal hurts, similar to a waxing procedure.
Is it safe to remove arm hair when pregnant?
Yes, it is entirely safe for a pregnant woman to remove her arm hair.
Does pregnancy make your arm hair grow?
Yes, more blood circulation and enhanced production of androgen results in increased arm hair growth.