5 Best And Effective Mole Removal Creams On Amazon – 2021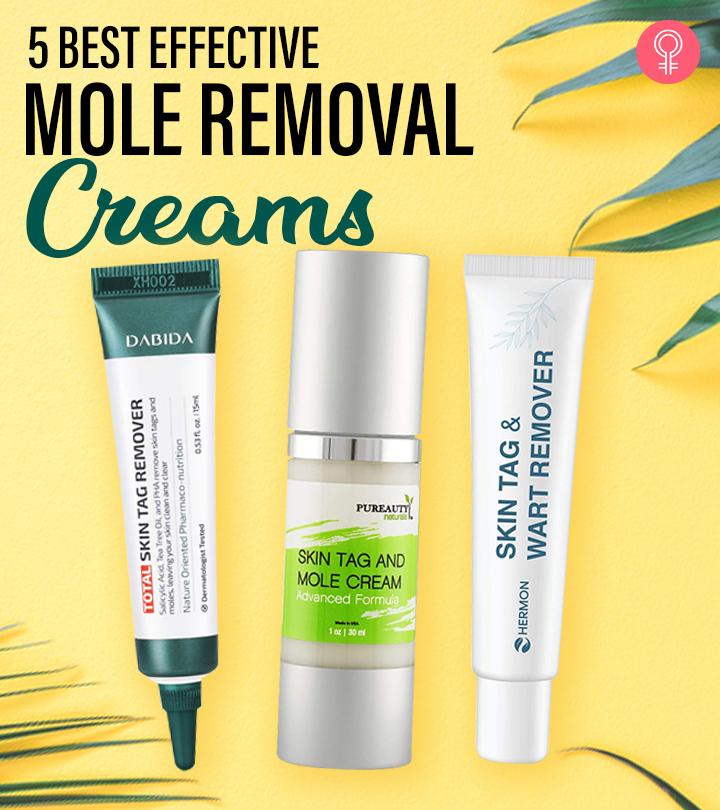 Moles are loved by some and despised by others. They can be dark brown or black and maybe there since birth or occur as you age. Some moles even grow in size with time, which might make you uncomfortable. If you are looking for a solution to get rid of moles, the good news is that surgical elimination is not the only option. There are some creams that make the mole removal process easy. In this article, we have narrowed down the 5 best mole removal creams that will help you get rid of them quickly. Scroll down to check them out!
5 Best Mole Removal Creams
This cream from Pureauty Naturals is specially formulated for moles, warts, and skin tags. Its naturally moisturizing formula is safe for daily use and improves the skin tone. This mole removal cream delivers smooth and flawless skin due to the nourishing quality of the powerful blend of ingredients. It imparts long-lasting radiance and softens and hydrates the skin. The unique formula is developed using cedar leaf, Alpaflor giga white, Melaleuca alternifolia leaf oil, and Ricinus commun is seed oil to keep the skin healthy.
Key Ingredients: Cedar Leaf Oil, Melaleuca Alternifolia Leaf Oil, Ricinus Communis Seed Oil, and Alpaflor Giga white
Pros
Lightweight
Absorbed quickly
For all skin types
For daily use
Subtle fragrance
Cruelty-free
Cons
Takes weeks to show results.
The Total Skin Tag Remover from Dabida efficiently removes moles and tags. The quick action Korean skincare formula eliminates moles and tags from the root by generating healthy skin cells and prevents recurrence. It contains tea tree oil, thuja, and Centella asiatica extract for effective cleansing and removal. This powerful and natural solution is clinically tested, cost-effective, and result-oriented. With consistent use, you can get rid of moles and tags in just 3 to 6 weeks.
Key Ingredients: TeaTree Oil, Thuja, Centella Asiatica Extract, Madecassoside, Camellia Oil, and Argania Oil
Pros
For all skin types
For the face and body
Economical
Painless
No scarring
No skin corrosion
Vegan
Cruelty-free
Cons
Viburn's Skin Tag Remover leaves your skin clear, healthy, and tag-free. Its fast action formula starts showing results in only seven days without any pain or irritation. This cream is formulated with a blend of safe and gentle ingredients that will dry moles or tags and make them fall away.
Key Ingredients: Dandelion, Isatis Tinctoria, Viola Philippica, Hedyotis Diffusa, Coptis Chinensis
Pros
Quick action
Value for money
Painless
No irritation
Gentle formula
For all skin types
No scars
Cons
The Skin Tag & Wart Remover Cream from Hermon has an all-natural formula to remove moles, warts, and tags quickly and effectively. The safe and gentle ingredients are suitable for all skin types and prevent irritation and allergies without scarring. The active ingredients infused in this cream penetrate the skin layers to cut the nutrition absorption channels and prevent wart cell proliferation.
Key Ingredients: Rubiaceae, Coptis Chinensis, Baikal Skullcap, and Stellera Chamaejasme
Pros
Smells good
For all skin types
No scarring
Gentle
Cons
The Aquaphuna Skin Tag & Mole Remover + Repair Lotion is made with premium-quality ingredients that penetrate the skin to eliminate mole and tags from the root. It also repairs the skin to leave it blemish-free. This cream is powerful and quick and works by breaking down the mole structure from within to leave your skin healthy, soft, and scar-free.
Key Ingredients: Hyaluronic Acid, Aloe Vera Extract, and Centella Asiatica Extract
Pros
No scarring
For all skin types
Includes toothpick applicator
Cruelty-free
Cons
May cause burning sensation.
While mole removal creams serve as hassle-free alternatives to expensive surgeries, they can be harsh on your skin. Therefore, a consultation with a dermatologist is recommended before applying them. The creams listed in this article address various issues and claim to get rid of moles, tags, and warts without causing pain. So, grab the one that suits you the best.
Expert's Answers for Readers Questions
Can I remove amole myself?
Yes, moles can be removed at home using over-the-counter mole removal creams.
How long does it take for a mole removal scar to heal?
It usually takes 2 to 3 weeks for the mole removal scar to heal.
Do skin moles have roots?
Yes, skin moles do have roots.
Does it hurt to cut off amole?
Cutting off a mole can be painful and it can also increase the chances of infection.
Recommended Articles