Top 15 Freckle Removal Creams Of 2020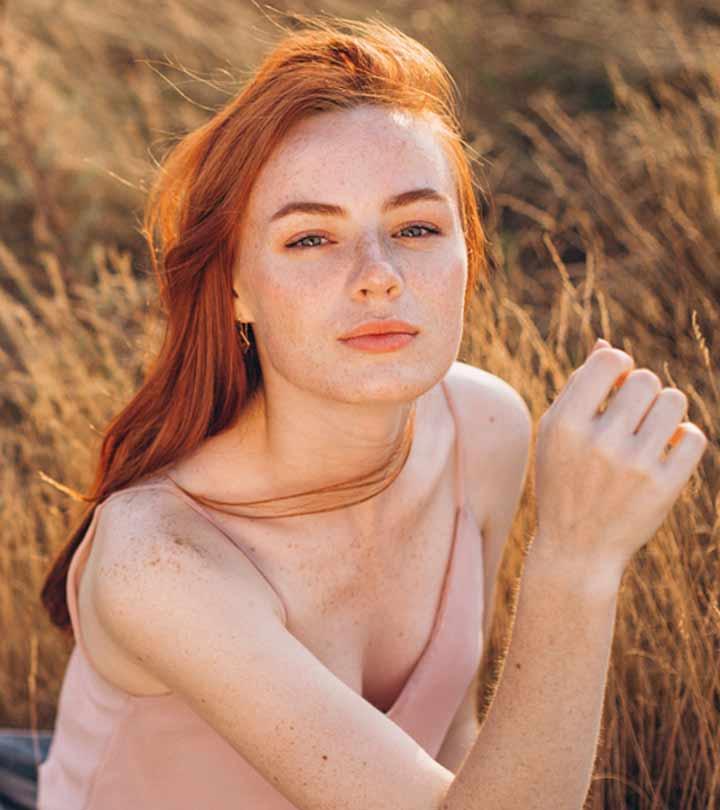 Summer automatically calls for trips to the beach, outdoor-picnics, sun-bathing, camping to catch the first glimpse of the rising sun, hiking – you name it! Everyone wants to have unlimited fun in the sun but not at the cost of having your face covered in freckles, surely! Freckles are observed in people with a lighter complexion as they have less melanin in their skin as compared to darker people. While some embrace these tiny spots as a mark of beauty, others deem freckles as unpleasant. When our skin gets exposed to harmful UV rays, freckles appear paving the way to an uneven skin tone and related woes.
Just as sunscreens work effectively towards skin protection, freckle-removal creams come as a boon to those wanting to lighten their skin or hide their freckles. Top-notch brands have come up with the right formula to help get rid of these unsightly dark spots. Here we've listed down 15 of the best ones in the market today.
Top 15 Freckle Removal Creams Of 2020
This brightening serum by Admire My Skin is a must-have if you are looking to get rid of freckles and to tackle melasma. Containing hydroquinone, which is known to work wonders on dark spots, this brand guarantees visible results in just 4 weeks of application. It also contains salicylic acid, lactic acid, and vitamin C, along with other potent ingredients. Follow the application directions as mentioned on the leaflet, for the best results. It is recommended to use sunscreen from a trusted brand after applying this serum before you venture out.
Pros:
Contains 2% hydroquinone
Gets rid of hyperpigmentation, fine lines, freckles
Shows positive results in 4 weeks
Cons:
Not shipped to some parts of the world.
Similar Products
Formulated by scientists and dermatologists, Olay addresses skin woes with utmost dedication providing effective treatment with their skin-care products. Olay ProX is a concentrated formula that has been specially designed to help those suffering from pigmentation problems, UV exposure, discolorations, lack of hydration, and weak moisture barrier. It consists of niacinamide, undecylenoyl, laminaria saccharina extract, and other key ingredients that nourish and hydrate your skin. The gentle exfoliants brighten the skin and promote an even skin-tone leaving it feeling smooth, soft, and supple. For best results, apply the cream evenly on the affected area twice daily and watch your skin glow like never before.
Pros:
Nourishes and hydrates the skin
Potent formula giving quick results
Designed by dermatologists
Cons:
Limited stock availability.
Similar Products
This dark-spot corrector by Tetyana Naturals has active ingredients like anajic acid, salicylic acid, lactic acid, morinda citrifolia extract, etc. When combined, it helps get rid of some of the most common facial skin conditions like freckles, skin-darkening, dryness, age spots, and uneven skin-tones. It can be used on the face as well as on arms, legs, knees, and elbows. Apply the cream evenly on your face and other areas with spots by gently rubbing in circular motions leaving skin feeling nourished, firm, and hydrated.
Pros:
Blocks regeneration of melanin
Whitens and brightens the skin
Hydrates the skin
Cons:
Not suitable for children under 12 years unless recommended by a doctor.
Similar Products
This quick-absorbing, dark spot serum is suitable for all skin types and skin tones. It has been specially formulated using intensive skin tone correcting technology, which works day and night to fight against agents causing dark spots and pigmentation. It consists of powerful active ingredients like salicylic acid and lactic acid, and other constituents that soothe skin. It leaves the skin feeling soft and radiant when used daily and can be used by both men and women. For best results apply in the mornings and evenings.
Pros:
Quick-absorption
Cruelty-free
Vegan formula
Gluten-free
Fights the formation of future spots
Cons:
Not suitable for inflamed skin.
Similar Products
This anti-aging, skin lightening cream by Scobuty is suitable for all types of skin discoloration and can be used on the face, neck, and body. It consists of safe, natural ingredients like Arbutin and Glycyrrhiza glabra extract, which helps to nourish your skin and render it healthy and youthful. It works effectively to reduce sunburn, freckles, age spots, and scars and also hydrates the skin leaving it feeling soft and smooth. For best results, apply this cream twice daily by gently massaging on the affected areas.
Pros:
All-natural formula
Quick-absorbent
Reduces sunburn, freckles, age spots, and scars
Cons:
The Insta Natural Dark Spot Corrector helps reduce blemishes, acne scars, sunspots, and hyperpigmentation marks. It contains niacinamide, which helps strengthen the skin barrier while controlling any redness and discoloration. Glycolic acid helps exfoliate dull skin cells and boosts cell regeneration, leaving you with bright and healthy skin. The natural ingredients in the formula offer anti-aging benefits to reduce wrinkles and fine lines. The stem cell technology contained in this serum helps provide an even-toned and radiant complexion. It also helps keep your skin hydrated and nourished.
Pros
Suitable for all skin types
Paraben-free
No harsh preservatives
Cruelty-free
Cons
May increase skin sensitivity
This wonder serum has been specially formulated to effectively fight age spots, dark spots, freckles, and sunspots and is suitable for all skin types. It helps to even out the skin tone revealing clearer, radiant skin. Consisting of powerful ingredients like hydroquinone, glycol acid, and hexapeptide-2 that exfoliate to effectively diminish unwanted pigmentation and scars on the face, thereby improving the skin's texture and overall appearance.
Pros:
Formula free of parabens, gluten, and phthalates
Cruelty-free
Cons:
Limited stock availability
The M&M Beauty Best Age Spot Remover is a freckle removal cream that comes recommended by doctors. It is one of the most potent OTC dark spot corrector creams available on the market. The smooth, lightweight formula contains several nourishing ingredients like lavender oil, aloe, grape, and rose water. Apart from freckles, the cream is also effective on acne scars, sun spots, dark spots, and rosacea. The formula contains 2% hydroquinone, so be sure to test it on your wrist or arm beforehand.
Pros
Powerful formula
Contains hydroquinone 2%
Cruelty-free
Cons
The Instaderm Dark Spot Corrector Cream has a moisturizing and highly effective formula that helps lighten, brighten, and whiten the skin. It is free of hydroquinone and contains no harsh chemicals. The gentle formula helps reduce signs of discoloration on the skin. The cream helps visibly reduce and fade acne scars, age spots, sun spots, freckles, etc. With regular use, the cream helps make your complexion more even-toned and youthful.
Pros
Dermatologist-recommended
Suitable for all skin types
No harsh chemicals
Cons
May irritate sensitive skin
The Alpha Skin Care Dual Action Skin Lightener helps even out the skin tone and restore lost radiance. It contains 2% hydroquinone, which inhibits the process that causes hyperpigmentation, age spots, and dark spots. It also contains hyaluronic acid, which provides a boost of moisture that leaves your skin looking plumped and smooth. The formula is also enriched with multiple nutrients and vitamins that soothe and moisturize your skin. It provides anti-aging benefits by reducing the signs of aging, such as wrinkles and fine lines.
Pros
Suitable for all skin types
Paraben-free
Affordable
Cons
May cause skin irritation
No products found.
This effective night cream is formulated using FDA-reviewed hydroquinone and works great with getting rid of dark spots, freckles, age, and liver spots. It aids in diminishing scars, pigment spots, and other unsightly marks which appear on the face and neck. Unlike other spot-fading creams, this miracle cream also helps to get rid of pregnancy spots as well as the kinds that arise due to the consumption of oral contraceptives. 
Pros: 
Quick-absorbing formula
Contains 2% hydroquinone
Works overnight to give best results
Cons:
Might feel greasy on skin 
No products found.
This skin brightening serum is perfect for lightening dark spots, freckles, hyperpigmentation, scars, and age spots. It is suitable for all skin types and helps to moisturize and hydrate the skin. Featuring a blend of botanical extracts, this potent serum is packed with antioxidants and can be used by both men and women. Use daily to attain effective and quick results for soft, youthful, and toned skin.
Pros:
Chemical, sulfate, and paraben-free
Contains 5 different forms of vitamin C
Suitable for teens
Cons:
Product might dry skin out
This skin lightening cream helps eliminate visible blemishes, pigmentation scars, freckles, and age spots. Containing natural ingredients like Sophora flavescens (used extensively in traditional Chinese medicine), vitamin C and kiwi juice extract, radiant, youthful-looking skin is guaranteed upon regular usage. It works effectively towards improving the overall appearance of the skin. Use this cream daily after cleansing and toning your face.
Pros:
Chemical-free formula
Free from parabens, sulfates, and fragrance
Cruelty-free
Hypo-allergenic
Cons:
May be heavy on the pockets
Paula's Choice Triple-Action Dark Spot Corrector is a non-greasy miracle serum that is quick-absorbent, soothes the skin and leaves it feeling fresh, soft, and supple. This anti-aging silky, smooth gel formulated in the USA with ingredients like hydroquinone, salicylic acid, and potent antioxidants, exfoliates, hydrates, and moisturizes the skin. It also helps reduce dark spots, freckles, and age spots. It can be used on the face and body and is suitable for all skin types. For best results, after applying a thin layer of this serum to cleansed and toned skin, apply a sunscreen lotion with SPF 30 or more during the day.
Pros:
Non-irritating formula
Fragrance-free
Cruelty-free
Cons:
May seem slightly expensive
Cannot be used alongside creams containing benzoyl peroxide
The Voibella Beauty Brightening Cream has a gentle formula, free of hydroquinone, that reduces blemishes and dark spots, including freckles. You can also use the cream on other parts of your body to lighten areas like the armpits, knees, or intimate area. The cream does increase your skin's sensitivity to the sun, so be sure to wear sunscreen daily for protection. Kojic acid is the primary ingredient here – it helps control the production of melanin and aids in skin lightening. The other skin-nourishing ingredients include green tea, olive, and chamomile leaf extract, and niacin.
Pros
Gentle formula
Natural ingredients
Paraben-free
Cruelty-free
Cons
May cause skin irritation
Now that we have explored the 15 best freckle removal creams, we will understand how you must select one.
How To Select The Best Freckle Removal Cream
When choosing a freckle removal cream, it is best to look for a cream formulated using ingredients derived from nature and those that come under known labels. Some key ingredients to look out for are vitamin C, fruit extracts, kojic acid, salicylic acid, and a minimal amount of hydroquinone, which work in tandem to effectively help diminish freckles and lessen future appearance to a great extent.
So, be it freckles, age spots, scars, or unsightly marks threatening your peace of mind, coming in the way of your flawless appearance, fear not for we've got your back. Simply dive down into this post as we have covered 15 of the best freckle removal creams in the market today. Invest into what best suits your requirement and skin type, and flaunt your glowing, radiant self confidently with ease.
Did you find this post helpful and informative? Do let us know in the comments below! 
Expert's Answers for Readers Questions
Does freckle removal cream work?
Yes, freckle removal creams do work to a great extent in diminishing existing freckles as well as reducing their recurrence. It is recommended to use a suitable sunscreen along with freckle-removal creams during the day time. They may not guarantee to remove freckles entirely but can help prevent future occurrences.
Is Stillman Freckle Removal Cream Safe?
Yes, Stillman's Freckle Removal Cream is one of the best chemical-free cream available in the market to get rid of freckles. It is hydrating, moisturizing, induces skin-lightening, and leaves the skin feeling fresh and rejuvenated.
Recommended Articles: