15 Best Freckle Removal Creams (2023), According To Dermatologists
Get rid of those pesky blemishes and achieve an even and flawless skin tone.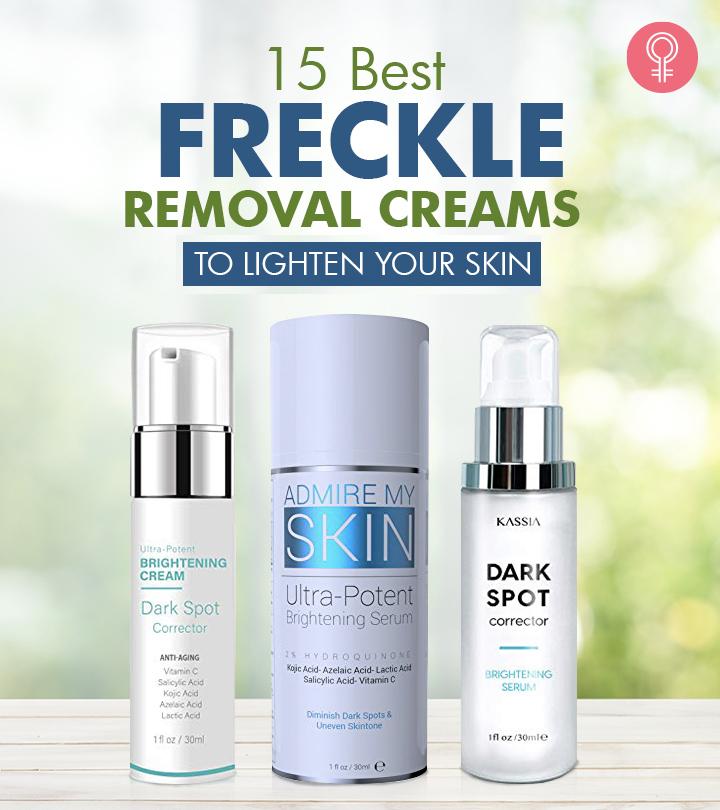 Freckles are very beautiful, but not all of us want them covering our faces. Explore some of the best freckle removal creams available as you delve deeper into this post. Freckles are skin pigmentation commonly noticed on lighter skin due to the low melanin content produced in the body. The skin indents are formed when the skin is exposed to harmful and excessive sun exposure that leaves the skin vulnerable to issues like an uneven skin tone and inflammation.
Some think that the appearance of freckles highlights their facial features, while others want nothing to do with them. For those that embrace their freckles, sunscreens do the trick and protect the skin from sun exposure. For others, effective freckle removal creams lighten the skin and cover those freckles. There are many high-end brands that have discovered the right blend of ingredients to lighten these marks. Using these creams regularly can even out your skin tone and conceal your freckles. Keep reading to explore the 15 best freckle-fading creams on the market.
Top Picks
How Do Freckle Removal Creams Work?
There are many freckle treatment options available but freckle creams are the most affordable and safe. Freckle removal creams contain various ingredients that lighten and brighten the skin and reduce the appearance of dark spots and skin discoloration. A few of them are:
Hydroquinone – It stops melanin (pigment) production and bleaches the skin. However, it is best to avoid hydroquinone for sensitive or dusky skin tones.
Kojic Acid – It penetrates the layers of the skin and prevents the production of melanin.
AHAs and BHAs – They are excellent exfoliants that remove dead skin cells and improve skin's texture.
Retinol– It helps fade freckles and enhances firmness and skin elasticity. It also helps minimize the appearance of fine lines.
Let's now check out the top 15 freckle diminishers of 2023 with the best ratings.
15 Best Freckle Removal Creams For Clear Skin – 2023
This skin brightening serum by Admire My Skin is a must-have if you are looking to get rid of freckles and tackle melasma. Containing hydroquinone, which is known to work wonders on dark spots, this effective freckle corrector and melasma cream guarantees visible results in just 4 weeks of application. It also contains salicylic acid, lactic acid, and vitamin C, along with other potent ingredients. Follow the application directions as mentioned on the leaflet, for the best results. It is recommended to use sunscreen from a trusted brand after applying this serum before you venture out. Click here to check out a detailed personal review of this product.
Also Recommended By:
Experts at We Heart This also think highly of Admire My Skin Ultra-Potent Brightening Serum.[1]10 Best Freckles Removal Cream Products: Review And Guide. We Heart This.
https://weheartthis.com/best-freckles-removal-cream/
Pros
Contains 2% hydroquinone
Gets rid of hyperpigmentation, fine lines, freckles
Shows positive results in 4 weeks
Cons
Not shipped to some parts of the world.
Hotstuffz Dark Spot Corrector is a brightening cream meant for both men and women of all skin types. It is formulated with 4-butyl resorcinol, kojic acid, lactic acid, salicylic acid, and morinda citrifolia extract that reduces the appearance of dark spots through decreased melanin production and repairs damaged skin. It also prevents signs of aging, hydrates skin for a youthful and clear appearance. It is an effective hyperpigmentation treatment that can be used on the face and body.
Pros
Lightweight
Suitable for all skin types
GMO-free
Paraben-free
Gluten-free
Cruelty-free
Improves skin's clarity
Cons
None
Kassia Dark Spot Corrector is a brightening serum suitable for all skin types, making it a great addition to any skincare regime. It is infused with kojic acid, lactic acid, salicylic acid that reduces melanin production, minimizes dark spots, and improves uneven skin tone. It also contains Hamamelis Virginiana Water extract that hydrates the skin and 4-Butylresorcinol that is better and safer than 2% hydroquinone. It is suitable for all skin types and can be used on the face and other body areas for a brighter and clearer skin appearance. However, conduct a patch test on a little part of your skin to make sure the product is well-suited for your skin type.
Pros
Vegan-friendly
Suitable for all skin types
Cruelty-free
Paraben-free
Cons
Not suitable for children under 12 years of age, pregnant or lactating women
This quick-absorbing, dark spot serum is suitable for all skin types and skin tones. It has been specially formulated using intensive skin tone correcting technology, which works day and night to fight against agents causing dark spots and pigmentation. It consists of powerful active ingredients like salicylic acid and lactic acid, and other constituents that soothe skin. It leaves the skin feeling soft and radiant when used daily and can be used by both men and women. For best results apply in the mornings and evenings. Here's a personal review video to help you learn about the reviewer's experience and get a better understanding of the product.
Pros
Quick-absorption
Cruelty-free
Vegan formula
Gluten-free
Fights the formation of future spots
Mild exfoliant
Cons
Not suitable for inflamed skin.
Magiclear Luxury Dark Spot Corrector comes in a face toner formula that brightens and lightens dark spots for a clear appearance. It contains salicylic acid, Glycyrrhiza glabra extract, vitamin B3, and liquorice root extract that fade hyperpigmentation and melasma spots. It also helps reduce and conceal freckles, dark spots, acne, blemishes, blackheads, and visible pores. It contains highly concentrated actives that diminish the appearance of freckles and stimulate skin cell renewal. It can be used for face and other body parts and is suitable for all skin types. For visible results, apply it twice daily by gently massaging on the affected areas.
Pros 
Suitable for all skin types
Can be used for face and body
Quick-absorbent
Non-greasy
Cons 
Slightly expensive
Non-consistent
The Insta Natural Dark Spot Corrector helps reduce blemishes, acne scars, sunspots, and hyperpigmentation marks. It contains niacinamide, which is an effective treatment to strengthen the skin barrier while controlling any redness and discoloration. Glycolic acid helps exfoliate dull skin cells and boosts skin cell renewal, leaving you with bright and healthy skin. The natural ingredients in the formula offer anti-aging benefits to reduce wrinkles and fine lines, thus smoothing uneven skin texture. The stem cell technology contained in this serum helps provide an even-toned and radiant complexion. It also helps keep your skin hydrated and nourished. It is best to apply this product at night as a part of your daily skincare regime and conduct a testing on the skin beforehand for the best results. Click here to check out a detailed personal review of this product
Pros
Suitable for all skin types
Paraben-free
No harsh preservatives
Cruelty-free
Cons
May increase skin sensitivity
This professional-grade lightening serum for freckles has been specially formulated as an effective age spot remover that reduces dark spots and sunspots and is suitable for all skin types. This clinically-proven correcting face serum helps to even out the skin tone revealing clearer, radiant skin. Consisting of powerful ingredients like hydroquinone, glycolic acid, and hexapeptide-2 that exfoliate to effectively diminish unwanted pigmentation and scars on the face, thereby improving the skin's texture and overall appearance.
Pros
Formula free of parabens, gluten, and phthalates
Cruelty-free
Cons
Limited stock availability
The Inlifay Dark Spot Remover is an effective and non-invasive treatment for the bothersome dark spots on your skin. This targeted freckle treatment formula contains various nourishing natural extracts and essential oils, including jojoba seed oil, honey extract, cystoseira tamariscifolia extract, and verbascum thapsus extract. It can be used on both the face and body and is appropriate for all skin types. It can correct hyperpigmentation related to sun damage, freckles, melasma, and pregnancy freckles. You can see true and properly visible results within 6-12 weeks of regular use.
Pros
Non-invasive
Suitable for face and body
Reasonably priced
Results can be seen in 6-12 weeks
Cons
Not suitable for sensitive skin
The Instaderm Dark Spot Corrector Cream has a moisturizing and highly effective formula that helps lighten, brighten, and whiten the skin. This is a clinically-proven dark spot correcting facial cream that works wonders on the skin. This sun spot cream is free of hydroquinone and contains no harsh chemicals. The gentle formula helps reduce signs of discoloration on the skin. The cream helps visibly reduce and fade acne scars, age spots, sun spots, freckles, etc. With regular use, this doctor-recommended freckle cream helps make your complexion more even-toned and youthful. But for safety reasons, test it on your skin once to determine the overall effectiveness.
Pros
Dermatologist-recommended
Suitable for all skin types
No harsh chemicals
Cons
May irritate sensitive skin
Ltrotted Anti-Acne Professional Freckle Removal Cream removes freckles and blemishes, giving you clear, flawless skin. It is formulated with natural, organic ingredients that penetrate the epidermis, dermis, and basal layer to effectively repair skin cells. This professional-grade blemish-fading cream is infused with niacinamide and hyaluronic acid that leave your skin blemish-free and hydrated, adding a healthy glow to the skin. The formula uses skin-friendly ingredients, making it suitable for all skin types.
Pros
Non-irritating
Suitable for all skin types
Easy-to-use
Cost-efficient
Cons
None
Protege Luminate Premium Skin Lightening Cream is helpful for conditions like hyperpigmentation, dark spots, acne spots, or discoloration. This chemical-free freckle removal cream is infused with arbutin, niacinamide, and kojic acid, which reverse environmental damage and diminish spots, giving you an even-toned and youthful complexion with smooth skin texture. The clinically-tested freckle treatment is rich in antioxidants that block the formation of dark pigments and allow lighter pigments to form. It is free from hydroquinone and bleach, making it safe to be applied on the face, decollete, neck, armpits, knees, or intimate areas.
Pros
Chemical-free
Suitable for all skin types
Hydroquinone-free
Cruelty-free
Fragrance-free
Cons
None
For those pesky dark spots on your face, the Paradise Emerald Dark Spot Remover offers a reliable and secure solution. It is the ideal treatment for skin hyperpigmentation, as it is made with a variety of natural ingredients and essential oils like kojic acid, jojoba seed oil, camella japonica seed oil, and honey extract. It is a cost-effective treatment intended to treat freckles, pregnancy freckles, face melasma, and sun spots. This professional-grade dark spot remover is suitable for every skin type, for both men and women and you can use it on your whole body, even the delicate areas. If used properly, you may achieve visible results in 6 to 8 weeks.
Pros
Contains essential oils
Cost-effective
Suitable for every skin type
Can be used for face and body
Cons
Contains paraben
Can cause your skin to dry
This skin-lightening cream for freckles also eliminates visible blemishes and fights age spots and pigmentation scars. Containing natural ingredients like Sophora flavescens (used extensively in traditional Chinese medicine), vitamin C and kiwi juice extract, radiant, youthful-looking skin is guaranteed upon regular usage. It works effectively towards improving the overall appearance of the skin. Use this hypoallergenic freckle cream daily after cleansing and toning your face. However, before applying it to the entire face, ensure that you test it on a small part of your skin to keep future adversities at bay.
Pros
Chemical-free formula
Free from parabens, sulfates, and fragrance
Cruelty-free
Hypo-allergenic
Cons
May be heavy on the pockets
Kayla-ism Freckle Brightening Cream is an anti-ageing facial cream that reduces wrinkles and fades freckles. It is infused with jasmine, Bellis perrenis, and glycyrrhiza glabra that moisturize and regenerate aging skin. It also firms the skin and lightens freckles for smooth and brighter skin. This professional-grade brightening cream for freckles builds a protective moisture barrier on the skin, giving it 24-hour long-lasting moisturization. The presence of retinol in this non-irritating freckle cream helps preserve healthy skin, resulting in a youthful and toned appearance.
Pros
Organic ingredients
Long-lasting moisturization
Suitable for all skin types
Cons
Itching sensation after application
Sticky
The Voibella Beauty Brightening Cream has a gentle formula, free of hydroquinone, that reduces blemishes and dark spots, including freckles. You can also use the cream on other parts of your body to lighten areas like the armpits, knees, or intimate area. This gentle freckle cream does increase your skin's sensitivity to the sun, so be sure to wear sunscreen daily for protection. Kojic acid is the primary ingredient here – it helps control the production of melanin and aids in skin lightening. This affordable freckle removal cream has other skin-nourishing ingredients like green tea, olive, and chamomile leaf extract, and niacin.
Pros
Gentle formula
Natural ingredients
Paraben-free
Cruelty-free
Cons
May cause skin irritation
*The prices provided in this article are based on the latest available information. However, they may vary due to changes in pricing by the seller and/or promotional offers.
Now that we have explored the 15 best freckle-removing creams, let's understand how you must select one and other factors you need to know.
Buyer's Guide For Choosing The Best Freckle Removal Cream
Consider your skin type before buying a freckle removal cream. Many creams contain powerful formulas that lighten your skin quickly. If you have dry or sensitive skin, such formulas may be harsh and can cause skin damage or pose a risk of skin allergy. Invest in a professional-grade formula that caters to your skin's needs well!
Look for a freckle remover or freckle reduction cream that contains natural ingredients derived from nature and those under known labels. Opt for a product that is enriched with vitamin C, fruit extracts, kojic acid, salicylic acid, and hydroquinone. These ingredients help diminish freckles and hyperpigmentation, reducing the chances of future appearance.
How Long Will It Take To Erase Freckles With A Cream?
Just like any other spot removal product, freckle removal creams take time to show results. This is not a quick fix like laser treatment or other invasive methods. You can see visible improvements after two weeks of consistent use. You can also continue to use the freckle erasers for a month or two for better results.
How Can I Prevent New Freckles?
The solution is simple! Use sunscreen. Whenever stepping outdoors, ensure to apply sunscreen with SPF 30 or 50. Do not forget to reapply it after every 2 hours.
Depending on your skin type and the ingredients, there might be risks while using freckle removal creams. The next section explains how to use them safely.
How To Safely Use Freckle Removal Creams
Scan the ingredients list before purchasing a freckle removal cream. For sensitive skin or a dusky skin tone, avoid hydroquinone. Retinol and salicylic acid are harsh on dry skin types. Therefore, choose a product with lactic or glycolic acids if you have dry skin. There are no severe side effects or complications in using a freckle removal cream but it is advisable to do a patch test before use.
Follow the instructions mentioned on the product strictly while applying a freckle removal cream.
Conclusion
Why Trust StyleCraze?
The author of this article, Oyendrila Kanjilal, is a certified skin care coach. She loves to experiment with new products and review them for her readers. She has carefully selected the best products after considering the suggestions and opinions of experts, certified professionals, and customer feedback. The freckle removal creams discussed here are from reputable brands, safe to use, and offer positive results.
Frequently Asked Questions
Can I get rid of freckles permanently?
Yes, freckles can be removed permanently. You can use a cream or get a laser treatment or a chemical peel to get rid of freckles.
How can I prevent freckles?
Use sunscreen with SPF 30 or SPF 50 to prevent freckles.
Are there any natural remedies for freckles?
Yes, but natural remedies for freckles are less effective. You can try out the following at home:
• Lactic acid from buttermilk, sour cream, or yogurt
• Vitamin C from lemon, lime, grapefruit, or orange juice
What to do after removing freckles?
• Use a good sunblock with a minimum of SPF 30 that protects the skin against harmful UV rays. Also, wear clothes with long sleeves or use hats when outdoors to prevent direct exposure to the sun.
• Treat your skin from time to time with natural ingredients like turmeric, vitamin C, aloe vera, almond oil, and honey for an effective hyperpigmentation and freckles prevention method.
Do freckles come back after a chemical peel?
Yes. Although chemical peels like glycolic acid peels effectively reduce the color of your freckles, they tend to come back if proper aftercare is neglected.
Recommended Articles