15 Best Highlighters For Pale Skin In 2022
The best-kept secret to dazzling, rosy fair cheeks is right here at your fingertips.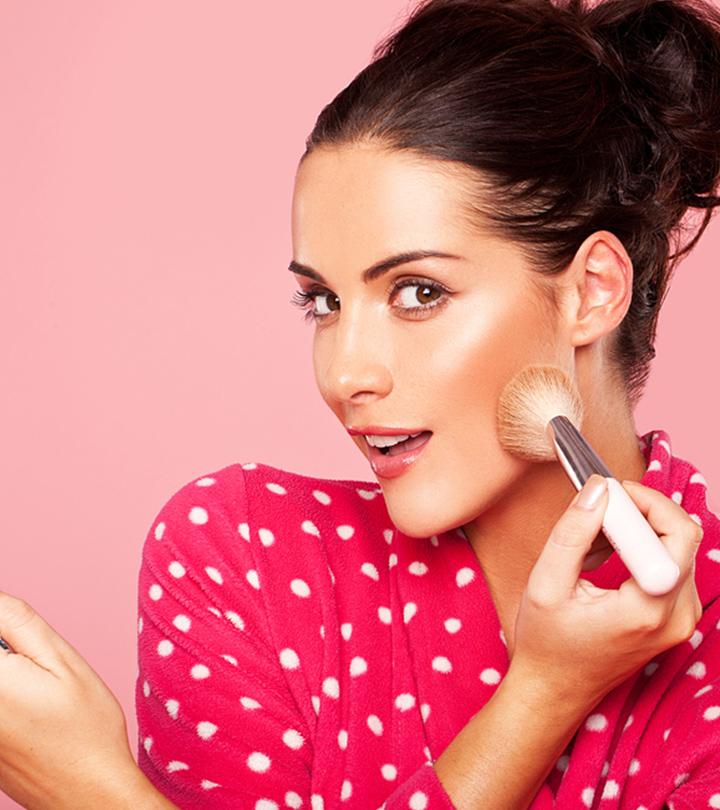 You always risk looking chalky and cakey when it comes to applying makeup. This stands true, especially if you have pale skin, and apply a highlighter. To avoid this pesky problem and ace the makeup game, you need to get yourself the best highlighter for pale skin. While pale skin looks fantastic when you add a dash of highlighter on it, you can always end up overdoing it. With the help of the right highlighter shade, you can achieve a dewy and radiant glow. To help you with your search and put an end to countless makeup mishaps, we've searched the far end of the Internet and compiled a list. It contains the top 15 recommendations of highlighters for pale skinso you can look your stunning best every time you head out!
15 Best Highlighters For Pale Skin – Reviews And Buying Guide
theBalm Cosmetics Mary-Lou Manizer is a bright honey-hued luminizer that works wonders for pale skin. A product trusted by professional makeup artists, this shimmer diffuses light to make your skin look smoother and younger. It can be used as an eyeshadow, a highlighter, and as a shimmer to add a subtle glow to your cheekbones. Available in 4 shades, it is arguably the best highlighter for fair skin as it blends just right with the skin and doesn't overpower fair skin tones. If you are not a fan of extremely shimmery highlighters, try this glitter-free highlighter that offers buildable coverage. Watch this video of the product for more information.
Pros
Highly-pigmented
Long-lasting
Lightweight
Nourishing
Skin-friendly ingredients
Cons
Some may find it too powdery.
Price at the time of publication: $19.2
The Physician's Formula Mineral Glow Pearl Highlighter comes in a unique palette with multi-colored pearls that provide an instant glow and even skin tone in a single swipe. It consists of real mineral pearl extracts to create a luxurious and illuminating glow on pale skin. Additionally, the palette is specially formulated for sensitive skin and is recommended by ophthalmologists, dermatologists, and allergists. This drugstore highlighter for pale skin also comes with a chic ergonomically-designed applicator brush for easy and hygienic application. Grab this highlighter if you want to get good makeup for pale skin done. Go through this video review for a detailed understanding of the product.
Pros
Hypoallergenic
Chemical-free
Multi-colored
Suitable for all skin types
Blendable
Cons
May not offer long-lasting wear
Price at the time of publication: $9.82
If you like to rock a subtle shimmer on your cheekbones, try the LIFUS Highlighter Palette that consists of colors that provide natural radiance and a lasting glow. It offers seamless coverage without looking thick, dramatic, or cakey. The palette can be used for highlighting the cheekbones, eyelids, brow bones and the inner corners of the lips to accentuate your best facial features. So, pick this bronzer-highlighter palette if you want a luminous glow that lasts throughout the day. Check out this video for a detailed review of the product.
Pros
Waterproof
Smudge-proof
Soft and silky texture
Light-diffusing pigment
Shimmery
Cons
Some may find the odor unpleasant
Price at the time of publication: $8.99
The hues of this highlighter pops on pale skin and leaves your face with a radiant and fresh look. Its baked finish and cruelty-free formula seamlessly blends with the skin for a subtle glow on your face when applied to your temples, cheeks, and brow bones. The best thing about this highlighter is its reflective surface sheen, which leaves a nude shimmer on pale skin. So, pick this one if you are looking for a multipurpose skin illuminator that also provides skincare benefits.
Pros
Natural radiance
Vegan
Rich pigment
Long-wearing
Ideal for mature skin
Cons
May not be best suited for acne-prone skin
Price at the time of publication: $4.99
If you like to contour or highlight your face and want to uplift your facial assets, the L'Oreal Paris Lumi Glow Nude Highlighter is the one for you. It comes with a glowy highlighter, a blush, and a bronzer for a sculpted glow. This pale highlighter is available in 2 universal shades that are suitable for all skin types. The nude highlighter awakens the complexion and creates a multi-dimensional look ideal for special occasions. The Moon-Kissed palette offers a pearl finish and impressive glowy skin for cool undertones and thus, is a good contouring highlighter for pale skin.
Pros
Easy-to-apply
Long-wear
Shimmery glow
Rich pigment
Cons
May not be highly blendable
Price at the time of publication: $11.23
This light-reflecting liquid highlighter refreshes and enhances your complexion in a single glide and remains intact for hours. It has a shimmery base, so you can wear it alone or pair it with other makeup products. Its ultra-creamy formula effortlessly blends with the skin and offers a reflective finish within seconds. If you are looking for a day-time highlighter that looks glowy and remains intact for night parties, this is just the right product to choose.
Pros
Convenient packaging
Multifunctional
Non-comedogenic
Sheer coverage
Skin-friendly
Cons
May not suit acne-prone skin
Price at the time of publication: $26.95
The Benefit High Beam Liquid Highlighter is formulated to offer a long-lasting and dewy finish to the skin. The ultra-creamy formula of this cream highlighter melts into your skin and adds soft definition to the nose, brow bones, and cheeks. Simply dot and blend the product on areas you want to highlight and get impressive results in seconds. A little bit of the satin-pink highlighter goes a long way and works well on pale skin and skin with cool undertones. You can use it alone or pair it with your favorite go-to powder or foundation to cover skin imperfections and achieve the even-toned look.
Pros
Long-lasting
Ultra-lightweight
Opaque
Easy-to-use
Blendable
Cons
Some may find the product too shimmery
The wet n wild hello HALO BLUSHLIGHTER is a combo that effortlessly sculpts, highlights, and defines the face. This illuminating duo comes with 2 shades that impart an instant intense glow and blend beautifully into the skin. The buildable and soft shades enhance the cheeks with micro-fine and ultra-reflective pearl pigments. Furthermore, the product has a weightless texture, and thus, it feels breathable and smooth on the skin. If you have pale skin, make some space for this blush and highlighter duo in your makeup kit.
Pros
Cruelty-free
Vegan
Fragrance-free
Pocket-friendly
Rich pigment
Customizable coverage
Cons
Some may find the shades too dark.
Price at the time of publication: $4.98
This highlighter is one of the best selling baked highlighters that seamlessly fuses with the skin to create a silky low-glow finish. This velvety soft powder formula is available in 2 shades to beautifully highlight and contour the skin. The best thing about this duo is that the liquid pigments are baked on terracotta tiles for 24 hours and hand-finished in Italy to create a silky and long-lasting powder. Furthermore, the powder is infused with antioxidants and white tea extracts to illuminate the skin safely.
Pros
Excellent pigmentation
Long-wear
Multi-purpose
Lightweight
Blendable
Cons
Price at the time of publication: $27.98
Create a glorious range of multi-dimensional effects with the PUR Sparkle And Shine Bright Travel Highlighter Palette that comes with 3 shades (Bottom Up, Cheers, and Let's Toast) and a fan brush for easy application. This travel-friendly special edition palette is formulated to give you radiant skin and brighten darker areas of your face. The best thing about this highlighter is that it provides a buildable and subtle sheen to your skin that'll make your face edges shine even better. Additionally, it is formulated with skin-enhancing ingredients like ginseng, vitamin B, and green tea to nourish the skin.
Pros
Compact
Cruelty-free
Paraben and gluten-free
Long-lasting
Pleasant fragrance
Cons
The highlighter might not look good on oily skin.
Highlighting balms are highly effective for pale skin tones and the Ciate London Dewy Stix highlighting balm is no exception. This buttery balm brilliantly blends into the skin and offers a dewy sheen that lasts for hours. It is formulated with hyaluronic acid and murumuru butter to provide a weightless and natural radiance to the skin. This dewy wet-look illuminator spreads evenly on the skin and ensures maximum coverage and longevity. Additionally, the convenient stick is easy-to-use and effortlessly reaches the areas like corners of the lips, nose bridge, and temples.
Pros
Non-tacky
Hydrating
Brushless application
Non-greasy
Mild glitter
Cons
Price at the time of publication: $30.6
The COVER FX Custom Enhancer Drops features ultra-fine pearls that provide a luminous and flawless glow. For a natural dewy look, apply drops of the highlighter on areas like your nose, cheekbones, temples, and around your lips and blend them gently to cast a spotlight on your natural assets. These illuminating drops can be used alone or with a foundation for a metallic glow. The applicator is highly convenient to use and the drops effortlessly balance the skin tone. So, if you are looking for a versatile liquid formula to achieve flawless coverage, this one is a great pick and is one of the best drugstore highlighters for pale skin you can get your hands on.
Pros
Skin-friendly ingredients
Easy on the wallet
Long-wear
Lightweight texture
Buildable coverage
Cons
Some may find its consistency runny
Price at the time of publication: $32.0
The Benefit Dandelion Twinkle highlighter features a unique baked technology that delivers sheer and feather-light coverage. This is a perfect nude light pink shade ideal for highlighting and providing dimension to the pale skin. It is infused with notes of delicate blossom and dandy daydream scent. It also comes with a natural and gentle applicator brush that seamlessly blends the product into your skin and delivers a dewy glow. The matte, twinkling pink shade is ideal for contouring immensely pale skin and looks breathtaking when swept on the cheekbones.
Pros
Long-lasting
Rich pigment
Easy-to-apply
Non-tacky
Cons
Not for those who prefer blinding highlighters
Price at the time of publication: $29.63
The Too Faced Highlighting powder duo ensures that your skin looks camera-ready and lit-from-within throughout the day. It consists of 2 radiant shades for illuminating pale skin and its velvety texture seamlessly blends into the skin. It diffuses and refracts light for a multi-dimensional glow and gives a smooth shine to the highpoints of your face. This duo can be used for color correction and also for highlighting the skin under different lighting conditions.
Pros
Sheer coverage
Versatile
Smooth texture
Lasts for up to 8 hours
Rich pigment
Cons
May not be ideal for sensitive skin
Keep your skin glowing for hours without any touch ups required by investing in the Estee Lauder Double Wear Brush-On Glow BB Highlighter. The hydrating formula refreshes the skin instantly, while the Photo Optic Technology conceals imperfections like dry skin, dark circles, blemishes, and patchy skin. It is lightweight and stays on your face for up to 8 hours. You will not have to worry about acne as the highlighter does not clog pore and is both dermatologist and ophthalmologist-tested. Stroke and highlight your facial features with this tinted moisturizer or simply use it as a primer to get a beautiful glow.
Pros
Brightens and conceals
Long-lasting
Lightweight
Moisturizing properties
Cons
Price at the time of publication: $49.99
As we have already discussed some of the best highlighters you can consider for pale skin, let's move to some pointers to keep in mind before selecting a good highlighter for pale skin.
How To Choose Highlighter For Pale Skin
Choosing the right highlighter for pale skin is no joke. There are several factors to keep in mind while selecting a highlighter for pale skin. Here are some of the factors that'll help you pick the right one:
The best way to choose the right highlighter is to pick a highlighter that is 1-2 shades lighter than your skin tone. Bright highlighters offer a natural highlight makeup and radiant glow.
Pick a highlighter with a subtle sheen that blends effortlessly into your skin. You don't want an extraordinarily glittery or blinding product if you want a natural look.
For pale skin, always look for highlighters with an icy silver, champagne, or pearlescent sheen. These highlighters complement undertones of your skin and provide dimension to your face.
Avoid choosing the shades with dark red or too warm undertones. Instead, choose the shades with a pink-peach finish.
Liquid illuminators with pink tones are best for pale skin. Avoid bronze and copper shades.
If you have sensitive or acne-prone skin, always look for highlighters with cruelty-free and fragrance-free formulas. Plenty of highlighters are tested by allergists and dermatologists so pick chemical-free highlighters with skin-friendly ingredients.
It is important to keep your skin type in mind while buying a highlighter. If you have dry skin, pick a liquid highlighter to make your skin appear smooth and radiant. If you have oily skin, a powder highlighter will seamlessly blend and highlight your skin.
Highlighters come in plenty of shades and textures. One highlighter doesn't fit all skin types, and thus, it is crucial to choose the highlighter for pale skin effectively.
How To Apply Highlighter On Pale Skin?
Pale skin needs both contouring and highlighting to make the facial features visible. If you are planning to use a highlighter, here is a step-by-step guide to use it perfectly.
Step 1 – Start by applying a foundation that matches your skin. Apply it all over your face including the under eye area and blend it well using a brush or a beauty sponge.
Step 2 – Dust some setting powder using a brush to keep the foundation in place and get rid of any stickiness. This is an important step, especially for those with oily skin.
Step 3 – Those with pale skin generally have a cool undertone. Pick a shade that is suitable for your face and contour your facial features. Make sure you make upward circular strokes with your makeup brush.
Step 4 – Get a highlighter shade that syncs with your skin and apply on the facial areas that need to be highlighted. Always move the makeup brush and make upward circular strokes. Do this for the middle of the forehead, chin, upper lips, cheeks and under the eye.
Step 5 – Set the makeup with a setting spray and look beautiful!
The tips for choosing the best highlighter and the guide to using it perfectly on pale skin are made clear in this article. The primary goal of a highlighter is to provide a dewy and illuminating glow so always consider factors like texture, type, shade, coverage and formula of the highlighter before buying it. The product that gives a light and appealing sheen to your pale skin is the right one. If you pick up one of the best highlighters for pale skin only with the idea of matching it with your skin tone, do not forget to match it with your undertone too. Choose wisely and get the glow you always wanted.
Why Trust StyleCraze?
Chaitra Krishnan, the author of this article, is a makeup enthusiast who loves creating well-researched beauty content for her readers. With extensive research on customer feedback, she has compiled a list of the best highlighters for pale skin, so you can glow every time you step out. The products recommended in this article are lightweight, long-lasting, and highly pigmented, ensuring a gorgeous shine with every application.
Frequently Asked Questions
How do you apply highlighter to pale skin?
Applying a highlighter on the pale skin is not too tricky. You need to highlight areas on which lights reflect naturally. Apply a small amount of highlighter on the temples, nose bridge, around the lips, on the chin, on the cheekbones, and the center of the forehead for an illuminating and radiant glow. Make sure that you apply a foundation before applying a highlighter to even out the skin tone and set a base for a highlighter.
Does highlighter make you look older?
Applying highlighter in the wrong places, especially on mature skin can make you look older. Don't apply a glittery highlighter on smile lines, on the crease of the eyes, or the brow bone. Instead, apply it on the cheekbones and between the brows if you have mature skin.
Is liquid or powder highlighter better?
Both liquid and powder skin highlighters are suitable for different skin types. If you have dry skin, a hydrating and nourishing liquid highlighter is perfect for you. It prevents cakiness and blends efficiently with the skin providing a natural glow. On the other hand, if you have oily skin, go for powder highlighters that are non-tacky and non-greasy. Powder highlighters blend perfectly with oily skin and leave the skin with a subtle dewy finish.
Does gold highlighter look good on pale skin?
No, gold highlighters are not the perfect shade for pale skin tones as they are too warm. However, lilac and silvery-gold hues are perfect for this skin tone.
Does highlighter depend on skin tone?
Yes, a highlighter depends on your skin tone as it accentuates your bone structure and needs to fit in effortlessly with your natural skin tone.
Recommended Articles